Tameka Butt interview: The Roar materials hit all the notes for Matildas midfielder
Australia midfielder Tameka Butt has featured at the World Cup as well as taking her club career to the US and Germany, and the W-League Grand Final regular has a clear idea of how she and her Brisbane Roar teammates could step up to the big occasion away from the field.
The pool of young Australian players making their mark is incredibly encouraging for supporters of the national team. Matildas coach Hesterine de Reus led the team in the Cyprus Cup recently and some surprise was expressed at the experimental nature of the line-up against Scotland.
22-year-old Tameka started in the opening two games against the Netherlands and France and there were rousing fightbacks in both. From 2-0 down to the Dutch, the Matildas salvaged a 2-2 draw and from 3-0 behind against France they pushed ultimately unsuccessfully for an equaliser at 3-2. A 4-2 defeat to Scotland then preceded a 5-2 success against Italy to finish in 7th.
It is expected that Tameka will figure prominently in the upcoming AFC Women's Asian Cup. The tournament takes place in Vietnam in May and the Matildas are defending their title after winning it back in 2010. Success in the competition will seal the Aussies' place at next year's World Cup in Canada and to play on such a stage for a second time is something Tameka would dearly love.
The Orange, New South Wales-born, Gold Coast-raised midfielder started the group game with Brazil back in World Cup 2011 and came on as a substitute for Ellyse Perry as the Matildas were beaten by Sweden in the quarter-final. The last-eight match was held in Augsburg and since the tournament Tameka has also experienced the domestic football Germany has to offer, with Frauen-Bundesliga side 1. FFC Frankfurt.
She also played in the US in 2012 as she represented the Boston Breakers in the WPSL Elite. Back home, Tameka has been a mainstay in the W-League, playing in each of its six seasons so far. She has won the competition twice and last month appeared in her fifth Grand Final as her Brisbane Roar team were defeated 2-0 by Melbourne Victory.
Tameka has netted 33 goals for the Roar and she has a very close association with the team. As well as the ins and outs of the action on the field, these interviews also bring in talk of music and teammates. When Tameka was asked which of her career colleagues she would record a cover version of a song with she opted for one from an American music comedy for her Brisbane counterparts to take on.
"I'd perform any Pitch Perfect song a cappella style with Elise Kellond-Knight, Laura Alleway, Vedrana Popovic and a few other Brisbane Roar players."
Since she made her first senior appearance for the national team in 2007, Tameka, who can play in a more advanced striking role, has become a familiar name for the Matildas. She has a real range of other interests too, as we will hear about later on in the interview, and she emphasised the relevance of music to her.
"Music is so important to me, not just for football but also across many different aspects of my life. I like a mix of almost all genres and am always finding myself liking new music that I hear through my friends.
"Some current artists I'm enjoying at the moment include Avicii, Passenger, Ryan Lewis and Macklemore, Lorde, Rudimental, Beyoncé, Drake, Imagine Dragons, Rihanna, etc."
Tameka moved to the Gold Coast at the age of five, around the same time she began playing football. Before her elevation to the senior squad she was the captain for the Young Matildas as they won the ASEAN Women's Cup Championship. In a similar way she also had to make her way up in the music stakes! Tameka shares a little of what she used to listen to back in the day.
"The first mixtape I ever got was from my brother and that included Eminem and Blink 182. The first CD I ever got was a 'So Fresh' mix from my sister that included artists such as Aqua and the Spice Girls."
Last year, former Matildas defender Thea Slatyer talked in detail on here about her amazing life inside and outside of football. A music devotee, she also recalled DJing in a pub in Chengdu following the national team's success in the 2010 Asian Cup final. Tameka mentions her as well as another past interview subject on the site, and also a fellow Roar midfielder who scored a terrific right-footer from outside the box in the win at Perth Glory in November.
"The biggest DJs I've come across in my time so far would have to be Melissa Barbieri, Thea Slatyer and Amy Chapman. I don't normally get involved but rather steal their playlists."
In most teams there are some musical preferences from players that tend to fall in line with the norm (i.e. mainstream radio hits). It is those who step outside of that who can really bring something to the party and in this case Tameka picks out someone who has emerged with Brisbane and the Matildas over the past few years with her.
"I think Elise Kellond-Knight has the most unusual taste in music, which so far has been a good thing as she has opened my ears to a lot of music I would have never thought to take interest in."
Elise Kellond-Knight was captain for the Roar in the W-League Grand Final loss to Melbourne Victory in February and one of those alongside her at the back was Laura Alleway. Tameka gives an honourable mention to her for vocal talent as well as highlighting the Matilda who was in goal on the other side that day.
"I'd class Bri Davey and Laura Alleway as top singers, no need to perform, just sing. I've never been forced to sing in front of my teammates, I think partly because I take my own initiative to sing in front of them so they all know how bad I am."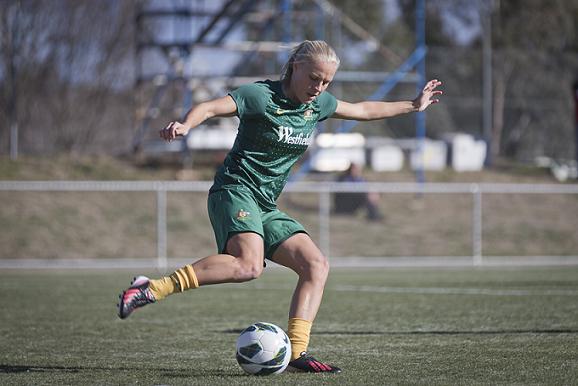 Making her senior international debut in an 8-1 win over Hong Kong, Tameka played in the 2008 and 2010 AFC Women's Asian Cup but was injured for the final in the latter of those. Forward Kyah Simon converted the decisive penalty in the shootout against North Korea to secure the trophy four years ago and she did her own interview on here last year.
The 22-year-old, who is currently on her way back from a torn anterior cruciate ligament, was a teammate of Tameka's at the Boston Breakers in 2012. During that year, the Breakers were league winners in the regular season of the WPSL Elite but were beaten in the semi-final by Chicago Red Stars.
There was some more time abroad last year as Tameka represented seven-time German champions and three-time UEFA Women's Cup winners (before its rebranding as the Champions League in 2009/10) Frankfurt. A fellow ex-Frankfurt player joined her in Brisbane last season – the one and only Nadine Angerer. The Germany captain is of course the current FIFA Ballon d'Or holder and she will be playing for NWSL champions Portland Thorns this season.
'Natze' has two World Cups and five European Championships to go with her individual accolades and there was huge excitement when it was announced that she was to play in the W-League. The competition is growing in stature each year but having a player of such calibre certainly generated even greater interest in the league.
Such accomplished athletes are known to so many people in various places around the globe but often we don't get to understand how they are away from the spotlight. There is still a little more insight to come into Tameka as a person behind the player, but first what about her recent all-conquering colleague?
"Nadine can only be described as a crazy German who wishes she were Aussie! Surprisingly, she talks a lot and has a well-adapted Aussie humour to her that everyone was able to enjoy including the coaching staff."
As mentioned earlier, Tameka is certainly used to the big game situation having appeared in all but one of the six W-League Grand Finals to date. She was a champion in the inaugural season with Queensland Roar, scoring in the 2-0 win over Canberra United in January 2009. The team had become Brisbane Roar by the time of the next final in December 2009 and Tameka scored a late penalty in a 3-2 defeat to Sydney FC.
Her next one was a much happier affair as she scored the opener in a 2-1 win over the previous season's final opponents Sydney. The Roar winner that day came from yet another past interviewee on here, the mercurial Lisa De Vanna. In 2012, Tameka was a goalscorer again in the showpiece encounter, netting from the penalty spot against Canberra, although it was not enough to avoid a 3-2 loss.
The game with Melbourne Victory last month may not have gone the way of Brisbane but at 22, Tameka has a whole load of invaluable experience to stand her in good stead going forward. The future seems extremely bright for her career but away from the game she has a multitude of interests. She also has an idea of where she intends her education to take her.
"I like to be active so surfing, sailing, stand up paddleboarding, wakeboarding, touch footy, the driving range – pretty much anything active I enjoy. I work at paintball on the Gold Coast as well which suits me to a tee.
"Aside from that I could easily sit down and read a good book or watch a movie, or just sleep! I'm currently doing a Bachelor of Business / double major in Sport Management and Marketing which I hope to take in the direction of further developing women's sport in Australia."
The regular concluding question is pretty much always guaranteed to get the player thinking very carefully. Indeed much of the beauty lies in how tricky it is! The question requires the interviewee to select a fantasy 5-a-side team (including themselves) of the best players they have ever worked alongside.
Tameka is still early on in her career but she has an impressive amount of game time both internationally and at club level. She has worked with some extremely good players so who got the green light to join her line-up?
"Goalkeeper – Nadine Angerer. Obvious reasoning here.
"Defender – Clare Polkinghorne. Hard-working and the toughest defender I could ever count on.
"Midfielder – Alicia Ferguson. Such a wise, calm and creative player to play with.
"Striker – Lisa De Vanna. She will always do something with any kind of ball you give her."
Follow me on Twitter: @chris_brookes
Like the site on Facebook and catch every one of these interviews