Lee Peacock interview: 'Thanks for the memories' – music takes former frontman back to the good times
In this his eighteenth season in the game, striker, Magaluf season ticket holder and famous 'Del Boy coat' owner Lee Peacock who represented the likes of Manchester City, Sheffield Wednesday and Swindon Town, decided this year that the time had come to retire from football, but the memories will remain for just as long as his plethora of tattoos.
Finishing up in Hampshire with Blue Square Bet South (Conference South) outfit Havant & Waterlooville, Lee, 35, often struck a chord with supporters for his industry on the pitch and his all-round charisma, playing an important role in promotions with Carlisle United, Swindon Town and Sheffield Wednesday.
Music often provided the backdrop during the career of a player who had his own decks at one point and the Scot feels a true connection to the sounds that signpost certain junctures of his life both on and off the field.
"I like to think I'm pretty varied with my taste but I like songs that remind me of a place or time. I love Noel Gallagher and the acoustic version he did of 'Fade Away' at the Royal Albert Hall, and I absolutely love the likes of The Rolling Stones, Otis Redding and Stevie Wonder.
"Linkin Park as well, I've just been listening to them actually, also a guy called Citizen Cope who's had a lot of hits on movies, he's chilled out, a bit like Jack Johnson but better in my opinion and the quality of his lyrics is just ridiculous. I like a bit of dance as well and some old school garage, all my money at one time used to go on buying vinyl and records."
The idea of music carrying a meaningful message or a notion that the listener wants to buy into is a big attraction for Lee and he illustrates this with one such example, even if the song's credibility took a considerable hit when it went on to become the well-known theme tune to a DFS advert!
"I like 'Rock Star' by Nickelback, my daughter loves it and with some of the lyrics I think it sums up what everyone wants to do. I do like a lot of the cheesy 80s ones as well like Wham! – everyone likes a bit of Wham! in the summer time!
"The really heavy kind of house music and rock I don't like so much."
The Paisley-born forward is on a very similar wavelength to Birmingham City's Curtis Davies with the recalling of his first record ever purchased, with this artist's famous choice of trousers coming into the thoughts at his mention!
"It was an MC Hammer album and there was only one good song on it which I already had on single so I tried to take it back! The first one I had bought for me though was a 'Now' album, I want to say it was 'Now 6' but I think it was about 1983/84."
Emerging from David Wilkes' youth team at Carlisle United, the Cumbrians won the Third Division (now League Two) in Lee's first season in 1994/95 but were relegated back to England's fourth tier the year after.
The 1996/97 campaign brought promotion once again though as well as success in the Football League Trophy as a 20-year-old Lee played the whole of the final at Wembley alongside the likes of Rory Delap and Matt Jansen as Colchester United were beaten on penalties.
After 12 goals in all competitions for the club he moved to Mansfield Town in October 1997 for £75,000, scoring 32 times in two years before First Division Manchester City paid £500,000 for his services.
He would move on from Joe Royle's side less than a year later though after ten appearances (five starts) without a goal as Bristol City signed him for £600,000 to help lead their bid for promotion to the second tier.
Under Danny Wilson's management the Robins won the Football League Trophy in 2003 but never successfully negotiated the play-offs, losing in the 2004 final to Brighton & Hove Albion.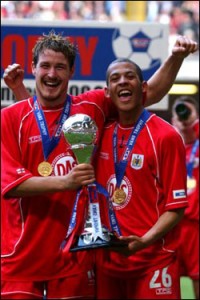 "We were probably a bit like Arsenal at the time in that we had some outstanding players like Tommy Doherty, Brian Tinnion and Mickey Bell and we passed it so much but we overcooked it and we didn't manage to do the ugly side of the game well enough."
In his four seasons at Ashton Gate Lee never scored less than 15 goals in any of them and he moved to Sheffield Wednesday on a free transfer in 2004 with high hopes, but an injury picked up in the previous season's play-off semi-final would severely hinder his personal progress at Hillsborough.
However, the switch to South Yorkshire may never have happened at all as a link-up with his former Carlisle manager Mick Wadsworth on foreign shores was all but secured before The Owls came calling.
"I was in Portugal at the time on holiday with my missus and was looking like signing for Beira Mar, everything was just about done and then it came up. I was only able to check my messages every few days and my agent told me they thought I was playing hardball so I nearly cocked it up!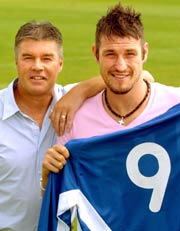 "It's one of my biggest regrets that I signed for the club while I was injured and had to have an ankle operation. I'd done it against Hartlepool in the play-offs for Bristol City and I never got over it – it ruined my career.
"Every year at Bristol City I got 15-19 goals even though I was playing as a target man and with the players Chris Turner said he was bringing in at Wednesday I thought I'd be able to get on the end of the chances they'd be creating."
It was actually a former Owls player and manager, and Bristol City boss at the time, who confirmed Lee's gut feeling about the move, although the man in question is now in charge of Sheffield United!
"I'd heard about the financial difficulties the club had been through and I'd been through the situation myself of not getting paid before but as soon as I heard I called Danny Wilson. He said 'you'll never go to a bigger club'."
He moved north with real excitement about the challenge but he believes the injury problems were the reason he failed to hit the heights he had previously managed to reach year on year in the same division.
"Every year at Bristol City I'd had an operation and I wish I'd have used the facilities (at Wednesday) to get properly fit and in the right condition but I'd just had a new daughter, things were going on and my head wasn't right. I don't think I was ever the same as my last season at Bristol City, I'd lost a yard of pace and it was a major disappointment because Sheffield Wednesday was just ideal, a fantastic club and I felt like I let the players, the staff and the supporters down."
Lee played 33 times in 2004/05 as Wednesday won the League One play-offs under Paul Sturrock but he managed just six goals, half of which came at Brentford's Griffin Park.
The last of these was a crucial header in the play-off semi-final second leg to put the team 2-0 ahead on aggregate and they would go on to triumph 3-1 in the tie overall.
Beating Hartlepool United at the Millennium Stadium in the final in front of just shy of 60,000 supporters, the majority of which were Wednesdayites, was an unforgettable day for Lee and there is one moment he remembers most vividly.
"We came down to Cardiff on the bus and turned down a road towards the stadium and there were thousands of Wednesday fans on the street. They all realised it was us and the noise that went up at that moment – I was sat on the left of the bus and I swear it made it move!
"That and the final whistle going to win promotion with Swindon are the two main things from my career I remember most. To have that many thousands of supporters all realising at once that it was the team driving past they'd come all that way for, it still gives me goosebumps."
The team watched the American football drama 'Any Given Sunday' on the journey to Cardiff for the game and the shark fin celebration from the film was seen after two of Wednesday's four goals on the day.
"That's one of my favourite films and there wasn't many in the team who'd seen it apart from one or two like JP (Jon Paul McGovern). It didn't take much to motivate us on the day but that Pacino speech in it definitely gets you up."
Captain of that promotion side Lee Bullen talked to the site last July about manager Paul Sturrock's liking for the Wheatus song 'Teenage Dirtbag' as well as the music tastes in the team, and Lee (Peacock) reveals he was a prime mover in a lot of the tunes blaring out around the place at the time, also compiling the collection of everyone's favourite tracks mentioned last week by Craig Rocastle.
"I was the one who produced the majority of the music and I got everyone to pick their favourite song for two CDs on the way to the play-off final, all the ones I thought were shit I put to the end of the CD! I usually put a mix of Hed Kandi tunes on and we'd always go out on the Saturday night, usually to Gatecrasher.
"There were no lads at all who I couldn't go out for a beer one-on-one with, usually at clubs there's always a little clique in the dressing room who spoil it but they were all pros who could have a laugh but lead out on the pitch as well. There were one or two incidents out in town with Sheffield United fans who didn't appreciate us, but nothing I couldn't handle.
"Having all the lads together, playing the game at the weekend and then going home to get ready for the Saturday night was always good. I've been talking to a lot of the lads on Twitter but Dave Lucas, JP and Bully are the main three I keep in touch with and think I always will.
"At Wednesday me and JP got on OK but by the time we were at Swindon we got on like a house on fire, he's a really good guy. Lucas going to Swindon cemented my friendship with him too and they all tell it how it is which is always the sign of good teammates."
In the Championship in 2005/06 Wednesday fought an ultimately successful battle against relegation but Lee with three goals in the first half of the season was to depart in January 2006 for League One Swindon Town.
Strikers Deon Burton and Marcus Tudgay were to be brought in on New Year's Day from Rotherham United and Derby County respectively and Lee describes the conversation had with Sturrock prior to leaving Hillsborough.
"Me and him had a fallout, I went in to see him and he said 'listen you can go out on loan, Huddersfield are interested', he gave me the option but I didn't fancy a loan so I said 'if you can sort something permanent I'll go'. I didn't want Wednesday to pay the remainder of my contract up, all I wanted was for the club to make the money up because Swindon were offering to pay a lot less and Sturrock didn't like it.
"He's a different guy now but it was how he was at the time so I just thought 'fuck it' and left."
In one of those ironic twists of fate that football so often produces Sturrock would be sacked by Wednesday in October 2006 and would take over at Swindon, where Lee was of course playing.
"I'd heard rumours at the time that he might be coming in and I thought 'I'm gonna have to leave again', but when he took over he pulled me to one side and said 'let's put everything that happened in the past aside'. I thought 'thank fuck for that!'.
"I don't know if it had been the pressure affecting him before but he was a different guy by then and wasn't as shouty, and we ended up getting promotion that year."
Lee's time at Swindon saw relegation to League Two in his first few months followed by that immediate return to League One he alluded to, as well as an unexpected change for him from playing up front his whole career to slotting in as a midfielder at The County Ground.
"I started the season up front and was scoring goals but we were light on numbers in midfield and losing out in the air. I just used to win it and then give it simple, I enjoyed it and ended up winning 'Player of the Year' and the 'PFA Fans' Player of the Year' for the league which was strange because I didn't remember ever putting two passes together!"
Although he speaks of all his clubs in glowing terms he found something of a 'home from home' at Swindon and after overcoming a serious back problem he made the very difficult decision to leave the Wiltshire side in January 2010 for Grimsby Town.
At Grimsby the team suffered relegation from the Football League in 2010 and were unable to sustain a promotion challenge last season, finishing 16 points off the Blue Square Bet Premier (Conference) play-offs in 11th place.
Lee captained the Mariners and witnessed struggles in the entirety of his stay at Blundell Park before leaving last summer to sign for final club Havant & Waterlooville.
"I'm not going to say I didn't enjoy it because I enjoyed being at all my clubs but they'd gone 25 games without a win when I joined. When England beat Germany 5-1 (September 1st 2001) Grimsby were top of the Championship so the fall since has been massive and the fans have been through the mill.
"We'd win one, lose one, draw one, and couldn't get any consistency and I thought the manager at the time was making mistakes chopping and changing the team. I was 33 and my legs weren't there anymore but I gave it a really good go and the fans were great."
So to 2012 and the decision to call time on his career, which in the time since he made it has inevitably brought that feeling of longing for the matchday buzz again, in addition to progressing onto a personal training course and awaiting the arrival of he and his wife's second child.
"I think I needed time out, I'd had a lot of niggling injuries and I needed to be doing full-time training instead of the part-time we were doing. I'm getting back into training now but watching Barcelona, especially after the other night, and playing FIFA makes me want to play all over again!
"I think I've found out a lot about myself, coming out of football I've chilled out a lot more whereas before I spent twenty years worrying all the time. I'm getting by at the moment on savings and I've realised that I can be happy doing a job on a fraction of what I used to earn, maybe if I'd have realised that I can't control everything that's going on I'd have been a better player for it.
"I think stressing all the time in my career was what probably led me to getting addicted to playing computer games until four and five in the morning!"
In football there tend to be certain stories or supposedly 'known truths' that circulate between supporters and though it's hardly one of the more serious ones doing the rounds it has been said on many occasions that Lee runs a bar in Magaluf.
"I wish! I've been out there though every year since I was a first-year pro at 17 so 19 years now and I've got a stack of mates in different bars which started by talking to guys who said 'if you're over again crash at ours'.
"I don't go there as a holiday anymore I just see it now as going over to see my mates. I've talked about getting into running bars before but I think I'd be too into spending all my money getting lashed to run one!
"Magaluf's a place where I seem to bump into Wednesday fans all the time – they're fucking everywhere!"
As someone who went to Magaluf four years ago at 18 it led me to moving the conversation with Lee onto his teammates who were the biggest nightmares on nights out, which included someone I got in touch with for the site in December!
"Danny Coles and Lee Matthews – absolute nutjobs, you could get them to do anything!"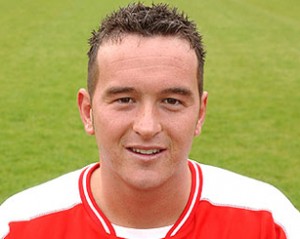 There is another topic that had to be brought up with Lee and I believe it's as good a note as any to finish with!
A similar-looking coat to one associated with 'Only Fools And Horses' character Del Boy has been a lucky charm of Lee's and even led to one Swindon Town supporter naming their blog in honour of it.
"It's Hugo Boss and I got it in Bristol, I wore it one day to a Swindon game and it's still unbeaten! Del Boy wore it so they started playing 'Only Fools And Horses' music out of the big speaker at Swindon when I had it on!
"I think I've always been on the edge of fashion and if it was anyone else they might not have got away with it!"