Curtis Davies interview: Kanu clueless about Fresh Prince dance!
Football brings out the best and worst in goalscoring celebrations, although fans of classic 90s sitcom The Fresh Prince of Bel-Air will have enjoyed Curtis Davies paying homage to the show in his West Bromwich Albion days, even though the idea was lost on a famous teammate!
The 26-year-old centre-back, now with Birmingham City, scored for the Baggies against Tottenham Hotspur at White Hart Lane in March 2006 and his celebration was in honour of the well-loved Will Smith programme.
In a 1995 episode entitled 'Viva Lost Wages', the show's characters Will and Carlton enter a Las Vegas dance competition to win back gambled money, performing to the song 'Apache', popularised by the Sugarhill Gang as well as others including Sir Mix-A-Lot (as 'Jump On It').
The often-replicated routine is shown below and Curtis takes up the story of how he and former colleague Nathan 'The Duke' Ellington came up with the idea of reproducing it, baffling ex-Arsenal and Nigeria forward Kanu on the night!
http://www.youtube.com/watch?v=G4qcbmiNmBM
"At the time there was a Missy Elliott song ('We Run This') out and she sampled the Sir Mix-A-Lot beat and me and Nathan Ellington said 'oh do you remember that from Fresh Prince?'. I said to Nathan 'if you score we should do it', thinking 'I won't score' and then I think I scored within a week of saying it.
"That's why we did it and then Kanu sort of just stood on the side and was just laughing, so he didn't actually have a clue!"
Curtis started out as a youth with Wimbledon and after his release by the club in 2001 the native East Londoner wrote to many local clubs asking for a trial, eventually signing for Luton Town.
After making his professional debut for Mike Newell's team in November 2003 away at Rushden & Diamonds, he played a key role in the Hatters' League One title success of 2004/05 featuring 48 times in all competitions.
After scoring in his last game for Luton (by then in the Championship), he moved to the top flight with West Brom in August 2005 for £3million, impressing in an ultimately unsuccessful fight against relegation that season.
A Baggies defensive counterpart springs to mind for Curtis when it comes to surprising musical preferences, and it is a former Danish international who went on to represent Derby County during his five year stint in England.
"Martin Albrechtsen used to love pop. He used to like house music but he used to love pop like 'Barbie Girl' and things like that, just to look at him you wouldn't have thought it."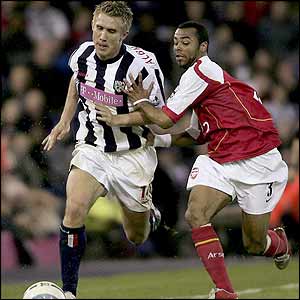 After West Brom lost the Championship play-off final in 2007, Curtis (who missed the Wembley defeat to Derby) left The Hawthorns for local rivals Aston Villa on loan, signing permanently a year later for a fee reportedly in the region of £8million.
He played 14 times in 2007/08 before struggling with an achilles injury, although he did get off the mark for Villa with a goal at Wigan in a season where the team came 6th in the Premier League (something they repeated in the following two years).
Netting against old side West Brom along the way, he played 45 games in 2008/09 but injuries contributed to a severe lack of playing time the year after this, though he did score against Liverpool at Anfield.
During his stay at Villa Park, Curtis made it into Fabio Capello's England squad but despite featuring for the Under-21s he has not made his international debut as yet.
After spending time on loan with Sven-Goran Eriksson's Leicester City last season he then moved to another Midlands club in Birmingham City.
By the time of his debut (against West Brom) the Blues were already Carling Cup winners after that euphoric Wembley win over Arsenal, but relegation to the Championship would follow in May.
Curtis scored for Chris Hughton's side on the opening day of this season at Derby and the team are five points off the play-off places at the moment, but importantly have three games in hand on all but Hull City from the clubs above them.
This is also Birmingham's first experience of major European competition in around half a century as they look to progress from their Europa League group where they are tied on points with Club Brugge and Braga at present.
With the quality in the ranks at St. Andrew's, Curtis has stated his firm belief that promotion is of paramount importance this season, and on the lighter side of things he has overheard some contrasting music tastes in the dressing room.
"I think obviously the way we started wasn't as good as we would have liked but we've improved on that at least and we've got a bit more consistency in our performances. We've only just lost our unbeaten record over nine games so that was unfortunate but I think we're in the right direction.
"On a personal level I'm just happy to be playing games. I think if I'm playing games, especially at this level, then I'm going to be able to show what I've got.
"Usually in the changing room now Fozzy's (Ben Foster) gone it's left to either Den's (kitman Denis Butler) or Joe's (video technician Joe Carnall) iPod. Sometimes it can be a few old classics but our video technician comes up with a few more recent ones, but sometimes a bit more indie than the lads like!
"Sometimes I hear Jean Beausejour's iPad playing a bit of Chilean salsa/Spanish music. I hear (Nikola) Zigic singing along to some, I don't know if it's Serbian pop or something, so I wouldn't say I'd like to listen to their music that much!"
The inauguration of new players often results in singing in front of new teammates and Curtis has experienced this himself, choosing to bring the music of 'the Walrus of Love' to Villa Park!
"I've only had to do it at two clubs, at Villa I sung Barry White 'You're the First, the Last, My Everything' and this summer when we were in Fota in Cork (for Birmingham's pre-season) I sung 'Black And Gold', Sam Sparro."
We've heard about some of his teammates' music so what are some of Curtis' own personal favourites?
"Favourite music would have to be r&b, hip-hop, at the moment probably Drake. The only things I dislike would probably be metal music, not heavy metal but like mosh pit music, I think when you can't understand the words it shouldn't be classed as music!
"There's odd songs that get me going, there's Kano and Low Deep 'Get Set' and Arctic Monkeys 'When The Sun Goes Down'. They're two of the songs that would get me going and they're totally random.
"I can tell you one of my favourite songs that will surprise you, Green Day 'Time Of Your Life'. An album I could listen to over and over again because it's a classic, and it's one of my early ones, is Craig David 'Born To Do It'."
The question of the first music ever bought usually seems to throw up some intriguing answers and Curtis is without a doubt a prime example of this!
"I actually remember this, the first album I ever got was MC Hammer's 'Please Hammer, Don't Hurt 'Em' on record. The first single I got, I think it was two at the same time, I got 'Do The Bartman' (The Simpsons) and Vanilla Ice 'Ice Ice Baby' on the little seven-inch records!
"I think I must have been maybe five or six."
Aside from his participation in 'Movember', where by his own admission his moustache grown has had him looking like legendary ex-Sheffield Wednesday and Nottingham Forest defender Des Walker, Curtis has a key responsibility in his life.
"Most of my time's spent with my little girl, that's it really, I'm not a golfer, I'm not into much else. I think after Christmas I'm going to get on the Rosetta Stone and get my Spanish going as well."