Kelly Smith interview: Forever spinning – England's crystal conductor and the iconic collection
Weaving an original twist into Kelly Smith MBE's story may seem about as easy as it was to stop her casting her spell on the pitch. The pioneering, unforgettable former Arsenal star's highlight reel continues to replay in the mind, as smooth and sleek as the sumptuous turn for her famous first World Cup goal, or like an ever-spinning vinyl, which brings us neatly on to a bonus track in the England great's persona.
When the end credits began to roll last year on Kelly Smith's playing career, the tributes were five-star – in content, in volume, and with the names leading them. Across a couple of decades, the attacking marvel hot-footed her way to a genuine legacy, retiring as England's leading scorer (46) and  most recognised female footballer.
Across several leagues and major international tournaments, there are so many of her goals to pluck from the archives, but one that takes special precedence is the first of her double against Japan in the 2007 FIFA Women's World Cup. Although she was long since established amongst the elite by then, England had missed out on the two previous World Cups, so when the 28-year-old struck in Shanghai in the group opener to level for the Lionesses late on, it was her first on such a golden stage.
Taking Karen Carney's pass in the penalty area, she produced an effortlessly brilliant turn to leave the defender tumbling before slipping away the finish with her famous left foot. The celebration, so often referred back to since and even forming the cover image of her autobiography, saw her remove and kiss her destruction-wielding left boot.
Living out one of those time-stopping moments we all dream of as kids kicking a ball around, Kelly says there was no real thought behind the celebration some still remind her of to this day. Lost in the euphoria, in a similar way to how music can cast you blissfully adrift.
Kelly made her name as one sharp-to-devastating mover, but out on the pitch is not necessarily the only time you might see her throw out a drop of the shoulder, as she details.
"I'm not your standard dance music person to get me going; I like a lot of disco music. So, 70s/80s music, and I've got a few records that I used to listen to, like Womack & Womack 'Teardrops,' like that type of music.
"'Le Freak' by Chic, 'Big Fun' by Inner City. I like the beat.
"I don't necessarily listen to the words; just the beat and the 'pump me up' factor a bit."
On the way to 117 international caps, along with 20 major trophies at Arsenal, Kelly's big games came calling almost as often as the defenders were left sprawling. Her supremely clever play was supplemented by a world-class competitive undercurrent, so aside from enjoying it in her downtime, did music ever help her tap into that private corridor of professional focus?
"I think in the gym, just when any kind of motivational music comes on; I wouldn't necessarily say I play certain songs in the gym. It wasn't like a massive, massive factor (for me), but there were a lot of the girls in the England team who needed music and always had their headphones on, on the bus to a game.
"Then when they got in the changing room, Alex Scott always used to pump the tunes out, whereas I just used to be in my own zone then."
Signed by the legendary Vic Akers OBE for Arsenal from Wembley Ladies in 1996, Kelly had made her England debut the previous November, just after turning 17. The Garston-raised talent would go on to become the first Englishwoman to play football professionally in the United States, as well as the only English player to ever feature in the FIFA Women's World Player of the Year final three (in 2009).
Among Kelly's seven major international tournaments was the 2012 London Olympics in Team GB colours, which saw 70,584 at Wembley for the group win over Brazil as the women's game was rightfully elevated amidst an unforgettable sporting summer showpiece for the country. The closing ceremony, entitled 'A Symphony of British Music,' included a performance bursting with 90s nostalgia from a famous five who were almost royalty to Kelly around the time she was starting to make her own name.
"Well I was a big Spice Girls fan! So I know most of their songs from that era, growing up with them."
Dubbed a 'once or twice in a lifetime' player by her long-time England boss Hope Powell, Kelly managed to marvel for over two decades despite a catalogue of injuries, including a torn ACL, a fractured foot, leg breaks and so on. Alongside the finisher's craft, there was the creative vision, and even the opportunist touch, as seen with her inch-perfect winning strike from near the centre-circle with Russia keeper Elena Kochneva off her line in a crucial Euro 2009 group victory from two down for the Lionesses, who went on to reach the final (with Kelly of course scoring in that Germany loss).
She reflects on 2007 to 2009 as the peak of her powers in England colours, but she had plenty still in the locker as she played recently in the UEFA/United Nations Match for Solidarity in Geneva. In a game organised to provide help for children with disabilities, she was on ex-Real Madrid and Barcelona star Luis Figo's team, delivering a deft knockdown for Spain legend Raúl to score with almost 24,000 in attendance.
On the subject of world-class entertainers, during her three seasons with Boston Breakers in Women's Professional Soccer (WPS) in the U.S. she told in one video Q&A how Michael Jackson would be the ultimate artist she'd choose to have a backstage pass to see perform. There are a couple of Brits who top the list for her when it comes to present-day singers.
"I'm not really a concert person but I've seen Adele and I think she's fantastic. I saw her up in Manchester and she's phenomenal.
"I would like to see Ed Sheeran live; I think his music is inspirational."
Upon her mid-2000s return from America, Kelly highlighted the difference in intensity towards training in England at that time, noting the greater professional ferocity she had seen on a consistent basis during her years over the Atlantic. An integral driver in demanding better for the game through times when it seemed wedged in the mud, she was made an MBE in the Queen's Birthday Honours List in 2008.
Winning six league titles and five FA Cups amongst 20 major trophies in her three Arsenal stints, Kelly found her way onto the scoresheet some 30 times across the competitions the Gunners won so memorably in their legendary 2006/07 quadruple season. Despite her playing reputation and the respect she commanded for club and country, she never even made it to reserve status in her career when it came to dictating the changing-room music!
"No, they wouldn't let me! My music they said was awful!"
In that Inner City track from her collection she mentioned earlier, 'we don't really need a crowd to have a party' bounces over the track. At Boston Breakers, though, they had a clan ready to step to it every time.
"Yeah, there was always a little dance crew: Lauren Cheney (Holiday), Alex Scott was always dancing, and Lindsay Tarpley. They always liked to dance before the game in America.
"For me, that is not my cup of tea! I've got bad dance moves, but it was funny just watching them get in the zone that way; having a light-hearted dance to get them focused."
With a dance at the Breakers the most she can recall ever having to do as an initiation, Kelly successfully slalomed clear of the customary singing challenge each time she joined a team. If she ever had to record a song with a career teammate or two, though, she knows who she could rely on to bring what she would be looking for, which isn't necessarily earth-shattering ability!
The midfielder in question was an England teammate of Kelly's at four major tournaments for England, as well as the 2012 London Olympics for GB.
"Jill Scott! She's always up for a laugh and she's one that always likes to dance and mess about.
"She takes herself not too seriously, which is a real good characteristic to have."
On that theme of relinquishing inhibitions, as well as coaching, which has had a part in her endeavours since far back in her career, Kelly is one of the notable women's football figures who have stepped into punditry in recent times. Alongside former teammates like Rachel Brown-Finnis and Sue Smith, to name just a couple, Kelly has been in the studio for BT Sport Score, as well as on Sky Sports News covering games like the Europa League tie between Arsenal and AC Milan this season.
Shortlisted four times for FIFA World Player of the Year, Kelly shares the feeling she gets when the cameras are rolling in the studio, as well as the general nature of the feedback that has come her way.
"I find it quite nerve-racking, because there's not many female pundits out there at the minute; it's kind of like a breakthrough that's happening right now with a few of us that are doing it. You are judged quite heavily by the general public; you get your odd negative tweets saying 'you should be in the kitchen, you should be ironing,' but most of it is pretty complimentary.
"I think times are changing, especially with females having an input within the men's game, and people's opinions are changing when they watch women's football, so it's a good thing."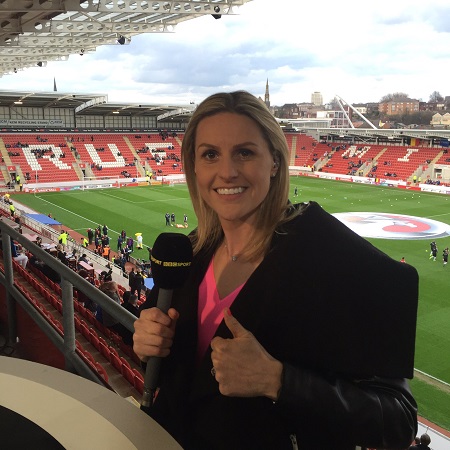 Although only a decade ago, Kelly's appearance on Friday Night with Jonathan Ross serves today as a stark example of how the land has shifted in the way female footballers are looked upon. That is also just one example of Kelly pushing outside of what is comfortable, for a bigger purpose – in that case, a chance to shed more light on the women's game.
TV viewers have seen her providing analysis and opinion numerous times as a studio guest when big games have been broadcast in recent years, with last weekend's Women's FA Cup final between Arsenal and Chelsea the latest. The media side is a big part of what she does now, which, as she has touched upon before, is an element that took time to feel at home with.
"Yeah, I think with the more we do it and get more comfortable in front of the camera. As a player, the interviews were difficult early on in my career, but then you do so many that it becomes second nature to you.
"I think that's the same approach I've taken with my punditry work. I've got a lot of experience within the game so I just have to get my opinion across so the general public can understand it and break it down, which is good at times but it can be a little bit challenging."
Despite some of the hardships she encountered, the way Kelly played exuded footballing romance in its utmost sincerity. Considering who from the current women's game gives her that good feeling as a spectator, she picks out a Lioness whose international career was born while the sun was setting on Kelly's.
"I enjoy counter-attacks in this day and age in the women's game, because it's fast and it's furious and it's getting numbers up the pitch as quickly as possible, being as creative as you possibly can. Players that I like to watch, Fran Kirby, because I see little bits in her that remind me of how I used to play: very direct, skilful, gets away from players, and she's a threat.
"Every time she gets the ball she's a key player for Chelsea and for England."
Among Kelly's favourite feats of her career was the 1-1 draw with France in Rennes in September 2006 to win a qualification group she had scored nine times in, booking England's place at the World Cup for the first time in 12 years. At club level, it is somewhat impossible to look past the quadruple year of 2006/07 with Arsenal.
It was the club's 20th anniversary season, and along with sweeping the domestic trophy set with the FA Women's Premier League, FA Women's Premier League Cup and FA Cup, they spectacularly bagged the UEFA Women's Cup as well. With players and personalities like Emma Byrne, Julie Fleeting, Lianne Sanderson, Karen Carney, Jayne Ludlow and so many more, their European adventures took them from Russia to Iceland, from Denmark to Sweden, and finally to Boreham Wood.
Kelly hit an important double away to Brøndby in the semi-final first leg, and although she was banned for the two legs of the final with Swedes Umeå IK, only fellow world stars Hanna Ljungberg and Marta (both Umeå) scored more than her that season in the competition. In that Gunners dream team under Vic Akers, they had all the ingredients you could need, with unshakeable belief in one another the bedrock of it all.
Although a number of that team are still playing – Anita Asante, Gemma Davison, Katie Chapman etc. – it is fair to say much has moved on in the women's game since, with increased coverage among the most obvious places to start. Whether it is from specialist women's football outlets and individuals, or from wider media, is there anything that annoys Kelly about the way the game is still covered or communicated, or a tweak she would like to see?
"Well I think we're in a day and age where there are more people on board, writing about it, seeing it in the papers, but there are still many errors. Players' names, the wrong name with the wrong picture, that irritates me, because it's not hard to know that, and you should know that.
"Another thing that I would like to see more of is TV cameras at the games, like you do in the (men's) Premier League or Championship, because it shows you different angles, whereas we still get that same one or two angles of the game. I know at the World Cup that happens, because it's a bigger stage and the finances are there, but eventually I would like to see more camera angles.
"It just gives you a better perspective of the game."
As she made waves over the other side of the Atlantic, Kelly battled with and against players ranging from the steely to the sensational (or a lethal mixture of both). Having scored a breathtaking 76 goals to set a new Seton Hall University record, the New Jersey college retired her number six shirt.
After a stint with the New Jersey Stallions of the W-League, she would be drafted second overall in the 2001 Foreign Allocation Draft as America's first pro women's soccer league, the Women's United Soccer Association (WUSA) began. Knee injuries curtailed her progress during the latter two of her three seasons in the league, but she was a standout figure at Philadelphia Charge, playing with the highly-notable France forward Marinette Pichon and working under Florida State head coach of the past 13 years, Mark Krikorian.
Playing for New Jersey Wildcats after WUSA's demise, and prior to her return to Arsenal for four years, Kelly was Boston-bound for the 2009 inaugural season of the second attempt at a women's pro league in the U.S. – Women's Professional Soccer. Taken second in the WPS International Draft by the late, legendary Tony DiCicco's Breakers, she was chosen ahead of the likes of Brazilian stars Marta and Cristiane, Japan legend Homare Sawa and Canada great Christine Sinclair, to name a few, and was selected for each of the two All-Star games the league staged in its three seasons.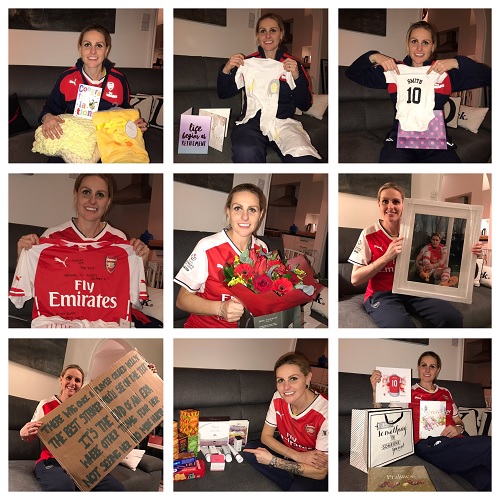 Kelly played in the 2010 All-Star match having missed out due to England duty in 2009, appearing on Marta's XI, who ran out 5-2 winners against Abby Wambach's team in Kennesaw, Georgia. Like the two team captains, Kelly had received votes from 100 percent of the league's coaches.
For Boston, she was every inch a top-class player. As the Breakers reached the play-off semis in 2010, she was among WPS' top scorers, with 11, as well as five assists.
In her final season there, and the last for WPS, the team made the first round of the play-offs. While the Championship may have eluded them, the Breakers were enjoying the kind of seasons that the club sadly never got to have in their National Women's Soccer League (NWSL) years of 2013-2017.
The league itself is in its sixth year, but that it is there without a women's soccer institution like the Breakers is a harrowing reminder of the struggles that very definitely remain in these largely advanced times for the women's game. Even in the NWSL era, Kelly's name and number 10 could still be seen on jerseys in the crowd at Breakers games sometimes, while her photo in club uniform also adorned the walls of the front office.
Like Kelly, greats of the game including Kristine Lilly, Maren Meinert and many other world-class competitors wore Breakers blue (or pink, if you remember those special edition, fundraising Puma kits!). She describes how she felt when seeing that the club she enjoyed such special moments with were to fold a few months ago.
"It's heartbreak really, because they were the longstanding team, since 2001, and they were in the league (WUSA) when I was playing for the Philadelphia Charge. They always seemed very sustainable, very professional outfit, and very good players playing for them, and managers.
"Boston is a fantastic city, and for them once to go under was horrible, but the second time, I can't see them ever recovering from that. Any time that a team folds in the women's game, it doesn't look good, and it's a shame that had to happen really recently."
When returning to Arsenal in 2012 after WPS ceased operations, the U.S. was a closed chapter for Kelly. Although England's jewel for so many years, she was undoubtedly also an adopted American player of sorts, emerging from the college system and performing across two different pro leagues.
Those were years of not just her career, but her life, so as we speak now in 2018, does Kelly look back fondly on her time in America, and more specifically, in the City of Champions, as a Breaker?
"Yeah, massively. I made some really good friends out there and the football was of a high level, training every day in the sun, doing what I love.
"I wouldn't change any of that. I managed to play under a great coach in Tony DiCicco; he's not here now, but I learned a lot from him, his methods and his ways.
"I played with some fantastic U.S. Women's National Team players, and against, and it was some of my best football years of my career out there."
Taking a year's maternity to have her son Rocco, who she naturally emphasises is her priority now, the many opportunities Kelly has and will continue to unlock in and around football are exciting extras to pursue as she wishes, along this next stage in the life of an icon of the women's game and an English sporting treasure. The big names came out for her celebration game last February, while the 2016 FA Cup final she started in and won with Arsenal was described by her as 'the most glorious way to complete my career.'
The night before that Japan game in the 2007 World Cup, Kelly said she had practiced her visualisation technique, so let's call on that imagination once again here to finish. As with each interviewee on here over the years, the scene for Kelly to picture is a 5-a-side game (grass pitch, sports hall and beach among the available options…).
The player is asked for four teammates, from any time in their career, and they do not have to be the 'best four' they ever played with…but it's safe to assume their choices will be pretty useful! It is about picking some of the players who would bring ability, a competitive edge, and an enjoyment factor, which is what it all eventually comes back to in this game we love.
In truth, it would be more fitting for Kelly to have a tournament of several teams to fit in all the worthy players she lined up alongside. Maybe she could appear for each one at some point – after all, she always did improve any side lucky enough to have her.
And so, over to England's trailblazing enchanter to sign her name over the finishing touches.
"In goal, Hope Solo. I played with her in Philadelphia, so I know the abilities that she has as a teammate.
"Obviously, she's been the number-one goalkeeper a lot throughout her career. She's agile, she's a leader, she's good with her feet, which I think is important with a goalie.
"I think in terms of her as an individual player on the field, I'd pick her every day; I'd pick her for her pure athleticism. The back, it'd be…Doris Fitschen (ex-Philadelphia Charge teammate), who played for Germany.
"Again, tall leader, great with the ball at her feet, coming out from the back. Very composed and calm; reminds me of a Rio Ferdinand-type of player.
"Marta: skilful, can create anything out of anything, fast, and can beat defenders with ease. Kristine Lilly: very composed on the ball, great dribbler, can draw defenders in and release the ball to the other side.
"She keeps possession very well, she's a team player and would be a fantastic communicator within that 5-a-side group.
"(Originally mentioned Abby Wambach, which would make it one too many players, so Kelly is asked if she'd put her on the bench) Erm…yeah. Actually I've got three left-footers in there, so maybe I need to put her in for one of us!"
Part of this interview featured in the May 2018 issue of She Kicks magazine
To catch every one of these interviews, you can follow me: @chris_brookes
You can also like the Facebook page and stay up to date!