Ramona Bachmann interview: The blue belonging – Chelsea's Swiss star riding on a rhythm refined
On the way from precocious youngster to leading light for her country, Switzerland's Ramona Bachmann has sometimes had to learn the hard way. The speed, the skill and the love affair with offhand creativity that make the Chelsea Ladies forward such a captivating competitor have not waned, but she is now finding a harmony once missing from her personal track.
Pulsating intensity, stylish impudence and a collected confidence with the goal in her sight. Whether in club colours or with the red and white of Switzerland draped over her, when Ramona Bachmann hits her stride it all seems so natural.
Like anybody, though, there are intricacies beneath the surface to be appreciated and harnessed. Trying her hand at life in a new league and country is not at all unfamiliar to the forward, with her switch to Chelsea at the end of 2016 making England the fifth destination of her multi-national club career.
However, something has felt different this time for the jinking, jet-heeled performer. It seems a little bit more complete almost, as she describes when asked if anyone in the Blues ranks in particular has smoothed the settling-in process over the past year or so.
"Well, to be honest, I really feel that with every player at Chelsea," she began. "I really appreciate that because I didn't have that in the other countries when I came to a new team; there's always one or two players that welcome you."
"In this team I think we have a really, really good team spirit and every player is really good with it. It's not been really different, but it's always challenging when you come to a new club; you always start from zero again.
"You get new teammates, there are new rules, it's a new league. There's a lot of new things and it's always a big challenge if you come to a new team.
"It was challenging in the beginning but I felt really, really welcome when I started at Chelsea. We just have a great structure within the whole club and the team welcomed me really, really well."
As players become accustomed to one another through frequent on-field tussles, it can mean that one side gets to form a certain impression of the other, which can in reality be some miles wide of the mark. England certainly knew about Ramona from her teen years, while Chelsea locked UEFA Women's Champions League horns with her VfL Wolfsburg side.
The names she was going toe-to-toe with back then have now become her squad – part of the same blue billing. The Chelsea players have been more than delighted to have the tricky attacking talent working for them instead of against, while they have also relished the opportunity to get to know her beyond the pressure cooker of competitive play.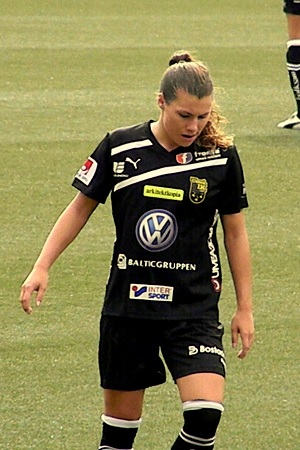 Given the way she grasps the limelight with the ball at her feet, the ease of her body swerves and suchlike, you would assume Ramona would be a natural for football's customary singing initiation performance for new players. So was she made to step up when she joined Emma Hayes' team?
"Yes, I had to do that at Chelsea. It was some months ago, and it was actually when we went to Lisbon for pre-season.
"All the new players had to do it, on the bus, on the way from training to the hotel. Everyone had to go to the front and sing a song; I think I did a Swiss song.
"The artist was Gölä! I don't remember which one but he has many great songs."
Music itself is a key player in Ramona's self-expression; one third of a 'triple threat' alongside her body art and fashion sense perhaps. For the five-time Damallsvenskan (Swedish top tier) champion, it can soothe her mood, spark her motivation, and much more besides.
She believes it is every bit an essential in her life.
"I would definitely say that. I'm not a good singer or anything, I'm not playing any instruments, but I listen a lot to music.
"I think it's a big part of my life, definitely. I don't really have favourite artists; I just like to listen to a bit of everything.
"It depends a bit on the mood I have, so I like to listen to r&b, hip-hop and pop music mostly, but before the games I like to listen to house music; something that pushes a little bit, that goes a bit faster. I like Jason Derulo 'Tip Toe' (featuring French Montana).
"I also like to listen to Latino music, a bit of Spanish – I don't really understand that much but I just like the rhythm of it."
After Ramona's goal against former club FC Rosengård in the Champions League there were one or two moves with young Blues teammate Erin Cuthbert on the sideline, and a rhythmic edge is very much encouraged in the Swiss national team. A 'young veteran' of over 80 caps and over 40 goals, having debuted at just 16 against Sweden in summer 2007, Ramona was at the hub of the celebrations as La Nati partied on tables after qualification for their first major tournament (the 2015 FIFA Women's World Cup).
"…at the Euros sometimes in the evening we used to sit together and sing, which I think was really cool. Music is a big part of the team."
Having made the last 16 in Canada, the European Championship last summer was another landmark experience for a side led by one-time Germany star Martina Voss-Tecklenburg. In the Netherlands, Ramona starred in the 2-1 group victory over Iceland, notching the winner and taking Player of the Match.
Switzerland were agonisingly close to progressing to the quarter-final in game three at the expense of France, only to be denied late on by a Camille Abily free-kick that meant the two teams' fates were switched. Ramona's will to win with the Swiss shirt on her back is impossible to deny, but music is a perfect alternative to the times of intensity in games and training with the team.
That was captured best last summer as FC Basel defender Rachel Rinast, a player whose singing has earned mention on this site before from Ireland boss Colin Bell, led the team's official tournament track 'United in Red.' The 26-year-old is a close friend of Ramona, who highlights her as a leading musical talent when describing how downtime in the Euros was never wasted.
"The song we made for the Euros was a really big thing in Switzerland. We have some good singers in the team, especially my roommate, Rachel.
"Then we have some others that are good at playing the guitar, so I can remember at the Euros sometimes in the evening we used to sit together and sing, which I think was really cool. Music is a big part of the team.
"As I said, Rachel is the singer, and then we have Cinzia Zehnder who plays really good guitar."
Announced as a new signing in December 2016, Ramona linked up with Chelsea after over a year at Wolfsburg in which she added the DFB-Pokal (German Cup) to her silverware collection. Since becoming Chelsea's number 23, the ex- Umeå IK star has won the FA Women's Super League's Spring Series and been part of a team that has made club history in making the Champions League's last four this season.
With the Blues, Ramona has formed one helping from a feast of creative talent alongside the likes of Karen Carney, Gemma Davison and Ji So-yun. She has been welcomed emphatically into the behind-the-scenes dynamic, but the team DJ hierarchy can be something else entirely!
Ramona explains how a commanding England defender tends to rule the roost, in the main.
"We have a couple of team DJs, to be honest. We switch around sometimes but most of the time it's probably Millie Bright that takes it over!
"We listen a bit to everything; it depends on the mood we're in. Mostly, it's house, dance, hip-hop, r&b."
This is actually not the first time that Ramona has had Chelsea striker Eni Aluko as a club teammate. That previous link-up came eight years ago, in America's south rather than that of England, at the Women's Professional Soccer (WPS) expansion team Atlanta Beat, a revival of the Women's United Soccer Association (WUSA) version from a few years previous.
Among their teammates were U.S. keeper Hope Solo and creative free spirit Tobin Heath, but they propped up the WPS standings in that 2010 season. While Ramona admits the frustration she felt at not managing to hit the top gears in that spell, due in part to a niggling back complaint at the time, her fans and teammates still got a glimpse at her direct, dancing attacking play.
"I like America, I like the lifestyle as well, but it was good to go there just for a different experience with football."
After returning to Umeå for the 2011 season, she was crowned the best player in Sweden and moved to champions LdB FC Malmö (who would become FC Rosengård), where she was named the Damallsvenskan's most valuable player once again in 2013. Much time has passed since her Atlanta spell – WPS has gone and we are six seasons into the third professional league in the U.S. – but it was an experience Ramona looks back on favourably.
Even though she was just 19 when she set out on the move, she remembers taking it in her stride.
"It wasn't a nervous feeling at all, to be honest. I just had a really warm welcome and I was there some weeks before with my dad, just looking at everything and making a picture of it, so I knew what would be waiting for me when I got there.
"There was someone picking me up from the airport, I knew I would be living with a German player (Shelley Thompson), and yeah, I just had a great time there. I did enjoy living there, definitely.
"I like America, I like the lifestyle as well, but it was good to go there just for a different experience with football. I wouldn't go back there now, for as long as I'm playing for the national team; it's just too much travelling and you miss too many (club) games while you're travelling.
"Football-wise, it was not the best, but it was definitely worth it. I don't regret that at all."
America was a change of scene and pace in various ways, and it also introduced Ramona to a somewhat different stadium experience than we have come to associate her with!
"I've been to some live shows but I want to go to more. I've been to Rihanna, Beyonce, Justin Bieber…Bon Jovi!
"Rihanna and Beyonce were in Switzerland and Justin Bieber was in Hamburg. Bon Jovi I saw in Atlanta.
"My teammate, Shelley Thompson, was a big fan of them so she asked me if I wanted to go and I was like 'yeah, sure.' We got some VIP tickets as well.
"It's not like the typical kind of songs I like listening to but they had some cool songs, for sure."
As well as the popular Michael Jackson shout players tend to go for when asked on here, Ramona picks out Ed Sheeran as the present-day artist she would most love to see live. Back at Rosengård, she was part of a team that could rock the house without any need for encouragement.
Winning three league titles with the club, with stars like Brazil's Marta and Germany's Anja Mittag there, the goals flowed and so did the beats.
"Definitely, music was a big part there as well. We used to make team playlists where everyone chose their songs and we put them together; that's the kind of thing we do in the Swiss national team as well and we listen to them in the locker room.
"I can remember that Ali Riley was quite good with the music. I took over the music sometimes, Anja Mittag did sometimes, or Sara Björk Gunnarsdóttir."
Laughing as she is reminded of the Instagram video she once shared of her and Swiss teammates singing 'I Want It That Way' (Backstreet Boys), Ramona considers which of her career colleagues she would get on board if she ever had to produce a professional song cover. She goes for some vocal quality via a Swiss teammate, as well as calling in the aforementioned Icelandic captain to keep things simmering below serious!
"Definitely Rachel (Rinast)! I think I would choose…does it have to be good or can it be funny as well?
"I would probably choose Sara Björk Gunnarsdóttir. Which song?
"That's tough…we probably could make our own…definitely! Rachel actually does her own songs right now; she writes her own songs and sings them."
Coming from Malters in Lucerne, Ramona went from the little kid in the baggy red football kit posing with her Adidas Tango ball, to knowing how it feels to wear her national team's armband. Naturally, that big red shirt back in the day is a little different to the styles she favours today, and the same can be said of her music taste.
She thinks back to the first album she ever had, which came from a multi-generational folk/pop group who might not be especially known in the UK, but had success on the continent.
"It was a CD and I was a big fan of The Kelly Family when I was small! They were my favourite band.
"I liked the Backstreet Boys as well; a lot of boybands, like them and Blue. Yeah, I was a big fan of boybands when I was young!"
The recent Cyprus Cup, in which Switzerland finished 4th, was a welcome change of climate from England, though Ramona did spend pre-season with Chelsea in Austria, which evoked some mountain memories of home.
"I need the city life; I need stuff going on."
In an upbringing she remembers fondly, her fervour for football was set amongst tranquil surroundings, as she recalls.
"It was great. I had family that always supported me, school time was always a lot of fun, and after school I always went out with my friends to play football.
"I just remember childhood as something I really enjoyed. I was growing up in a small town with only 6,000 people, a little bit close to a city, but the city has only about 120,000 living there; if you compare it to London it's very, very small.
"I kind of liked it, it was calm. It's a really small place and you kind of know everyone who lives there.
"I liked to live there when I was younger but I probably couldn't live there now! I need the city life; I need stuff going on.
"It would be too boring for me."
Ramona (or 'the speedster' as teammate Fran Kirby called her on Soccer AM's 'You Know the Drill') has dizzied more than her share of defenders and even keepers with her fast feet and seamless change of direction. Her finishes have ranged from the precise to the thunderous, but if she could bring in any current or former player to size up some shooting with on the training pitch, who would be joining her for some fun skill-sharpening?
"I think I would choose (Cristiano) Ronaldo. I'm actually more of the Messi type than Ronaldo, but Ronaldo for me has probably the best shooting technique.
"My big idol when I was little was Ronaldo, the Brazilian. A Swiss player I did like was Alex Frei."
The link back to men's football can be a tiresome one for plenty when the women's game is covered, though even at just 27, Ramona is from a generation in Switzerland that did not have one of her or a Lara Dickenmann on TV screens or promotional posters to look up to. Along with Fabienne Humm, a music/football feature on here back in July 2015, she struck a hat-trick in a 10-1 Swiss win over Ecuador at the last World Cup.
Her Euro 2017 was a mix of how she can dazzle and take charge (ask Iceland), the fierce competitiveness (ask France's Eugénie Le Sommer…), and the 'so near, yet so far' that she is dying to help the team eradicate in upcoming tournaments. After the Euros, La Nati saw the international retirements of the aforementioned Humm, Vanessa Bürki, Sandra Betschart, Caroline Abbé, Martina Moser and Stenia Michel, which Ramona points to when assessing what she believes is currently the biggest obstacle between Switzerland becoming a contender on a European or even world level.
"Well, I think the depth, mostly. We have some really good players but we don't really have the depth in the team, so if we get some injuries or something then it's getting really tough for us.
"At the same time now, I think after the Euros we have got six players who retired, so we got in about eight or nine young players while we were in Spain (in January). We've got a really young team now and we lost a lot of experience, so we made probably one step back, but I don't really think it's a bad thing, because the young players are really hungry.
"They're here to learn, they listen to us, and they're just trying to get better in every training. The good thing is we've still got one year until the World Cup, if we're going to qualify, but obviously it's our goal."
Still a teenager when she was named Swiss Female Player of the Year in 2009, Ramona won it again six years later and also starred at the 2009 UEFA Women's Under-19 Championship in Belarus, where she was voted the tournament's best player for the semi-finalist Swiss team.
Looking back on a natural immaturity she had in the earlier stages of her career, Ramona says she is now much more in tune with that bigger picture we so often hear referred to.
"Yeah, I've definitely changed a lot. I think you just get older and more experienced.
"I made a lot of mistakes when I was younger. I was really hungry, which I am still, but maybe a bit over-motivated when I was younger.
"I wasn't really patient enough; I just always wanted to be the best at everything and didn't have the patience to just get a bit more experience of everything. I started to realise pretty fast that I needed to work on myself, my mental strength, so I started to work with a sports psychologist."
The last remaining unbeaten team, Chelsea sit top of the FA WSL, while Ramona has helped them hit new heights in Europe. Back in November, she netted against her old club Rosengård in a 3-0 home first-leg win that set the Blues on the way to the Champions League quarter-final, before netting again as Montpellier were put aside at Kingsmeadow last week.
She is savouring her time with what has become a Scandinavian-sprinkled Chelsea side. Sweden is of course where she has enjoyed the majority of her career and success, with two of her five Damallsvenskan titles coming at Umeå in 2007 and 2008, along with a Svenska Cupen.
There are plenty of domestic players and personalities in the Blues ranks, though, and as Ramona alluded to earlier, the dressing room is not often lacking atmosphere. With that in mind, is there any new English slang or phrases she has added to her vocabulary?!
"I think only bad ones! You just have many different words, to be honest, but I can't tell you one right now!"
Just as she needs music to be one side of her expression, release and enjoyment, Ramona describes what else she craves in her life to keep everything in balance.
"I try to spend a lot of time with friends, my close friends, and with my family if I can, but it just makes me happy to spend time with good people. So I like surrounding myself with good people, having a laugh, going for coffees, going to the city, trying out new restaurants, going to movies, cooking together.
"Mostly that."
With an artfully deft touch in tight spaces, to go along with her pace and quickness of thought, Ramona is seemingly made for a frenetic 5-a-side game, and that is where we leave this one. It is safe to say you would probably want her on your team instead of the opposition's in a match-up like this, but who would she want on hers?
This has been the final question of the music/football interviews on here for most of the seven years since the site started, and the idea is for the player to think of four current or former teammates they wouldn't mind playing alongside in a small-sided showdown. It is not about choosing a definitive 'best four' teammates, with the player instead just asked for a sample group of their career teammates they would enjoy playing with.
After a certain Brazilian you may be familiar with by now, Ramona got a defender in there who joked after the Iceland game in the Euros last year that Ramona's winner was probably the only header she would ever score! Maybe she might put her in goal first for this team…
"Well, I'm definitely going to put together a fun team, but at the same time, I want to win as well! So I would take Marta (forward), for sure.
"I've played with her a long time and I think she's a great person, really funny, but really good as well. Then I would choose my best friend.
"I've known her since I was 11 years old and she played with me in the national team for so many years, but she retired this summer after the Euros – Sandra Betschart (defender). I would choose Sara Björk Gunnarsdóttir (midfielder).
"She's a really good friend as well, really fun, really cool person. She likes to entertain people, she's really funny, but she can be serious as well.
"The last one is Julia Šimić (midfielder). Really good technical player and a really good friend as well."
To catch each of these interviews, you can follow me: @chris_brookes
You can also like the Facebook page and stay up to date