Bill Hamid interview: Frame by frame, note by note – All in check for D.C.'s homegrown on the roam
In the time that has elapsed since he made his D.C. United bow as a teenager, U.S. goalkeeper Bill Hamid has learned what it really takes to be his own conductor-in-chief. Beginning his first club spell away from home with Denmark's FC Midtjylland, the crescendo is under his command these days but the fire is very much intact for the 27-year-old.
Bill Hamid arrived on the Major League Soccer scene to the sound of a record breaking, though thankfully for the son of a DJ, no vinyl was harmed in the process. As he signed his name alongside 'youngest goalkeeper to win an MLS game,' he started a professional tale that up until just recently, had been viewed exclusively through a D.C. United lens.
It was eight seasons of adventures and adversity, games and growth, leaving the Annandale-raised stopper ultimately ready to flip to a new page as the sun began to set on 2017. We find the U.S. international now in Denmark with FC Midtjylland, starting afresh in many ways but sticking close by what got him here and what has yielded international caps, an MLS Goalkeeper of the Year (2014) prize, and a lofty position in the minds of many.
As the last line of the 'Black-and-Red,' he exemplified the club and the culture that surrounds it, as surely any D.C. United fan will attest to. His show-stopping elasticity at various big moments won him the firm acclaim of his fanbase, while the 'you can't hold us back' battle cry after the 2012 team's Eastern Conference semi-final win over New York Red Bulls is stitched into United tapestry.
The fact it is a fanbase he was bonded with from childhood made it all the more significant when his move to Europe, which he had been linked to often through the years, finally became reality. When all the announcement reaction had subsided, the last fan photo had been taken at RFK Stadium, and it was time for the man himself to tread the path for real, away from the professional 'game face' focus he has always had to show, Bill admits the process was far from painless.
"I was very nervous, very emotional. My family was emotional.
"Thankfully, my father came with me for the first two weeks, which kind of eased it a little bit, but seeing my mom, my sister and my grandmother being so emotional was definitely something that made me feel a little bit sad. I was nervous in a good way, though.
"The first day I walked in, I was the first one in the locker room and I was nervous to see the next guy walk in, and to shake everyone's hand. I'm still nervous now, but I'm all settled, I've got my apartment and everything, so I feel good about the move."
If there was a gathering of the game's considered voices, Bill would surely merit an invite. Even though his aforementioned explosively joyous reaction in the 2012 playoffs on Comcast SportsNet's live footage (as he watched United knock RBNY out from the locker room following his red card) was so memorable in helping endear him further to fans, he has learned to filter out unnecessary noise along his way.
Keeping his focus on the task in hand has become as much a key skill as claiming crosses or his distribution, though he says he reminisced a lot last season, with his social media posts reflecting that strongly. In starting again somewhere, it is a chance for any of us to let go of a great deal, but to take with us what means the most, not only in a literal sense.
"My father was a DJ when I was in my younger stages, so a lot of the records and CDs that he had kind of just stuck with me."
For Bill, that sentiment carries a lot of pertinence, and just as the beautiful game and D.C. are cornerstones in his story, so too is music. His father, Sully, once part of the Queens Park Rangers ranks, told how Bill, his cousins and his teammates from their junior soccer team would kick a ball around the parking lot at D.C. United's now-former home, RFK Stadium, until the game was about to start.
The barbecue, the rhythm of the crowd heading into the stadium, and the beat of the supporters' drum go together for Bill with the music that would always be playing from the trunk of Sully's car in that tailgate scene of togetherness and anticipation in the open air.
"That was all my father's stuff, and that would be like Beres Hammond, Sizzla, some Bob Marley. Some of the Bob Marley and The Wailers songs that a lot of people don't know about, like 'Pimper's Paradise' and there's a song called 'Work' that I really like.
"Obviously it had to be kid-friendly at tailgates; my father didn't like us listening to the 'parental guidance' stuff, so it was only when I got older that I listened to that! My father was a DJ when I was in my younger stages, so a lot of the records and CDs that he had kind of just stuck with me.
"He was actually pretty big in the Washington, D.C. metropolitan area growing up, so we had a lot of music in our home. I think music for me is something that means a lot; with the background of my family, my father and my uncle being a DJ, that always was a part of my life.
"Playing the violin was always something that was special to me too as a kid; obviously it helped with the hand-eye co-ordination, but just the tempo and how it speeds up, then it softens. It's all over the place and that kind of mirrors my musical flavour; I like all types and I don't really settle on one thing.
"I think you can compare that to the way I play football, the way I'm a goalkeeper; I don't just have one thing that I specialise in."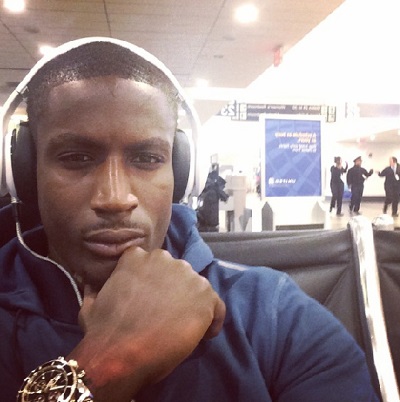 Despite his father's dexterity on the wheels of steel meaning the Hamid house was always well stocked with records, there came a time when Bill wanted one that belonged to him, and it felt a novelty in the early-2000s, as he recalls.
"The first one that I actually owned myself, from my first ever debit card my parents got me, I just ordered it on Amazon, was 'Get Rich or Die Tryin' (50 Cent).' I was so excited to use my debit card for the first time, and with Amazon, it could literally get to your house within 24 hours, and that was the album."
While the mix of nationalities in MLS and so many top leagues around the world now means the locker room sounds can be a tantalising melting pot of cultures, hip-hop is one you can almost always count on to be a major player in such a setting. From 50 Cent's huge debut album, the beats (and of course, the rhymes) have continued to take a prominent spot in amongst Bill's varied collection of styles.
"When it comes to hip-hop I like Drake, Migos, Future, 21 Savage; guys like that are usually like pre-game lists, because you kind of want to get the blood pumping to get ready to go to battle. On top of that, I'm an East Coast guy, so Jadakiss, Fabolous, Jay-Z; New York rap will always be in my blood.
"When it comes to different nationalities, I love reggaetón, because of the sound, the vibes; you can tell it's a lot about being in love or liking a girl. R&b, I like some of the new-school guys like PartyNextDoor, Jeremih; I actually met Jeremih in Dubai recently, which was pretty cool talking to him for a little bit.
"He's got an album called 'Late Nights: Europe,' and he named every song after a different city in Europe, and the two songs that I liked were 'Copenhagen' and 'Stockholm.' The Weeknd, his album trilogy was amazing and will forever be a classic.
"Then you can't go wrong with Michael Jackson. I love African music, and every once in a while, I'll go to Punjabi.
"I like the artist Panjabi MC; people think I'm a little bit weird when I say Panjabi MC but I think he's a dope artist. Both my parents grew up in London and there's a big Asian influence there and also in New York and D.C. as well.
"I come from a very ethnic background and a region in the DMV area that has a lot of different ethnicities and nationalities and that influence kind of shaped who I am in terms of the type of music that I like."
Having gone at 17 with his dad to train with clubs in Norway and Switzerland, as well as seeing a potential chance at Scottish giants Celtic scuppered by work permit regulations, he was the first D.C. United Academy player to sign with the first team, and would become part of the furniture at his first club. Playing as a 19-year-old as United beat Kansas City Wizards 2-1 on his debut in 2010, there would be plenty to test his mettle and shape his character and fortitude over the seasons to come.
From the last-place finish of 2013 (and the claiming of the worst record in MLS history to boot), Bill and his comrades came roaring back in 2014. Ben Olsen's team topped the Eastern Conference, while Bill's standout form earned him some pretty notable accolades – MLS Goalkeeper of the Year, a place in the Best XI, and his first All-Star selection.
He would set all sorts of club records for the four-time MLS Cup winners, including most starts, wins, shutouts, saves and minutes, and as well as nailing down the spot between the posts, with such a wide taste and appreciation, you would think that made him a prime candidate for the team DJ role. However, it can actually work against you to a degree in that locker-room environment, as he explains!
"I was primarily the gym (DJ), because I think that my pre-game playlist is quite unique, and I don't know if everyone would resonate with it. The gym workout, post-training, when we had to get the blood pumping, that was all me.
"(In the locker room) different guys would do it, like Julian Büscher, a German we had last year, he had a good musical knowledge. Kofi Opare, he had good musical sense as well.
"Last year, Lloyd Sam did parts of it, but then we just ended up giving the pre-game playlist to one of our assistant equipment managers, and he had good playlists, so we kind of stuck with him."
If there is a team that knows about musically-minded equipment managers, it is the U.S. Men's National Team. Jesse Bignami has earned rave reviews in several player interviews on here over the years, with former defender Heath Pearce especially paying tribute to him as he described how he has the vibe flowing before the players reach the locker room.
"I'd choose pretty much all the African guys that I've played with the past one or two years and make it like an African boyband."
Bill's first national team camp was in August 2011, and he debuted for his country against Venezuela, keeping a clean sheet in a 1-0 January 2012 friendly win at the University of Phoenix Stadium in Arizona. He was part of the 2013 and 2017 CONCACAF Gold Cup-winning squads, playing in the 3-0 group victory over Nicaragua in Cleveland in the 2017 tournament.
With five caps to his name, Bill was a starter in the goalless friendly draw with Bosnia and Herzegovina at the StubHub Center last month, and he has been touted for many years as a strong candidate for the role of long-term number one. Competition, however, remains considerable, and the desire to earn the spot was one of the drivers in his move to Midtjylland.
The U.S. are currently without a head coach, with Bruce Arena ending his second spell at the helm late last year following their failure to qualify for this summer's FIFA World Cup, but the latest training camp saw an influx of new faces and energy. That also means some new challengers potentially stepping into the team DJ ring.
Bill was in that conversation and he tells who else was doing their best to bring the heat, with two new releases from the hip-hop world dominating the speakers.
"I did it a few times, CJ Sapong a few times, Kelyn Rowe did it once, I remember. A lot of Drake was being played during the camp.
"Migos had just dropped their album 'Culture II' and then Drake dropped like a little EP ('Scary Hours'), with two songs, 'God's Plan' and 'Diplomatic Immunity.' It seemed like a lot of guys really liked those two albums.
"Kelyn Rowe brought a little bit of a different buzz to it, with some house, techno, some rock music, which is always good. Jesse's got a good array of music, whether it's old-school hip-hop, or rock, new-school hip-hop, he's got all sorts, so it's always fun listening to him.
"Then the camp before that, USA versus Portugal, it was DeAndre (Yedlin). He had the ones and twos for that camp, and it was pretty much the stuff that I like listening to."
In an MLS Insider video feature in August 2015, Bill likened a soccer game to a symphony, with its energy gathering a frantic pace and the various elements which form the whole piece 'all synced together to something beautiful.' While he picks out two names from the r&b scene when speaking of his best-loved live shows, he first takes time to mention his affection for a whole different feel when it comes to musical performances.
"Well I used to like going to orchestras and listening to symphonies; playing the violin as a kid, that kind of resonated with me. I love the sound of a symphony.
"I love how they all co-ordinate, from the bass, the cello, the violin, all the percussion instruments and the wind instruments, and how they can all blend together to make a beautiful sound. There's a few concerts I've been to that have stuck with me.
"I think the one r&b concert that stuck with me was Miguel and Alicia Keys. Miguel is one of my favourite r&b singers and his sound is amazing, but the way Alicia Keys played the piano throughout her set and sang and linked with the crowd was very special."
Music is like that magically-authentic slice of a culture, giving a gateway into feeling it in a way that words on a page could never truly manage. Although he is U.S. born and raised and grew up in Annandale, Bill has been connected to his Sierra Leonean heritage throughout his life, with so many in the D.C. area who have roots in the West African nation.
Last year, he also set about raising money for the Sierra Leone flood relief by auctioning off game-worn, signed jerseys. Expression forms an incredibly valuable corner of African identity, and if Bill ever had to record a song with some teammates from his career, he would pay homage to his family ties.
"There's an Afrobeats song called 'Pana' by a West African artist called Tekno. It's very, very popular right now in the UK, in UAE, in Nigeria, Ghana, Sierra Leone.
"I'd choose pretty much all the African guys that I've played with the past one or two years and make it like an African boyband. I think it would be amazing."
The question is, though, has Bill ever had to step up and sing for an audience in reality? Despite training stints with the likes of Preston North End, West Bromwich Albion and Norwich City in England, he is very far from journeyman status with regard to his club career, but the initiation song challenge is something he is still very much acquainted with.
"I've done it twice; once for the national team, and once for Midtjylland, in Dubai for training camp. I think it was USA against Slovenia (November 2011), away, a game we ended up winning three to two, and Jurgen (Klinsmann) was the coach.
"I sang 'Rolling in the Deep' by Adele; I really liked that song and I think that was her coming-out hit. For Midtjylland, I sang 'I Want You Back' by *NSYNC.
"It was okay, the only downfall was that I flew from Los Angeles all the way to Dubai, so it was a 15-hour flight, and when I got to the hotel, they were having the meeting where all the players sang and there was like a trivia game night. Musical Jeopardy, like Motown hits, 70s, 80s, rock hits, and we were split up into teams, and I had to sing right off of the flight.
"My throat was gone because I barely slept, and my voice just wasn't as strong as it could have been! On the video, it sounded like I was a dead horse, but I sang the song, and it was okay.
"*NSYNC 'I Want You Back,' I had just heard it the night before I left; I was doing some shopping for some clothes and I heard it in H&M. I Shazamed it and I was like, 'Man, I haven't heard this song in a while,' so I decided, 'yeah, I'm gonna sing this one.'"
Rather than the unashamed nostalgia of 90s/early-2000s boybands, what Bill has heard at his new club probably wouldn't come up while you were doing the rounds at the mall.
"They like fast-paced music, like house music, club music. They like it in the gym, and I don't quite know how to lift weights to techno!
"When I watch them, though, they seem to enjoy it. I think that's the music they lean towards here, the fast-paced music, high energy, not necessarily the music that makes you want to rip the opponents' head off."
Basketball was among the other sports Bill competed in, but soccer was always the one in his family. Indeed today, his younger sister, Jasmine, is part of the development academy at National Women's Soccer League club Washington Spirit and is one of the prospects who has very recently trained with the first team.
Back in 1998, Sully Hamid started a youth soccer club in Falls Church, Virginia, named Premier Athletics Club. It was the club where Bill, his cousins, and kids from the neighbourhood played, and they would pride themselves on how they punched above their supposed weight when taking on teams from other regions.
"Letting people's opinions get to you is something I would encourage especially young goalkeepers not to do, because everyone's always going to try and find something wrong."
Although his physical stature seemed to belie his years, Bill was very much a young player and person with natural rough corners to smooth. He carries an incessant desire and willingness to get better, to enhance his thinking, his career and indeed his life, and his mental approach has developed hugely over the years since his introduction to the limelight.
The role a goalkeeper is cast in can feel somewhat isolated on plenty of occasions, and in the world of punditry, keepers are frequently criticised, and often by former players who made their way as outfielders. Leicester City's Premier League-winning stopper Kasper Schmeichel last year said that the idea that a keeper should never be beaten at their near post is a myth, though it is always painted as a sizeable error if they do.
So, is there anything that irritates Bill about the way keepers are talked about when games are analysed, or is there something he wishes the wider soccer public could get to understand a little better? He took a few moments to think before responding.
"No – because critics are critics. Everyone specialises in a certain area, and you can always get better, but people are always going to criticise goalkeepers.
"You know, we're the last line, the last person before the ball goes in the net, and it has to go by ten guys at some point to get to the goalkeeper, so things happen and people are going to judge. I think in the beginning of my career, if you asked me this, I would have a plethora of things to say to it!
"For me now, I know the job, the life of a goalkeeper and how it goes sometimes. You kind of have to put out the fire as early as possible, with our voice, or with our body, but then it's about working on your distribution, your cross-taking, and making yourself as refined in all aspects of your game as possible.
"You can't impress everyone. I would tell goalkeepers that.
"Letting people's opinions get to you is something I would encourage especially young goalkeepers not to do, because everyone's always going to try and find something wrong."
Midtjylland are the club that won the Danish Superliga for the first time in 2014/15 and even beat Bill's favourite team, Manchester United, in their last-32 first-leg tie in the Europa League two years ago. Ulvene (the Wolves) have players from The Gambia, Ghana and Nigeria in amongst their overseas names, and having finished 5th last season and won the league's European play-off final, they top the current campaign's regular-season table.
The Championship round will begin in April, and amongst the players at the Herning-based club is legendary Dutch midfield creator Rafael van der Vaart, whose locker is alongside that of, you guessed it, Mr. Hamid. Bill is working alongside and competing with experienced Jesper Hansen and the emerging Oliver Ottesen, and his agility and how he covers the goal will continue to be key elements of his bid to nail down the starting jersey.
Back at D.C. United, he would go to the nearby cryotherapy center for post-game recovery, and that side of his routine came into play here as he painted the picture of the dawn of his Danish adventure.
"I haven't had much football here yet, because I got here and within 12 days I had to leave for the national team for a friendly against Bosnia. I was there for three weeks and from there I joined the club for training camp in Dubai, so I haven't had much life in Denmark yet.
"We just arrived last night and I came straight to the apartment, because it was granted to me while I was gone, and I started moving everything in. I put the beds together, the couch together, I put a table and chairs together, hooked the TV up, and I didn't get to bed until the wee hours of the morning.
"Thankfully, we had today off. My life has just started; today I got a car, got the bank account, got everything.
"Now I'm sitting on the couch talking to you…I don't have much to do right now! I'm gonna have to start figuring that out.
"I stopped by the Apple store, I got Apple TV, I got a PlayStation sitting in one of my teammates' houses right now, so I gotta go grab that tomorrow after training. I know that'll take a lot of my time because I'm a big FIFA player.
"I'm a relaxed guy. I like doing second workouts, I like doing yoga; in California when training wasn't going on for our national team friendly, I was doing yoga in the afternoons with a friend of mine in Manhattan Beach.
"Yoga's definitely something I recommend for the psychological aspect of the game because the breathing techniques help you release all that stress and you feel a big difference when you finish training."
As he talks about getting all the basics set up again in Denmark, it could be likened to pressing play on a new album. There will be tracks you know, but mainly it's all unfamiliar, with new lyrics to learn, new hooks to dominate your mind, and so on.
From the parking lot at RFK, to starring in the Open Cup win of 2013 in Real Salt Lake's back yard, to bidding farewell (for now at least) as 2017 Team MVP, it's already been a ride. While we can never be sure of what tomorrow has in store, in Bill's mind he gets to play for another decade or so from here.
"I'm a better professional, a better man in terms of how I treat people."
In 2015, despite interest from elsewhere, he signed an improved contract at D.C. United that also helped him further provide for his family. There were three knee operations but he ended his time at the club having played 201 games in total, as well as becoming the first homegrown player in MLS to make 100 appearances.
As much as his best form and the great games for the team are remembered, his personal favourite was the showpiece friendly with AC Milan in 2010 – Bill played the first half of a 3-2 seen by 30,367, with the likes of Ronaldinho and Clarence Seedorf in opposition. The one-time DeMatha High School student's work within the community and his encouragement of youth during his time with the Black-and-Red also left an indelible impression.
Over eight years since he signed his first pro contract, how is this Bill Hamid different to that 18-year-old?
"I'm a better professional, a better man in terms of how I treat people. I've had this ability because of football to travel around the world, meet different people, learn different cultures, and learn different ways of how to go about life and how to respect people.
"I'm a more relaxed, sound person; I know how to make the right decisions now and take care of myself and the people around me. There's so many people in this world that come from so many different places, and when you learn about them and their lifestyle, their character, you kind of feed off of that.
"You take bits and pieces and learn who they are and what they're about and just apply them to your life. I think that has moulded me and will continue to mould me for the remainder of my career."
A D.C. United great in Jaime Moreno was amazed by how formidable an opponent Bill was as a teenager in training, as the rangy young stopper kept thwarting the Bolivian star to leave him both exasperated and impressed in equal measure. As we finish, we take it to a place where such youthful exuberance is highly encouraged – the fantasy 5-a-side arena.
Back in the youth soccer club his dad ran, Bill's height allowed him to play with teammates who were a couple of years his senior, and in this team, it is fair to say he has some giants of the game to stand alongside him. In this regular closing question of the past few years on here, the player is asked for four teammates from any time in their career, and for any reasons at all they choose.
Age-wise at least, Bill's playing up a few years once again.
"I would take Thierry Henry; I played with him on the MLS All-Star Team when we beat Bayern Munich. That was special getting to know that guy and talking to him, he's a great guy.
"I'd take Landon Donovan, because of his pace and his ability with first-time finishing. I would take Juan Manuel Peña as one of my defenders; he played with Villarreal and the Bolivian national team.
"He was an amazing defender to start my career with. He gave me so much insight on the game and how to command and talk to players, what I should be saying to defenders in certain parts of the match.
"And I got one more? I don't have someone in midfield…I'll take van der Vaart."
To catch each of these interviews, you can follow me: @chris_brookes
You can also like the Facebook page and stay up to date