Juan Pablo Ángel interview: Chivas' seasoned sharpshooter who barked at the moon in Medellín!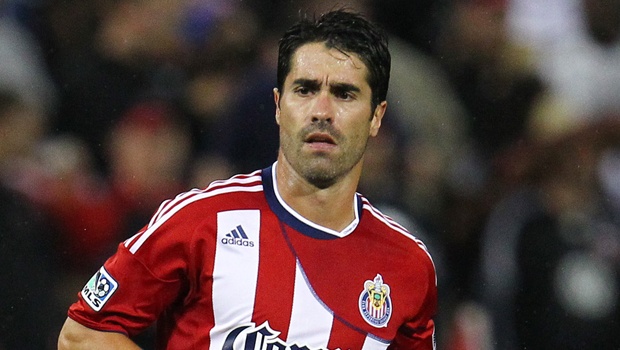 Goalscoring exploits over almost two decades have ensured that the name of Juan Pablo Ángel is familiar the world over to anyone with an interest in the beautiful game, but perhaps it is less universally known that the Chivas USA and former Colombia striker was once a keen follower of Black Sabbath's notorious frontman.
Rising to prominence in his native city of Medellín with Colombian powerhouses Atlético Nacional and later Argentinian giants River Plate, he would become Aston Villa's club record signing in 2001, a £9.5million move which not only marked his arrival in the English Premier League but also a switch to the original surroundings of the aforementioned 'Prince of Darkness'!
Now leading the line in the MLS for Chivas after a spell with fierce rivals LA Galaxy, the ex-New York Red Bulls goal king does however like to add in some music from time to time that could be considered more typical of his South American background.
"I like everything, obviously I like the Latin rhythms, coming from Latin America, but also the old school bands. I was a big fan of Ozzy Osbourne when I was young, I know that he's from Birmingham and from Villa Park, or close to Villa Park, which was our stadium for Aston Villa, and Aerosmith.
"Right now I don't get to pick and choose the music any more, my son is the one involved in deciding what music we hear, but I do like everything in general, it depends on the mood. Rock, hip-hop, old school and obviously Latin music.
Juan Pablo Ángel describes his favourite music and the first record he bought
"(The first record I bought) I think it was Michael Jackson, when 'Beat It' came out, I don't remember the year but I think Michael Jackson was the first one. He was one of my all-time favourite artists."
At 36, Juan Pablo is at the very forefront of the senior figures in the Chivas ranks alongside the likes of defender Ante Jazić, also 36, and midfielders Laurent Courtois, 33, and Peter Vagenas 34, but neither they or even 32-year-old captain Alejandro Moreno get to take on the sometimes understated but certainly tricky role of team DJ.
"I'm not in charge of it you know, there's a mix of cultures in here and nationalities so we have obviously the Latin people who like the reggaeton and all this new wave of music and then you have obviously American guys who like hip-hop and r&b. It just depends, there's some guys that are more old school, I guess the old guys like the more traditional and old school singers.
"It varies, there's not one guy in particular that is the one in charge of the music."
He has netted nine times in 16 regular season games for the Rojiblancos since arriving from fellow Home Depot Center residents the LA Galaxy last year and was a title winner in his homeland with Atlético Nacional as a teenager in 1994.
Having appeared 33 times for his country with nine goals he is of course a prominent sporting figure in Colombia so has his status over such a period of time led to him crossing paths socially with any musicians, or does he know any of those famous compatriots personally?
"I do yes, there's a lot of the Colombian guys I know, Juanes for instance, Shakira, and I met some other artists throughout my life."
He joined Aston Villa in 2001 from River Plate and it is a Croatian striker who failed to make an impact on the pitch who heads the list of the most infamous music tastes from Juan Pablo's six years at the club.
"The worst one must have been probably Boško Balaban, and then you know Ian Taylor was a big music guy, Dion Dublin, George Boateng, I would say probably them three, and Nobby Solano I remember with his salsa!"
The mention of ex-Villa midfielder and fans' favourite Ian Taylor leads on neatly to his range of 'iT7' audio products which I discussed with him as part of our interview on here last month.
The highly sleek and already acclaimed products recently arrived in California in Juan Pablo's hands and he gives a resoundingly glimmering assessment of his one-time club colleague's business acumen with this venture, as well as expressing his gratitude for the help he gave him as a new player at Villa a decade ago.
"I mean first of all the headphones line is phenomenal, I just got a couple of sets from him the other day and they work absolutely fine. The main thing is obviously the cordless (feature), they use the Bluetooth connectivity which is fantastic, but the design is great, they're light, they're compact and I love them.
Juan Pablo Ángel discusses ex-teammate Ian Taylor's headphones, as well as his time at Aston Villa
"Ian was a pain in the neck, to work with I mean… no just kidding he was a great guy, we got on well, he was one of the guys that helped me to settle when I first went to England through the difficult times and he's still a friend and he's one of the few guys that we still remain in touch."
After his success in South America, Juan Pablo joined John Gregory's Aston Villa side in January 2001 and would also later work under managers Graham Taylor, David O'Leary and Martin O'Neill.
The initial difficulties went considerably far beyond the usual settling-in problems and on the field he took time to acclimatise to the English game, but 62 goals in 205 games for the Midlands giants made it a happy experience for the subject of the fans' chant 'there's only one (Juan) Pablo Ángel'.
"I mean obviously when you're the most expensive signing of the club's history there was obviously a lot of expectation and I went through a very difficult period of time due to my wife's health at the beginning, but then she was clear from hospital and all the things that she went through. I found myself welcome right from the beginning, the performance was really, really good and I ended up loving my time there.
"I'll say that I'll always be grateful with not just the Villa supporters but the club in general that they gave me the opportunity to play for them for a number of years. I loved it, at the beginning it was difficult, obviously the language, and all the things that you have to face going into a new country, new league, new style of play, but I ended up adjusting just fine."
"I do follow them and every game I follow the result, I follow the progress, what they are doing, who is coming, who is going, everything you know, I try to keep up with every team that I have played for. Memories, I have so many, I remember my first goal against Coventry that ended up getting them relegated to the Second Division (Division One at the time and now the Championship).
"The Carling Cup against Chelsea when (Roman) Abramovich bought the club, there was this massive hype about Chelsea and the millions they were putting into the club and we ended up beating them at home with a really good goal by me so it was one of those, but in general I only have good memories about the place."
Upon leaving Villa Park in April 2007 he was signed by the MLS' New York Red Bulls who he would go on to captain and his 62 goals in all competitions would see him race to the top of the team's all-time scoring chart, where he remains.
He was acquired by LA Galaxy for the 2011 season but with three goals in 22 appearances he would move on as the Galaxy freed up their designated player position for the incoming Robbie Keane.
After his seven goals in nine matches last year he has been hampered in 2012 by concussion effects sustained early on in the season but he has returned to the line-up of late and has two goals in his seven games so far, including a terrific finish last month against the Red Bulls, though he declined to celebrate against the team he enjoyed some great times with.
Robin Fraser's Chivas are currently 6th in the Western Conference after their opening 14 fixtures and there has been a feeling to this point in the campaign of the final ingredient eluding them.
Juan Pablo is still feeling his way back to 100% in light of the concussion mentioned earlier though in his time away from playing he has the dream backdrop to his everyday life.
"I mean what is not to love about California? The weather, you know it's an unbelievable place to be at, not only me but my family, we settled in really, really quick so I'm very content here."
It was the 1998 World Cup in France when Colombia last qualified and the domestic game has fallen since its well-documented heady days of the early 1990s, but with a team containing talents like the mercurial Atlético Madrid striker Falcao there are gems still emerging if only there can be a rearrangement of the system's building blocks according to Juan Pablo.
"I mean the talent is there, and is gonna be there, because we have that ability just to produce players but what we haven't been able to do is just get the results at the national team meaning that we haven't been able to qualify in the last few World Cups. Having said that I think we have an unbelievable team, even the previous qualifiers we had great players but for some reason the project hasn't been successful.
"I think in general you get the players to get the blame which you have to agree with because at the end of the day we are the ones that perform on the field, but the project hasn't been great. Every single year, or every single qualifiers we have changed the managers right in between and that doesn't give us any help, so I think with the head of the organisations, we have to make sure that we put on a decent project because the players are there, the quality is there, we have to make sure the rest of the things converge together in order for it to be successful."
Ex-national team striker Juan Pablo Ángel evaluates the current state of Colombian football
Wrapping up with the regular question on here, (and it is a strong answer from Juan Pablo with the talent on show in his selection!) who would he choose in a 5-a-side team made up of the best players he has ever played alongside?
"Only players that I played with? I would play up front with (Thierry) Henry, that's for sure, in the middle if it's only players that I played with I'd play with (Pablo) Aimar, then I'd have Ivan Cordoba and (Mario) Yepes, and the goalkeeper would be Peter Schmeichel."