Corina Schröder interview: The act the UK never caught – Reds defender's continental throwback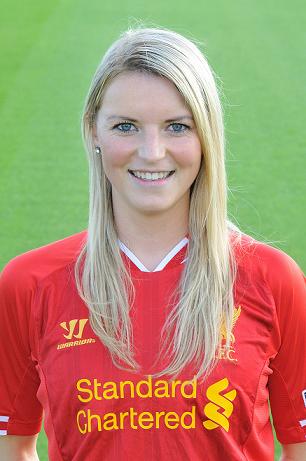 Liverpool Ladies defender Corina Schröder has been a magnet to success in her club career so far and while her knack of winning trophies has followed her to England she explains how one element of her past in Germany is much less likely to do so.
When she officially signed for Liverpool last February, Corina arrived with a very respectable track record as a player. Domestically, the left-back won two Frauen-Bundesliga titles with 1. FFC Turbine Potsdam and the DFB-Pokal (German Cup) with FCR 2001 Duisburg before her move to the FA Women's Super League. She also got to lift the UEFA Women's Cup with Duisburg and won it in its first year as the rebranded Champions League while with Turbine in 2010.
As the 2013 WSL season approached, Liverpool manager Matt Beard was almost done assembling a new-look Reds side that could compete for honours. He had taken over after leaving Chelsea Ladies and inherited a Liverpool team that had finished bottom in each of their first two WSL campaigns.
The Reds went full-time and a huge recruitment drive on the playing side saw them bring in numerous new faces from at home and abroad. Corina was the 13th signing and the transfer activity and increased professionalism was to pay instant dividends as the team won the title in September 2013.
Corina, 27, had joined from SC 07 Bad Neuenahr, also of the Frauen-Bundesliga, and it was an unforgettable debut season in England. Fans of the team got to see how well she fit into what quickly became a successful group and it is obvious just how strongly she has taken to the club.
Music affects people in an endless amount of ways and supporters may not have seen this side to Corina until now. She describes how much of a role it plays in her life and which female artist's vocals give her the most listening enjoyment.
"Music is really important for me. I hear it in the car, in the park, when I shower, when I go for a run, and of course before a game.
"I listen to any genre of music. What music I listen to depends on what situation I'm in, as in, I wouldn't listen to slow music before a game.
"I don't have a favourite artist but I like the voice of Emeli Sandé."
In the UK, we had a long list of boybands in the 90s, some who came from these shores and some very prominent ones who hailed from the US. Looking back, this particular genre seems to characterise the decade so well and there were masses of Eurodance acts dominating the charts too.
The likes of Haddaway, 2Unlimited and The Real McCoy all had success over here but Corina has an old favourite of her own to add in. This group had two English members and two Dutch and although few in the UK will know of them they made a lot more of an impact in Germany, between 1995 and 1998 in particular.
Discussing the first tape or CD she ever bought, here is Corina with a boyband you may well be hearing of for the very first time!
"I think it was an album from a Netherlands band called Caught in the Act. Everybody was a fan of Backstreet Boys, but I liked Caught in the Act!
"Maybe I was ten years old."

Backstreet Boys might be another matter but it is fair to suggest that the chances of hearing Caught in the Act on the Liverpool playlist are not too promising! Reds captain Gemma Bonner was interviewed on here last September and she told how she gives a fellow England defender control over what goes on her iPod. The 22-year-old in question seems to have the music side of match days locked down, as Corina describes.
"The DJ in our locker room is Lucy Bronze. She always has the newest music and if I really like a song I ask her who is the singer and what's the name of the song."
It is said in football that the best time to strengthen is when you are at your strongest. There would have been some serious questions asked if Matt Beard had repeated last year's level of recruitment heading into their title defence but he identified some worthwhile additions. One of those was American goalkeeper Libby Stout, signed from BV Cloppenburg of the Frauen-Bundesliga, and Corina named her for somewhat unorthodox musical preferences.
"Libby Stout probably has the strangest music taste. One moment she's listening to country and the next thing it's ghetto music."
In championship-winning seasons, it is easy to pick out defining moments and times when the players really came to the fore. In the 'winner takes all' showdown to decide the destination of the title on the final day last year, Liverpool were 2-0 winners over Bristol Academy. One of the scorers was Icelandic midfielder Katrin Omarsdottir and who can forget her fantastic strike which cannoned off the underside of the crossbar before hitting the net in the Reds' 4-3 win away to the same opposition?
She has a liking for the big games and Corina has seen a different kind of artistry from the 26-year-old when the final whistle has long gone.
"Katrin Omarsdottir has a great voice. She can write her own songs and can play the guitar as well."
In Gemma Bonner's interview on the site, she revealed how US duo Amanda DaCosta and Whitney Engen (set to join Houston Dash after Tyresö FF's Champions League campaign) liked to say they spoke American rather than English. This was because they had come across certain words in England they were not familiar with!
As she makes reference to later on in the interview, Corina has been doing her utmost to refine her English language skills. She explains how she got some extra training in alongside the aforementioned all-singing, all-scoring Icelander.
"I sang one time in the car with Kat Omarsdottir. I think it was 'Just Give Me a Reason' by Pink (featuring Nate Ruess).
"She said it was not bad!"
Playing for Germany at Under-23 level and also in the Under-20 World Cup, Corina got her hands on the Champions League in her first season with Turbine Potsdam. She came on in the 106th minute of the 2010 final with a Lyon side including the likes of Louisa Nécib and Élodie Thomis. It was the Germans who won through in Getafe though, edging Lyon out 7-6 on penalties after a goalless 120 minutes.
A repeat of the WSL success coupled with greater progress in cup competition is the shared aim of the Liverpool players and staff this season. Corina was part of a Reds squad that ended Arsenal's nine-year run of league titles at the highest level in England (seven FA Women's Premier League titles and two FA WSL crowns). If she decides to take a break from her on-pitch battles to venture into the recording studio however, here are the teammates she would call along to join her.
"I would probably pick a song by Emeli Sandé. I like the song 'Free' that she sings with Rudimental and I would pick Katrin Omarsdottir and Lucy Staniforth because they both have a good voice.
"Maybe Kate Longhurst will be a dancer with Nicole Rolser."
The firepower at Liverpool's disposal in 2013 was irrepressible and they set a new WSL record for goals scored, with 46. In the league's top four scorers they had three representatives: Natasha Dowie (13), Nicole Rolser (10), Natalia (Bristol Academy) (9), Louise Fors (7).
It was a far cry from the Reds' first two years in the WSL in which they managed just a solitary victory in each season. 22-year-old Nicole Rolser was a teammate of Corina's at Bad Neuenahr and she helped hugely in driving Liverpool towards glory in her debut year in England. Unfortunately, she became one of the more recent victims of the infamous ACL (anterior cruciate ligament) injury, suffering a rupture in her right knee after falling in training last month.
Fellow midfielder Lucy Staniforth suffered a similar injury in February after signing for the Reds from Bristol Academy and the return to action for both players is currently some way off. Nicole Rolser was in the same scenario as Corina last year as they played their first club season outside of Germany.
Corina gives her feelings on the significance of having a compatriot alongside her in a different country and also outlines why she has been able to settle so well at Liverpool on a personal level.
"It's good to have her here because I knew her before and she told me a lot about the club before I came here. She did really well for the team last year and I think that's most important.
"I love everything about the club. I'm proud of wearing the Liverpool shirt because I feel like I'm a part of a big family.
"The supporters are amazing and I always want to do my best for this club. I found the language hard, and of course driving on the other side, but I have English lessons and that helps me a lot.
"I enjoy the people here, everyone is really nice. I also enjoy playing for a big club with so much history and I enjoy learning English."
Scoring in the 4-1 win at Merseyside rivals Everton in June was a sweet moment for Corina and it all starts again in the league next Thursday (17th April) as Liverpool face WSL newcomers Manchester City. The game takes place at the Reds' home venue, the Select Security Stadium in Widnes.
It will be a match-up with widespread interest as the champions take on the new kids at the top of the now-two-tier WSL block. Before that comes this Sunday's (13th April) FA Women's Cup match away to Sunderland of WSL 2 at the Hetton Centre.
If last season is anything to go by, Corina is likely to be a somewhat formidable opponent this time around. Besides striving to master the defensive and attacking aspects of the full-back role to be the best she can over the next few years, she has some ideas of where she wants her journey to take her off the field. There is one interest in particular that tops the list for the Reds' number 19.
"When I'm not playing football I like horse riding. I haven't found a place here in Liverpool so hopefully I can find one soon.
"For life ambition, I'm really enjoying football at the moment. I think a lot about my future.
"I like planning things and organising and I would love to work for a big football club in the future, either on the administration side or coaching after my playing career is over. I have also been thinking about doing my coaching badges."
The way to finish the interviews on the site is to have the player pick out some of the best individuals they have ever worked with. Selecting a 5-a-side line-up with themselves included, they are asked to choose four of their career teammates to join them. Corina is in talented company at Liverpool of course but for someone who played her whole career until last season in Germany it is understandable that those from back home fill this team!
Each of Corina's choices has made an impression and had success with the German national team. Indeed none of the players have won less than two major international tournaments!
"Goalkeeper, I would choose Silke Rottenberg who was the number one for Germany before she retired.
"The defender, I would say Babett Peter. I played with her in Potsdam and nobody could go around her, she was really clever.
"Midfielder, I would choose Lira Bajramaj (now Lira Alushi). I lived with her in Potsdam and she has really good feet.
"A striker, I would choose Inka Grings. I played with her for eight years so I know her runs and if she has ten chances she will score nine."
Follow me on Twitter: @chris_brookes
Like Beats & Rhymes FC on Facebook for more of these interviews
Liverpool Ladies Season Tickets:
Adults £30
Children (under 16) & Concessions £15
Family (2 adults & 2 children) £60
Supporters are able to purchase Season Tickets online at:
www.liverpoolfc.com/ladiestickets
Individual match tickets
Supporters will also be able to purchase individual tickets on a match day for the below prices:
Adults £5
Children (under 16) & Concessions £2.50
For any more information about season tickets for the Liverpool Ladies please e-mail LadiesEnquiries@liverpoolfc.com