Charlie Davies interview: Teal turns it topsy-turvy for Revs striker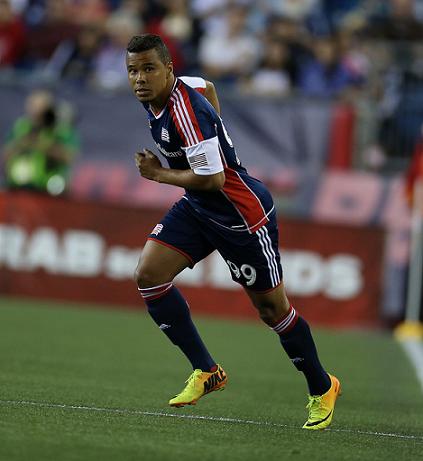 New England Revolution and one-time US National Team starting forward Charlie Davies is on a quest to recapture his best form, although it appears one of his fellow strikers at the MLS club is insistent on creating some pre-game confusion!
Originally coming from Manchester, New Hampshire, the 27-year-old has been on a genuine voyage since emerging as one of his country's most coveted young players. Time has been spent with clubs in Sweden, France and Denmark and 17 international caps yielded four goals.
Anyone who knows about Charlie's story is aware of the serious car accident he was involved in as a passenger in October 2009. It is necessary to mention as it shapes a significant part of who he is today and Charlie shares his perspective later on in the interview.
Aside from his stints overseas, the former Boston College standout had a loan with D.C. United in 2011 and returned to native surroundings when joining New England Revolution (also on loan) in August last year. His move was made permanent ahead of the current season after his departure from Danish club Randers FC and his focus now is on helping the Revs and getting as much game time as possible.
When match day comes around, the hope is that all the work on the training ground will come together out on the pitch. Preparation is everything and as each of the interviews on here explores, the right mix of tracks on the locker room playlist can make all the difference in setting the mood for the players before they enter the action.
One of Charlie's fellow attacking players on the team is an Ontario-born US international who was traded from Sporting Kansas City back in February. He was chosen on here by Sporting striker Dom Dwyer as one of the teammates he would record a cover version with. However, when asked which of his colleagues have unusual music tastes, Charlie explained how the 24-year-old in question creates an unorthodox atmosphere before kick-off!
"Yes, Teal Bunbury is at number one on the top of that list. He likes a lot of alternative rock and he'll be playing some Jack Johnson or something before a game.
"So you're thinking, 'am I going to the beach to be around a bonfire or are we going to play a game?!'"
The Revolution reached the Conference semi-finals in 2013 before being beaten 4-3 on aggregate (after extra-time) by eventual MLS Cup champions Sporting Kansas City. Jay Heaps' team have had a mixed bag of results in 2014, with two wins, a draw and three losses from their opening six regular season games.
A 2-0 home victory over Houston Dynamo at Gillette Stadium on Saturday was certainly welcome and it represented some payback for the 4-0 defeat to the same opposition in the season opener. Kevin Alston (with his first MLS goal) and Jerry Bengtson were the Revs' scorers and it was the first time a team had kept a clean sheet against the Dynamo this year.
One of the defenders ensuring that shutout was a 27-year-old who came on for injured captain Jose Goncalves on 41 minutes. He has been with the club for five years and his long service has possibly helped him to nail down the role of locker room DJ. The sounds played fall in line with Charlie's music taste.
"(It's) probably hip-hop and house mostly and I would have to say Darrius Barnes (is in charge). My favourite genres are house and hip-hop and music is very important to me in my life."
When Charlie was just a few weeks old, his father Kofi told Brooks School varsity soccer coach Dusty Richard that his son was going to be the next star player. He lived up to the billing and he was an All-American at Boston College, also playing for Westchester Flames of the USL Premier Development League at this time.
Before his collegiate achievements there was the first addition to the music collection! For Charlie, it was an artist who at the time was making a big impact with the r&b he was producing (long before those dance tracks).
"I want to say Usher, and that was in elementary school, so that would be Usher's first CD."
Currently, Charlie is chipping away at getting more of an opportunity at the Revolution. His pre-season progress was disrupted by a calf injury but he made an important contribution towards the win at San Jose Earthquakes on March 29th. It was his first appearance of the season and after winning a free-kick not far from the half-way line he acted quickly and found teammate Scott Caldwell.
The 23-year-old then picked out Lee Nguyen who ran at the Quakes' backline before finishing. The goal secured the 2-1 win three minutes into stoppage time and ended San Jose's unbeaten run of 21 matches at home in all competitions.
Charlie linked up with Scott Caldwell there and he is also the player he named as the most memorable for singing performances he has seen, thanks in part to his garish appearance at the time!
"I would have to go with Scotty (Caldwell). It was during Halloween when all the rookies were dressed up and he dressed up as Lady Gaga."
Signing on loan with the Revs last August, Charlie made four substitute appearances ahead of his permanent transfer for this campaign. He put the hard yards in during the off-season and the aim is for him to stretch the opposition each time with pace and to reignite that goalscoring touch.
Fitting into the team dynamic is extremely important and it certainly helps any player if they can connect with their colleagues off the field. Taking soccer away, if Charlie was to collaborate with any of his teammates on a cover version of a song, here's how it would go!
"It would probably be Macca (Stephen McCarthy). Macca's got all the gear for recording songs and I think he's recorded way more than he should have!
"So he would definitely be the guy because at least he knows how to do it."
Back in 2006, Charlie ventured to Swedish side Hammarby rather than opting to stay in the US and pursue MLS options. While with the Allsvenskan club he scored 21 goals in 55 games and signed for Sochaux in France in July 2009.
At international level, he had played in the 2008 Beijing Olympics and then partnered Jozy Altidore up front in the 2009 Confederations Cup. It was during this competition that he scored in the 3-0 group win over Egypt and started in the very notable 2-0 semi-final victory over reigning European champions Spain.
Charlie played the full game as the US lost the final 3-2 to Brazil and he was also in the team during the CONCACAF Gold Cup the following month, netting in a 4-0 win over Grenada.
He had played his part in the US' qualification for the 2010 World Cup but in October 2009 he was a passenger in a car accident and sustained numerous serious injuries. The following national team game saw the US come from 2-0 down to dramatically equalise through Jonathan Bornstein and seal a 2-2 draw with Costa Rica. T-shirts with the number 9 on were worn to show support for Charlie in his absence and the celebrations at RFK Stadium were dedicated to him.
The fight back to health and fitness was immensely trying but when he returned to training it was the moments in which he felt like he used to that kept him believing. Two goals as a substitute on his D.C. United debut on March 19th 2011 resulted in a 3-1 win at home to Columbus Crew and also brought tears to Charlie after the final whistle.
In most of the interviews on here I like to ask the players about what their career has given to them in terms of perspective on life. Naturally, the crash Charlie was involved in shaped so much of the weeks, months and years that followed for him. He shares what he feels that and soccer have both taught him.
"That's a tough question because I feel that before I had my car accident, I felt that soccer was everything and there was nothing else that mattered to me. After my accident, I realised that there's way more to life than soccer and that at the end of the day it's a bonus to be able to play.
"Enjoy it for every bit you can, but you should be able to appreciate life so much more and I have such an appreciation for the game, but I'd say I have more for my life after my accident. With just being able to wake up every day and eat the food I want and to put on my clothes, and now I can drive again.
"I just appreciate life that much more."
Although his role at D.C. United in 2011 was less prominent as time wore on, he did score 11 times in 26 games for the team. He remains focused upon contributing as much as possible for the Revolution and besides being back home there is more that he likes about being a New England player.
"I enjoy how close our locker room is. I feel that everyone is on the same page and everyone likes to hang out with each other, which makes it a better environment to play in.
"I would definitely say just how good of a group that we have and just that everyone gets along with each other off the field as well as on it."
Charlie excelled in wrestling in his younger days but his feeling for soccer ultimately proved too strong. It has been an adventure of times to savour, moments to reflect on, and the starkest lows to clamber back from. At 27, he is out to show that there is much more still to be jubilant about.
To wrap up, it is time for Charlie to honour some of those he has worked with in his career to date. Choosing from the best he has ever played alongside, here are the four others he would select to play on a 5-a-side team with him.
"The goalkeeper would be Tim Howard. The second forward would be Jozy Altidore and then I'd go with two midfielders instead of a defender – Stu Holden and Clint Dempsey."
Follow me on Twitter: @chris_brookes
Keep updated with each of these interviews by liking the site on Facebook