Max Rushden interview: Soccer AM host in search of the perfect blend
After just over five years as co-host of Sky Sports' Soccer AM, Max Rushden has become recognisable to many, and in a case of life imitating art one of the Saturday morning programme's famous guests has afforded him 'a little understanding'.
It was in August 2008 that Soccer AM was in search of a new male presenter after Andy Goldstein's year in the role alongside Helen Chamberlain. Fans of the show had largely come to associate it with Tim Lovejoy after his eleven years as the leading man and his departure in 2007 alongside favourites such as Sheephead (Joe Worsley), Fenners (John Fendley) and Robbie Knox left a void in many people's eyes. For Max Rushden, who had steadily worked his way up in the industry and had been presenting the late show on talkSPORT, it was an undoubtedly huge opportunity to step into the breach.
Now in his sixth season as co-host, Max has certainly interviewed a diverse range of personalities and the list includes a man from Down Under who is a familiar face to plenty in the UK too. Actor Alan Fletcher is coming up to 20 years as Dr. Karl Kennedy in Australian soap Neighbours and the Ramsay Street immortal and lead singer of the band Waiting Room has got to know Max outside of the programme.
Known for his three marriages to Susan, Erinsborough's most famous doctor has been an immensely popular cast member through the years. Max has always been a close follower of the programme but whether he ever envisaged his favourite character making an unwitting cameo in his real-life storyline is another matter!
"My girlfriend Jaime is Australian and there was a long drawn-out saga trying to get her to come over here and during that time I'd keep seeing Karl Kennedy randomly. There was a time when I went over there and she ran away for a bit and he was there to console me.
"I propose twice a day, but we've already agreed that Karl will sing at the wedding!"
Numerous Neighbours actors have had singing careers, from Kylie Minogue and Jason Donovan to the likes of Natalie Imbruglia and Craig McLachlan. Another example is Stefan Dennis who plays Paul Robinson in the programme, someone who has been embroiled in womanising, criminal activity and a high-profile 'whodunit' attempt on his life amongst his character plots. Despite the verve and flamboyancy on display in Dennis' 1989 single 'Don't It Make You Feel Good?' he won't be invited to join Alan Fletcher as Max's wedding singer one day.
"No, Paul Robinson's bad news and everyone knows it. Anyone can see he's always got some scheme or another going on."
Max had been a part of Soccer AM as one of the 'Fans of the Week' with his fellow Cambridge United supporters in 2000. As viewers of the show or his Twitter followers will be aware, his sense of humour is quite dry, although he personally describes himself as a 'square'. One of the recent interviews on here was with Sky Sports News presenter David Garrido and Max cast some doubt over whether he'd live up to the credibility of his colleague's music taste. There is an image that all television hosts have to convey and music was the source of an unmasking for Max in that sense!
"When I first started at Sky and I was trying to pretend I was cool I drove in and you get to the bit where you wind your window down and use your key card. The song went from 'The Best of Times' by Sage Francis, who's a cool US rapper, to 'A Whole New World' from Aladdin at that exact moment in front of everyone there.
"People always say 'I've got an eclectic taste in music' but on my iPod there's literally old school hip-hop to bands from when I was 16 like Ocean Colour Scene, Blur, Oasis, The Farm, so that's my gamut of music."
The overlap of football and music is the main theme of this site and one of the songs that people instantly think of as linking the two is an effort from Kenny Dalglish's Liverpool team released in the build-up to their 1988 FA Cup final with Wimbledon. Despite his Cambridge allegiance this was the first record Max had and it sparked some similar nostalgia for him.
"The first single I ever bought was 'Anfield Rap' and I'm quite proud of that. When I was 10, anything to do with football was exciting.
"Growing up I had posters from Shoot magazine Blu-Tacked on my wall to make a tiny goal in my room, while Championship Manager was loading the next season's stats on the computer. We'd just play with a tennis ball or a sponge ball.
"The first album I bought was Michael Jackson 'Bad', which I think has stood the test of time."
One of the stalwarts of Sky Sports' football coverage is former player and manager Chris Kamara, who has struck a chord with viewers for his charisma and on-air mishaps as co-host of Goals On Sunday and as a Soccer Saturday reporter. The ex-Bradford City and Stoke manager once had a feature on Soccer AM called 'Kammyoke' in which a clip of him performing a song would be played for the Soccerette and one of the 'Fans of the Week' to guess the title and artist.
Max has his own story of Kamara's love for performing on the microphone and he describes how he took his own vocal talents to the Canary Islands for the mature audience's pleasure!
"Chris Kamara's got a bar in Tenerife and he had a karaoke night. He sang for about half an hour and then I got up there.
"I usually stick to Frank Sinatra 'That's Life' when it comes to karaoke so I nailed it and I think Kammy was a bit jealous. The next night I did some on the guitar like U2 and Adele but I don't think that's quite my range.
"Kammy said to me: "Max, you've just killed the atmosphere." How can you kill the atmosphere when it's the blue rinse brigade in there?!
"But Kammy's a legend so I just agreed with him."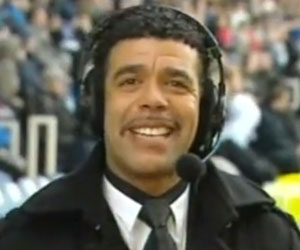 Max appeared in the music video for Scottish singer Amy MacDonald's 2010 single 'Love Love' and also performed jazz clarinet on stage during her live show at Hammersmith Apollo. It has been muted before on Soccer AM that this reinforces that aforementioned 'square' image Max freely alludes to on occasions! However, he has taken his liking for music on stage in a solo scenario as well as getting involved in a well-known show in 2012 with his co-host Helen Chamberlain.
"I've written a few songs and played them to around 100 people in a bar in Soho. Also, me and Helen did the musical 'Rock of Ages' for the show.
"We asked if we could be in it, I rang the producer up and asked if I could do Whitesnake 'Here I Go Again'. He said: "No, it's a show, people have actually paid money to see it"!
"Right at the end of the show though Justin Lee Collins just handed me an electric guitar on stage and said: "You can play Whitesnake, can't you?" On the night I thought I'd smashed it – turns out I was pretty flat, but it was the most fun ever."
The beauty of live TV can also work the other way for presenters, as anyone who saw the group Five Star's appearance on children's programme 'Going Live!' can appreciate! One of Max's memorable moments on Soccer AM came in 2010 when DJ Trevor Nelson was telling a story of how he lost Stevie Wonder's phone number. Max turned to the camera and asked the singer to phone Nelson if he was watching the show.
"Well I live next door to Trevor Nelson now. I can see his considerably bigger patio from my place.
"I think it was just funny. If you watch it back it takes everyone a second before they realise and (fellow guest) Cerys Matthews doesn't get it for about ten seconds, by which time I've walked off.
"I was terrified when I first started and I'd never watch those first few weeks back but I think it's how you deal with it as a presenter when you make mistakes. There was one show, the first one of the season the other year, and my opening line was 'welcome to the car park'.
"Instead I ended up saying 'welcome to the par cark', so I just say that every time we start the show from outside now."
With the scrutiny from viewers that Max has had in his time on the programme it has been a constant learning experience. After attaining a Modern History degree from The University of Oxford he began a post-graduate Journalism degree while working at Radio Cambridgeshire. In his time with BBC London 94.9 he was a newsreader and reporter before presenting the overnight show and latterly the breakfast slot.
He was on the panel on Five Live's 'Fighting Talk' twice and worked in TV for BBC London News and 'Inside Out' on BBC One. Prior to being offered the role on Soccer AM he was fronting the late show on talkSPORT and there have been plenty of challenges in his career up to now, as well as lighter moments.
Max sent approximately eight demos to Radio 1 before they invited him in to do a pilot show. He has spoken before about his frustration that it didn't go well on the day and there was another memorable disappointment. He was offered a presenting job by Capital Radio but just as Alan Partridge experienced when the Chief Commissioning Editor died while in the process of inking his five-year TV deal, Max's prospective boss at the station left the day after and it all fell through.
There is also a bit of an Alan Partridge feel to how Max used to play Monopoly live on air while presenting on Radio London in the middle of the night. He would ask listeners to phone in and he would roll the dice for them and ask which property they wanted to buy!
At the beginning of his career he had interviews for advertising jobs but found he lacked the passion for it. His entrance into radio was initially unpaid and evidently it took some time before his first shot at live television with Soccer AM arrived.
Max, who works with a charity for disadvantaged schools and has volunteered with a homeless shelter for around two years, is very grateful for and realistic about where he is. He reveals what his experiences on the programme have taught him the most.
"Firstly, it was a really big break for me and I'd never think of myself as famous. It sounds really cliché but I genuinely don't, presenters are really disposable and anyone can be replaced, even (Terry) Wogan on Radio 2 or Chris Moyles on Radio 1.
"It's nice to go to the industry events and meet the people you do but you only meet them briefly and then you go your separate ways. You realise that it's the people you knew before that you're going to have more fun with – I still hang around with my schoolmates.
"Your mates are your mates and also I think it's important not to take yourself too seriously."
Of all the guests that appear on Soccer AM most get on board with the setting and vibe of the show. The international guests can sometimes be slightly puzzled by certain elements but it makes for good TV if they play along all the same. The A-Team's best-loved member was one of those who did this and it was a morning that Max won't forget easily.
"Mr. T – I don't really get starstruck but I did when he was sat there and when we got him to say some of his lines. He called me 'friend' too…not that I've seen him much since."
Away from Soccer AM, Max presents 'The Warm-Up' on talkSPORT from 11am to 1pm on Sundays and is a regular user of Twitter. A great quality of Twitter is how it gives a voice to those with something worthwhile to say. The flipside of this is that anyone can send abuse easily and people who have a level of recognition for whatever reason can bear the brunt of this. Max has seen this in his mentions on there on frequent occasions but takes it with a pinch of salt.
"I do get a lot of insults and I kind of court it to be honest. There's something fun about waiting 15 minutes into an England match and tweeting 'is anyone watching The Great British Bake Off?'"
Part of the interviews on here includes getting the footballer or other individual to place themselves in fantasy or 'best of' scenarios. In a newer question I have brought in I ask the interviewee which colleague (typically a fellow footballer) they would record a cover version of a song with and which track it would be. Max's choice is a Bob Marley favourite and he would perform with a Soccer AM crew member who has been dressed as ex-Manchester City striker Mario Balotelli on the show many times in the past.
"I would record 'Three Little Birds' with Dev (Devlin Tagoe). He's so chilled out that he'd just stand there and do a dance and everyone would sing along.
"Plus it's three chords so I could play it."
Besides Max and former crew member Fenners, another connected with Soccer AM to feature on here is the show's resident 'badboy rapper' Tubes. In his interview he mentioned Max's music taste and his supposed liking for Mike and the Mechanics, as well as his dream line-up of guests on the orange sofa. I put the same question to Max as well as asking for his choice of stand-in co-host should Helen Chamberlain decide to take an impromptu week off one Saturday!
"OK, so a footballer…when you have your pick of all of them it's really difficult. Part of me wants to say (David) Beckham.
"I've only met him once but I think he's just a really nice guy and I'd like us to have the chance to treat him like we do everyone else. I'll say Marco Tardelli though.
"The greatest World Cup celebration – we could just play it on the screen and say 'just tell us about that'.
"Morgan Freeman – I mean how can you not love him? He's even cooler than Will Smith, which is just about impossible.
"Richard and Judy – just to look up and see them on the sofa next to Marco Tardelli and Morgan Freeman! That's one of the best things about the job – seeing the guests we have on and thinking that if it wasn't for the show these people would probably never have met.
"If Helen wasn't there I'd just do it by myself…I hope she'd say the same anyway! If not, I'd get my girlfriend on even though she hates football.
"She just calls it 'the green'. If I want to watch a game I have to give her warning that I want to watch 'the green'."
Finally, any player on the site (regardless of their age) is asked to choose a fantasy 5-a-side team of their best career teammates. Max takes on the 'number 10 role' when he plays, attempting to compensate for his self-confessed lack of pace with flashes of Teddy Sheringham-esque brilliance!
For this one however he could start from the bench. Sky Sports News presenters Charlie Webster (Sheffield United), Olivia Wayne (Chelsea) and David Garrido (Sheffield Wednesday) have all chosen their 5-a-side teams on here of the best players they have ever seen in their club's colours, so it is only fair to let Max do the same for Cambridge United.
"A goalkeeper – John Filan would be up there but I'll go for John Vaughan, great shot-stopper. A defender and a left-footer – Super Clive Wilson.
"Michael Cheetham in midfield. Steve Claridge up front – he wouldn't stop running, the right intensity for 5-a-side.
"One more striker, I've got to put him in or he'll be disappointed – Dion Dublin."