Lee Miller interview: Cumbrians striker on target with Ronan rendition
Carlisle United frontman Lee Miller has hit the mark in front of goal with regularity this season and the former Scotland international believes he has shown just as much precision with his vocal performances!
After a year of upheaval taking in loan spells at Notts County and Scunthorpe, the 28-year-old has settled permanently with the Cumbrians after moving from Middlesbrough in the summer.
So many new teams in a relatively short space of time has meant that Lee has had ample opportunity to display his singing talent in the initiations that are customary for new players at many clubs.
"I've done it quite a few times and in fact I've had to do it three times in the last year alone! I did it when I signed on loan at Notts County and Scunthorpe, and of course when I came here.
"I sang (Journey's) 'Don't Stop Believin" at Notts County and then Ronan Keating's 'When You Say Nothing At All' at both Scunthorpe and Carlisle – and I nailed it each time!"
Lee is the top goalscorer for Greg Abbott's team with 8 goals so far, and as much as he has relished the challenge of belting out those songs in front of three separate groups of colleagues, the Lanark-born striker is reaping the on-field rewards of continuity at last.
"I think being settled has definitely had a positive effect but having a good team around me makes the biggest difference. Everyone in the club inspires each other to do well and we're all determined to succeed on the pitch.
"It's a very tight-knit squad and a good changing room, which is vital if you want to get a good run of form going."
Within the aforementioned changing room at the Brunton Park club lies the music taste of Irish striker Paddy Madden, an example Lee thought to mention, and he explains why the former Bohemians player's choices are particularly quirky on occasions!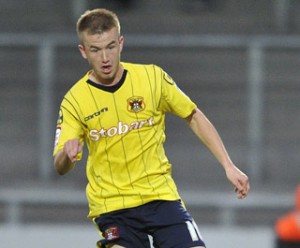 "I think there's quite a wide range of tastes but Paddy Madden's are quite odd. He actually likes a lot of the r&b stuff that the rest of the lads like, but then out of nowhere he plucks some random heavy gangsta rap out of the air, it certainly raises a few eyebrows when he does!
"Leroy Lita at Middlesbrough actually liked a lot of the same stuff Paddy Madden listens to! At most of the clubs I've been to though it tends to be the foreign lads who have their own little unusual quirks in their taste."
The pre-match sounds are often chosen by a former Newcastle United academy goalkeeper who moved on to Carlisle's youth team, eventually advancing to first-team contention for the Cumbrians.
"We generally take turns to pick stuff but Mark Gillespie has been in charge quite a bit recently and has picked some decent stuff. It's mostly just up-to-date chart music and it's all pretty good.
"I'm quite into my r&b at the moment and have been listening to the likes of Jason Derulo amd Chris Brown. To be honest, I don't really dislike anything, I'm quite open-minded and will listen to pretty much anything as long as it's a decent tune."
The question regarding the first record bought results in a very familiar name, universally popular, and Lee is another who was captivated by the artist in question.
"I can't remember how old I was but I seem to remember it was a Michael Jackson one. I do remember thinking he was brilliant and I still do now."
Lee was still three months shy of his 18th birthday when he first appeared for Falkirk in the Scottish First Division, in a 4-2 win over Ross County in September 2001.
After 30 goals in 73 games for the Bairns while still a teenager, he moved considerably south of the border to join Danny Wilson's Bristol City for £300,000 in 2003.
Netting on his debut in a 5-0 thrashing of his future loan employers Notts County, Lee would then go on to finish the 2003/04 season with 9 goals for the Division Two (League One) side.
He played a further 10 games in the early throes of the next season without scoring, before a January 2005 move back to Scotland provided the necessary reignition of his young career.
John Robertson brought him to SPL side Hearts on loan and Lee emphatically vindicated that decision with a superb tally of 11 goals in 23 games for the Jambos.
He left Bristol City permanently that summer for £225,000 when he joined Dundee United, though he is thankful for the experience at Ashton Gate and does not believe the price tag at a young age weighed heavily upon his shoulders.
"I don't think it had anything to do with the price tag to be honest. I was pretty young and naive at the time so I didn't really let things like that bother me.
"I really enjoyed my time there though, it played a massive part in my growing up process in football. Bristol City is a big club and I made a lot of good friends down there.
"Going down there opened my eyes up to English football as I had no idea what I was letting myself in for compared against the Scottish First Division."
I had seen Lee in action for Bristol City against my team Sheffield Wednesday in February 2004, a game where he linked up with the likes of Christian Roberts and a future Wednesday player in Lee Peacock.
Lee (Miller) had a goal disallowed in that game I recall and showed glimpses of his talent in a 1-0 defeat for City, it was however his prolific form for Hearts that really got me tracking his progress.
This led me to keep an eye on his early form for Dundee United where he scored 4 goals in his first 6 games, before moving to Aberdeen just over a year later after 8 goals in 41 games for the Tannadice Park team.
He made his international debut for Scotland in May 2006 against Japan in Saitama, eventually adding a further two caps in games with Argentina (in 2008), and Japan once more (in 2009).
It was Walter Smith who gave him his first cap for his nation and Lee smiles looking back at the experience.
"Getting those three caps for Scotland was fantastic and something I'm very proud of. It's a dream for any young lad to play for his country so I was over the moon when I got the chance."
In his three and a half years at Aberdeen he scored 33 times and the experience of playing in Europe in the 2007/08 season holds pride of place in his career highlights to date.
This was a campaign in which he registered 13 goals for the club and the Dons reached the last 32 of the UEFA Cup before being beaten over two legs by German giants Bayern Munich.
"At club level, playing for Aberdeen in the UEFA Cup was amazing. It was great to test myself against some of the best players in Europe in that competition.
"We faced the likes of Atletico Madrid, Panathinaikos, Copenhagen and Bayern Munich, and to an extent we held our own. There were some great European nights for the fans and the atmosphere they created made it into a special occasion."
Gordon Strachan signed Lee for Middlesbrough in 2010 and though he featured in a Tyne-Tees Derby at the Riverside he made just 13 appearances in total for the Championship club, with no goals from his six starts.
Last season he scored twice in a seven-game loan at Notts County in League One, before joining up temporarily with Scunthorpe United in the Championship for an ultimately unsuccessful relegation battle, scoring once along the way.
This time around though Lee has rediscovered the quality he has displayed previously and heads the scoring charts for a Carlisle team who are only being kept out of the play-off places by goal difference.
His goalscoring has been an obvious plus but his all-round contribution has been hugely appreciated, illustrated perfectly by the two goals he created in the 2-1 win at Scunthorpe last Saturday.
With his form on the field in rich health he has a typical hobby outside of the game, as well as three sons who keep him occupied.
"I tend to spend a lot of my spare time with my kids which is fantastic. I also like to play a bit of golf, like most footballers."