Izale McLeod interview: Hidden perks of a note-perfect goal king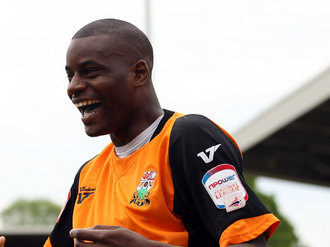 Blessed with masses of self-belief, Barnet striker Izale McLeod is racing clear at the top of the League Two scoring chart, but some may not know that he excels in a couple of other fields too!
The 27-year-old has netted a superb tally of 18 goals from his 27 games for the Bees so far this season and his innate confidence was particularly useful in a potentially daunting situation when he first joined the North London side last year.
"When Barnet sign a new player you have to get up in front of everyone and sing. I sang Usher 'You Make Me Wanna', I've got a good voice to be fair!"
That chosen song was huge during Izale's teenage years, big in the USA and number one in the UK in January 1998, and Usher is the one artist the former MK Dons hero recalls when casting his mind back to his early music-buying days.
"I just used to listen to mixtapes growing up that me and my friends made so I didn't really buy an album until I was about 16 probably, and that would have been Usher. I listen to a wide range of music from hip-hop to dance.
"The music on in my car at the moment is Drake. I dislike pop and cheesy music probably, I have three girls and they are always blasting out JLS, The Wanted, that kind of stuff just annoys me!"
Izale describes the changing room tunes often used to help prepare the team away from home and at Underhill, a historic venue sadly no longer set to be the club's home beyond the end of this season.
"Generally everyone enjoys the same music to be fair, a bit of house, r&b, something to get us in the zone. Thankfully no one requests anything too bad!
"No one in particular is in charge, just whoever puts their iPod in. House music is what generally gets played more than anything."
Making his debut at just 17, Birmingham-born Izale came through the ranks at Derby County, scoring in back-to-back games against both Sheffield clubs in the winter of 2002.
Those two goals, his first in professional football came in Division One (now The Championship) and arrived little over two weeks after his 18th birthday.
Rounding off the 2003/04 season on loan at Sheffield United, Izale left Derby with 4 goals from 41 appearances to join the newly-formed MK Dons in July 2004.
There is a tangible sense of gratitude when he looks back over his stay at Pride Park, a chapter in his career in which he emerged for the first team shortly after The Rams' relegation from the Premiership, playing under manager John Gregory and later George Burley.
"I have great memories of Derby, coming through the academy and becoming the player I am today. I'm lucky enough to have started my career at a great club and got to play and train with some great players.
"I will always remember my time there and what they taught me. I still to this day talk to some of my old coaching staff from then and they always say they keep an eye out for me which is great to hear."
In three years at MK Dons he would score 60 times in 135 games in all competitions, a record that still places him at the top of the club's overall list of goalscorers during its seven-and-a-half year history to date.
Though the club suffered relegation from League One in 2005/06, Izale scored 18 times in each of his first two campaigns in Milton Keynes, before hitting 24 in League Two in 2006/07.
He was named in the 'PFA Team of the Year' for the division that season and also won the individual 'Player of the Year' prize for League Two.
The team finished 4th in League Two to miss out on promotion in 2007, losing in the play-offs under Martin Allen before one-time England Under 21 international Izale was purchased by Alan Pardew at Charlton Athletic.
The Addicks had just been relegated from the top flight and paid an initial £1.1million (which could have risen to £1.55million depending on certain clauses in the deal) to bring him in alongside new strikers Luke Varney, Svetoslav Todorov and Chris Iwelumo.
Injury would unfortunately blight his stay at The Valley and after loan spells with Colchester United, Millwall and Peterborough United he left the club in 2010 with 4 goals from 38 games and only 7 league starts.
Nevertheless, there are no regrets looking back at his decision to seek the challenge of moving up two divisions at that time, but the Dons are still a big love of his.
"I hold a huge torch for MK Dons, I spent three years there and in them three years I achieved so much, player of the season, top scorer! I still to this day hold the goalscoring record at the Dons!
"I made some great friends there and honestly enjoyed every day I played for them. At the time I moved to Charlton I felt it was a great move for me, I had achieved everything I had set myself out to achieve at MK and felt it was time to move on."
Milton Keynes is still home and at this point it would be apt to explain that hidden area of interest I alluded to in the opening, and to also introduce his wife Laura to explain their venture.
"We have opened a coffee shop where we live, in a lovely little community in Milton Keynes," Laura said. "It was the only thing that was missing!"
"We had been looking to start our own business for a while and just felt it was perfect. Izale helps me out with marketing ideas and always offers to take over from me when he has finished training if he knows I'm missing seeing our children!"
The Coffee Boutique is in Oxley Park, Milton Keynes, and I put the question to Laura of whether there may be discounts for fans of Izale's clubs, and in turn, a higher price for supporters of rival teams to pay!
"Definitely not we love all customers! We may do a discount for his fans though especially if he ever goes back to the Dons!
"Twitter and Facebook have been great for us, free advertising and raising awareness of our shop. It's great for local businesses and attracting local people."
During Izale's playing days for MK Dons he scored in a 2-2 draw at home to Sheffield Wednesday in 2005, before running past the away supporters performing something of a 'chicken' celebration, something I reminded him of as an Owls fan myself!
"Yes I remember that! God knows why I did that, I can't remember now!"
Staying on the theme of dodgy celebrations, I also wondered what the worst one he had witnessed from a teammate was.
"I remember when Pablo Mills scored for MK Dons and just did a forward roll, still makes me laugh now!"
Fast forward to the current season and the prolific frontman's Barnet team have taken 20 points from their first 21 games in League Two under former Northern Ireland boss Lawrie Sanchez.
Izale's goals were paramount in helping to keep the Bees up last season from a seemingly impossible position and this time around they are 19th, six points clear of the relegation places.
Reaching the southern area final of the Johnstone's Paint Trophy has been a welcome distraction and they will take on Paolo Di Canio's Swindon Town over two legs in January for a place at Wembley.
Despite some of the team's hardships this season, Izale is enthusiastic about the ability in the team and on a personal level is enjoying being firmly back in the scoring groove after the injury problems of recent years.
"The only way is to keep positive, we've got some great players and hold a lot of potential. Right now we need to keep our heads up and get these wins under our belt!
"I was very lucky until my knee injury (at Charlton), I had played successfully with no injuries up until then. Being injured is every player's nightmare and made me realise I had to appreciate every chance and opportunity I was given from then on."
Two international names written into Premier League folklore rank as the best players Izale has played alongside, although that trademark self-confidence comes back into play when he is asked who the most difficult opponents were!
"Georgi (Kinkladze) and Fabrizio Ravanelli at Derby. My time there was probably when I played alongside the best players.
"I couldn't name a toughest opponent, that's a hard one, none are tough for me!"