Jason Euell interview: 'Old school, new school, need to learn though' – vintage Addicks duo still on point
As lasting symbols of the club's sustained Premier League stay during the previous decade, Charlton Athletic's Jason Euell and manager Chris Powell are key protagonists in the current uprising of the South Londoners.
Sharing many career experiences with his long-time friend and former teammate Powell, Jason is back with the Addicks and providing his valuable nous to a talented young squad topping the League One table.
The 34-year-old ex-Wimbledon star represents the 'good old days' as well as the exciting here and now at the club, and along with his gaffer he also bears the imprint of old and new when it comes to music.
"Powelly's a bit like myself in the respect that he's 'old school, new school'. He's a little bit of a different era to me but he likes stuff like Barry White, D'Influence, some new jack swing music too.
"There'll be times in the car when there'll be old school garage on, or some soul or funk. Myself I like a lot of the old school garage music, besides that Jay-Z is one of my favourites, as well as Kanye (West), Drake and Wretch 32.
"I'm not into 'technoey, housey, bang, bang, bang' sort of stuff!"
Lambeth-born former Jamaican international Jason recalled his first record bought, although he briefly mixed up his seasoned songtresses in the process!
"It wasn't even a record actually it was a tape and it was Paula Abdul…no it was Gloria Estefan, with Miami Sound Machine. I'm trying to think how old I was at the time (after being prompted by myself that he may have been 28)…probably 10 or 11!"
Traditionally a striker, he has gone on to spend time in midfield and utilising his predominantly top flight experience and versatility is an undeniable characteristic and selling point of the Jason Euell of today.
After five years at Charlton from 2001 to 2006 under Alan Curbishley's management, Jason returned to the club this summer and soon found that he was deemed not to be exempt from the customary initiation procedure of singing for the new colleagues.
"I've managed to get away with it most of my career but they tried to get me to do it at Charlton this year. I said 'I've been at the club before, I'm not new' but in the end I did Usher 'Hey Daddy (Daddy's Home)', the Juelz Santana remix of it.
"I used the iPod and just turned it down when it came to one of Usher's bits so they said I was cheating with it!"
There are a number of players at the club still in the primary stages of their professional careers, as well as more accustomed pros such as Andy Hughes, Leon Cort and Gary Doherty to name but three.
Nevertheless though that 'old school, new school' theme (referenced to in this article's title with a famous Notorious B.I.G. lyric) makes for a positive blend both on and off the field of play.
"It's a young squad but everyone is on pretty much the same vibe. A lot are into funky house, old school garage and a couple of pop songs that are 'love to hate' ones.
"(In charge of the changing room music) there's myself, Bradley (Wright-Phillips), the physio Erol Umut, Johnnie Jackson, Danny Green sometimes too. A few put theirs on, it's quite flexible."
In late June, ex-Middlesbrough FA Cup final keeper (and current goalkeeping coach at Charlton) Ben Roberts spoke to the site, describing the music played while holidaying with former Addicks defender Jon Fortune and Jason during their time at the club in the top division.
Shortly before interviewing Jason I heard from Ben who was full of praise for his friend but was not so complimentary about his musical preferences, predicting that Canadian rapper Drake would be mentioned very quickly in his list of favourites!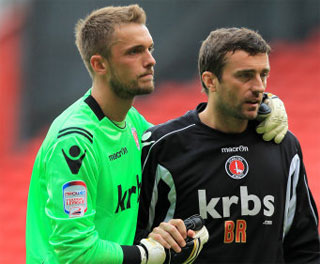 In turn it would of course only be fair to hear what Jason thought to Ben's music.
"Ben's into the kind of bands that will play somewhere like Brixton Academy, the ones who've built up a bit of a following. He's a bit of a Kings Of Leon kind of man but then he'll pull out a band I don't know at all."
Of his numerous colleagues during a career which began with Joe Kinnear's Wimbledon, Jason told of how a Norwegian defender, a Dons staff member and a midfielder still going strong today at 38 came together to form a band by the name of APA.
"When I was at Wimbledon, Trond Andersen, the old training ground manager (Chris Perry, not the ex-Dons defender of the same name) and Gareth Ainsworth formed a rock band. Gareth did the singing, Trond on guitar and Chris on the drums."
Additionally, a teammate from those Premiership days with Charlton, known by many for his time as a midfielder with the Danish national team, Bolton and Fulham, often put another of his talents to use.
"Claus Jensen used to play guitar, if ever there was one around on nights out he would get up and play it. I remember the first time, it was on pre-season in Sweden when we were out in the evening."
The delve into musically-minded players Jason has worked with finishes up with one from his Middlesbrough stay, and it is a defender who is the polar opposite of a shrinking violet!
"At Boro' we used to have our own little cupboards where you'd lock your stuff away and Emanuel Pogatetz was playing this headbanging, violent rock music in his one day! As a player he always puts his head in and takes the kicks so I suppose that type of music fits him perfectly."
I took Jason briefly down Memory Lane, back to Selhurst Park in May 1997, recalling how I was up on a school night as a seven-year-old looking at the scores on Teletext.
I saw 'Wimbledon 2 Liverpool 1' and though I knew who Dean Holdsworth was (even back then), there were two young players on that scoresheet whose names I was seeing for the first time, Jason Euell and Michael Owen (with his first professional goal).
Scoring his first goal for The Dons on his debut against Southampton in October 1995, Jason would net 47 times for the club in six years, of which five were in the Premiership.
To acquire your footballing education in the surroundings of the unforgettable 'Crazy Gang', characterised in the 80s and 90s by the likes of Vinnie Jones and John Fashanu, is a quick way to learn the ropes.
The Wimbledon sides during this era were uncompromising (and successful) on the pitch and known throughout the game for the infamous training ground pranks.
"It was a really enjoyable time, we had a reunion three weeks ago and it was weird seeing the old boys, some who'd gone into scouting, management or coaching academies. I was looking at them thinking 'that was never the career I thought you'd go into back then'.
"Scoring on my debut stands out but just being part of that era was the biggest thing. All the games I played for the club hold a special place with that era now gone.
"It was what I'd call a school of hard knocks and made me go from a boy to a man quite quickly. It helped me to build my character and to become the person I am today both on and off the field."
With regard to those aforementioned practical jokes, Jason identified some, including one involving something particularly undesirable being hidden in a bag in the physio room for a number of weeks (use your imagination)!
"There were always clothes being burned and people's tyres being let down. There were cars moved from the parking spaces and hidden somewhere else, as well as you being stripped and dragged through puddles if it was your birthday!"
Alan Curbishley signed Jason for a club record £4.75million in the summer of 2001 after 20 goals the previous season for Wimbledon and he would finish the next three campaigns as the club's top scorer with the team reaching 7th place in the Premiership in the last of these.
In June 2006, he appeared for Jamaica at Old Trafford in a friendly with England having previously represented the country of his birth up to and including Under-21 level as a youngster.
After 20 games for Gareth Southgate's Middlesbrough in 2006/07, he would venture south again, to Southampton, for two seasons with the Championship side, the latter of which would regrettably end in relegation.
The following season was an altogether more magical one as Jason captained Ian Holloway's Blackpool in the season where they would gain promotion to English football's top table.
Last season saw a brief return to top flight action with the Tangerines and a loan at second tier Doncaster Rovers yielding three goals, before ultimately returning this season to Charlton to join ex-England defender Chris Powell's side.
He has made 15 appearances thus far with goals against Reading in the Carling Cup and Carlisle United in the FA Cup, and he sees a plethora of positives for the current League One leaders.
"I put it down to the hunger, when the players this season first arrived I saw the hunger and commitment to play for a club with the stature of Charlton and I can see it a lot more now as well. Myself I hope I can play a massive part on the pitch as well as off it with the experience I have of knowing the club and what it takes to be successful here.
"The manager stresses that it's not just about the starting eleven but the whole squad and I see them training to the highest level each and every day."
Although he initially found it difficult when asked to pinpoint the best players he had worked with in a career boasting such admirable longevity, Jason had some respectful words for three in particular.
"I've been lucky enough to have played with a lot of good players but to go back to your earlier question where you mentioned Michael Owen, at the end of that season (1996/97) I was with him in the (England) Under-20s in Malaysia (in the FIFA World Youth Championship, now known as the FIFA U-20 World Cup). To have played with Owen and to have seen his career from the start, he's one of the best ones.
"Scotty Parker is another, seeing him come through at Charlton and to go on to achieve what he has. Paolo Di Canio, though he was 35 when he signed for Charlton, seeing what he did and how he looked after himself, he was brilliant.
"He's one of those who just loves football, he was always wanting to improve and the passion he had was like he was a 16/17 year old just coming into the game."