Heather O'Reilly interview: Owning the moment HAO style – The anthem to ignite the Breakers' US star
In the first installment of the Boston Breakers' National Women's Soccer League story the play-offs were ultimately out of reach, but the 2013 season will remain in the memory and the team's three-time Olympic Gold medallist and US midfield star Heather O'Reilly can take credit for helping to light the fuse in the way only she knows how.
Back in April, the NWSL's inaugural campaign got underway and while plenty remain all too mindful of the previous misfortunes of professional women's soccer in the US, it has been a season to enjoy. The play-offs begin this coming Saturday (24th August) with regular season winners Western New York Flash up against 4thplaced Sky Blue FC and runners-up FC Kansas City facing Portland Thorns who finished 3rd.
Boston Breakers, the US women's game's longest-running professional team, ended the season a position back from the play-offs in 5th. It has however been a few months of play that all involved, from players and staff to supporters and observers have been able to savour. The battling qualities that characterise the Breakers have been there to see and there has been no lack of quality either. It takes collective endeavour to achieve success but with three Olympic Gold medals and 188 caps for the US Women's National Team to her name it is not unreasonable to suggest that midfielder Heather O'Reilly is one of the star attractions to most.
The 28-year-old has been integral to the side, scoring five and assisting six, and her presence within the team on and off the field is always noticeable. Heather's teammate for Boston and also the national team is forward Sydney Leroux and she gave a mention for HAO (Heather Ann O'Reilly) and her rapping ability in her interview on here in April. Just last week, another US international, midfielder Yael Averbuch, featured on the site and she revealed the song that Heather gives her own version of when the team is making its final preparations before venturing out into the game. Heather offers her response to her colleagues' assertion that she can lock the flow on the track tighter than most!
"Well I guess my secret is out! I wouldn't say I rap on the regular, but let's just say I have a soft spot for Eminem's 'Lose Yourself'."
The New Jersey native brings a highly professional approach to her game but she is one of the main protagonists when the team's lighter moments are in full flow. Heather vibes off the energy of her teammates in the pre-game setting and as numerous other personalities in Tom Sermanni's US team have confirmed, music is every bit a crucial facility in allowing them to find a great atmosphere. Heather scored the goal to secure Sky Blue FC the 2009 Women's Professional Soccer championship against Los Angeles Sol and she assesses how music can help establish a winning mood.
"I think as a whole it is important. It sort of gets everyone on the same frequency if you can get that.
"Personally, I just like to stay loose and relaxed and I believe in my training preparation and I feel like that belief gives me confidence. So I don't really like listening to music on my own – that sort of makes me tight and nervous."
A standout player while at the University of North Carolina, Heather was an NCAA Championship winner in both 2003 and 2006. The 2003 success saw the Tar Heels win 27 games for a perfect record and Heather scored 16 goals and set up 11. Three years later she was a winner once again and was named Soccer America Women's College Player of the Year. At just 17, she had received her first international cap against Sweden in March 2002 and she notably took over the number nine jersey from two-time FIFA World Player of the Year Mia Hamm. It was however another of the legendary team who lifted the World Cup on that day in Pasadena at the Rose Bowl in July 1999 who impressed her for hitting the right notes.
"I feel like Julie Foudy used to belt out pretty good."
Heather had the incredible experience last summer of standing on the podium and hearing 'Chariots of Fire' after winning Gold with the national team at the London Olympics. It was her third time securing the coveted medal after success at the 2008 Games in Beijing and in Athens in 2004. Sharing in that glory were two teammates, the first of whom has already been mentioned and the second who has just been awarded the 2013 NWSL Golden Boot award for her 12 goals (with a league-high nine assists) this season. Heather has been used to finding these two patrolling those locker room tracks when it is crunch time ahead of a match.
"Usually Sydney Leroux and Lauren Holiday (Cheney) are in charge of the locker room tunes. They keep things fresh and hip.
"I'm one of those people that can go like six months without downloading something new and then one night I'll just go nuts on iTunes. So let's just say I don't always have what's current!"
Naturally, the rivalry between the US and Canada team is strong and Heather provided the cross for Alex Morgan's winner deep into extra-time in the enthralling Olympic semi-final game between the two at Old Trafford last year. It finished 4-3 to the US and Heather, who remains key to a national team who are unbeaten in 34 matches, has worked with Canadians at the Breakers this season such as forward Adriana Leon (now with Chicago Red Stars) and defenders Carmelina Moscato and Rhian Wilkinson.
As is known by quite a few and was discussed on here with Canada keeper Erin McLeod and former striker Kara Lang, the national team has a love for a female singer painted into its team dynamics somewhat. It just so happens that it was her record that Heather recalls as the first she ever had.
"First CD was Celine Dion! I got it for Christmas along with my first CD player.
"I was probably around 12 I guess. The movie Titanic just came out I think, powerful stuff!"
A Manchester United fan who watches as many of other teams' games as she can, Heather has represented W-League side New Jersey Wildcats in the past, as well as the Breakers last year in the WPSL Elite. She played the whole of the 2011 World Cup final as the US were defeated on penalties by Japan in Germany and she had emphatically grabbed the attention in the group phase. In the 3-0 win over Colombia her outstanding swerving right-footed effort hit the top corner and was nominated for the FIFA Puskas Award for Goal of the Year, making her the first US player ever to be recognised in this way.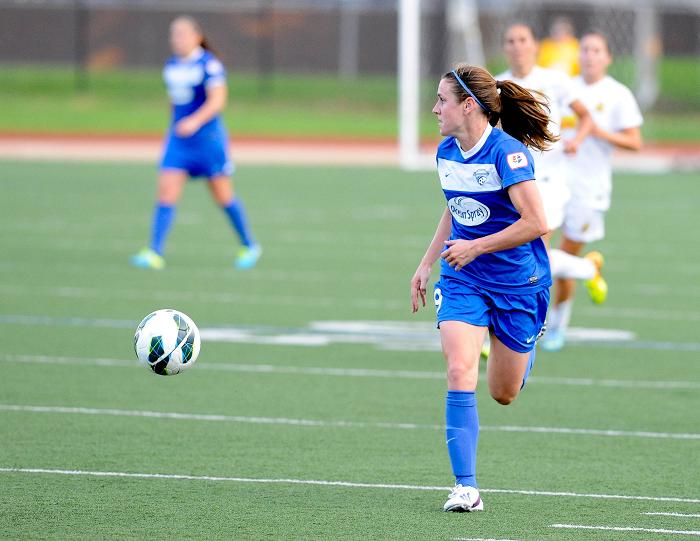 The 36 goals and the aforementioned 188 caps for her country, as well as glory three times over in the Olympics, mean her global status in the women's game is extremely sizeable. Securing her this year was something the Breakers were delighted about and the invaluable experience she has been able to pass on to the younger girls in the team especially will surely be a huge help.
The Breakers' season ended last Saturday with a 2-1 loss at Western New York Flash's Sahlen's Stadium but they had finished up with three wins and a draw in their last five matches. Defender and interim coach Cat Whitehill had stepped in after head coach Lisa Cole's departure and she oversaw the 1-0 win that ended FC Kansas City's 10-game unbeaten run. In addition to Heather's five goals, Sydney Leroux netted 11 and Lianne Sanderson a further five (with seven assists). The Women's United Soccer Association (2001-03) and Women's Professional Soccer (2009-11) ultimately folded and they have of course frequently been cited as reference points during the NWSL so far.
Heather, a USWNT record breaker when she made 74 consecutive appearances (from August 2007 to January 2011), touches on why the NWSL should provide reason to believe in professional women's soccer, as well as her feelings on being part of the Breakers and the Boston community as a whole.
"I think the general feeling of collaboration is stronger in the NWSL. Many different parties are working together to make it work.
"Boston is just a really cool sports city in general. I think since the Boston Breakers have been around for a while, over ten years, they are very ingrained in the community, which is very cool."
Scoring the winning goal in extra-time in the 2004 Olympic semi-final against Germany, Heather also hit the fastest strike in women's Olympic soccer history four years later. Her goal after 40 seconds in a 4-0 victory against New Zealand went down in the record books and she also got one in the 4-2 win over Japan in the semi-final. At the 2007 World Cup, Heather got an equaliser in the opening draw with North Korea and a goal in the 3rd place play-off against Norway. Her top-level credentials are undeniable and she takes a lot of time to give back to the community and nurture the sport's young talent.
Heather originally wanted to be a teacher before playing soccer but with either profession she can pass on her message of how important she feels it is to just be yourself. She believes in the value each person can bring to the table and has learnt to a certain extent to ease back on the flustered and fiery on-field demeanour that earned her the nickname 'the tea kettle' in the earlier days of her career! A lover also of travelling, exploring, taking in new restaurants and the local culture of wherever she happens to be, Heather concludes by describing what else fills her time off the pitch.
"I really like working with kids. I run my own Heather O'Reilly Soccer Academy which puts on small clinics throughout the year.
"I think inspiring the next generation is so important. There is also some non-profit work that I am engaged in, particularly organisations called America Scores and Right to Play.
"Both use sport for development and emphasise all the amazing things that can happen when you give young people the opportunity to play. Besides those things, I enjoy hanging with my husband, (former lacrosse player at UNC) Dave (Werry)!"
Stay on track with all these interviews – never miss another on Beats & Rhymes FC!