Gary McSheffrey interview: The shows you never saw – Spireites forward's hits through the years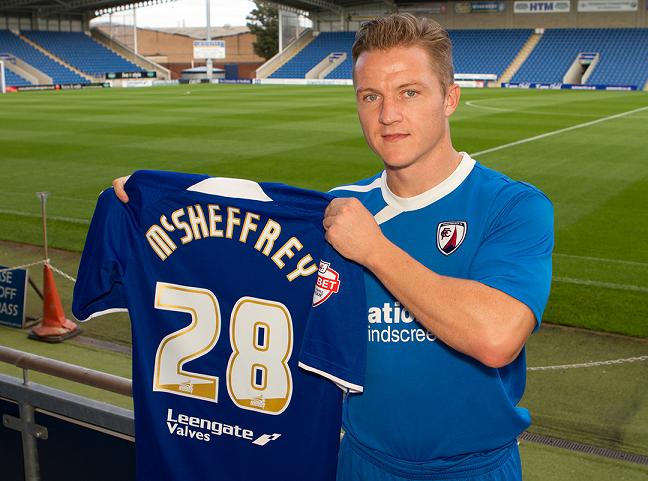 Chesterfield may only be the third different full-time employers of Gary McSheffrey's 15-year career but he is no stranger to blasting out a classic when he joins a club, serving up vocal precision on each occasion!
Making his name at hometown club Coventry City, the 31-year-old forward earned a move to Birmingham City in August 2006 which was reported at the time as being worth £4million. His form at Coventry had been outstanding and he eventually returned home in 2010 for a second spell. The book was closed on his Sky Blues story, as a player at least, in September and he signed a four-month contract with Chesterfield.
Along the way, there have also been five loan clubs including Nottingham Forest, Leeds United, and Luton Town where he enjoyed a goal-laden few months under Mike Newell. Music and football share an undoubted connection and there is a magical quality about how songs can mark the moment and sow the seeds of nostalgia for the future. This is certainly true for Gary as he thinks back to the 2006/07 season in which he struck 16 goals for Birmingham as they won automatic promotion to the Premier League.
All those different arrivals he has had at clubs also means sufficient practice when it comes to singing an initiation track.
"I've had to do it, of course. I did one a couple of months ago and I sang Eagle-Eye Cherry 'Save Tonight' – it went down a treat.
"I've done about three or four actually and they've all gone pretty well. I remember doing 'Summer of '69' (Bryan Adams) and Lionel Richie 'My Destiny'.
"When I was at Birmingham the year we got promoted we had a couple of parties and the lads were always up there on karaoke."
Amongst football supporters as a whole, certain trends start to get picked up on after a while and they become their own part of the game's folklore. In the last four years there have been a frequent number of players who have expressed a liking for a Canadian artist and he is the first name Gary mentions when revealing his own musical choices. One of them may certainly cause some surprise!
"Most people say Drake and I think they say him just to sound cool! At the minute I'm into The Script and I like Gary Barlow's new song ('Let Me Go').
"I've got quite a wide taste and I can adapt but I like One Direction's new tune ('Story of My Life'), I'm not going to deny it."
Putting together a team playlist for the dressing room is one tricky assignment and many players have tried and failed to get a mix that satisfies the majority. If there is one artist that Gary might prefer not to hear on match day it is the 'N Sync singer who he lost faith in somewhere along the line!
"Justin Timberlake – I think he used to be good but he annoys me a bit now."
For an instant glimpse into the era that someone grew up in, asking them to recall the first record they bought usually tells a story. When Gary tried to think back to his first he came up with an unforgettable 90s pop favourite that most people seem to look back on and either love, or just hate to love!
"It was probably something like Hanson 'MMMBop'."
As a devoted lover of the 90s however, I noticed the dates didn't quite add up when Gary mentioned buying it at 13!
"When did that come out? (When told it was 1997) It wouldn't have been that then.
"Something before – Oasis '(What's the Story) Morning Glory'."
Gary's experience out on loan as a youngster included five games and a goal in 2001/02 with Stockport County, who were then playing in the second tier. Prior to that came his venture to Sweden with IK Brage and one Swedish DJ in particular is being given some airtime by the Chesterfield players. Avicii has emerged as one of the most well-known names in mainstream music in the last two years and the likes of 'Levels', 'Wake Me Up' and 'You Make Me' can invariably be heard from the Spireites squad on game day.
"There's different iPods that go in but a lot of the time it's a mix of dancey tunes – a bit of Calvin Harris, Avicii."
As touched upon, Chesterfield are gunning for promotion from League Two this season and one of their chief goal threats is a towering 22-year-old striker. The French-born Ivorian last scored when he headed home in the 2-0 win over Wycombe last month and despite his five goals he is coming under attack for his tune selections!
"Everyone hammers Armand Gnanduillet for his stuff. To be honest, I haven't heard it but apparently it's some dodgy French music!"
Spireites boss Paul Cook recently bolstered his options with the temporary addition of a winger who had a less than desirable outcome to his initiation performance, as Gary explains.
"We had a bad one the other week – Callum McFadzean who's come in on loan from Sheffield United. He did an R. Kelly song but the iPod didn't work!"
While we were discussing the music tastes of his teammates there was one that sprang to mind for me. Former Tunisia defender Radhi Jaidi spent eight years in English football with Bolton, Birmingham and Southampton and was mentioned on here by his former colleague and current Stevenage midfielder Robin Shroot for being a step ahead with his collection. Gary spent three years at Birmingham with Jaidi so what does he remember of the 38-year-old in this regard?
"Jaidi was a bit of a gadget man who'd always have something like a pocket camcorder on him. He was good for a song but he could also have some bad Tunisian ones!"
At the end of the 2006/07 campaign, Gary was named in the PFA Team of the Year for the Championship alongside a 17-year-old who became the world's most expensive player six years later – Gareth Bale. Gary's 16 goals for Steve Bruce's side included a hat-trick in a 3-1 win over Preston as well as both goals in a 2-0 victory over West Brom.
His form at the time made him one of the most recognised players outside the Premier League. The Blues squad that finished runners-up that year contained the likes of Arsenal striker Nicklas Bendtner, Sunderland midfielder Sebastian Larsson and also Neil Danns.
Now with Leicester City and on loan at Bolton, Danns was interviewed on here in September 2011 about his love for writing and playing music. He was the man Gary selected when asked which of his career teammates he would record a cover version of a song with.
"I'd choose Neil Danns – he fancies himself as a bit of a singer. I think he's into his sweet-boy songs so I could do a bit of mixing it up!
"We'd be called Two Tone!"
Although Gary achieved promotion to the top level and subsequently played there with Birmingham he had already been given a feel for it as a youngster with Coventry. He was still 16 when he made his professional debut as Gordon Strachan sent him on for Darren Huckerby in the dying minutes of a superb 4-1 win at Midlands rivals Aston Villa in February 1999. John Aloisi and George Boateng each scored a double but perhaps they might not have realised just how vital to the club Gary would eventually become.
In his two spells with the Sky Blues, he scored 72 goals in 281 appearances and featured in central midfield, on the wing and as a striker at various points. At his peak, he was a joy for Coventry supporters to watch as he breezed beyond defenders with regularity. He set the bar very high in his first stint with his boyhood team and his 17 goals in 2005/06 nearly took them into the Championship play-offs under Micky Adams.
They ultimately finished 8th but supporters had seen an all too rare season competing in the top half of a league. Gary was synonymous with the club and there was an undeniable connection between him and the fans.
He returned in 2010 but with relegation to League One in 2012 and mismanagement (for want of a much stronger word) from the club's decision-makers it was a difficult time. A second ten-point deduction in two seasons was incurred and the team have been playing their home games at Northampton's Sixfields Stadium. Many of the supporters are boycotting the 'home' fixtures through disgust at the situation and those in charge but their backing at away games has been unequivocal.
When you reach the standards that Gary did in his initial spell with the Sky Blues it is understandably very tough to replicate it some years down the line. As he departed in September with Chesterfield his next destination he did so having realised a lifelong ambition of representing his club. History will also always show that he scored twice in the last ever game at Highfield Road – a 6-2 thrashing of Derby in April 2005.
He remains a fan and also wants to see the likes of midfielder John Fleck and 25-goal strike duo Callum Wilson and Leon Clarke retained. Manager Steven Pressley has overturned the points deficit and guided the team to 11th place at present and Gary sees the upcoming transfer window as pivotal.
"When you're from there everyone dreams of playing for the club. My debut was a great day, even though I only got about a minute.
"I think the last day at Highfield Road would be the best memory and then playing the first game at the Ricoh. January will be big for the club – it's when they'll really show their intentions.
"There's people who've been there for two or three seasons who are doing well and if they can hold on to their best players it will show they really mean business and are serious about getting promoted this season."
Almost 16 years since his debut, Gary has had the chance to work with a vast selection of coaches. There were ten full-time managers in his days at Coventry and he particularly relished working with two of them.
"You come across a lot of coaches in the game and tend to pick things up from each of them. Mike Newell, I know he's had some problems since but he was good for me at Luton and put me on the map really.
"There was Eric Black who got the best out of me, Micky Adams as well. Steve Bruce bought me and I had a good spell for him when we got promoted."
Gary has so far made ten appearances for Chesterfield but has only started four since joining in September. He has however scored in a 4-3 defeat at Morecambe on October 5th and three days later in the Johnstone's Paint Trophy as he got the only goal in a win at Mansfield. With his short-term contract due to expire in the coming weeks he is focused on earning more time on the field and helping his teammates.
"Off the pitch everything's been fine and I knew a few of the lads already. Obviously I'd like to play more games but we had a great start and the manager's trying to get that consistency.
"There's been a few indifferent results but we're 2nd in the league and just looking for a bit of stability."
With around half of his life spent as a professional player, Gary has had many pre-seasons, fitness tests, warm-ups, coach trips and of course, teammates. For the final question it is up to him to name the best he has ever worked alongside and to place them in a 5-a-side line-up with himself. Here is Gary to introduce his team.
"In goal it would be Maik Taylor or Keiren Westwood…I'll go with Maik Taylor. An international and Premier League keeper and the year we got promoted at Birmingham he was really good and composed – an old head on old shoulders!
"A defender – it would be Stephen Carr, 100 per cent. Just because his career was unbelievable and he did everything right off the pitch, in the gym and with the way he looked after himself.
"In midfield I'll go with Stephen Clemence. Our captain at Birmingham and he really led by example.
"Not overly technical but you could trust him with the ball. He could grab the game by the scruff of the neck – a true leader.
"There's two here I'm thinking of. One of them is Robbie Keane but I only played a few games with him at Coventry so I'll go for Mauro Zarate.
"He was on loan with us at Birmingham and he went on to do well in Italy. He didn't really know the language but he socialised with the lads and he had a good sense of humour.
"Built like a lot of Argentinian players, like Tevez and Aguero. A great finisher as well."
Follow me on Twitter: @chris_brookes
Like the Facebook page and never miss another Beats & Rhymes FC interview