Adam Virgo interview: The games, the goals and the grilling ex-Seagulls man can never forget
The look of Brighton & Hove Albion might be very different now to nine years ago although Seagulls supporters will always remember their former player Adam Virgo and his dramatic play-off goal, and he has his own unique and special memories of the club.
A centre-back and striker amongst his roles, the ex-Celtic and Yeovil Town player ticked plenty of boxes with the Brighton faithful. A local boy who made it all the way through to the first team, Adam played with the sincerity fans love to see and he got to enjoy some terrific times with his club, featuring in two separate spells.
Adam, 30, grabbed a pivotal equaliser in the Division Two play-off semi-final with Swindon Town in May 2004. Brighton had beaten the Robins 1-0 at The County Ground in the first leg through Richard Carpenter's goal but back at The Withdean Stadium Sam Parkin had cancelled it out with nine minutes of normal time remaining. In the first half of extra-time Rory Fallon edged the visitors in front and with seconds to go they were heading for the final.
Charlie Oatway's long throw found Danny Cullip who flicked on for Adam to sink his header low into the bottom corner. It brought some Seagulls supporters onto the pitch and left Swindon fans dumbstruck. Coming in the 120th minute, penalties followed and with Carpenter, Chris Iwelumo and John Piercy converting and Ben Roberts saving from Swindon frontman Tommy Mooney it left Brighton in command. Adam crashed his penalty in off the bar before Andy Gurney stepped up with the home fans urging him to 'hit the bar, hit the bar, hit the bar'. Gurney struck the post to spark ecstatic celebrations from the Seagulls hordes.
In the final, Mark McGhee's side triumphed at the Millennium Stadium after Leon Knight's late penalty saw off Bristol City in front of over 65,000 in Cardiff. For Adam, it was an unforgettable day and his personal moment in the semi-final remains almost untouchable, but for another goal a year later.
"Making my debut against Brentford was an amazing thing to happen because it's all your hard work and sacrifice to become a professional footballer. Scoring my first goal against Stockport too, but fans also remember me for my last-minute goal versus Swindon in the play-off semi-final.
"It was amazing because that took us to the Millennium Stadium and was voted The Withdean's greatest moment as well. I scored the goal against Ipswich on the last day of the season (2004/05) which kept us in the Championship, which for me is my most special goal because of the effort of the team.
"We were expected to be relegated and when we weren't and stayed up it was just an amazing feeling."
Adam had a variety of roles to play at the club and he spent time up front, moving forward from his previous defensive berth. In the 2004/05 campaign, the Seagulls were still in limbo over whether their stadium at Falmer would ever become a reality. There was a great deal of uncertainty around the place so it seemed to mean all the more as they avoided the drop back to the third tier by one point on the final day.
That year, Adam notched winners at Leicester and Nottingham Forest amongst his goals and it was his finish in the 1-1 home draw with Ipswich following in from Gary Hart that was crucial. He had an injection for the game to play through a knee injury and it was, for the time being at least, a goodbye. The 22-year-old moved to Celtic for £1.5million over the summer and although chairman Dick Knight resisted initial offers and it was not Adam's wish to leave, the money was most welcome for the club as they struggled on. As Player of the Year, Adam left on good terms and would return three years later. He describes the personnel who made an impression on him as well as the honour of turning out for his local team and winning the favour he did.
"Brighton is a special club because it's a club I supported as a boy. It's where I'm from so it was extra special to play for them as well as captain them.
"I played with great players, Bobby Zamora, Richard Carpenter, Elliott Bennett, to name a few. Also played under good managers, Micky Adams, Peter Taylor, Gus Poyet and Mark McGhee – all had their own qualities."
After limited opportunities in Scotland with Celtic, Adam returned to Brighton in 2008 having spent time on loan in the Championship with both Coventry City and Colchester United. It meant a reunion with former manager Micky Adams who was himself back for a second stint with the club. Adams, a Division Three title winner with the Seagulls in 2001, had given Adam his first contract in the game and he took the chance to bring him back at 25.
Adam has played for seven separate clubs in his career to date and although he has a love of music he opted for a different option on one occasion when faced with the possibility of singing for his new teammates.
"When I was at Brighton I had a choice of singing a song or having 20 ruthless questions. I took the questions, which can't be repeated!
"At Celtic I sang the Only Fools and Horses theme tune being from the south of England, even though they thought I sounded like someone from London. At Yeovil I sang 'Weather With You' by Crowed House and Bristol Rovers I sang 'Wannabe' by the Spice Girls, which went down very well and the boys had a good giggle."
Working also with Russell Slade and the aforementioned Gus Poyet in his second stay, Adam departed Brighton in 2010 before signing for Yeovil Town. Music has been a constant for him both in and out of football, as he explains.
"Music was everything in game preparation, it helps psyche my mind up and also relaxes me, depending on who we are playing. I must admit the older I have got the music in the dressing rooms has become woeful.
"I picked up the guitar around 1998, my ex-girlfriend had one at her house and I heard Noel Gallagher play acoustic versions of songs. I watched Oasis 'Unplugged' and thought how cool it would be to play guitar.
"I picked it up, learnt chords C,G,D, 'Talk Tonight' and 'Live Forever' and I've been playing ever since."
Oasis are a favourite for Adam to this day and he takes it back to his school days when reminiscing how he edged towards the Northerners in the famous Britpop battle with Blur at the time! There is also a tribute to his late father when thinking back to the bands he heard when he was young.
"My music background started with what my dad would listen to in the car, it would have been tapes then. My dad was a massive fan of Queen, The Who and the Rolling Stones as well.
"Queen I loved and still do today. My first memory of Oasis was 'Cigarettes & Alcohol' on Now 29 at school.
"You would hear all genres of music, Take That etc., and when Oasis played I was like 'wow, who is that?', and never looked back since. I've watched them over 10 times in concert, bought every album and picked up and started playing the guitar because of Noel Gallagher.
"My first record was 'Wonderwall' and I was excited because it cost £1.99 and I could afford that with pocket money. It had three songs you didn't hear on an album and 'The Masterplan' on it which blew my mind away."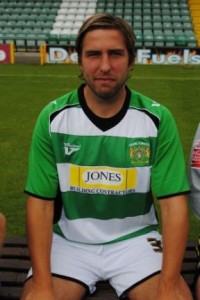 Welsh defender Nathan Jones was on the field in his homeland the day Brighton won promotion to the Championship and Adam also worked with him at Yeovil. Jones is currently assistant to Brighton boss Oscar Garcia with the mightily impressive Amex Stadium and a push for Premier League promotion a far cry from the days at the Withdean, for all the good memories. Adam recalls his former teammate alongside a pair from his most recent club Bristol Rovers who tended to cause him some confusion with their sound choices!
"Nathan Jones had a range of music – dance, house, indie. Celtic, there was not too much music played before a game and at Yeovil we all picked one song and that was shuffled every game so sometimes your song came up and sometimes it didn't.
"I picked Goo Goo Dolls 'Iris', don't ask why, I just did! At Bristol, all sorts of modern music was played by Eliot Richards and Ellis Harrison.
"Half the time I didn't have a clue who it was, think that's my age showing!"
While with Bristol Rovers, Adam got to play under his old Brighton manager Mark McGhee but it was Paul Buckle who took him to the club. Another of Buckle's signings that summer (2011) was one of the names that almost all lower league supporters will be familiar with thanks to his goals over the years – striker Scott McGleish. Adam has a unique memory of him and there are two more former teammates he picks out for this response, the latter of which is back at Brighton after reaching the Premier League with Norwich City. We have heard about the songs Adam went for when he joined teams so which of his colleagues stood out when the spotlight fell on them?
"Lee Brown at Bristol Rovers sang 'American Pie' and was reading it on his phone and got everything so wrong. Scott McGleish loved singing and sang 'Walking In Memphis' and he thought he was on X Factor – most songs last 30 seconds, his lasted two and a half minutes.
"You will be surprised it's a £100 fine if you don't sing and you will also be surprised the amount of lads who pay it and won't sing! Andrew Crofts, a skinhead nutter, was so scared singing, in the end he sang 'Wonderwall' and just shouted it like a proper East Londoner.
"That was painful on the ears!"
Also a Scotland B international, Scottish Premier League champion, and three-time promotion winner with Brighton, Adam made his professional debut back in January 2001. It is certainly fair to say injury played a considerable part in what he was able to do at Bristol Rovers and he last featured for the Gas in October 2012. Besides all the distinguished coaches he played under and mentioned earlier, John Ward was Adam's manager in the final few months of his time at Rovers. The respected former Colchester United boss never had the chance to select Adam due to injury but he always showed interest in how he was progressing. Adam has a wealth of experience to his name and he offers a look at what he feels his time in the game has enabled him to discover.
"Football taught me a lot about respect for people because if you respect people older and younger than you they will respect you and maybe run that extra yard for you! Also cherish all your memories because it goes from you so quickly.
"The game of football for a player is ruthless and whether you're playing or not injures can happen at any time. You can be bought or sold at any time as well and that's hard if you have a family or you're settled where you are.
"The biggest thing I learnt about football though is being honest with yourself. If you can't be honest and admit when things are not good enough then you won't get far.
"Also look after yourself, because there won't be many people in the game that will."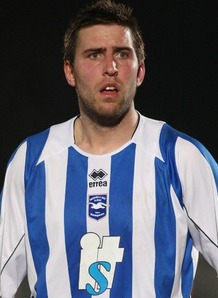 At present, it remains to be seen whether Adam will be joining a club in the near future but family time has been savoured amongst his fitness efforts and other endeavours in recent months. As Brighton fans remember that feeling when his header against Swindon nestled in the net and the commitment he showed when wearing the badge let's give Adam the chance to pick a line-up of his own. When asked for a 5-a-side team including himself and the four best players he has ever worked alongside here was the group he went for.
"Goalkeeper, Artur Boruc – an amazing shot-stopper, commanded his box so well and made some of the best saves I had ever seen. Defender, Adam Virgo – just headed and booted it and loved a shot from 30 yards!
"Robert Page from Coventry – reads the game so well, good on the ball but an amazing organiser. Always loved playing at the back with him.
"Midfield, Stiliyan Petrov – best pro I have ever played with. Fitness from box to box was top drawer and his range of passing was good but above all his consistency game by game for Celtic never went below a seven.
"Forward, Bobby Zamora – just works so hard for the team and played the lone role perfectly. The two seasons we played together and him scoring 70-odd goals was fantastic, and a good guy as well."