Ada Hegerberg interview: Norway prospect finding her feet and bringing the noise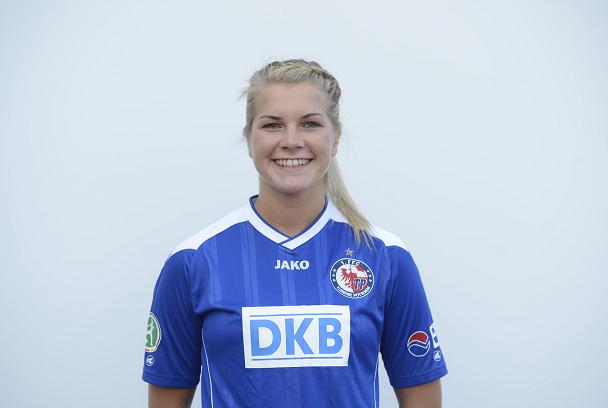 The potential of Ada Hegerberg was glaringly apparent on Norway's way to a runners-up place at the recent UEFA Women's Euro 2013. At 18, the Turbine Potsdam striker is a lightning bolt of promise, set on making an electrifying impact for years to come.
Eighteen days of continental competition across Sweden culminated recently in a Euro 2013 final between two of women's football's traditional heavyweights. The day was Germany's (1-0), though it could have been so different, had Norway converted even just one of their two penalties.
The seemingly-unbeatable German goalkeeper and captain Nadine Angerer, since named UEFA Best Women's Player in Europe, saved both, but did see the ball in her net on 64 minutes. As Ada Hegerberg turned in Maren Mjelde's cross, she was denied a joyous equaliser by an offside decision.
It was ultimately not to be for a player who celebrated her 18th birthday at the start of the tournament, but her performance, full of fearlessness and physicality, left an impression in front of 41,301 at Solna's Friends Arena. An attacking focal point at her debut senior tournament, Ada reflects on the biggest experience in her career to date.
"I have learned about dealing with being a part of a group over a longer period, where everyone has to focus and perform. That was a huge new experience for me, where we stayed together for six weeks.
"Another great experience was to play on the highest level, and to feel that you're capable of doing well internationally."
Unity in a team comes from all angles, and undoubtedly at times through the songs listened to together by players, whether the effect is motivational, or a tension-loosener at select moments.
"Music can be a good way of finding the right mood before games," says Ada. "So, yes, I think it is a big part of the game."
"Every player has their own music taste, and I think we all love the music in our own way."
Alongside Kristine Wigdahl Hegland and Caroline Graham Hansen, Ada formed a youthful attacking trio in the final. As Norway's emerging generation tries to blend with the established core, there are high hopes for a nation who swept the board previously, as European, world and Olympic champions.
When they clinched the World Cup in 1995, Ada was around three weeks away from…being born! The first music she remembers having in her collection was actually from the previous year.
"The Lion King soundtrack; I was maybe seven years old!"
Scoring Norway's last goal in the 3-1 quarter-final win over Spain, she has been a senior international since 2011, having starred back home for Kolbotn and Stabæk in the Toppserien. Now with the storied German club Turbine Potsdam, she regularly tests herself against some of the game's elite.
Life early on with the two-time European champions has been good, and their young sharpshooter might find herself with another job of ultra-importance soon enough.
"We have no particular player choosing the music, but I've heard that I'm a pretty good DJ! Sometimes we listen to typical German schlager music, but since we're so many internationals, we listen to more hip-hop and pop songs for the moment.
"We have our own playlist where every player has chosen their own song."
When asked about any teammates with questionable music taste, it leads the number nine to call for crucial change behind the scenes!
"Hard to say, I need one more season to figure it out, but the schlager music must go!"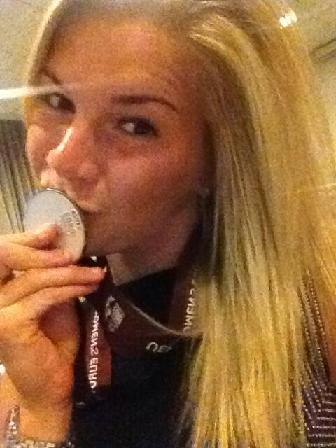 Among the new recruits in Bernd Schröder's squad this season are former Washington Spirit and Western New York Flash midfielder Ingrid Wells, 20-year-old Swiss international Lia Wälti, and ex-Bayern Munich player Julia Simic. In a season-opening draw with FF USV Jena at home last weekend, Turbine's goal came from Maren Mjelde, Ada's Norway teammate.
Until recently, she also had her older sister Andrine at the club, but the 20-year-old midfielder signed last month for Kopparbergs/Göteborg FC in Sweden.
"It has been great having Maren and Andrine by my side when moving to a new country, with a bit of a different culture and language. Getting the opportunity to play in the Bundesliga and compete with the best players is what I appreciate most.
"But what I love about Turbine is the good atmosphere in the team and the good relationship between the players, which I also think is an important key in a winning team."
While Norway enjoy a golden heritage in women's football, coverage has not always been accessible. For Ada, the French forward who can lay claim as one of the English Premier League's best ever players was the one she took most inspiration from.
"To be honest, I didn't watch that much women's football when I was younger. My favourite team is Arsenal and I always loved watching Thierry Henry in his best period of his career.
"I think he was the best player of the world at that time; his movements, finishing, and last but not least, his hunger for always wanting to score goals. Pure class."
Due to an ankle injury, Ada missed the first game of the season, but she is keenly anticipating leading the charge for honours this year, alongside the likes of Scottish forward Lisa Evans and American defender Alex Singer. Trophy-chasing aside, she is set on making the most of everything the sport can offer, while savouring the journey overall.
"I think that if I always have the hunger, and at the same time always strive to be a better player, I think the future will be an adventure. But I always have short goals to achieve, so that in longer term, I could reach my dreams.
"I always stay focused on working hard, and I think about the details before every training.
Football is pretty much my number-one interest in life, but I really like to enjoy the spare time with the best of my friends and family."
Each of these interviews ends by asking the player to name a fantasy 5-a-side line-up, with four of their career teammates to go alongside them. For now, Ada chooses to just pay tribute to a player who returned home to the NWSL in June, after keeping 21 clean sheets in two seasons with Turbine Potsdam.
"That's a hard question, I think I'm too young to answer that; I need to experience more before I have the answers. All I can say is that the best keeper I have ever played with is former Turbine goalkeeper, now Boston Breakers, American Alyssa Naeher.
"I'm expecting to see her in the American national team soon – excellent goalkeeper!"