Ada Hegerberg interview: Norway starlet finding her feet and bringing the noise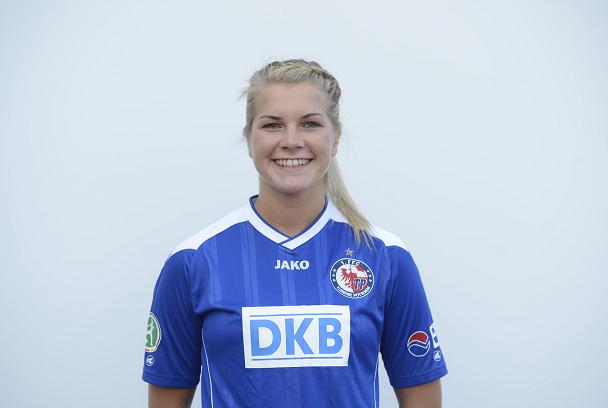 Norwegian forward Ada Hegerberg was one of the players to light up Euro 2013 as her nation took the silver medal, and at 18 years old the Turbine Potsdam performer is uncovering new possibilities as a player, a person, and maybe with the team sound system too!
With appreciation and intrigue for women's football growing by the day worldwide there was real celebration this summer in one of the nations that loves the female game the most. The wave of support in Sweden was there for all to see throughout Euro 2013, even as the hotly-tipped hosts were eliminated at the semi-final stage. The final battle of the tournament saw 1995 World Cup winners and two-time European champions Norway up against Germany, who had triumphed in the Euros on seven previous occasions. One of the day's eye-catching performances belonged to teenager Ada Hegerberg, making an impression for the Norwegians on the big stage in front of 41,301 spectators at Solna's Friends Arena.
Although Germany were victorious, it was by a solitary goal and it could perhaps all have been different if Norway had converted their two penalty kicks from Trine Bjerke Rønning and Solveig Gulbrandsen. The seemingly unbeatable German goalkeeper and captain Nadine Angerer, recently named UEFA Best Women's Player in Europe, saved both spot kicks but did see the ball in her net on one occasion. On 64 minutes with the score at 1-0 Ada turned in club colleague Maren Mjelde's cross but the offside flag took away the joy.
Despite not taking the biggest prize Euro 2013 had to offer there was a lot for Even Pellerud's team to take heart from, not least their silver medal. Ada was extremely impressive at times, mainly playing alongside Kristine Wigdahl Hegland and Caroline Graham Hansen in an attacking trio. At 18, it was naturally the biggest springboard of her young career and she feels the competition gave her a lot to take forward from here.
"I have learned dealing with being a part of a group over a longer period where everyone has to focus and perform. That was a huge new experience for me, where we stayed together for six weeks.
"Another great experience was to play on the highest level and to feel that you're capable of doing well internationally."
When Norway clinched the World Cup eighteen years ago Ada was still around three weeks away from being born! The coach at the time was the aforementioned Even Pellerud, the ex-Canada manager who led them to a historic 4th place at the 2003 World Cup. He returned to take charge of his own nation's team again last year and Ada played in every one of their Euro 2013 matches. Anja Mittag's 49th-minute tap-in during the final may have been the difference in the end but collectively throughout the tournament Norway were resolute. Togetherness as a group comes from all angles and undoubtedly through the songs listened to by the players, whether they are gaining that motivation or even just laughing at it and relaxing as a team. Ada confirms the frame of mind that it often helps the national team to get into.
"Music can be a good way of finding the right mood in front of games, so yes I think it is a big part of the game. Every player has their own music taste and I think we all love the music in our own way."
Despite her young age, Ada seemed to love the challenge of facing up to a number of experienced and distinguished players in the European Championship. Anyone who saw her one-on-one tussles with the German defenders in the final will surely agree! Euro 2013 will go down as a significant marker in her career and she got herself a goal too, scoring the Norwegians' third as they beat Spain 3-1 in the quarter-final in Kalmar.
She has been in the national team since 2011 and was a star for Kolbotn and Stabæk in the Toppserien, Norway's highest division. Now with the highly successful German club Turbine Potsdam she regularly tests herself against those amongst women's football's elite. Before we get a glimpse into the music tastes in the team it is time to get Ada thinking back to the first CD she ever had.
"The Lion King soundtrack, (I was) maybe 7 years old!"
Back in February, New Zealand captain Rebecca Smith told on here about her experience of a certain genre of music from her time with VfL Wolfsburg, last season's treble winners with the domestic league and cup as well as the Champions League. Turbine were runners-up in the Frauen-Bundesliga last season but won the title in 2004, 2006, 2009, 2010, 2011 and 2012. They also won the Champions League in 2010 as well as enjoying success in the tournament in its previous format of the UEFA Women's Cup in 2005. If there is one thing they share in common with Wolfsburg it looks to be the German style of music in the team, as Ada explains!
"Sometimes we listen to typical German schlager music, but since we're so many internationals we listen to more hip-hop and pop songs for the moment. We have our own playlist where every player has chosen their own song.
"We have no particular player choosing the music, but I've heard that I'm a pretty good DJ!"
Ada, who wears the number 9 shirt for the club, may get the seal of approval from some people for the tracks on her playlist but are there any players in the team with bad taste?
"Hard to say! I need one more season to figure it out, but as I said earlier, the schlager music must go!"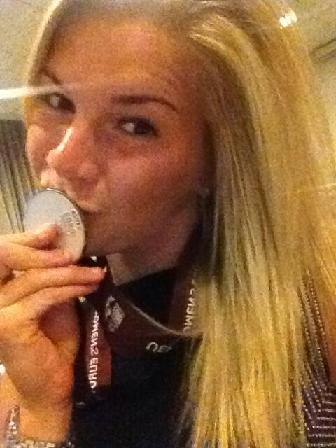 Among the new recruits in Turbine manager Bernd Schröder's squad for this season are former Washington Spirit and Western New York Flash midfielder Ingrid Wells, 20-year-old Swiss midfielder Lia Wälti and ex-Bayern Munich player (also a midfielder) Julia Simic. In the season opener last weekend, the team drew 1-1 with FF USV Jena at home but Turbine's goal came from Maren Mjelde, Ada's Norway teammate. Until recently, Ada also had her older sister Andrine at the club but the 20-year-old midfielder joined up with top Swedish team Kopparbergs/Göteborg FC last month. In her time in Germany so far this year, Ada has been helped by having these familiar faces but she has found the other vital ingredients to make her Potsdam adventure a happy one so far.
"It has been great having Maren and Andrine by my side when moving to a new country with a bit of a different culture and language. Getting the opportunity to play in the Bundesliga and compete with the best players is what I appreciate most.
"But what I love about Turbine is the good atmosphere in the team and the good relationship between the players, which I also think is an important key in a winning team."
Euro 2013 was a trip down memory lane in one way for Norway, as they participated in Sweden, just as they had when they won the World Cup in 1995. The 1987 and 1993 European Championship winners sealed the big prize in 95 with star performers such as Kristin Sandberg, Ann Kristin Aarønes, Hege Riise and Marianne Pettersen. All the female players who represent Norway today are well aware of how big that achievement was but it is understandable how much of an influence some of the standouts from the male game may have had. Women's football coverage has not always been accessible and for Ada, the French striker who can lay claim as one of the English Premier League's best ever players was the one she took most inspiration from.
"To be honest I didn't watch that much women's football when I was younger. My favourite team is Arsenal and I always loved watching Thierry Henry in his best period of his career.
"I think he was the best player of the world at that time. His movements, finishing, and last but not least his hunger for always wanting to score goals – pure class."
Due to an ankle injury, Ada missed the first game of the new season but she is keenly anticipating leading the charge for honours this year alongside established names such as Scottish striker Lisa Evans and American defender Alex Singer, to name but two. At her age, and many people would say for some years afterwards too, it is pretty difficult to have a clear picture of everything you want to do in life. Ada is however set on making the most of everything the sport can offer, while savouring the journey.
"I think that if I always have the hunger and at the same time always strive to be a better player I think the future will be an adventure. But I always have short goals to achieve so that in longer term I could reach my dreams.
"I always stay focused on working hard and I think about the details in front of every training.
Football is pretty much my number one interest in life but I really like to enjoy the spare time with the best of my friends and family."
With the impressive forward play she has shown in her performances so far there is reason to believe Ada could have much success in her career. It is so early in her story but she has already worked with a range of top professionals at club and international level. These interviews on here usually end by asking the player to name the best teammates they have ever had, to go in a fantasy 5-a-side line-up with them. Maybe one day Ada will be able to provide the response but for now she chose to just pay tribute to a player who returned home to the NWSL in June after keeping 21 clean sheets in two seasons with Turbine.
"That's a hard question, I think I'm too young to answer that, I need to experience more before I have the answers. All I can say is that the best keeper I have ever played with is former Turbine goalkeeper, now Boston Breakers, American Alyssa Naeher.
"I'm expecting to see her in the American national team soon, excellent goalkeeper!"