Stephanie Catley interview: 'Now I'm coming home again' – The Victory leg of the tour for Melbourne captain
After new surroundings and expectations this year with the Portland Thorns, Australian left-back Steph Catley is back to captain W-League champions Melbourne Victory once again, returning home with a different tempo to bring to an already tantalising team dynamic.
The progress in the 20-year-old's career so far has been as rapid as the runs she makes down the left flank. Debuting in the W-League at 15 and earning her first senior international cap with the Westfield Matildas three years later, Steph celebrated domestic success in February.
In her first season as captain of her hometown team Melbourne Victory, she was lifting the W-League trophy after a Grand Final win over Brisbane Roar, and she is out to clinch that glory once again. Earlier this year, the highly-rated defender took on a new challenge as she signed with the Portland Thorns in the National Women's Soccer League (NWSL) in the U.S.
Even as an Australia international and a W-League champion, the switch was something entirely new for Steph as she had to adapt to wider scrutiny, tougher competition, big-name company, and of course, life far from home. Although a culture shock initially, she came up with five assists and was named in the NWSL Best XI's second team despite arriving two months into the season.
Such an experience can be enriching in numerous regards, and as she will discuss in further detail, there was a lot of learning to take on board. Besides being exposed to various outlooks on the game and life itself, Steph also got some new flavour for her listening pleasure courtesy of the Thorns' Spanish midfield gem!
"In Portland, Vero (Boquete) played us a few of her Spanish songs which were very interesting," Steph explained. "I'm not sure how I felt about them at the time but she really got into them and it changed the dynamic in the change room to an upbeat spirit, so I definitely can't complain!"
Steph's reputation in the women's game is certainly continuing to rise as she makes her mark as one of the most exciting and promising attacking full-backs out there. As Victory captain, she naturally has a multitude of media responsibilities and part of that entails sharing certain aspects of her personality.
However, some may not quite be aware of just how strongly connected to music Steph is, but she paints the picture as she describes its role in her routine, as well as her best-loved artists.
"Music plays a huge part in my life. I travel a lot in the car to training every single day, usually an hour or more, and I'd fall asleep behind the wheel if it wasn't for music.
"I honestly don't have a favourite genre as my music taste varies a lot. I seem to listen predominately to r&b but I also adore Jeff Buckley, Fleetwood Mac and Sam Smith.
"My favourite artist right now would definitely be Ed Sheeran; there isn't a song that he's written that I don't like. I have tickets to his concert next year so I'm fairly excited about that."
The W-League Young Player of the Year for the past two seasons, Steph has become a mainstay for the national side. Making her debut under Tom Sermanni before playing for Hesterine de Reus, she was part of Alen Stajcic's team that finished runners-up to world champions Japan in this year's AFC Women's Asian Cup in May.
Her move to Portland followed, and after her NWSL season concluded with the play-off semi-final with the Thorns it was announced that she would be loaned back to Melbourne for season seven of the W-League. Although there is team success to be attained once again, returning to native surroundings is a welcome way for Steph to close out what has been a terrific year for her.
Home is where the heart is and as she was discussing the first CDs she ever owned, Steph touched upon some family memories.
"I actually bought a few albums at the time that my mum let me buy my first bit of music and they all happen to be a little bit embarrassing. I can't remember exactly how old I was but I'm thinking around seven years old.
"I was a massive tomboy and thought Avril Lavigne was pretty rad, so I had her album. I also had the Backstreet Boys 'Black and Blue'.
"When I was little, I spent a lot of time listening to music with my dad. He introduced me to Fleetwood Mac 'The Dance' and it's one of my absolute favourite albums of all-time.
"It reminds me of being sprawled out on the lounge room floor at midnight with my dad back in the day, so it's definitely a special album to me."
Steph has been named Australia's Female U20 Footballer of the Year on the last two occasions and she was Player of the Match on her Matildas debut against New Zealand in June 2012 at 18 years old. As a beaten W-League Grand Finalist in January 2013 as Melbourne lost to Sydney FC, it made it all the sweeter for her to reach and win the showpiece match at the next possible attempt.
Forward Lisa De Vanna and defender/midfielder Lauren Barnes got the goals as Brisbane Roar were swept aside 2-0. Those two, plus midfield star Jess Fishlock (who hasn't returned this season), have featured on here previously, making Steph the fourth of the Victory's triumphant team to talk music and football for the site.
One of the team's newcomers was also interviewed back in July 2013 and the forward was highlighted by Steph for her influence on this season's team playlist.
"In Melbourne, we've definitely had a variety of change room DJs. We have a lot of different tastes in music within the squad and I've had to create a few playlists here and there to make sure everyone is happy, but generally we grab someone's phone and throw on anything upbeat or r&b.
"This year, Racheal Quigley has been a really solid DJ. She's got a good mix of new and old."
Sunday (October 19th) saw the Victory, coached this season by Joe 'Pepe' Montemurro, draw 1-1 away to February's Grand Final opponents Brisbane. It was their sixth game of the schedule and Amy Jackson scored her fifth of the campaign for Melbourne, who lost keeper Brianna Davey to a shin injury at half-time.
Davey had put in a brave display before having to leave the match and as a number of her teammates have alluded to previously, she is also rather talented away from the field, singing and playing the guitar. Steph reveals some further background information on the shot-stopper's musical capability.
"The only one of my teammates that has sung in front of me is Bri Davey, who happens to be my best friend. She has an incredible voice and back in Under-17s national team camp she told us that she had just recently played a small gig for a family friend and we begged her to sing for us.
"She was very hesitant but ended up singing a little bit of a Justin Bieber song and she was brilliant. She gets better and better every day and sings for me all the time now!"
Melbourne finished 3rd in last year's regular season table and have so far won half of their opening six games. Steph was a scorer in the 4-2 success at Canberra United and with 58 appearances to her name, no Victory player past or present has played more times for the team.
That feat was achieved last time out and there have been plenty of players to have shared a pitch with Steph in the last five years. From the Victory side, not all have produced the goods where it really matters – in the playlist stakes!
It is the team's 20-year-old keeper who springs to mind for Steph, although she has plenty of company in this regard.
"I could write a long, long list of teammates with bad taste in music. Cassie Dimovski loves a bit of the old 'doof doof' techno stuff, which I just can't get myself to enjoy."
Singing is a universally popular method of harnessing team spirit and as far as light-hearted but nerve-inducing ways to welcome new players go, having someone show off their vocal range is right up there. Some teams get the player to stand on a chair, or they could be given the microphone on the team bus while heading on an away trip for example.
The singing initiation has been brought up many times on here in the past and maybe likening it to the long walk up to take a penalty in a shootout isn't such a bad comparison! With a few years in the game already, has Steph ever had to take the floor in this talent-show style?
"No I haven't, and I'm so, so grateful I haven't had to! I'm sure my teammates are too.
"I've been asked what I would sing if I had to sing in front of everyone and I always settle on rapping my favourite part of Lupe Fiasco 'The Show Goes On', just so I wouldn't put anyone's hearing in danger."
Before her move to Portland, it was one-time Matildas coach Tom Sermanni who told Thorns boss Paul Riley just how capable Steph was, describing her as one of the best left-backs in the world. With her pace, delivery, and decision-making going forward and at the back, she was just what Riley was looking for.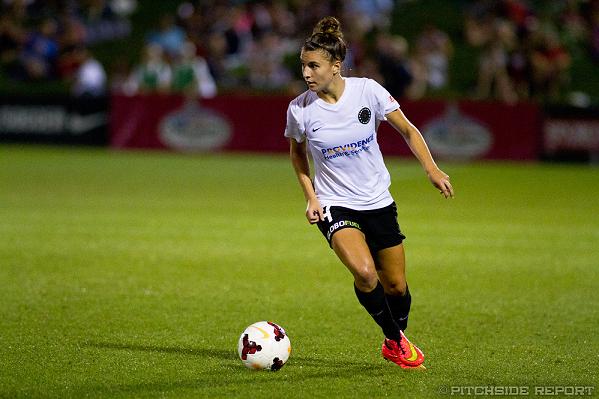 Joining the inaugural winners of the NWSL, Steph got to play in front of the league's highest attendance to date as she assisted Vero Boquete's game-winner in the 1-0 victory over Houston Dash before 19,123 at Providence Park in August. With such interest in the Thorns comes heightened expectation and all players have their ways of relaxing away from training and competitive action.
A trio of Steph's teammates at the Thorns got together to work on something more than just on-field tactics, as she explains.
"In Portland, Emily Menges, Sinead Farrelly and Kat Tarr created a small acapella group and they were convinced that by the end of the season they'd be good enough to perform the national anthem before one of our home games. Apparently they were working on a dubstep version of the national anthem."
The Thorns were given live ESPN coverage for their games with the Boston Breakers, Houston Dash and Seattle Reign, while their 2-0 semi-final loss to eventual NWSL winners FC Kansas City was also shown. Portland had grabbed 3rd place right at the last in that game with regular-season runaway leaders Seattle, after a season filled with some eye-catching results for Riley's team.
A 5-0 defeat at home to Western New York Flash stood out, but so too did the 6-1 win at Washington Spirit and the 7-1 thrashing of Kansas City. With premier names in the ranks such as legendary Canada forward Christine Sinclair, German goalkeeper and most recent FIFA Ballon d'Or winner Nadine Angerer, and U.S. Women's National Team striker Alex Morgan, Steph was certainly coming into a demanding environment.
Her five assists meant that only six players in the league tallied more, and with the exception of teammate Vero Boquete, they had all played considerably more games than Steph. She scooped the Thorns' Newcomer of the Year accolade and impressed many observers with her play, but she freely admits that it was far from an easy transition for her.
Steph reveals how three of the Americans in the team in particular helped her to adjust, including former Melbourne teammate Jess McDonald, who was among the most lethal finishers in the league over the year, scoring 11 goals.
"It took me a couple of games to get myself adjusted to the pace of the NWSL and after an away game in Washington, I was a little bit down about how I'd performed and was confiding in Sarah Huffman, who always knows what to say and is an incredible person and mentor. We talked about the game a little bit and about her experiences and then she basically just explained that I played a really important role in the team.
"In terms of taking me under their wing, there were a few players that supported me in different ways. There was Jess McDonald who I absolutely adore, she was my rock while I was over there and we'd spend a lot of time together away from training.
"Rachel Van Hollebeke was absolutely incredible with advice on and off the field. She taught me so much as a player and I admire the way she goes about everything she does."
As well as having the support of such experienced pros, Steph also had the freedom and excitement of new surroundings to take in. Portland did however provide her with one or two reminders of home along the way.
"I absolutely loved being a Thorn. The place, the club, the people are all incredible and made it so much easier to be away from home for the first time.
"I think playing at such a well-known club with some incredible players meant that there was a lot of pressure to perform all the time. It definitely took me a little while to adjust to the pace and the expectations, but that process in itself taught me so much about myself as a player and as a person too.
"I demanded more from myself and tried to be better every single day to a level that I've never pushed myself to before. My favourite part about Portland would probably be the similarities it has to Melbourne; the food and coffee culture is amazing.
"I also loved that you could be seemingly in the middle of the woods one second and then five-to-ten minutes down the road, you're in the heart of the city."
Melbourne Victory's Grand Final success last season was their first W-League crown and the bar has been set just as high this time around. Joe Montemurro's team have recovered from an opening game defeat to Newcastle Jets with three wins and two draws and there are some notable names to go with the up-and-coming homegrown talent in the squad.
In addition to the returning Lauren Barnes, Lisa De Vanna, and of course Steph, they have midfielder Christine Nairn and defender Elli Reed coming off the back of an NWSL season. Steph assumes the role as temporary tour guide as she shares her favourite aspects of Melbourne, while also highlighting why she feels people should come out to support the Victory for the rest of the season and beyond.
"I'm definitely biased because Melbourne is my home but I love everything about it, from its ridiculously cool indie café culture in the city, to the incredible sports stadiums and even its unpredictable weather. At Melbourne, we play an attacking brand of football that is fun to watch and we're on a mission to go back-to-back this year so we're very focused and determined to get points every single time we play.
"We have some brilliant fans. Eureka are always looking for new recruits and have a blast making banners and chanting at our games."
With a back-up plan involving her educational background, Steph is currently just enjoying all that this wonderful game brings. This year has seen her make an impression alongside some of the best individuals women's football has to offer and away from club level she continues to build toward being part of the Matildas' side at next year's World Cup in Canada.
Together with her counterparts, she is helping to lead the women's game in Australia to the heights that greats like Julie Murray and Cheryl Salisbury always worked to propel it to. Although still just 20, Steph has worked with many extremely accomplished players for club and country, so she has a good base to select from for the site's regular final question.
Each interviewee is asked to imagine themselves in a team of five and to pick four players from the best they have ever had as teammates to join them in the line-up. In Jess Fishlock's interview earlier this year, she chose Steph in her team, speaking of her love of playing alongside her, so would the favour be returned here by her former captain?
"Keeper – Bri Davey. She's my best friend in the world so we'd have a blast and she's ridiculously talented too.
"Defender – Lauren Barnes. She's by far the most composed centre-back I've ever played next to, I trust her with my life and she's also unbelievably crafty and skilful on the ball.
"Midfielder – Jess Fishlock. She's the best player I've ever played with; I honestly think her game is almost flawless.
"She is so much fun to play with in five-v-fives. I could make the most impossible forward run and she'd find a way to deliver the ball perfectly to me.
"Striker – Sam Kerr. Her qualities are endless; she's fast, strong, skilful, and a classy finisher.
"But mostly because she's a competitor. She has the ability to change games and dominate from beginning to end."
To catch each of these interviews, follow me on Twitter: @chris_brookes
You can also keep up-to-date by liking Beats & Rhymes FC on Facebook