Sophie Schmidt interview: Same strings in a new city – Canada international finding the flow in Frankfurt
Although more than familiar with the language of her new surroundings, Sophie Schmidt's move to UEFA Champions League holders 1.FFC Frankfurt represents an undoubted change in picture for the Canadian international, and the midfielder has already brought her own pitch to the team harmony.
Since her senior debut in April 2005 at just 16, Sophie has become one of the genuine mainstays for the Canadian Women's National Team, taking in three World Cups and two Olympic Games with her country. As Canada welcomed the most keenly anticipated and viewed showpiece event the women's game has ever enjoyed this year, the accomplished midfield competitor was one of the most experienced and recognised names in the squad.
Following the run to the last eight for John Herdman's team, it was announced in July that Sophie would be taking a career spent largely in her native North America to Germany. The team to welcome her talents were Frankfurt, who won a record fourth continental title back in May, and she was regularly deployed by Colin Bell in the early weeks of the Frauen-Bundesliga season before a recent rib injury halted her progress.
Not too long after joining the club, the former Sky Blue FC standout had ensured her new teammates got a front-row viewing of 'Schmidt Unplugged', as she served up an authentic offering of her willingness to perform, even if she rated it as a less-than-silky showing!
"Recently with FFC Frankfurt we had a karaoke night and I attempted to sing 'Bohemian Rhapsody' by Queen. It was an epic disaster but fun."
Over the past four years, the interviews on here have attempted to go exploring through the many different ways in which music and both men's and women's soccer connect. The Frankfurt team, led by guitar-playing (in his spare time) English head coach Colin Bell, made a cameo appearance in a video for the German band Heldmaschine this year and Sophie explains the melodic edge to her own story.
"Music has an enormous impact in my life; I played several instruments growing up and I constantly have music on. There isn't a day that goes by that does not have music in one form or another.
"My iPod has an assortment ranging from Bob Dylan, Michael Jackson, Florence + the Machine, Bob Marley, Dave Matthews Band, Eddie Vedder, but from time to time also more recent songs and hits."
Having begun with the national youth program at 14, Sophie went on to figure in two FIFA Under-20 World Cups, captaining the team in the 2006 tournament in Russia. In the last decade she has racked up 137 caps, scoring 16 times and surely earning herself 'young veteran' status for all her top-level experiences by the age of just 27.
Ten years with the team – which included having to put off her first year at the University of Portland – has meant being right at the heart of the squad for all the times they have celebrated their deep love for music as a group. The numerous instances of this have been shared by members of the team on here and they include the shared affection for Céline Dion and post-game huddles to 'The Power of Love', the supreme singing ability of the likes of goalkeeper Erin McLeod and midfielder Desiree Scott, and of course, defender Carmelina Moscato's 'interpretive' (as keeper Steph Labbé described it) dance style!
The Canadians are a truly musical team and Sophie reveals who some of the main movers and sound-system shakers have been in recent times when they have been together.
"DJs would probably be Robyn Gayle and Melissa Tancredi. After those two, random people put in some song requests or try to introduce new songs into our repertoire, at times with no success.
"The dancers are growing within the team. We have new young blood – Ashley Lawrence, Kadeisha (Buchanan) – that challenge some of the more veteran players – Melissa, Kaylyn (Kyle), Desiree.
"It makes for a good time for those participating or those simply looking on."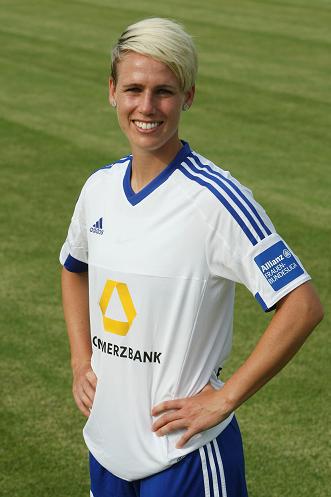 Although Sophie played club soccer back home for Abbotsford Rush as a teenager she actually spent a number of her early years in Paraguay. Along with her younger sibling, Bruce, she has an older brother, Spencer, and growing up he would pick her for street soccer games even though there were no other girls playing.
Sophie's brothers have also played the game over the years but she explains how Spencer's influence on her when they were younger extended beyond soccer.
"I enjoyed listening to whatever was on the radio or my older brother was listening to at the time, which consisted mostly of r&b/ Boyz II Men-sort of genre. Phil Collins was also someone whom I loved to listen to.
"My first CD was Bob Seger and it must have been when I was around ten."
After a career at club level spent largely with Vancouver Whitecaps of the W-League, as well as a spell with magicJack in Women's Professional Soccer (WPS) and Kristianstads DFF in Sweden's top-flight Damallsvenskan, Sophie's profiled was raised further after she linked up with Sky Blue FC in the National Women's Soccer League (NWSL). One of the Canadian, Mexican and U.S. National Team players allocated to the New Jersey side in January 2013 ahead of the league's inaugural season, she was joined by compatriot and defender Melanie Booth.
Sophie was a considerable attacking proposition that year, scoring a superb seven goals as Sky Blue made the playoffs, where they were defeated 2-0 by Western New York Flash. As the 2014 season loomed, Sophie took it upon herself to give supporters a unique insight into the personalities on the roster.
"I put together a lip sync battle video where fans could vote for their favourite performance. That was a big hit."
The entrants included goalkeeper Brittany Cameron, defenders CoCo Goodson, Maddie Thompson, Kendall Johnson and Rachel Breton, midfielders Ashley Nick, Trish DiPaolo and Nanase Kiryu (with backing dancers), forward Maya Hayes, goalkeeping coach Jay Cooney (and his two young helpers), and a duet from Lindsi Cutshall and Katy Freels. The winner was midfielder Nikki Stanton for her Nicki Minaj effort, complete with pink wig, and on the field that year she went on to complete her rise from reserve team player to earning a pro contract.
Sophie introduced the video with an excerpt of Moldovan pop group O-Zone's international hit 'Dragostea Din Tei' and later added some of Queen's aforementioned 'Bohemian Rhapsody'. In addition to this competition she also ended up playing another musical part during her time with the team.
"At Sky Blue, somehow, I seemed to be DJ more times than not because we used my speakers. However, that was very stressful; you never know if what you like will please everyone, and then sometimes it's just impossible to play everyone's kind of music.
"That is when I take requests or simply hand it over to someone else who has different music taste than me."
Former Canada defender and captain Colin Miller is a coach Sophie believes was a big influence for her during her youth development back in Abbotsford. Although she was already a senior international player when she went to college, her years with the University of Portland program were also pivotal in her progression.
UP had won the NCAA championship in 2002 and 2005 during Christine Sinclair's spectacular collegiate career and Sophie left her own mark during her years representing the Pilots. Graduating in 2010, she departed with a record of 40 goals, 31 assists and 111 points and her name still sits proudly among the program's all-time leading statistics.
U.S. Women's National Team standouts Stephanie Cox, Tiffeny Milbrett and Shannon MacMillan are also UP alumni, as is a current midfield star who also happened to be the one to put the pregame tracks together during Sophie's rookie year in WPS.
"For some reason I remember Megan Rapinoe playing the DJ role at magicJack in Florida. At University of Portland everyone contributed a song and then in the training room it was Michael Jackson's greatest hits all the time!"
As Sophie brings up 'The King of Pop' it seems apt to mention that Christine Sinclair's preferred pregame song has been identified on here before as 'Man in the Mirror'! Sophie has witnessed more than her share of show-stopping performances from 'Sinc' out on the field and she would have jumped at the chance to see an in-person show from the man who helps fuel her esteemed teammate's fire.
"It would have been something special to see MJ perform live! Now, I simply like going to smaller shows; it makes the music experience more intimate.
"I went to EDC – Electric Daisy Carnival – in New York. It was an incredible experience; at least three different stages, performances going on all day, and not to mention some great artists.
"I loved the music and atmosphere!"
Two years after her debut, Sophie was scoring in a World Cup as she helped Canada to a 4-0 win over Ghana in Hangzhou, China. However, that tournament served the teenager with a sharp example of the pain that can come with the sport.
In the closing moments of the group encounter with Australia, Cheryl Salisbury's equalising goal for the Matildas sent them through to the knockout phase and broke new ground for the women's game in her country, but shattered Canadian hearts in the process as it eliminated Even Pellerud's team. A year later, and once again in China, Sophie was part of the world's most prestigious sporting spectacle, as Canada reached the quarter-final of the Olympic tournament.
Before the competitive action had even begun, she already had some pressure to contend with as she gave her own rendition of a song which would surely be the most fitting accompaniment when the day eventually comes for her to step away from the game.
"Before the Beijing Olympics in 2008 we had to share something about ourselves for about ten minutes to the whole team and staff. I talked a little and then broke out into a song while playing the guitar – 'Time of Your Life' by Green Day."
Following an undeniably disappointing 2011 World Cup in which they propped up a tough group with France, Nigeria and hosts Germany and ranked last in the tournament, Canada put that firmly behind them at the 2012 London Olympics. A winner at the Pan American Games in Guadalajara in October 2011 – a competition in which she had scored in the final shootout with Brazil – Sophie was on the podium as the team took Bronze in London.
Diana Matheson's dramatic winner against France to secure the medal is permanently etched into Canadian women's soccer history, although Sophie also singles out the truly thrilling semi-final with the U.S. at Old Trafford as one of her all-time favourites, despite the last-gasp 4-3 loss in extra-time. Christine Sinclair struck a hat-trick in that game and along with Melissa Tancredi her goals naturally caught the attention.
Led by John Herdman, who had guided them to that inaugural Pan American Games success, the whole team became known to new audiences back home and further afield that summer. One of those who made a particularly strong impression was midfielder Desiree Scott and she was in Sophie's thoughts when asked which teammates she would record a song cover with, as was goalkeeper Erin McLeod.
"I absolutely love the song 'You've Got the Love' (cover of Candi Staton's 'You Got the Love') by Florence + the Machine, the acoustic version. Truth be told, I know the limits of my voice, so I would have to say I would be the one playing the guitar and then perhaps Desiree and Erin could sing!"
Majoring in life science, Sophie's minor in college was German and she also spoke the language among those she was surrounded by in Paraguay when she was growing up. Such grounding was certainly an advantage as she signed for Frankfurt, the team who won the Champions League this year with Mandy Islacker's injury-time clincher against Paris Saint-Germain in Berlin.
Of the 14 times (for the first eight seasons as the UEFA Women's Cup) the top prize in European women's football has been won, the champion has come from Germany on nine occasions. Frankfurt are out in front as four-time winners and they brought a 2-0 lead home from Norway ahead of the upcoming second leg of their last-16 tie with LSK.
On her Champions League debut in October, Sophie scored a penalty in the 2-0 win away to Standard Liège but had to sit out the 6-0 win in the second leg with injury. Following the completion of the current round, the competition will resume with the quarter-finals in March and Frankfurt are in pole position to be in the draw at the end of this month.
Domestically, the team's start to this season's Frauen-Bundesliga has been steady if unspectacular so far, with four wins from the first eight putting them in 5th at this early stage. The 4-0 loss away to SC Freiburg at the weekend was undoubtedly a surprising scoreline but it is very difficult to envisage Colin Bell's side – who came 3rd in a title race that went to the wire last season – not being in the leading places again this time around.
A return from a rib injury that has disrupted Sophie's progress in recent weeks is now close and beyond easing into one of the strongest club teams in the women's game she reveals some of the feelings she has experienced since she took on this latest challenge in her life.
"Germany is wonderful. Being a part of a team and club makes settling into a new place that much more seamless.
"Learning a new culture has been interesting. I find it difficult to understand why some things are funny and why sometimes people get upset, but perhaps that is lost in trying to simply understand the language and not fully picking up the meaning or sense.
"There was an instant bond with the other English speakers on the team! Overall, though, the team has been great.
"I wonder if I will be able to make friends outside of soccer, simply to have a break from soccer. That is always the tricky part, but not always necessary."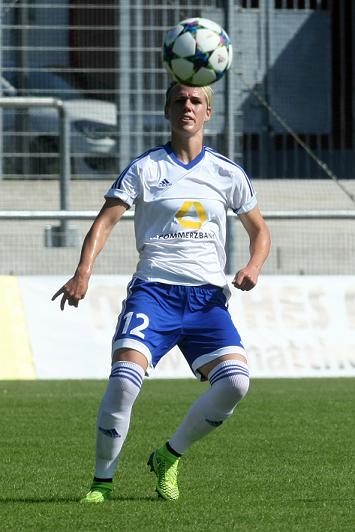 The personality she frequently shows these days is just one of the reasons why peers and fans have been able to take to Sophie so easily. However, we would all see a different picture of ourselves if we were to turn the clock back and Sophie has recalled how she doesn't think she spoke in her first National Team camp as she was so overwhelmed.
Now packed with knowledge from a young adult life that has seen her go around the world through soccer and also in her own time, what would be the wisdom she'd share with the Sophie Schmidt who was right at the beginning of her love affair with the game?
"To my younger self, I'd say to enjoy the process. Don't let the small stuff get you down.
"Keep pushing yourself and those around you. You'll turn out alright no matter what happens.
"I am so thankful for the game and the people that I have met along the way. It has given me so much and has shaped me into the person I am today."
When Sophie earned the very first of her 137 caps, the Netherlands were the opponents in Apeldoorn and the rain pouring down reminded her of kicking a ball around when she was a young kid. As we leave this interview, let's take her back to a similar setting of pure fun-driven, soccer simplicity.
The idea of this regular concluding question is for the player to imagine playing in a small-sided game, with four teammates to choose from any time in their career to make up the numbers in their line-up. The interviewee is free to select their team for whatever reasons they wish, rather than the onus being on outright ability alone, but it is safe to say that Sophie's starting four is fairly handy!
Here she is to describe a selection with firepower, astuteness and plenty of exuberance.
"Christine Sinclair (forward)…because she is kind of good. I love playing with her and will always choose to have her on my team.
"Keelin Winters (midfielder) – I played with her throughout college. Great player, great friend and we would have a ball playing together again.
"Kadeisha (Buchanan) (defender) – she's some kind of good! Somehow she would be our highest scorer; she's always entertaining and has such a good spirit.
"Erin McLeod (goalkeeper) – she'd keep the group grounded. She's also kind of good, which could be important because she may be called upon a lot!
"It could be a great addition to have her foot skills coming out from the back. A little sweeper keeper prodigy."
To keep up-to-date and catch each of these interviews you can follow me: @chris_brookes
You can also like the site on Facebook