Cari Roccaro interview: 'Stay another song' – U.S. defensive starlet out for an Irish encore into the night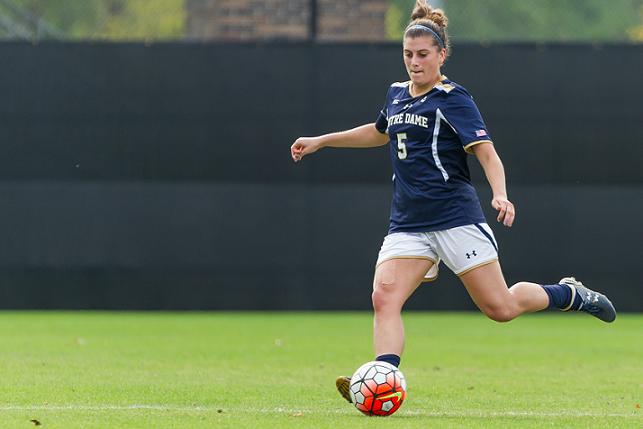 A FIFA Under-20 World Cup winner with the United States in 2012, defender Cari Roccaro is nearing the completion of her University of Notre Dame days, with time still for a spectacular closing track to a four-year journey of life, learning and lasting memories with the Fighting Irish.
With an infinite number of variables coming into play, both on and off the field, accurately predicting the path a young soccer player's career will take seems all but impossible. There are those who go on to hit the heights many always said they would, some who surprise and greatly exceed expectations, and others who drift out of the game and into other areas and ventures.
There are swarms of undeniable talent on show on the college soccer fields around the U.S. at present, although for so many, the final whistle sounding out on their senior season also means a goodbye to the game they have dedicated so much of themselves to. While the years of collegiate play may merely be providing lessons a student athlete can take into their life outside the sport, for a small percentage they are also the prelude to a career at the professional level.
For Notre Dame senior captain Cari Roccaro, soccer has already provided her with obstacles to overcome, friendships, vast memories, and opportunities to live the kind of moments most are only able to watch from afar. The youngest starter on the FIFA Under-20 World Cup-winning U.S. team in Japan three years ago, the 21-year-old defender has long been identified as one of the brightest prospects in the college game.
Cari has been included three times on the preseason watch list for the MAC Hermann Trophy, college soccer's highest individual accolade, awarded annually to one male and one female player. Despite the regard she is held in, the Long Islander's focus is team-oriented and along with her Notre Dame teammates she is dreaming of a glorious finale to the season on Sunday December 6th in Cary, North Carolina, in the shape of the NCAA Championship.
The No.3 seeded Fighting Irish play their second-round NCAA tournament game against UConn this Friday (November 20th) at Yurcak Field in Piscataway, New Jersey. Regardless of how far the three-time national champions go in the competition, however, nothing could detract from what has been a fundamental and special passage in Cari's young life, as she explained in the lead-up to the 5-0 first-round win over Oakland.
"I have been trying to take one day at a time here while I finish up my senior season and last semester. I am trying to mostly live in the moment and help my team as much as I can, and have fun doing so.
"Of course it is going to be sad to walk away from such an amazing place that has helped me grow so much as a player and a person, but I am also extremely excited to start the next chapter of my life after Notre Dame. This semester has been going by very fast, and I am sure my sadness will begin to show more in the next few weeks, especially as we have just wrapped up Senior Night and our last regular-season home game.
"Some things that underclassmen may take for granted are coming to an end for me, but I have truly enjoyed the friendships and memories I have built and I am definitely going to miss it. I know leaving here will be bittersweet, so I am trying to just have fun with friends my last few weeks on campus."
Cari's versatility has meant her talents have been utilised all over the outfield during her time with the Irish but it is at the heart of the backline where she has excelled. Along with her central-defensive partner Katie Naughton and another fellow senior, forward Anna Maria Gilbertson, she was named to the All-ACC Second Team earlier this month.
In her 74 games for the Irish, Cari has scored 13 goals and provided four assists, as well as making an impact far beyond the field. In September she was one of the 30 NCAA women's soccer student athletes nominated for the Senior CLASS (Celebrating Loyalty and Achievement for Staying in School) Award.
The award's eligibility is based upon the individual's achievements in the areas of community, classroom, character and competition, and Cari will be strongly remembered in such respects. She describes how her memories of school, soccer and so much else besides are locked together with another powerful nostalgic element.
"I would say music plays an important part in my life; whenever I listen to a song for the first time or a song is overplayed on the radio I will be brought right back to that period in my life if I hear the song weeks, months, or even years later. I would say music helps hold my memories for me and brings the emotions back that I was feeling during the time the song was first played in my life.
"In terms of my favourite artists, I am all over the place. I absolutely love 90s music; anything from Goo Goo Dolls, Michelle Branch, and Matchbox 20, to Backstreet Boys, Britney Spears, and Dream Street.
"I also like modern-day music; pop, hip-hop, country, and basically anything you could think of. I would say if I know the words to the song, I probably would like it."
Extremely light-hearted off the field, Cari switches back to strong competitive focus once she steps out on game day. The scene in the locker room as the minutes count down before kick-off, and in the immediate aftermath of a win, loss or draw, can differ greatly depending on the specific team, but music is often an integral part of the atmosphere.
For Cari, aside from the motivational and bonding side, it is actually in these scenarios that she tends to do most of her catching up with the latest tracks out at that time.
"Since I am in college and do not get to listen to the radio much, I listen to whatever is played in the locker room. I rely on others to keep me updated on the popular songs, but I have been really bad with knowing the titles of these songs.
"In terms of what is on my iPhone to listen to, I have about 45 songs that have been meaningful over the years or are just recent songs I think are fun to listen to. My favourite song of all-time is 'Poker Face' by Lady Gaga, but my favourite song on my iPhone besides that is 'Dancing in the Moonlight' by Toploader, or 'Night Changes' by One Direction."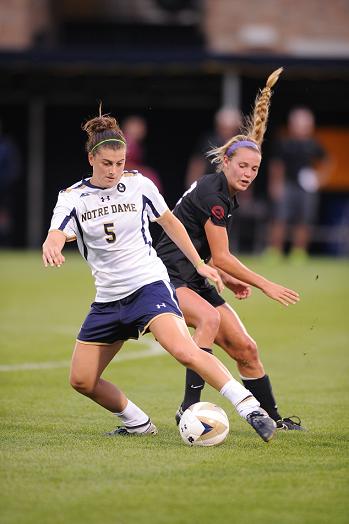 When Cari was approaching the start of her collegiate career, Notre Dame head coach Randy Waldrum – who has of course gone on to the National Women's Soccer League (NWSL) with Houston Dash – was full of praise for her and talked of how she would come in and immediately make an impact on the program. As a freshman, she was the BIG EAST Rookie of the Year, the Soccer America National Freshman of the Year, and also named to the All-BIG EAST First Team, among other recognition she received that season.
Cari recalls how a Texan midfielder/forward would spread a little southern twang via the Irish's locker-room speakers back then.
"Over the years we have had many different DJs. When I was a freshman, Rebecca Twining, who was a junior at the time, would always play country music.
"I hated country music coming into college, but now I love it because as I actually listened to it more I realised it was good stuff. I also love it because of the memories that come along with listening to some country songs from my freshman year."
In 2013, Cari was a Soccer America First Team MVP and was also named to the TopDrawerSoccer Best XI Second Team. During that sophomore season, and also in the following year, the main DJ for the team was a player who has since graduated, opening up the central defensive spot Cari has gone on to make her own.
Cari describes how the former Chicago Red Stars defender liked to play songs from a duo that began their own tradition of posting new music and covers on YouTube most weeks for what they called 'Timeflies Tuesdays'.
"My sophomore and junior year was more of Sammy Scofield controlling the music, which was all Timeflies. It was fine to listen to but after a few months I was so sick of Timeflies songs and I did not know any of the words, so I am glad that music is no longer around…sorry, Sammy!
"Now we rotate DJs and anyone that wants to play a song does so. I would say Katie Uhler helps out a lot with DJing and she is very good because she is open to everyone's suggestions and keeps the songs going.
"After I graduate I can see Natalie Jacobs, who is currently a freshman, taking over the DJing job and bringing back the 90s and the childish oldies, which is the music I love. I have not really been the DJ much on my college team or national teams.
"I let others who are more confident do so; some of those on the national team were Chioma Ubogagu, Rose Lavelle, and Katelyn Rowland. They know what they're doing and definitely do not need my help."
Last May, Chicago Red Stars defender Julie Johnston was an in-depth music/soccer interview subject on here and as captain of Steve Swanson's Under-20 side who won the World Cup in Tokyo in 2012 she shared how music links in to her recollections of that achievement. One of the memories she detailed was how the team went to a karaoke bar on the night of their final win over Germany, and Cari, who started the entire knockout phase and featured in all but one group game en route to the success, also remembers it fondly.
"I was the star of that karaoke night. Just kidding, it was probably Crystal Dunn, but I did sing my heart out.
"I know I went up there to perform a few times, but my one solid memory is when I sang 'Just Lose It' by Eminem with Steph Amack. It was overall just an awesome experience for everyone to just let go and celebrate our journey and World Cup championship one last time before we parted ways.
"One of the best memories of that karaoke night was singing 'Don't Wake Me Up' by Chris Brown with the whole team. This song became our team song throughout the World Cup journey and was the song playing when we were dancing in the locker room and then again when we were receiving our gold medals.
"That is a song that when I listen to it, it immediately brings back the emotions that I had when I was with that team, and brings back all of the memories I had with those girls winning the World Cup. Music is just powerful in that way."
Two years on from that momentous tournament, new faces had established themselves in the team and it was Michelle French this time leading as coach into the 2014 World Cup in Canada. Cari was now a considerably experienced member of the side and she wore the captain's armband for a U.S. team that had been building as one for so long leading up to the competition.
She anchored the backline in group wins over Brazil and China and started every game up to and including the quarter-final with North Korea. The last eight was to be as far as they would go, as they were defeated on penalties, and it was a loss that hit hard for all involved.
One of the most exciting talents on that team was midfielder Rose Lavelle, who told on here last month how the experience took a long time to get over and consequently affected her 2014 season at Wisconsin. However, the Badgers number three is much more known for the brightness of personality and entertainment she brings and she is also a big fan of Cari, highlighting her on-field ability in that same interview.
As Cari was asked about the most memorable teammates she has had so far when it comes to singing displays, she knew straight away who had to get the shoutout.
"I know Rose thinks she is better at singing than she actually is, but she is definitely someone I will always remember singing. One of her better performances is 'John Doe' by B.O.B, and two of my other favourites that are decent are 'Remind Me' by Brad Paisley featuring Carrie Underwood, because she sounds good singing Carrie's part, and 'Fergalicious' by Fergie, because she knows the rap part…but don't we all?"
Some players need no encouragement at all to showcase their vocal range, while for others the only time they can be heard singing is when they join a new team and are made to in the name of initiation! Although Cari has not yet been put on the spot in such a way, if the songs from a certain Jack Black movie were getting some airtime then there would only be one outcome.
"I have never had to sing for any initiation, and I have a terrible singing voice that probably irritates people, but if School of Rock songs were playing you can expect me to be involved in singing ten times out of ten."
National team commitments have tended to take away Cari's breaks during recent academic years and it is far from easy to make such sacrifices, from both physical and mental standpoints. However, it does allow the chance to work on something which may just prove worthwhile if Cari and one of Paris Saint-Germain's young attacking stars ever decide soccer was never really their true calling.
"Lindsey Horan and I would record the best cover songs of all-time. We've been practicing for years on bus rides, and we have worked on covering songs such as 'Upside Down' by Jack Johnson, 'My Band' by D12, 'The Warning' by Eminem, 'Heart of a Champion' and 'Grillz' by Nelly, and last but definitely not least, 'Pump Up the Jam' by Technotronic.
"We are actually really good. I am not joking."
Graduating from East Islip High School in Islip Terrace, New York, Cari had been soccer team captain her last three years and started all five seasons on varsity, scoring 39 and assisting on 19. A two-time NSCAA High School All-American, she earned various recognition for her soccer talent during this period, and just as her college days have had their own soundtrack, so too did this part of her life.
"In high school, every summer my friends and basically everyone in my town would go see the band O.A.R. My group of friends got me into liking O.A.R. because they always played their music, and I think I like them so much because it reminds me of the days hanging out with my friends.
"The concerts were always so much fun because you could sing along for hours. Also, my senior year of high school, I went with my friends to the Katy Perry concert.
"We had so much fun and I still rave about her performance and how entertaining she was. I really love all of her songs and I think she has a great voice, so any time I can listen to Katy Perry it is a treat.
"To say I was extremely excited when she performed at the Super Bowl last year is an understatement."
Cari's high school coach was Julie Susskind, who actually taught her back in elementary school and is one of the people from her childhood and teenage years who has spoken of her pride at all she is achieving in her young adult life. Music has always been close at hand for Cari, and although pinpointing the first album or single she ever had was tricky, the question still managed to spark a few memories that more than a few who grew up in the same era will be able to relate to.
"I cannot even remember back that far! It must have been one of the 'Now' CDs – my family owns basically all of them up to Now 20 – Aaron Carter, Britney Spears or Backstreet Boys.
"I had all of the 90s pop CDs growing up, so I was one of the cooler kids in elementary school keeping up with the hot bands of the time. I think listening to those bands and artists when I was younger is a huge part of why some of them are my favourite today.
"Britney Spears before the year 2003 is my favourite artist still at this moment in my life. My first live concert was Aaron Carter.
"I do not remember a thing about it, but I have pictures as proof that I was there. He was fun to listen to and dance around to when I was a kid."
A one-time player with Albertson Fury '93, a WPSL national championship winner with Long Island Fury, and part of the WPSL Elite's New York Fury, Cari worked with former Portland Thorns and Philadelphia Independence coach Paul Riley with all three teams. He described her as a 'world-class prospect' and a 'privilege' to coach, adding that he hadn't seen anyone put more work into improving their game.
Indiana may have been her base for much of these past few years at college, but her upbringing back on the East Coast remains as fresh in the mind as ever.
"East Islip is a special place to grow up. It is a small town on Long Island, and although it is like any other normal town, it will always have a place in my heart because of the experiences I had growing up and the people there who have become my friends and supporters.
"I was able to participate in so many activities and sports as a kid and was able to find what I loved to do best and wanted to stick with. When I was growing up, I experienced all four seasons, which is not something every kid gets to do.
"I lived three minutes from Heckscher State Park, 15 minutes from Robert Moses Beach and about one hour from New York City by train, so I had places to spend my time depending on the time of year. Growing up being able to spend my falls and springs in the park, my summers on the beach, and my winters riding into the city to see a Broadway show or go to Rockefeller Center to see the Christmas tree is something that I probably take for granted.
"One other thing I will always love about New York is the food. The pizza, the bagels, and the breakfast sandwiches are the best out there, and anyone who thinks otherwise probably hasn't been to New York!"
Setting a school record for the 400m dash while in high school, Cari had set out her soccer dream some time before. It was when she was a girl scout that she identified a soccer scholarship as a goal she wanted to achieve when she reached 18.
That was duly ticked off the list, although surely she couldn't have been quite aware back then of just how much the beautiful game would impact upon the human being she is at 21.
"I would say three of the most important lessons I have learned through soccer are how to manage my time effectively, how to be confident in myself as a player and person, how to face adversity. Playing soccer in college and travelling for the national team during this time has taught me that managing my time is the only way I am going to be able to be successful both on the field and in the classroom, and I think that soccer has forced me to develop this skill that I will use for the rest of my life.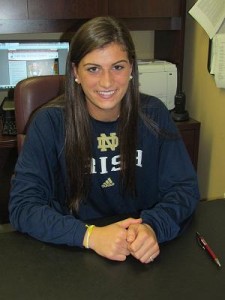 "I also think that soccer has allowed me to be confident in myself in all aspects of my life because the self-assurance I feel on the field translates into my life off the field and allows me to take pride in who I am and what I believe in, even though it may be different than others. Lastly, soccer has brought out some qualities in me that I would not have known I had, one of which is having the mental toughness to face adversity.
"There have been countless times in my soccer career where I have faced some sort of hardship, and by being able to overcome each difficulty in one way or another, I have built this thick skin and mental toughness I use off the field that I would not have otherwise. Overall, soccer has shaped the way I think, behave, and feel, and I am very grateful for that."
An All-ACC First Team selection last year, Cari has started every game with her defensive counterpart and national team colleague Katie Naughton this season and together they have helped ensure the Irish have given up just nine goals so far. A sociology major, it will be an immensely proud day for those around her when she graduates, although tinged with plenty of sadness at the chapter that is closing.
Notre Dame coach Theresa Romagnolo has been the one working with Cari this year and watching her compete and lead from the back, so what if this number five turned into player-coach of her own team? In this regular final question, the interviewee gets to envisage themselves in a small-sided game, with four of their teammates from any time in their career required to make up their team.
Whatever reasons they choose to make their selections is down to them, and of course it is never easy narrowing down to such a select few, but Cari didn't shirk the challenge. If you didn't make the starting line-up here, call her to find if you made the bench!
"Keeper: Katelyn Rowland – Katelyn was the keeper standing behind me at the U-20 World Cup last summer. She is calm and poised, and is tough to beat because she is so confident in herself.
"I like her confidence and her communication and I think the way she speaks to her players brings out the best in them. She works extremely hard, and she does her very best at all times to keep the ball out of the net.
"We have a great relationship off the field, and the trust we have on and off the field would definitely help us win some small-sided games. Defender: Julie Johnston – Julie is someone I played next to in the 2012 U-20 World Cup.
"She is the rock that does not get beat; she has great strength and is an asset in the air, and she has the leadership to carry any team to success. She is an amazing person on and off the field, and she is a great friend that has always had my back during games.
"I have not played with Julie since 2012, but our already existent relationship and the experiences we have shared together would allow us to get right back into the flow of being successful partner defenders. Midfielder: Rose Lavelle – Rose is probably the craftiest and quickest midfielder I know.
"She has incredible skill on the ball and extremely good vision to slip other players through to score. She is often the unsung hero in games because she is not necessarily scoring goals, but has proven herself every day to be one of the best out there.
"Rose and I have an amazing friendship off the field, which is part of the reason we trust each other on the field at all times. I think the trust between defenders and midfielders is vital when playing soccer, so she is someone I would want on the field.
"I would pass Rose a ball even if she had three players marking her because I know she would do something special to get out of the pressure, and because of this technique and tactical awareness she has, there is no reason why I wouldn't want Rose on my team. Forward: Lindsey Horan – I have known Lindsey since I was 15 years old, and I think the world of her as a player.
"She is always working and training to be the best she can be and watches so much soccer that she is one step ahead of everyone on the field. She is very technical and outstanding in the air on set-pieces, and has the ability to hold the ball as a target forward, but also take players on 1v1 on the dribble and go to goal.
"Lindsey and I have been very close friends for about seven years now, and I think we bring out the best in each other on the field when we compete in trainings, whether we are on the same team or not. I demand the most from her because I am so confident in her talent, and because we have a respect for one another I am not afraid to yell at her on the field, or off.
"She would definitely be the golden boot winner in these small-sided games."
To catch each of these interviews, you can follow me: @chris_brookes
You can also like the site on Facebook and stay updated