Richard Garcia interview: World Cup tunes still raise a smile for Socceroos winger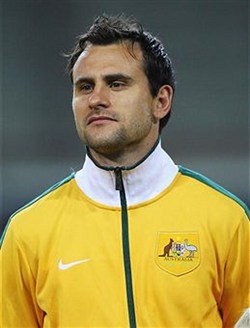 Winger Richard Garcia became Hull City's first ever World Cup player when he represented Australia against Germany in Durban on June 13th 2010 and teammate Adam Federici's choice of music during the tournament brings the memories flooding back even now.
The Socceroos reached the last 16 in 2006 but were unable to replicate that in South Africa, finishing third in Group D after failing to recover sufficiently from a 4-0 drubbing against the Germans in the opener.
For Richard who left his homeland at the age of 15 to join West Ham United however, the experience of playing for the Aussies on the biggest stage of all was unforgettable nonetheless, with Reading keeper Federici providing the soundtrack.
"We had Adam Federici with his iPod going to and from training in South Africa and when those songs come on now they bring a smile to my face. Playing in the World Cup was fantastic, to represent your country is a great feeling but to do it at the World Cup is something that is very hard to describe."
The former Colchester United man also made an appearance from the bench in the latter stages of the 2-1 win over Serbia in Nelspruit, although the victory was not enough as Ghana pipped the Australians to finish second.
Growing up in Perth but with Spanish heritage, Richard experienced a great amount of the language of his family background and this also extended to the music he heard when he was younger.
"My parents listened to Spanish music as well as English so I listen to a wide variety. I have since bought a lot of the Spanish music because it takes me back and to be honest I quite enjoy it.
"I'm into all sorts of music but I mainly listen to the likes of Pearl Jam, Foo Fighters, Queens Of The Stone Age, that type of music. My son's favourite at the moment which we have to play over and over is 'Dear Rosemary' by Foo Fighters.
"The first album I bought was Guns N' Roses 'Use Your Illusion', I think I was 13 and I still listen to it now."
Leaving home as a teenager to move to England in search of the professional dream was a huge step but Richard's decision to join up with Harry Redknapp's Hammers ultimately proved the right one.
"Moving across the world at 15 was hard but I was so driven to play that I really didn't think about it. The only times I did were when I wasn't playing well or when I was injured, they were the toughest times.
"The music was really different to what I was used to. There was a lot of garage music which I really had never heard, but really liked.
"When Rio Ferdinand was there he would always put music on and after he left I think it would probably have been Trevor Sinclair. Some players didn't really mind what was on because everyone prepared differently."
Richard made 22 appearances for West Ham following a loan spell in the 2000/01 season with Leyton Orient where he scored 4 times.
Nine of his games for the Upton Park side were in the Premier League before a move to Colchester United in September 2004, where he would enjoy some successful times.
The U's won promotion to the Championship in his second season at Layer Road and Richard hit six goals that season, also seeing his cross diverted into his own net by Chelsea's Ricardo Carvalho in an FA Cup Fifth Round tie at Stamford Bridge.
The progression continued for the club in 2006/07 as they acclimatised to second-level football with consumate ease, fuelled by Jamie Cureton's goals and outstanding performances around the team they finished 10th.
"I had a fantastic time at Colchester, we had a bunch of guys that all got along and had a good time together. Being part of the most successful part of the club's history is a good feeling and I think it was just a great bunch of guys playing for each other, hence our success."
Despite finishing eleven places lower than Colchester, Richard chose to move north to Phil Brown's Hull City in the summer of 2007, and much like the way his decision to leave Australia proved an inspired gamble, this did too.
He played 44 games in total in his first season with the Tigers, scoring 7 as the club won the play-offs to secure Premier League football, just four years after playing in what was then Division Three (League Two).
"The play-offs were a fantastic experience, the years in the Premiership were like a rollercoaster. It was just so up and down for us, it was great and I really enjoyed it and wish we were still there playing.
"Too many memories so it's hard to just pick a few, my first goal in the Prem (at Blackburn Rovers) was obviously special for me.
"At Colchester we tried to put a CD together of everyone's songs but it was too random so mostly we would listen to funky house. At Hull it was the same but with a bit more variety.
"The worst I've heard is the Irish music Paul McShane tried to play a few times, but that got shot down straight away."
Relegation followed for Hull in 2010 after two seasons in the Premier League and although he made 26 appearances last season under Nigel Pearson, a knee injury looks set to keep Richard out until the winter at least.
His career although blessed with memorable highs has suffered injury setbacks before and he has always managed to come back strongly, so there are plenty of reasons for the man who scored Colchester's first Championship goal to remain positive.
He is out-of-contract at the KC Stadium at present but is still training with the club and a future deal is still possible when he returns to fitness.
"Well at the moment I'm just concentrating on getting fit and then come November/December time I'll start looking at the options. Beyond that I just want to play as long as I can and enjoy my football."
Richard's favourite song :
Pearl Jam – Black