Nicole Barnhart interview (Part Two): 'Meet Nicole' – The Cardinal cover, double gold and true Blue
FC Kansas City goalkeeper Nicole Barnhart's motivation and performance levels have only strengthened since she last wore the gloves for her country, but back before the two-time Olympic gold medallist's reputation was truly made between the sticks, one of her first tasks in a record-breaking Stanford University career was to turn creative force and reveal some finer details from her inside cover.
With three professional league championships to her name – not to mention all she achieved in a decade or so with the U.S. Women's National Team – 'Barnie' has become more than a familiar face to those in and around women's soccer. As she delved into in part one of this music/soccer feature, the FCKC number 18 feels she hit some of her highest levels in 2016, leading the NWSL with 83 saves and recording a joint-league-best six shutouts (with Chicago Red Stars' Alyssa Naeher).
Also recognised as the team's MVP, Nicole has been racking up the coaching hours in offering her top-level guidance to youngsters during this offseason, while also preparing herself to hit the ground running later this year as the NWSL continues to surpass America's two previous professional league eras by ushering in its fifth season. You may know her as the solid keeper who has shared in some extreme highs for the National Team and led from the back in domestic soccer, but what about behind that?
At Stanford, Nicole's progress saw her set school records and ultimately get her dream opportunity in international play, though that period of her life wasn't all about what she achieved from her penalty area. Her college days also saw her study American Sign Language for a couple of years, while both her imagination and her nerve were put to the test when she started out with the Cardinal soccer team, as she recalls an initiation with a difference.
"In college, we had to write a song about ourselves to the tune of another song and perform it for the team and coaches. I chose 'Meet Virginia' by Train, and rewrote it as 'Meet Nicole'.
"I was quite shy back then, and performance has never really been my thing, so I would say it probably did not go all that well! But my lyrics were creative and I got a lot of compliments on my song-writing skills!"
Right from the outset of Nicole's NWSL odyssey with Kansas City, she has been the consummate leader, setting an example through her character, her actions, and of course the reliability when called upon to make a save. Posting a league-high ten shutouts in the inaugural campaign of 2013 to become the Goalkeeper of the Year, she also made the Best XI alongside Blues teammates Leigh Ann Robinson, Becky Sauerbrunn and Lauren Holiday.
For any player who has been devoted to the game for so much of their life, it makes perfect sense for them to transfer their understanding into coaching, whether that comes after their playing career or while it is still going on. In reality, not everyone who carves a career out as a player gets that urge to nurture the next generation, but thankfully, Nicole has long had that desire.
During the current offseason, she has spread her hard work around the likes of California, Minnesota, New York and also Kansas City, as both Director of Goalkeeping with FCKC and of course as part of her role as a player. The previous offseason saw her linking up with her long-time USWNT goalkeeping counterpart Jill Loyden at the former Sky Blue FC stopper's training school, The Keeper Institute, in New Jersey.
Starting her own training business, Nicole Barnhart Goalkeeping, she has set about sharing her knowledge and giving back to the game as she helps guide youngsters out on the field and in other areas of life. Through one-on-one sessions, individual training within a team environment, small group training, video analysis and more, Nicole has been dispensing the kind of intricate, keeper-specific teaching that she and so many others just didn't have access to on their way up in the sport.
Wearing the U.S. crest, playing professionally and enjoying all of those team successes have made it a case of 'dreams fulfilled' for her, although there was also a sense of that when she became the owner of a Pocono Mountain log cabin. A keen reader who lists Bryce Courtenay novel 'The Power of One' as her favourite, she describes more of the pieces that come together to form her interests and personality.
"I'm a pretty chill person off the field. I enjoy reading, drawing, cooking and crosswords, to name a few things.
"Outside of that, I have my own goalkeeper coaching business, and that is taking up a large part of my time. This offseason, I decided to stay in KC to train and prepare for our upcoming season, and then to continue coaching.
"Outside of soccer, if I don't go into coaching, I have always had a desire to be an art therapist and work in a children's hospital running the art therapy program. I really enjoy graphic design, so it would be fun to do something with that, or cooking; I've always thought it would be really cool to share my passion for food with others in some way."
As we spoke, Nicole told how 19 hours of her weekend had been spent on the field coaching. When it comes to passing on the benefit of her soccer experiences, she can certainly draw upon some brilliantly surreal ones.
After kick-starting her National Team story with that memorable outfield appearance mentioned in part one, she featured often in the years that followed, with many of her 54 caps coming in 2008, 2010 and 2011. Most coaches' tenures will comprise a mixture of relative triumphs and testing times, and Pia Sundhage's four years at the USWNT helm were not dissimilar in that respect.
In alongside the two Olympic gold medals and the heart-wrenching 2011 World Cup final shootout loss to Japan, there were many little moments illuminated by the Swedish coach's beaming personality and love of singing, both in press conferences and behind closed doors. Nicole debuted under April Heinrichs and also played under Greg Ryan and Tom Sermanni, before being called up by Jill Ellis. Thanks in no small part to Sundhage, however, whenever she thinks back to her international career, the pictures in her mind will always be accompanied by a melody.
"I really think that music is such a great tool to unite people for whatever the cause. When Pia was the coach, she was always singing something to us.
"When we were on long trips, we would often compile our own music videos for a little fun to pass the down time. I feel like there was always one song that was very popular with our team at any given time, and that would be the song that we rocked out to together before games to get pumped up."
In particularly recent times, the goalkeeping corner of the USWNT has been subject to increased change and scrutiny, as Hope Solo's international career reached its well-publicised conclusion. The U.S. are far from short on quality between the sticks and the NWSL houses plenty of examples of that.
As we saw in 2016 for the fourth season in a row, Nicole is still one of those very much at the forefront of that domestic pool of talent. On the way to FCKC's 2015 Championship, she was once again atop the league's shutout standings (eight), conceding just twice in the team's final seven games.
Last year, she was one of only six players to play every minute of the 20-game regular season, with Blues defensive teammate Brittany Taylor, Portland Thorns' Emily Menges, Western New York's Abby Dahlkemper, Sky Blue's evergreen Christie Rampone and Nicole's one-time KC colleague Kassey Kallman (Boston Breakers) joining her in the 'NWSL Ironwoman' stakes. She was last part of a U.S. squad for the away friendlies with England and France in February 2015, and although she supported them strongly in the tournament, it was far from easy for a player and person who had lived it all with the team to watch on from afar as that year's World Cup came around.
Despite feeling in peak condition and performing at such a high standard for her club, Nicole reluctantly speaks in the past tense about her international career, so was there ever a conversation about her future with the team before the parting of ways?
"There wasn't really much of a conversation, just more so stated that I wasn't a vision in the picture moving forward and that they were happy with the players they were bringing in. Obviously I am very grateful for the long career I had with the WNT; it was a dream come true and an opportunity I never took for granted.
"So many great things have come out of that journey, and it has all shaped me into the person, player and coach I am today."
A stable and successful pro league in the States is crucial for so many reasons. As all those with a vested interest will not need reminding, that road has historically been a rocky one, with the Women's United Soccer Association (WUSA, 2001-03) and Women's Professional Soccer (2009-11) notably lasting three seasons each before their respective demises.
The NWSL hasn't been without its struggles, although a looming fifth season, two expansion teams in recent years and more on the way, and so many unforgettable on-field moments year after year is all cause for great heart and optimism. Nicole has felt what it means to be successful in the league, but WPS was where her pro dream first appeared in full reality.
By the time she finished up at Stanford, she was a capped international and spent further time playing on the West Coast with California Storm of the WPSL (Women's Premier Soccer League), before starting her pro adventure with Cali-based FC Gold Pride in 2009. From 7th place in year one, to a Championship in year two, that Gold Pride roster was fitting of the grand team name as it boasted the likes of Canada star Christine Sinclair, the iconic Brazilian forward Marta, and France midfield dynamo Camille Abily.
In 2010, Albertin Montoya's team won the regular season by 17 points before their playoff participation culminated in a 4-0 home victory over Philadelphia Independence at Pioneer Stadium in Hayward. Starting that win over her future employers, Nicole had made a big impact that year, conceding just 16 in 21 games, making 73 saves, and claiming eight shutouts.
She was named a WPS All-Star, Goalkeeper of the Year, and included in the Best XI, but the 2011 season would come around without Gold Pride, as they folded in November 2010 – a thud of quite incredible proportions for a team that had celebrated such glory just two months earlier. Gold Pride may not have returned to the Championship game, but Nicole did.
The 2011 final saw Paul Riley lead his Philly side in a penalty shootout loss to Western New York, although it had been a significant year for Nicole as she got to play in her home state. Through PA and CA, she had been able to compete professionally both in her native part of the country and in a state she calls a second home.
"I loved playing in the WPS. I think for me, any chance I get to continue to play soccer is a blessing, and I feel very fortunate for the opportunities it afforded me both on and off the field.
"I was lucky enough to be able to stay in the Bay Area, where I went to college and continued to live after graduating in 2005, so it was such a great experience to play in front of many friends and fans from the area. For me, this was one of my first experiences actually playing with international players, some of whom I played against many times before at the national level.
"Our first season in the WPS was very challenging; I think we finished right at the bottom of the table. I hate losing, so that was a difficult season for me, but then to come back the next year with so many talented players on the roster and win the league was awesome.
"I think that season is up there as one of my favourites. To be able to train with so many great players day in and day out helped me grow a lot as a player, but at the same time, to develop the friendships with those same players off the field was pretty amazing as well.
"My last year in the WPS was pretty fun as well, as I got to go back home to PA and play in front of so many friends and family. For me personally, I really think the WPS was a great opportunity for me to grow as a player and get a lot of consistent games."
Both Gold Pride and Philly had that mix of homegrown and international talent, although they were also markedly different clubs in many ways. Nicole takes it back behind the scenes of those teams as she compares and contrasts her time within each group.
"I have absolutely loved every team I've played on so far. It's tough to compare them, because there are so many things that made each experience special, but I do think one of the biggest things that they all have in common is the great players and staff.
"At FC Gold Pride, it was a lot of fun to have all of the really great international talents. I think having that talent and flair on the field with all of the great domestic talent made it a very special team; maybe one of the most talented professional teams I have ever played on.
"Both the coaches and players made it a very fun environment, where we worked hard and walked away with a smile each day. Having players like Marta, Sinc, Camille, and Millie (Tiffeny Milbrett), to name a few, meant a lot of experience and knowledge was added to that talent.
"I loved the opportunity to train with these players on a daily basis and feel as though it was a great time of growth in my personal game because of it. Off the field, I spent a lot of time with my Stanford girls.
"Kelley (O'Hara) and Ali (Riley) were my carpool buddies since we all lived by each other, and we had many memorable and funny travel moments together. It was a lot of fun to get to hang out with them.
"I also spent a good bit of time with Rachel Buehler (Van Hollebeke) – another Stanford grad and carpool buddy. At Philly, it was a little bit of a different team; maybe not quite all of the big names, but a lot of really hard-working players looking to go out and prove to everybody else that we were a good team.
"Again, there was a lot of fun, but also a lot of really hard work that went into being the team we were. I think the biggest thing was that we believed in ourselves from the start, and when you have that mentality, along with a coach (Paul Riley) pushing you hard and getting the best out of each player, and a team willing to do anything for each other, you are bound to have great success.
"I feel like my time at Philly was a little different because we were away so much with WNT stuff that year, so it was a little harder to connect with players because I was not only new to the team, but traveling a lot. I'd say I hung out the most with some players who later became FCKC teammates, funny enough, in A-Rod (Amy Rodriguez) and Leigh Ann (Robinson).
"Regardless, I think one of the biggest things on both teams is that we all really respected each other and worked for each other, which I think then showed on the field."
Like so many who play the game today, Nicole was enchanted and inspired by the U.S. team that lifted the World Cup in The Rose Bowl on that famous day almost 18 years ago. She worked with The '99ers' keeper Briana Scurry at the beginning of her National Team career but comments that she didn't have all that many pro female athletes to look to as she grew up.
Together with close friend and FCKC defensive rock Becky Sauerbrunn, who also featured on here with music/soccer brilliance in July 2014, she has watched a lot of soccer in her free time. As someone so keen to take in the game and learn, has there been anyone in her position she has really looked at for pointers over the years? She considered this as she was asked which player from all-time she'd call upon to get some one-on-one training with out on the field, opting for 'The Great Dane' who still ranks as one of the most imposing and iconic characters ever to grace the English game.
"I've never really thought about this much, but one of my favourite goalkeepers is Peter Schmeichel, so I guess I would probably have to go with him. I loved watching him play when I was younger.
"He was an incredible athlete and able to pull off some absolutely amazing saves. I like to think I play a little like him!"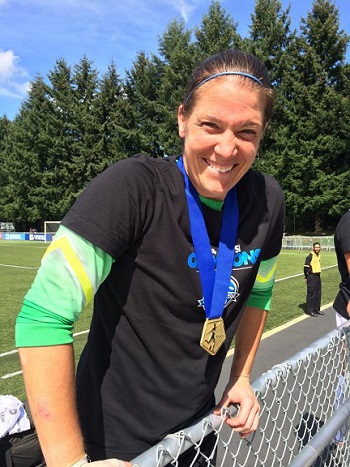 Adding that last line with a modest laugh, Nicole has never been one to talk herself up too much, although in truth, she is someone that any up-and-coming player cannot help but benefit from being around. As well as at Stanford, she is also a Hall of Fame inductee at her former boys' travel team, Boyertown Soccer Club, along with FC Delco (now Continental FC), where she played from 1995-2000.
Alongside getting to celebrate Stanford's 2011 National Championship win over Duke as an assistant, her coaching résumé has also included time with St Francis' freshman women's team, Palo Alto Soccer Club's U13 girls, Quickstrike FC, and also work as an assistant coach/director at the U.S. Soccer Girls' Fantasy Camp on three occasions. As a U.S. Under-21 player, she won four Nordic Cups, and at this time she is combining playing with leading youth, but can she picture a time in which she is leading from the sideline as her full-time job?
"I would not be against coaching at all. Over this past year, I have been in with several of the youth national teams and have really enjoyed the opportunity to work with the future generation of players.
"Any opportunity I can get to represent the USA crest is a special one, and if that means no longer as a player but rather as a coach, then I will gladly take on that role."
With a playoff semi-final loss to Portland in extra-time in 2013, before those unforgettable titles in 2014 and 2015, it's safe to say that ending last season in 6th position wasn't how FCKC usually gets down. Vlatko Andonovski's Blues did, however, manage to pick up some impressive results over the year, and the form of eight-goal forward Shea Groom was undoubtedly one of the bright spots.
In a changing current period all across the NWSL, the two-time champs will this year welcome back Amy Rodriguez after the birth of her second child, as their experienced U.S. international gets set to add once again her sharpness of thought in dangerous areas and that priceless scoring touch that helped propel KC to consecutive titles. From Nicole's end of the bargain, she feels at a real high point in her own path, and cannot wait to return to competitive action with a group she very much feels possesses the right foundations.
"They tend to say that goalkeepers peak a little later in their career, and for me, I really believe that each season in KC has been better than the last. The players, coaches and staff have created such a special environment here; it is truly unlike anything I have ever been a part of.
"These past four seasons have been lasting memories, both on and off the field. For that reason, I am already anxiously awaiting the start of this next season.
"It was a very big change to lose the players we did. When you lose the likes of Leigh Ann, Lauren (Holiday), A-Rod, Amy (LePeilbet), Bucz (Jen Buczkowski) part-way through the year etc. – that is a lot of leadership and talent missing. Not only did these players contribute on the game field, but they brought a certain energy, professionalism and leadership to training each day.
"They understood the culture of our team, and when you lose so many veteran players, it takes some time to instil that same mentality in the new, younger players. Again, I love playing in KC, and that is very largely due to the team environment that has been established here.
"We have fun, but all work very hard for each other. We respect each other and I think that goes a long way.
"Not only do we all see each other every day at training, but we all hang out together on a pretty regular basis, and I believe that does a lot for developing a good team culture. I think Desi (Scott) is that lively, fun personality; she can always make your day brighter.
"A few of the rookies give her a pretty good run for her money, though. You could always count on them for some fun times; sometimes at their own expense!
"I think you then have veteran players like Yael (Averbuch) and Becky, stepping up and keeping people accountable."
Three years ago now, Leigh Ann Robinson highlighted Nicole on here as someone she had the utmost confidence in, while another of her one-time KC colleagues, Houston Dash forward Melissa Henderson, brilliantly described her as 'an absolute dream-crusher in trainings when it comes to scoring goals!' She is someone who cherishes her role in what she does and that desire to help extends way beyond pulling a fingertip save out the bag.
With a blog on her website that gives nutritional advice and recipes, she has also volunteered before at the Lucile Packard Children's Hospital back in California, and with her there is just simply the mark of someone who wants to do good, in whatever way possible. In part one, we talked about what she'd have to say to the younger Nicole if she had the chance to talk to her now, and there was a little more to add to that.
The overriding emotional message she gave was that it's always about so much more than what you do on the field.
"There will be many, many, many ups and downs and injuries, but it's how you come through each of them that will shape you as a person and build character. Fully give yourself to this sport and your teammates, and do what you can to impact each of them in a positive way.
"You will impact so many more lives than you can ever imagine; people you do not even know will look up to you as a role model. How you act and carry yourself and treat other people, in the good times and the bad, is so very important.
"You will have the best job in the world. Love it, have joy each time you step on the field, and appreciate the opportunities you are given, because you never know when something will be taken from you."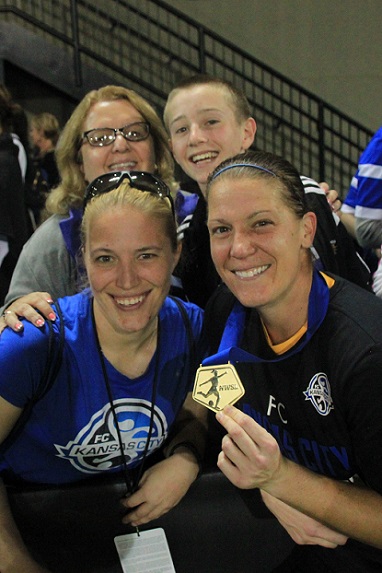 And so we come to the end, as stoppage time is about to run out on our two-parter with a player and person who has been nothing short of a guardian to this game we love. This site has been going for the past few years, with male and female players of so many wonderfully different backgrounds and nationalities opening up to sides of their story and personality not often seen in post-game interviews and suchlike.
Each of those has generally been asked to round it all off with a little bit of fantasy, imagining themselves rushing around in the fun and pandemonium of a small-sided game, with four teammates of their choice from any time in their career eligible to join them. It is always necessary to stress that the interviewee isn't asked for an outright best four, so think of it instead as just a sample of the many they could choose!
It's about illustrating how they could see that specific scenario unfolding, and like so many, Nicole didn't find it easy to narrow it down, but she didn't dodge the challenge either. Growing up, she wanted to be a marine biologist, while firefighter and hockey player also came into it. Thankfully, we got to have her in our game, and here are some of those who'd get a call from her for a dream small-sider.
In any tournament they happened to be competing in, this team would be worth coming out for.
"Ooh, this is a tough one, and I don't want to hurt anyone's feelings here! I think I would have to go with the following players, as they are great soccer players, but even more so, great people and friends off the field.
"Becky Sauerbrunn – not only is she a great friend and my roommate in KC, but I think she is one of the most underrated defenders in the world. She quietly gets the job done and makes the players around her better.
"She reads the game better than most defenders I know and is calm and fearless going forward with the ball. Lauren Holiday – I really believe she is the best number 10 to play the women's game.
"She is so calm on the ball and reads the game so easily. She is such a game-changer to have on the field, and a player you definitely want on your team and to be playing the ball through.
"Marta – her speed on and off the ball is fun to watch. She will constantly wow you and score goals that you will never forget.
"Christie Rampone – she is a natural leader on and off the field. Her athleticism and recovery speed are tough to beat."
To catch each of these interviews, you can follow me: @chris_brookes
You can also like the Facebook page and keep updated