Deanne Rose interview: Roots, Royals, Reggae – Reading's Olympic champ keeps on bubbling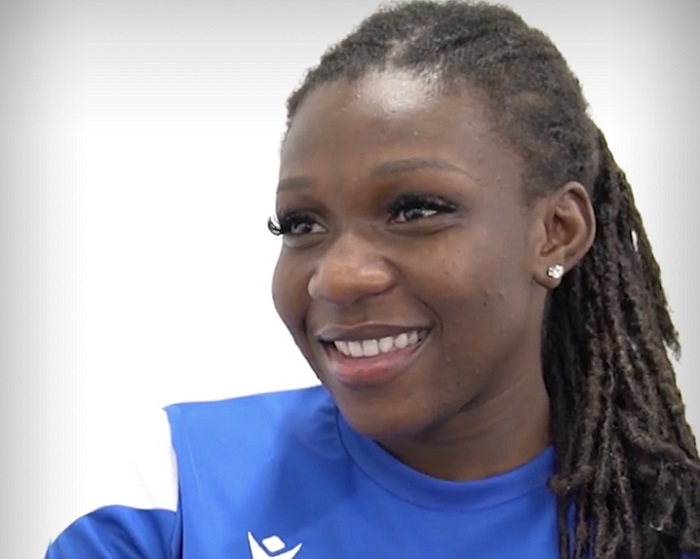 Reasons why Canada's Deanne Rose would choose to kick off her professional club career in England are not that difficult to find. Reading's attacking talent is in a domestic league now surging in profile like never before, but in pinpointing her exact destination, there was actually a little island influence also at work.
Canada's star shone brightest in last summer's Olympic tournament, and it was during their historic gold run that one of their most glistening prospects was confirmed as heading for the FA Women's Super League. Part of a Reading side enjoying a remarkable surge in recent months, Deanne Rose and her Royals teammates are now every bit in the hunt for what would be a remarkable UEFA Champions League qualification come May.
Although a first-round pick (tenth overall) for North Carolina Courage in last year's NWSL Draft, England was ultimately where her pro career would begin, and she has alluded previously to having sought a club somewhere close to London. Reading may not exactly be right in the glare of the capital's famed bright lights, but outside of the WSL's four London club names, it is indeed the closest.
Was it simply the pull of London as a world-renowned city that made it a central part of her decision, or did the presence of national-team colleagues at Chelsea, West Ham United and Tottenham Hotspur also factor in?
"It was more the fact that when I think of the UK, I think of London," she explains. "I wanted to go somewhere where I could feel most comfortable, so I thought that being near to a big city would be helpful for me with the adjustment at first, which has proven to be correct."
There is more than just the one London in the world, of course, and both Spurs' Shelina Zadorsky and Chelsea's Jessie Fleming come from Canada's version. Fellow Ontarian Deanne, meanwhile, was born and raised in Alliston, though she did go to school in Tottenham (again, just the 3500 miles or so west of the English one).
The 22-year-old is proud to also have a heritage that is black, green and gold adorned, and in actual fact, it even had a helping hand in solidifying her move to Reading.
"I'm definitely attached to my Jamaican culture and my parents being Jamaican, through music, and especially through food, I think. That was something as well when it came to thinking about where to come and play, because I know that there's a great Jamaican population in London.
"Anywhere where there's Jamaicans and Jamaican culture, I feel more at home, just because I grew up with it. That's a huge part of me."
Thank you God, To be honoured with a park in my name is a blessing that I never would've imagined. Forever grateful for my hometown🤍 pic.twitter.com/PokC85IyP8

— Deanne Rose (@deannecynthia_) June 9, 2022
Her parents, who hail originally from Saint Ann's Bay and Clarendon, were among the many not able to be present for last summer's Olympic tournament, the biggest major international competition yet in senior women's football to be compromised in that sense by the pandemic. Such a scenario is where modern technology most definitely helps soften the blow, by having loved ones join you virtually after the game.
Tokyo 2020 was the third big tournament of Deanne's Canada career to date, after the 2016 Rio Olympics and 2019 World Cup in France, while Gainesville, Florida played host to her four years of college (at UF). For ever-accessible reminders of people and places, certain sounds are a golden keepsake, especially when her sport takes her thousands of miles from home.
The right track at the right time can also be the perfect motivational lighter fluid.
"Music is definitely important to me. I think for all the situations that you mentioned, for hyping me up before a game but also just for chilling.
"I'm someone who likes a wide range of genres, so I use them for different situations, to get in different moods. I go through two phases before a game: I go through a chill music phase, so I'm trying to relax, I'm trying to visualise myself in the game, and that's where I listen to more of the slow type of music.
"Then in the locker room, I like more hype music, so that I can get ready with the team and feel like I'm getting hyped. I like Drake, I like other r&b, like Summer Walker.
"I like Future, Rod Wave; I have so many artists I could name right now!"
For a player moving to a new club, particularly overseas for the first time, the hope is to showcase the best of what you can do while also sparking a rapport with those around you. What better way to do just that than to find some teammates to collaborate with when the initiation song comes calling?
"Me, Tash Dowie and Chloe Peplow did one together (at Reading). The only other time I've had to do an initiation song was in college, and to be honest, it was more nerve-racking in college!
"It was pretty relaxed here – the expectations weren't very high! It was a rap song (in college), I remember that, but I don't remember which one it was; maybe one by Lil Wayne or something."
That Reading song of choice was Big Brovaz 'Baby Boy', and some may recall the 2002/2003 period when the group's 'nu flow' UK sound was never far from the radio or music channels. At the time, Deanne and the aforementioned Chloe Peplow were roughly three and four years old!
On the theme of times and tunes gone by, the Canada team's old favourite, 'The Power of Love' (Jennifer Rush, as covered by Céline Dion and others), complete with post-match huddle, might now be consigned to that same category.
"It's definitely faded off," reveals Deanne. "Towards the very beginning (of my time in the team), they would sing it a couple times, like when we would win, but it's definitely a past, 'veterans' thing."
It has been said that cap centurion Karina LeBlanc was one player that the ritual was especially linked to. Another of the team's cherished goalkeeping figures (a 2014 interviewee on here), is soon set to officially step away, and the recent Paris Saint-Germain stopper was the first name Deanne thought of when asked of Canada's present-day playlist prescribers.
"Recently, it's been Steph Labbé (as team DJ). Janine Beckie a little bit, Jordyn Huitema a little bit.
"It's usually delegated to, I feel, more senior players on whatever team."
Note that 'senior' does not necessarily mean subdued or sensible. So, on a completely unrelated note…who has the better dance moves, Deanne or Desiree Scott?
"I'm gonna say Desi! She's a good dancer."
No better time to bring some straight fire to the Twitterverse celebrating my girl @deannecynthia_ on her birthday! 🥳🥳🥳🔥🔥🔥You have become like a sister to me,so grateful for our adventures and you keeping me young wit di tiktoks! keep shining bright and enjoy your day! 💕 pic.twitter.com/5Do0Hr9fIN

— Desiree Scott (@MsDScott11) March 3, 2021
Experienced midfield dynamo Scott has been both a professional mentor to Deanne, and the big sister by her side on the occasional choreographed TikTok routine. The national team's creative energy down the years has never really been just limited to the field of play, but alongside the times to lock down and focus, is fun and expression key to their environment today, as Deanne sees it?
"Yeah, especially more recently; we're a really exciting group that are entertaining! Sometimes I wish that it could be captured more, because my teammates are really funny.
"We're always singing and dancing, having a good time, entertaining."
When it came to the crunch last summer, they finally took that giant stride over the finish line they have always dreamed of, with the shootout win over Sweden. Maybe nothing brings the magnitude of a pressure moment home like the silence of an almost-empty stadium, and Bev Priestman's Canada were staring down the barrel of sudden death at 2-1 down after nine penalties overall when Deanne stepped up in Yokohama.
What followed was like a page from Perfect Penalty-taking for Dummies. Slow, calculated strides back after placing the ball that appeared key to a rehearsed routine, before a right-footed kick that was too high and too precise for Hedvig Lindahl's dive.
With Jonna Andersson then thwarted by Canada's Labbé, Julia Grosso and her left foot did the rest, with a hand from Lindahl only able to divert it into the net. More than just the ultimate reward for an energy-sapping tournament and final, it was a moment that was years and decades in the making for Canadian women's soccer.
For Deanne, is there anything she recalls most of the scene when the cameras stopped rolling and they could celebrate in private?
"It was just, honestly, a blur, but I remember excitement, tears, dancing, celebrating! Just pure emotion."
Five years earlier, she was the youngest member of the squad that finished third in Rio. She would notch the first goal in the 2-1 win over hosts Brazil in São Paulo that secured bronze, becoming the youngest female player to score in an Olympic tournament, at 17 years and 169 days.
Allysha Chapman and Janine Beckie later shared a photo with Drake and their medals. Deanne has not yet had such a privilege, but he tops the list of artists she wants to see in concert.
If the question is expanded to anyone from all-time, though, 'Champagne Papi' may be back to his support act days!
"I wanna say Drake, just because it's on my bucket list right now, but now that I can pick someone living or dead that feels a little bit boring! Maybe Michael Jackson.
"I've been to a Rod Wave concert – in the States, he's pretty popular – Chris Brown, I've been to a Beyoncé concert."
Although some people's choices are a touch more alternative, the first music that you bought can perfectly signpost the time that you grew up in and what was popular. With Deanne, we go back to an era when nobody (okay, maybe T-Pain…) was on quite as many tracks as the artist she recalls.
"I had an mp3 player, which is probably about as old as it gets for me! The first people I downloaded, I don't know why, but Akon is the first that comes into my head."
FAVOURITE DAY OF THE WEEK🐊⚽️ GAMEDAY vs FSU @GatorsSoccer pic.twitter.com/pZrAgttiLP

— Deanne Rose (@deannecynthia_) September 6, 2019
With one big dream now ticked off, and still a good 17 months before the next World Cup, maybe there is no better time for Deanne and her compatriots to branch out into other avenues (playing contracts permitting…)! Asked of any teammates from her time in the game so far that she would record a cover track with, her thoughts went to someone who, by all accounts, actually wouldn't be out of place on a song.
"It would be Des, Desiree Scott, I think she would be my duet partner. She's so good.
"She'll sing in front of people but not when you ask her to. I would do any song with her.
"We could go rap, country, r&b, soul!"
Along with a double to open her Reading account against Birmingham City, Deanne was also on target against Brighton in the FA Cup, but there is little disputing what her headline moment of the campaign so far is. In a WSL season rife with shock results (at long last), Kelly Chambers' team claimed one of the most impressive, with December's 1-0 home victory over champions Chelsea.
In the first few minutes, it was Deanne's driving run from deep in her own half that set the counter-attack into full swing, with a one-two with Emma Harries before prodding home the finish just in time to avoid a sliding block from Millie Bright. With friends and family keeping track of events, the game being broadcast on Sky Sports also spotlighted the moment even more.
There is no doubting by now what the Royals' number 6 adds to the side on the pitch, but has she been entrusted yet with the most prestigious honour of all, that of team DJ?
"I've had the aux cord once, but it's mostly Grace Moloney, and Tash Harding is a really good DJ. Lily Woodham also."
Recent months have brought plenty to enjoy for Reading, with a magnificent turnaround since starting the season with four successive defeats and no goals. They responded with seven league wins and a draw from eight games before the loss at Brighton last time out, leaving them firmly in touch with this year's intriguing fight for European qualification.
Champions League trips really would be something, but for now, one new country has been more than enough to get to grips with for Deanne, who at least had some support present when it came to jetting off into her biggest move so far.
"My dad actually came over with me, which helped so much, because it was so much more adjusting than I could have imagined. I've had quite a few people from back home come to visit me, so we've been able to go and tour London a few times; that's been nice."
Even nations linked by a language can feel worlds apart at times. The subtle cultural differences are considerable, and that is before encountering the strength and diversity of regional dialects, as Deanne has found!
"Lots of breakdowns in communication, especially at the beginning! I've gotten a little bit better at understanding, especially my Welsh teammates!
"I'm adjusting well, the people and my teammates are very inviting, and it's helped me to adjust to the lifestyle."
Canada's Olympic achievement was undoubtedly made even more special by finally beating their near-neighbours in the semi-final. Jessie Fleming's pinpoint winning penalty to secure their first victory over the United States since 2001 had come from Deanne closing down and slipping unnoticed behind US defender Tierna Davidson, before the US defender seemed to kick through her while trying to clear.
She had also been involved in the build-up to another VAR-assisted spot kick, this time in the final, with a silky flick out to Allysha Chapman down the left, who centred for Christine Sinclair to be clipped by Sweden's Amanda Ilestedt. Beyond the natural flow of a game, and even tactical instruction, Deanne shares what kind of approach she believes tends to strike a chord most with her, from a coach.
"I think it's been a mix for me of firing me up but also believing in me. When I know that the coaching staff believes in me, and they have ability to motivate and fire players up, that's the perfect combination for me."
Once her current participation for Canada in the inaugural, English-hosted Arnold Clark Cup is done, attention will switch back to club matters. She signed for Reading on a two-year deal, and for those who remember a women's football-verse of not all that long ago, that young players can now kickstart their careers with multi-year, fully professional contracts is as uplifting a development as could ever be.
The Town of New Tecumseth celebrated our very own this evening! Thank you to our amazing community for coming out to join Deanne Rose and congratulate her on her Olympic gold medal! pic.twitter.com/6u4v9udkZw

— New Tecumseth (@NewTecumseth) August 25, 2021
Tournament success lets a player see for themselves just how addictive the winning feeling is, and the opening months of Deanne's WSL adventure have only kept that hunger rumbling.
"I definitely have personal targets, and to score more goals is definitely on that list. Creating more goals too, and I want to help take this team to a new level, so I would just say that it would be a goal of mine to help Reading finish as high as it's ever finished."
Not many grow up to have a parade held in their honour in their home town, as happened in Alliston last August, but even two-time Olympic medallists are just like the rest of us (mostly). Low-key is just fine for keeping it all in balance for Deanne away from the on-field action.
"I'm a big Netflix watcher. I read a little bit, I journal, but I don't really have many hobbies, to be honest!"
It seems strange to say about a player with three major tournaments already to her name, but in many ways, it is all still to come in Deanne's career. As one of the most exciting up-and-coming names in the women's game continues on her way, she gives one last glance here at the story so far.
The regular finale to these interviews over the years has been for the player to suggest some examples of their current or former teammates that they would especially enjoy having in their line-up for a small-sided game. Deanne offers a sneak preview, but for the time being, it is a case of 'to be continued' for this one.
"Since I'm not a defender, I would need a world-class defender, so as an example, Kadeisha Buchanan. Out of everyone that I've played with, I feel like I would be missing people.
"Out of who I've played against, I would like to be on Marta's small-sided team!"
To catch each of these interviews, you can follow me: @chris_brookes
You can also like the Facebook page and stay updated