Lloyd Doyley interview: A two-step through the groove chronicles with Hornets favourite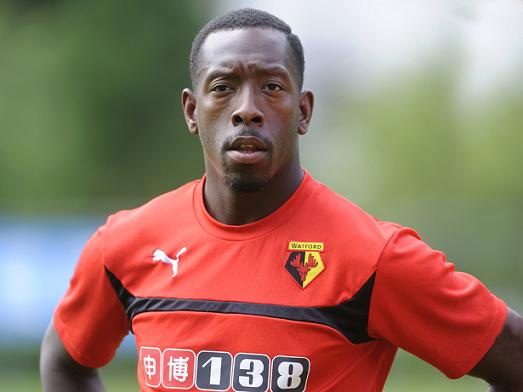 The embodiment of the club's core values, Watford stalwart Lloyd Doyley has remained through the changing times for the Hornets, and with a little nod to the old school, he continues to keep it on track in contemporary fashion.
Plenty of water has passed under the bridge since Watford began the current campaign back in August, with three managers spending time in charge before Slavisa Jokanovic's appointment in October. The one-time Chelsea midfielder is the eleventh Hornets manager Lloyd Doyley has played for since making his debut under Gianluca Vialli back in September 2001 and the popular defender is undoubtedly synonymous with the Vicarage Road club.
As Watford have evolved, Lloyd has come to appreciate the need to adapt and move with the times. The Jamaican international has surpassed 400 games for the club, and through discussion about his music love, teammates through the years, as well as life on and off the field, the 32-year-old shares some alternative edges to the character people have grown so fond of.
Of all the players to have explored their relationship with music on here, some have revealed an innate connection, and for Lloyd, it runs deep within his heritage.
"Music just relaxes me," he said. "I always had an older brother who played loud, loud music, and being Caribbean, reggae was a part of my life growing up."
"I remember going to parties with my mum and dad and listening to that kind of music every day. These days, I'm forever downloading new music."
Lloyd has been with Watford as they've reached the semi-final of both domestic cups, coming on against Manchester United in the last four of the FA Cup in 2007. However, long before feats such as Premier League and international football, he was a teenager making his way up, in his profession and also in the music-buying stakes.
It wasn't the reggae vibes he went for first though, but rather a 1998 collaboration from two of r&b's biggest female artists of the time.
"I didn't buy CDs until I was a little bit older because my brother was always up-to-date with music, but I think the first I bought was Brandy and Monica ('The Boy Is Mine')! There were two I bought at the same time but I can't remember what the other one was."
Towards the end of Graham Taylor's second successful tenure as manager, Lloyd was inching slowly closer to his breakthrough in the professional game. As a teenager at a time when many of the comforts enjoyed by today's young players were not readily available, he made the most of his summers.
With UK garage music simmering from the underground to reach a boiling point in mainstream popularity around the turn of the century, there was a little overlap with football. Numerous players were often seen in the Cypriot resort of Ayia Napa as the UK's most renowned garage DJs and performers led the party scene.
The likes of ex-Aston Villa midfielder Ian Taylor and former Chelsea defender Michael Duberry have shared their memories of the era on here in the past and Lloyd is the latest to do so.
"I went to Ayia Napa when I was 17 and when I was 18, so that was when garage was in full swing. I definitely enjoyed my holidays there and I was a fan of people like Shy FX and Wookie, Craig David was on a lot of tracks at the time as well.
"I was always into soulful garage; I like vocals. I've always listened to a lot of r&b and hip-hop but my genres are forever changing.
"I listened to a lot of garage growing up and now I'm into house music."
While genuine affection for a song can be brought about simply from the first few listens, it is when memories of a person, time or place are attached to it that new realms of significance are discovered. The initiation task of singing in front of the team has long been known in football but nobody at Watford in the summer of 2003 who witnessed one of these performances in particular is likely to have let it pass from their mind.
21-year-old forward Jimmy Davis had made his first-team debut for Manchester United and after a loan with Swindon Town in the third tier he signed for Watford for the 2003/04 season. The campaign was due to get underway but at the beginning of that August weekend the highly promising youngster died in a motorway crash.
Watford's match with Coventry City was postponed as football mourned the passing of a talent it never had the chance to see truly unfurl. Lloyd, who was still only 20 at the time, describes the rousing rendition that had instantly helped endear the United loanee to his new teammates and how they honoured him in the months that followed.
"There's been quite a few (singing initiations) but the most memorable was Jimmy Davis, who did 'Gangsta's Paradise' (by Coolio and L.V.). Jimmy passed away that year and we played that for him for the rest of the season.
"He was dancing, rapping and singing and it will always stay in my mind."
As the 2005/06 season began, Watford were the tip of many people to be relegated from the Championship. In Aidy Boothroyd's first full season in management they finished 3rd, going on to beat Leeds United 3-0 at the Millennium Stadium in the play-off final – a game Lloyd played the entirety of.
A header from defender Jay DeMerit, an own goal from Leeds keeper Neil Sullivan and a penalty from Darius Henderson did the damage as 64,736 saw Watford return to the Premier League after six years away. In addition to recently-retired American centre-back DeMerit, left-back Jordan Stewart and defender Clarke Carlisle have also featured on here from that promotion-winning squad.
Lloyd played 21 league games as the Hornets tasted the big time once again but the team ultimately fell ten points short of safety. There have since been eight seasons back in the Championship, including a play-off semi-final with Hull City in 2008 and the run to the final in 2013, where Kevin Phillips' extra-time penalty was enough for Crystal Palace.
That 2012/13 campaign was the first since the Pozzo family's takeover dramatically altered the club's complexion. Gianfranco Zola's side led the way in league goals that year with 85 and even with the managerial upheaval in the opening months of 2014/15 there are some remarkable talents for Hornets fans to enjoy watching when they are in full flow.
Along with the multitude of overseas names to have made their way to Vicarage Road in the past three seasons, Birmingham-born Troy Deeney has been extremely prolific, scoring 54 times in the league (with a certain play-off goal to add on to that tally). Now captain, the 26-year-old was interviewed on here in December 2013 and he generally gets to preside over the team's pre-match playlist.
There was also a well-known Cameroon international defender who threw his own flavour into the mix not too long ago, as Lloyd explains.
"I used to be the DJ but I got sacked! It's hard to please the whole changing room because everyone has different tastes but (Sébastien) Bassong was playing his African music when we had him on loan recently.
"It's a little bit different to what I'm into but we kept winning so it stayed on. Troy is usually in charge of the music and he plays hip-hop, r&b and house."
Although London-born, Lloyd represented the nation of his parentage for the first time in March 2013 as he made his Jamaica debut against Costa Rica. First appearing under the stewardship of Reggae Boyz legend and ex-Tranmere Rovers and Hull City midfielder Theodore Whitmore, Lloyd has since featured for former Cameroon manager Winfried Schäfer.
Lloyd played against the likes of France and Switzerland as the World Cup approached last year and he is not the only player with a Watford connection to have figured in recent times, as ex-Hornets Adrian Mariappa, Nyron Nosworthy and Joel Grant have also won caps. Leading up to the 1998 World Cup, there was an influx of British-born players called up to the squad, including the country's golden boy of the time, Deon Burton.
In his 2014 interview on here, the striker recalled how there would be a player in the squad who would run up and down the team bus with a microphone to hype the team up ahead of their game. As Lloyd has been involved more recently, how important is music when the Reggae Boyz of today get together?
"It's still very big. That's the culture – the music, the vibes, the relaxed state of mind.
"In the changing room it's completely different to over here; it's proper reggae and bashment. I'm not really into bashment but I like my old school reggae."
Following Beppe Sannino's departure, Óscar García, Billy McKinlay, and of course Slavisa Jokanovic have all been at the helm for Watford in 2014/15. This is Lloyd's fourteenth season in the first-team picture and he has featured eight times so far, demonstrating some improvisation with a flashy backheel in the Wolves box on his last outing, on Boxing Day.
After so long at the club, it is easy to imagine just how many variations of music tastes he will have witnessed from his teammates in that time. From the current crop, Lloyd picked out a pair of Czech internationals for what he considers dodgy tune choice.
"We've got a few bad ones here! Daniel Pudil and Matej Vydra like the really, proper techno kind of house.
"I cannot deal with that! It's a bit too repetitive and one-paced.
"As I mentioned, until the other week we had Bassong's music on and there were some very suspect tracks on there!"
When Lloyd made his debut in the 3-3 draw with Birmingham City back in 2001, as much as he would have dreamed of making so many more appearances, he probably wouldn't have envisaged having to wait until his 269th game to score his first goal. In a 3-1 win at home to Queens Park Rangers in December 2009, he laid the ball to Jon Harley before carrying on into the box to meet Don Cowie's delivery with a diving header, bringing some extra delight from the home faithful.
The goal even drew a compliment from the heading specialist Heidar Helguson, a very popular former Hornet who was back on loan from QPR at the time. When the Icelandic frontman joined Watford 15 years ago there were not quite so many nationalities in the ranks.
Now, with players from Ecuador, Brazil, Italy and Mexico, to name but a few, there is a genuinely intriguing blend of backgrounds and cultures. Lloyd describes one of the ways that new recruits are integrated.
"We still have initiation, even if you can't sing in English you still have to sing for two minutes. When I got into the first team I did a Christmas song, but I got away with it a bit because you have to do a lot more nowadays."
If 'Lloydinho' was to turn producer, singer or MC, and to recruit one of his career teammates to record a song with, which player would get that call?
"I would probably choose Troy because I like to put him on the spot and I don't think he likes to do things like that!"
Goal number two in Watford colours came in the 2-1 defeat at Bolton Wanderers in September 2012 and Lloyd hopes for a few more games and goals yet for the club he has grown up at. He has seen his fair share in football since he made his breakthrough and he reflects on what the game has taught him over the years.
"From when I got into the first team there's been a lot of change. It was probably more physical back then and I've learned that you have to adapt.
"I've had near enough ten managers and you need to be a footballer instead of just being a right-back. Most youngsters need to learn that and to be adaptable."
From the decidedly less glamorous fixtures, to featuring in front of huge crowds in play-off finals, there is already plenty to look back on for the number 12. Given the opportunity to go back and offer some advice to the Lloyd Doyley who was just starting out, what would he share?
"I would say don't take everything to heart. When I had a bad game I used to go home in a bad mood and I used to get down when I wasn't playing, but there's always another game and another opportunity.
"As long as you work hard you'll get what you deserve."
With Watford in 6th place, the months to come are of course all geared towards achieving promotion. Whether the rest of the season sees Lloyd start regularly, appear from the bench, or just help his teammates by being a positive influence, he is guaranteed to be needed.
During his time away from training, playing and travelling, his focus is on recuperating and being a good father.
"I just like to spend time with my family really and to relax. I've got two kids and they're both growing up really quick.
"I still have time to think about my ambitions after playing but I'm going to try to do my coaching badges."
For anyone on this site for the first time, each interview is wrapped up by the player having to make some tricky choices. Looking back on all the teammates in their career, they are asked to put themselves in a 5-a-side line-up and to select four of the best to join them.
Rather than opting to have another defender alongside him, Lloyd went for two midfielders, with another starting as a sub for his team. The starters have all won promotion with Watford, with one exception – a Swiss international who may just get that opportunity in the not too distant future.
"In goal: Ben Foster – I think he's one of the best I've played with. He's an awesome goalkeeper and whenever I've spoken to players he's played with at West Brom or Man United they've said how good he is.
"I just think he's been unfortunate in that every mistake you make for England or Manchester United gets magnified. Defender…will be me; I'm playing a diamond!
"The first of my two midfielders is Matty Spring. Technically he's one of the best I've played with and the year we got promoted (2005/06) he got a lot of goals.
"Some of the stuff he'd do in training was incredible and he didn't always get the credit he deserved. Alongside him I'll probably say Almen Abdi because of the way he controls the game.
"I'm also thinking of Nathaniel Chalobah, so he can go on the bench. When he was here on loan you could give the ball to him and trust him with it.
"For my striker, Marlon King was the best finisher. If he missed a chance or didn't score in a game he'd be annoyed with himself, and he was really good because he had that hunger.
"There's my team!"
To catch each of these interviews in future, follow me on Twitter: @chris_brookes
You can also keep up-to-date by liking Beats & Rhymes FC on Facebook