Lindsey Horan interview: The beat magnifique to the Rose City rhythm – Thorns midfielder lighting the fuse and locking the flow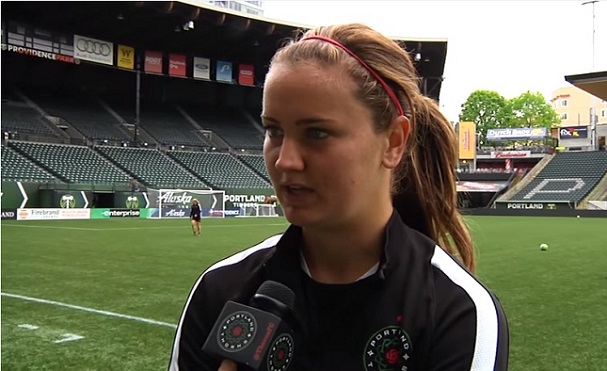 A well-documented decision to sign professionally with Paris Saint-Germain out of high school led U.S. international Lindsey Horan to three-and-a-half years of challenges, growth and magical memories, allowing her to produce a formidable clash of finesse and intensity on her return home with the Portland Thorns this season.
With the Providence Park stands lined with creatively contemporary tifos and sporadically illuminated by bursts of celebratory red smoke, over 17,000 home supporters brought the noise and colour in trademark fashion as the Portland Thorns swept aside the Boston Breakers 5-1 in the National Women's Soccer League (NWSL) on September 4th. The sheer scale of support the team consistently enjoys is as yet unparalleled in women's soccer and the fans were treated to some sumptuously free-flowing passages of play at times as they welcomed back the performers who had been in Brazil for the Olympic tournament.
Together with their up-and-coming contingent, the 2nd-placed Thorns can boast a potentially devastating core of premium quality and match-winners. The striking mastery of Canadian captain Christine Sinclair, winger Tobin Heath's freestyling enterprise, the incisive drive of Allie Long, and Danish international Nadia Nadim's adventure and clinical touch are just a few examples of why the 2013 champions could be celebrating once again when the NWSL trophy is held aloft in Houston on October 9th.
Two of those to return from their Olympic commitments were French midfielder Amandine Henry and the attacking talent Lindsey Horan, who notably slotted into midfield after her reintroduction to the U.S. National Team late last year. The pair have each been competing at France's top level over recent years, with Olympique Lyonnais and Paris Saint-Germain respectively, and they both possess the distinct technical shine associated with leading European players.
Former Colorado Rush youngster Lindsey can undoubtedly hold her own when it comes to the more frantic aspect of the game and after injury took away a significant segment of her 2015 on the field she has been going at a pace this year. After representing the U.S. as the second-youngest (after Mallory Pugh) on the Olympic roster, she is straight back into the charge for domestic success, with a relentless flow exactly what she's after, and that's not just on the field.
"Music plays a huge part in my life, whether it's pumping me up for a game or helping me relax and just chill," the 22-year-old explained. "Currently, I have a slight obsession with Drake."
"My favourite song is '0 to 100' because I think I can rap the whole song. Eminem is always up there and has always been a favourite of mine, and who doesn't love some Biebs as well?"
Impossible to truly escape, even if you wanted to, music is that precious code to touching life on an otherwise elusive level. It carries the longed-for feeling of belonging and euphoria, as well as a private place to shelter, reminisce or be allowed to break down, and for Lindsey, songs have travelled with her on her way.
A standout with the U.S. Under-17 and Under-20s, the flight path she took was unlike that of any of her contemporaries. Although she attended Golden High School, Lindsey didn't play for their soccer team, having been recruited by the Colorado Rush to play for their Under-12 Nike team.
A state and regional champion with the Rush, as an Under-14 she began working with Tim Schulz, one of the club's coaches and somebody who made her see what was achievable in her future while also being straight up about where she needed to improve. Schulz called her while she was holidaying with her family in the Mediterranean after her junior year of high school to tell her that Lyon wanted to offer her a trial.
Despite considerable initial doubts, Lindsey's parents agreed to let one of her coaches escort her to the club for a fortnight. By the end of her time with the French side she had impressed enough to be offered a deal, although she opted to return home for her last year of high school.
Around a year's contemplation ultimately went into her decision to forgo a soccer scholarship at the University of North Carolina to join one of the sport's most prestigious names, Paris Saint-Germain, in July 2012. She would play her part in four different seasons, hitting the back of the net with the sureness of a veteran goal poacher, though the road to settling was admittedly fraught with its potholes.
There was a new language and culture to learn for Lindsey as she worked to hold her own alongside seasoned internationals, all while away from her family, friends and familiarity as a teenager. 'Baby Bird' was one of the nicknames the team gave her due to her tender years and when the more experienced American international Tobin Heath joined PSG a few months into Lindsey's stay and offered some security under her wing, it was no small thing.
Lindsey fondly remembers an impromptu game of two-on-one soccer in the street outside her Paris apartment with Heath and her brother, Jeffrey, and music was the reason behind another meaningful time spent with the player so often affectionately referred to as a free spirit.
"My first live concert was actually in France when I was 18. Tobin Heath and I went and saw Christophe Maé, a French artist, who was incredible.
"I also went and saw Justin Timberlake perform at the Stade de France, which was one of the coolest things to see."
Now her teammate with both Portland and the National Team, Heath left PSG at that 2012/13 season's conclusion but she had embraced being there to help Lindsey at such a significant time, even telling her mother before going to France that it would be worthwhile if all she managed to do there was support and guide her. There was a rich variety of playing nationalities for Lindsey to take in during her years at the club, including Costa Rican midfielder Shirley Cruz, Poland keeper Katarzyna Kiedrzynek, Germans, Swedes, Brazilians and members of the homegrown contingent such as midfielder Kenza Dali, who Lindsey says always tried to be American like her!
Playing as a forward, out wide and as a number ten along the way, Lindsey scored 46 goals in 58 league games, as well as adding strikes in the domestic cup (four) and UEFA Champions League (three). Her starting spot was one that had to be earned and as well as the way she fought to get to grips with the standard, she had some injury toil to negotiate, with microfracture surgery on her knee sidelining her for a number of months in 2015.
That layoff meant looking on as PSG reached the Champions League final, where they eventually lost to 1.FFC Frankfurt in injury time in Berlin, while it also denied any outside chance at that time of a World Cup call. It was over three months until she could run again and she returned to play in September, with every bit of support during her recovery appreciated.
The experienced heads like Germany striker Anja Mittag and Sweden co-captain Caroline Seger were there to offer reassurance on her comeback trail and they were out there with her – Mittag scoring two – as Lindsey said goodbye with the first goal in the 5-0 win at Juvisy in December. One of the highlights of her time playing for coach Farid Benstiti was the 1-0 win at Lyon in January 2014, a victory secured by Laura Georges' header and one which ended OL's run of almost four years without a domestic loss.
Lindsey's Les Rouge et Bleu memories and connections remain strong, and the nostalgia comes rushing back whenever she catches up with her former PSG teammates after playing against them for the U.S. The aforementioned Caroline Seger is one who was an adopted American after starring in the Women's Professional Soccer (WPS) era with Philadelphia Independence and Western New York Flash and the now-Lyon midfielder is always a safe bet to be leading the locker-room atmosphere, as Lindsey recalls.
"A lot of the time I controlled the music in France just because they all loved American music. Seger and Kenza Dali also would take over sometimes, but yes, Seger was the main entertainer when it came to the locker room.
"No matter what song was on she would find a way to dance, and sometimes make me dance with her, against my will, but she always made me laugh uncontrollably and she's one of the funniest people I've ever met."
Although she opted to forgo a UNC scholarship, Lindsey spoke highly of the school and prestigious soccer program. At times while away from home, she had the feeling of missing out in some regards, with so many she knew experiencing college life.
She was, however, a big part of something extremely special where she was and her parents had seen on her last visit to UNC that soccer was her devotion and the classes just didn't truly spark her interest. Lindsey now reflects with a strong sense of gratitude for having that support from her parents and freedom to choose her own path.
Her father, Mark, is an ultra-marathon runner and her mother, Linda, started her with soccer at five years old and was her assistant coach at Colorado Edge for a time, though she was the first to encourage her to go for it when Colorado Rush came calling. The Rush's technical director Erik Bushey was also one of her big influences in telling her to keep wanting more for herself, as well as being the one to remind her in light of the positional changes she's been having in her pro career that she's a soccer player, first and foremost.
At one of the last Olympic qualifiers in Houston she felt a tingle when she saw a Rush flag in the stand and she never hesitates to show her pride for the club. It is a part of her and certainly of her upbringing, and you could maybe say the same for the first album she ever owned!
"I think the first CD I bought was one of the very many 'NOW' albums where they would gather all the best songs of that time and put them on. It's pretty sad that I would actually buy those, but I loved them."
Six years ago, Lindsey was catching the eye at the CONCACAF Under-17 Women's Championship in Costa Rica, with eight goals as the U.S. came third. In March 2012, she was with the U20s in Panama at that tournament, scoring four as part of the winning team, although knee surgery ruled her out of the U20 World Cup in Japan later that year.
In the 2014 U20 World Cup in Canada, she struck in the 1-0 win over Brazil and twice more as China were put aside 3-0 to finish the group phase, but they were defeated by North Korea in a quarter-final shootout Lindsey scored in. She shared the same youth international stage as many players who've gone on to play pro, and although she came into the league by different means to her, Houston Dash defender and close friend Cari Roccaro is also a first-year NWSL athlete.
Like Lindsey, she is 22, and as her University of Notre Dame career was reaching its closing notes last November, she reflected in detail on here about her childhood in Long Island and all kinds of teammate and music memories enjoyed in the years since. Within that, she spoke of her admiration for Lindsey as a player and person, as well as revealing the years of singing practice the two have had on team bus rides.
When Lindsey was asked for a teammate who instantly comes to mind when she thinks of memorable vocalists she's played with, it inevitably wasn't a tough one to pinpoint.
"Cari Roccaro, by far. She's not good at singing by any means and she's not that good at dancing either, even though she might think so, but she is always up for dancing and singing or just being silly.
"She has no shame in what she's doing either and I swear she'll do it in front of anyone, but I love that about Cari. I would never do it with her but she always finds a way to make me relax and calm down before a game.
"Most of the time I'm wondering how she can still play a game after using so much energy singing and dancing. I can be in the most focused state and she will still find a way to make me start cracking up."
While still just 18, Lindsey was given her first opportunity as a full international by Tom Sermanni, going to the 2013 Algarve Cup and winning her first cap in the 5-0 group win over China as she came on for Christen Press. She would figure again and set up an Erika Tymrak goal in the final game of that year as Sermanni's team made it an unbeaten 2013 with a 4-1 win over Brazil in Orlando in front of the year's largest home attendance (20,274).
Since the age of 15 she has had a very clear goal of being a pro and on the National Team and she finally resumed her progress with the latter after Jill Ellis called her up during last year's Victory Tour game series. In October and once again in Orlando against Brazil, though with over 12,000 more in the crowd than for her 2013 appearance, she got her first start and saw her header rebound for Crystal Dunn to score in a 3-1 win.
Given a start in a less familiar midfield role against Trinidad and Tobago in San Antonio's Alamodome, she set up both Alex Morgan and Christen Press with perfectly-weighted lofted passes before rounding off the 6-0 win with a confident finish from 12 yards. After the standout performance of the match in that one, she featured in the games with China in Glendale and New Orleans to close out the tour and would continue the momentum into 2016 after her reintroduction.
Scoring a header in the 2-0 CONCACAF Olympic Qualifying Championship final win over Canada in Houston, she used her aerial prowess again for her third and most recent international goal in June's 3-3 friendly draw with Japan in front of her family in Denver. The Victory Tour proved a real springboard for Lindsey to re-emerge and it was also the platform for Thorns teammate Emily Sonnett to stake her claim.
An Olympic alternate, the defender was the top pick in this year's NWSL Draft and former University of Virginia counterpart Danielle Colaprico told all about Sonnett's expressive side on here recently. That personality and energy is amplified when the pregame playlist is blasting in the locker room and Lindsey has had a front-row seat to that show at Portland this season.
"We've had multiple people controlling the music but more recently Emily Sonnett has stepped up and done really well. I've definitely thrown out some requests but usually whoever is in charge does a great job.
"I'm definitely a person that's usually sitting down in the locker room and focusing and I usually just watch Sonnett because she's weirdly a really good dancer."
Another of the USWNT's ever-emerging crop is 18-year-old forward Mallory Pugh, who was the only other Coloradan on the roster for Rio. Goalkeeper Alyssa Naeher shared on Twitter not so long ago how Lindsey saw the country band Rascal Flatts on TV and asked if it was *NSYNC, but worse was to follow when they told Pugh, only for her to ask who *NSYNC were!
Evidently, it's fair to say that music brings its lighter moments between teammates and people in general. On a personal note for Lindsey, it also lets her turn a mundane journey into something much more entertaining, for her and possibly for others also!
"Music has always played a huge role with me. One of my favourite things to do is drive around and blast music while people are usually just staring me down as I sing in my car.
"It's by far one of my favourite things to do."
With the wave of backing they receive, the personalised tifos and more, the Thorns players have reason for feeling like rock stars in their own right. The team's goalkeeping coach and Germany legend Nadine Angerer crossed the soccer/music border herself when she rapped on the track 'So wie heut' by German group voXXclub, as discussed in her feature on here in April.
If Lindsey got in the studio to drop a few bars who'd be with her on the mic?
"I would probably do 'My Band' by D12 and record it with Cari Roccaro. We can both rap that whole song and it's actually pretty entertaining because she's super obnoxious with it.
"I always call her 'annoyingly funny' and she still laughs and keeps doing it, but that's why I love her so much."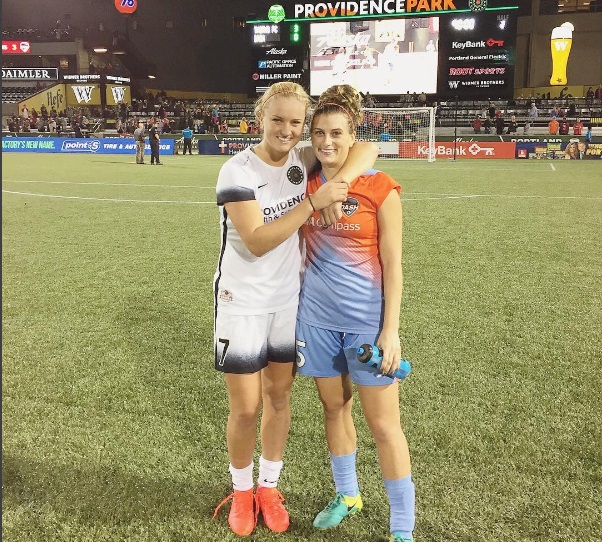 A Denver Broncos fan when it comes to 'the other football,' Lindsey watched NWSL games when she could during her time in France and particularly enjoyed watching the likes of her U.S. teammate Megan Rapinoe and her Seattle Reign counterpart Jess Fishlock. The increased opportunity for her to get on the ball is a midfield aspect she enjoys and she has still shown herself capable of scoring from a deeper position.
At the Olympics, she came on in the group wins over New Zealand and France, started the draw with Colombia, and came on to score in the shootout loss to Sweden in the last eight. Despite her time away, she has been one of Portland's sources of goals this season, with four in 14 games, and to have her and the other internationals back for the crunch time of the 2016 campaign is a colossal boost for coach Mark Parsons.
If she could have anyone from the history of the game to brush up on her shooting with, then alongside a certain Argentinian there's a long-time friend and Colorado Rush alumnus she'd also want to invite along – a 2013 MLS SuperDraft selection by Montreal Impact and current Louisville City midfielder.
"Well, if we're speaking of any player or person, I would want to train with Messi. Not only is he my favourite player of all-time but to experience having an open field training with him would be a dream come true.
"Otherwise, by far my favourite person to train with is Paolo DelPiccolo. He's one of my really close friends from home and is one of my favourite people to train with.
"We both have the same passion for soccer and his work ethic inspires me so much. I've been training with him since I was 13 or 14 and he can be a pain in my butt sometimes, but he has truly helped get me to where I am today."
Taking some online courses early on in her days with PSG, Lindsey joked once about her Facebook profile asking her repeatedly about where she went to college. Christen Press and Meghan Klingenberg are two examples of current USWNT members who ventured to Europe earlier on in their career, while compatriots like Allie Long, Ella Masar and the aforementioned Tobin Heath have also played for PSG in the past few years.
However, the picture book of Lindsey's Parisian adventure is unique to her and that's the beauty and significance of it. The step she took in 2012 was unprecedented and while some have come to her for advice on similar choices, she urges them to do what's right for them and their circumstances.
If the childhood Lindsey was the one sitting alongside her to hear what advice the 2016 version had then she would simply try to keep her on the same path.
"You know, there's not a lot I would say or change in what I did. Everything I've done in the past and the huge decisions I've made have gotten me to where I am today.
"I'm sure there's many things that I could say to do differently but maybe I wouldn't be the same person today."
It has been a long road home with both the National Team and with Lindsey's club career, but she is the reflection of all the cultures and soccer personalities she has been amongst, to mesh with her own. Whether it's the finishing ability, the change of direction, or the adaptability shown as she back-pedalled to take a high pass down in the box to so nearly score in the recent win over Boston, she is one of the most enjoyable to watch.
Back home in Golden, her brother, Mike, was the one to arrange some two-v-two games for them, so it is fitting to finish with a kind of revisit to that scenario. In this case, she is in her own fantasy team of five, with any current or former teammates eligible for selection.
In the past few years, each player on the site has had this question put to them, although they are not asked for an outright 'best four' teammates, rather just a fun sample of the very many they could choose. It's time for Lindsey's starting lineup and along with the lasting memories stitched into her relationship with each player, there is surely little doubt that this international mix could take it to anyone.
"Goalkeeper: Ann-Katrin Berger – she's a German goalkeeper I played with at PSG. She is one of the most underrated players I know and I also just love playing with her.
"We had so much fun playing together, especially in a small-sided game. Defender: Becky Sauerbrunn – best defender in the world.
"She does something every single day that just blows my mind. Most consistent defender I've ever seen and is just an awesome person as well.
"Midfielder: Caroline Seger – I would like to play with her one more time before she retires. Hopefully that's not anytime too soon, but she's such an incredible midfielder and is one of the best leaders I've ever played with.
"Forward: Anja Mittag – by far my favourite forward I've ever played with. She's such an incredible player and just such an intelligent forward.
"I also played with her at PSG and wish I could have played with her a lot longer."
To catch each of these interviews, you can follow me: @chris_brookes
You can also like the site on Facebook and stay up to date