Estefanía Banini interview: Washington's 'fantasista' dancing under a Spirit sky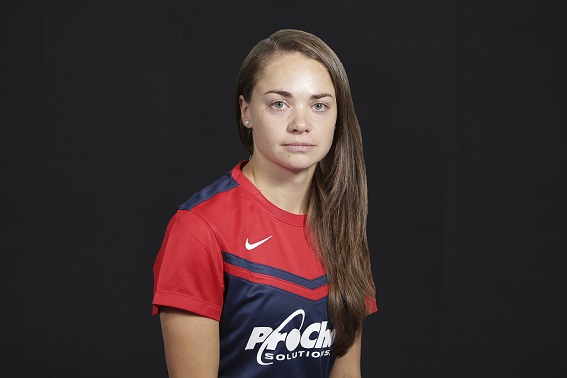 It was faith in a gut feeling that helped bring Estefanía Banini to America last year to realise her professional soccer ambition with the Washington Spirit, and so with the Argentinian's form continuing to shimmer lately, it seems only right that her compelling on-field style is true to that same notion of letting instinct guide the way.
As July 2013 began, Mark Parsons stepped up from his head coaching role with Washington Spirit's reserves to take charge of a last-placed first team almost three months into the inaugural National Women's Soccer League (NWSL) season. Although 8th was where they remained at the season's conclusion, the Englishman's appointment did provide evidence of an upturn in the making, and in 2014, they made the end-of-season playoffs.
Parsons, who had also become General Manager in September 2013, naturally wanted to go even further than their 2014 semi-final as year three approached, but his plans for 2015 also had to be tailored. It was the first NWSL season to have a World Cup to work around during the campaign, with many national team players from the U.S. and other countries set to be unavailable for a number of weeks of play.
In January that year, a Spirit signing was announced that carried a little air of mystique as Argentina international forward Estefanía Banini joined after enjoying consistent success in Chile with Colo-Colo. Currently in his debut year leading the Spirit's fellow competitor, the Portland Thorns, Parsons shares the backstory to the arrival of 'Estefi.'
"The process for signing a player at the Spirit and Thorns is similar but different. At the Spirit, it's a club that was bottom of the league before I took over, so while you have a process and standards, sometimes you just have to take a gamble.
"Banini was one of those where you follow the heart and instincts, it was a strange one really. In the 2014-2015 off-season I was desperately looking at the countries that were not going to the World Cup.
"Argentina being one of them, I thought there must be some players to look at. After failing to establish any contact or connections with any coaches, scouts etc. I was about to give up, then a random email came through from a coach in Argentina, mentioning an Argentina player.
"I couldn't believe after all the work I put in, it came down to a random email that someone decided to send me. I got connected to Banini, watched loads and loads of video of her playing for Colo-Colo, and spoke with her over email; long detailed emails about her as a person and what she wanted to achieve in her career.
"I didn't have the references, I didn't have the evidence of her playing in a top league against top opposition, but there was something about her on the pitch that was special, and in the communication there was desire and passion to be the best."
Parsons was deprived of the chance to see his exciting acquisition fully break into her stride, with injury taking away the remainder of Estefi's debut season after just four starts. Following surgery to repair cartilage in her right knee, the 26-year-old has begun to dazzle as this season has progressed, scoring five goals for Jim Gabarra's Spirit and taking the NWSL Player of the Month for July.
Washington may be neck and neck with his Portland team at the top of the standings during the current break for the Olympics, but former Chelsea Ladies reserves boss Parsons has taken nothing but delight from seeing the number 10 from Mendoza flourish for the Spirit lately.
"Although others felt it was a gamble that didn't make sense, I stuck to my instincts and did everything to bring her here. The second we saw her in training for the first time, we knew she was going to be a fantastic player.
"I'm so happy she is now showing the league and world what she can do."
After the misfortune she was dealt so soon into her time in the States, it wouldn't have been at all out of the ordinary if she had ultimately returned to playing elsewhere. She had, however, been longing for the kind of chance given to her by the Spirit and she has told before how she greatly admires the platform the women's game has in the U.S. and how the stadiums are filled for the National Team.
Estefi has shone in Argentina colours in the past but despite the national team appearing at the 2003 and 2007 World Cups, as well as the 2008 Olympics, inactivity over the past couple of years has seen the 2006 Sudamericano Femenino champions become ineligible for the FIFA rankings. She feels the soccer landscape back home doesn't allow for women to thrive, and when you see the way she has lit up NWSL games this season, one can't help but wonder how far many of her compatriots could go without such a glass ceiling over them.
During his tenure at Sky Blue FC, Jim Gabarra was aware of Estefi's talents and she has started to become talismanic for him during his first year with Washington. Notching her first NWSL goal to set the Spirit on their way to a 2-0 win over Orlando Pride on June 18th, her goals have meant a Washington win in each of the four games she has netted.
A performer who undoubtedly fits the enjoyable and creative style associated with the number ten, she feels she now has the environment she needs and has also noticed some changes in herself over the past year or so.
"Since I arrived here I think the biggest changes for me have come from the professionalism I am around," Estefi explained. "I take more care now with the small details."
"I learned to be more patient because I am learning the language. I also learned to be a little quieter!"
She may still be finding her way with her English but the fluency has been there to see on the field. If soccer, and indeed life, are about stepping forward to play your part in the song, then Estefi is now letting herself be heard.
With that classic fusion of style and substance, she has added another kind of energy to a strong and talented Spirit team. In Argentina, the 'enganche' on the field has been known to connect the midfield and attack, sitting between the two and having free rein to roam.
'Fantasista' is another term that has been applied through the decades and although Estefi is often seen operating wide on the flanks, she loves to weave artistry, adventure and purpose in that same kind of way as the archetypal number ten does. When she started out it was with futsal, representing her first club Cementista, though she had to play for years on the boys' team as there were not enough at the time to make a girls' side.
The frantic pace and unique dynamic of futsal has had a hand in the development of numerous global stars, many of them from South America. The likes of Marta and Neymar play with a fluid fervour that has them effectively dancing when they are fully in their groove, and that rhythmic understanding resonates with Estefi, on and off the field.
"Music is something that interests me a lot; listening to good music puts me in a good mood. I like all kinds of music, it depends on the moment.
"Before I play, I like upbeat music – for example, reggaeton like Chino and Nacho."
Whether it eases the tension in their free time or provides the key to the very heart of their personal zone of focus and motivation on game day, music is hugely important in the lives of so many players. Personalities in the game from around the world have opened up and detailed their relationship with songs, artists and genres in their interviews on here in the past five years and Spirit midfielder Christine Nairn was the one to feature in May this year.
Within that, she picked out The Chainsmokers as a big favourite on the team's locker-room playlist, although Estefi was familiar with American music long before!
"To tell you the truth, I have never bought a CD, but when I was young in Argentina we listened a lot to Backstreet Boys! More or less when I was nine years old."
As we grow up, the greater independence that we get crosses over into so many aspects, including when it comes to the bands or artists we choose to go and see perform, in all kinds of settings. Just like with soccer, the memories we get to enjoy with people through music can last a lifetime and it only takes a press of the 'play' button in the future to be touched by that nostalgia.
A song also has its way of giving you a certain feel of a culture that just can't be matched from reading about it, so who would be the main names on Estefi's list if she could be at any live show?
"If I went to see anyone it would be Prince Royce, who does bachata music. I would also like to go to a concert of Chino and Nacho!"
Estefi's home city of Mendoza in the west central area of Argentina is known for its wine and vineyards, with the Andes also not far away. When she was five years old, her parents were looking around the local area to find a team for her to play on, only to be met with resistance as she was a girl.
Having played on the aforementioned boys' team Cementista, she joined her first outdoor women's team Las Pumas at 15. As onlookers in and around Mendoza got to see what she was capable of on the field, a route into the national team followed.
It is six years now since she first represented the senior side and her skills were on display at the 2014 Copa América Femenina in Ecuador. During the tournament's initial group stage, Estefi put away a penalty to seal a 2-0 win over Brazil, although their opponents would beat them 6-0 in the final stage on their way to winning the trophy.
Argentina came bottom of the four-team group to decide the competition but Estefi did score against the hosts in Quito, as well as enjoying herself in the goalless draw with Colombia as she notably nutmegged two players in quick succession.
The world certainly has its more outwardly expressive nations and Estefi explains how her national team colleagues didn't need a goal to give them reason to get into a celebratory mood.
"In South America, we use music a lot and with the national team the truth is I was always one of the most regular ones to dance, but usually we all do!"
In her first move to play abroad, Estefi ventured around 230 miles south west to Macul in Greater Santiago to join the Chilean team Colo-Colo in 2011 after being contacted while playing a tournament in the country for Argentina. Winning several half-season championships, she holds a special fondness to this day for the group she won the 2012 Copa Libertadores with, as they defeated opponents from Paraguay, Peru and tournament host Brazil on their way to being crowned the best in South America.
As well as enjoying her soccer, Estefi was part of fun times off the field too, which came to mind as she was asked if she's ever had to sing for initiation in her career.
"No I have never had to sing for the team! In South America, though, it is very different; the environment is different and we all start singing and dancing.
"It is often the old songs like those by Pimpinela (popular romantic Argentine duo)!"
With five goals and an assist from her 12 games (nine starts) this season, Estefi has only been outscored in the NWSL by FC Kansas City's Shea Groom (six goals) and Western New York Flash duo Jessica McDonald (seven) and Lynn Williams (eight). Having sidestepped Orlando's ex-Spirit defender Toni Pressley to bury a shot beyond Ashlyn Harris for her first league goal in June, Estefi went into July as a player about to catch fire.
In the 2-0 home win over Chicago Red Stars, she took a pass from Christine Nairn before playing a sharp one-two with Francisca Ordega around a defender before finishing right-footed into the far corner. She then struck away from Maryland SoccerPlex for the first time with a sparkling display to earn her the league's Player of the Week award as Washington beat FC Kansas City 3-2. Opening the scoring against the reigning champions by bringing the ball down in a crowded box and evading a defender to find the far corner, she returned a cleared second-half corner with a beautiful strike on the bounce into the corner with her right foot.
The technique to beat a keeper of Nicole Barnhart's quality was duly noted with her receiving Goal of the Week acclaim and in the last game before the Olympic break on July 31st, she made it five for the season with a low finish to set Washington on their way to a 3-1 home success over Sky Blue. On signing for the Spirit, Estefi spoke of the fulfilment of a dream and in year two she has described having redemption on her mind after her injury-stolen debut season.
Serving her the pass for that Sky Blue goal a fortnight ago was a midfielder who has also had the scoring touch in recent months. The one-time Boston Breakers player and Maryland native has been one to help her feel at home in her part of the world and she gets a thank you as Estefi names her the career teammate she would have with her on a song cover.
"I would love to sing with Joanna Lohman from Washington Spirit and it would be 'Danza Kuduro' (by Don Omar featuring Lucenzo)."
Taking your career and life to a new league and country is a big investment and it's not just about who you find an understanding with on the field. The Spirit are currently missing experienced Spanish forward Laura del Río for the season after ankle surgery but she has been sharing with Estefi the know-how acquired from years spent playing in multiple nations.
During her time helping lead an exciting Bristol Academy team to the cusp of the FA Women's Super League title in 2013, she featured on here with her own music/soccer interview, and has even acted as Estefi's post-game interview translator as part of her efforts to assist while at Washington.
"Honestly, it has taken a lot to adapt to the culture but someone who has helped me a lot to adapt is my teammate Laura del Río. We really like the city and I especially like that it has a lot of green spaces!"
Upon bringing her to the NWSL from Chile, Mark Parsons shared his view that Estefi was not just exceptionally talented but largely different from the rest of the league. The South American lens through which she and the likes of Houston Dash midfielder Andressinha see the game has been a captivating alternative for those who enjoy the NWSL, with homegrown and other international talents able to see close-up how they work.
Two of the most spectacular modern-day examples of that were in Estefi's mind when she was asked who would get the call if she could stay behind for shooting practice with any player, past or present, and it's fair to say these two would offer one or two extras to go with their finishing technique!
"There are so many good players I could choose, but I have seen the whole career of Messi and so it would certainly have to be him. However, I also always liked Ronaldinho."
The Argentine FA has come under heavy criticism in recent times, with Lionel Messi notably airing his discontent and former Barcelona manager Gerardo Martino resigning from his post in charge of the men's national team in July along with his entire staff. Estefi has urged the AFA to work toward giving female players the opportunity they deserve to reach their potential and wants the nation's public to push for the equal respect the U.S. Women's National Team have so notably been fighting for.
Along with the advancements she has made physically since arriving in the States, she outlines how she has worked on controlling her emotions as her career has progressed.
"Since I came to America, I have learned to take better care of my body because I realised that this is very important. Throughout my career, this sport has taught me to be a more encouraging teammate and to keep being positive when things go wrong."
With the kind of parents who supported her in pursuing her love for soccer, Estefi was blessed with something that not everyone she grew up with was privileged enough to have. Sharing a little of life outside of preparing for games, playing in them and subsequently recuperating, she describes how she wants to give back one day.
"I love playing games with and spending time with my family and friends. It is true, though, that football is everything to me and most of my time is spent on that or futsal.
"I would also love to teach football in my country one day in the future."
Together with the natural flair and entertainment Estefi can bring, she has also expanded her game this year with her forward-line responsibilities and defensive duties under Jim Gabarra. Her Player of the Month form was pivotal in the Spirit winning four in July to cut away the gap to the top of the NWSL and they now sit joint-top on 29 points with the Thorns, having played a game less.
The team resumes this Thursday (August 18th) away to Houston and it can never be a bad thing to have a player in your team who brings about a win every time she's on the scoresheet! With her thoughts starting to turn to adding some more of just that, Estefi's last contribution here is to compose a small team of her own, but purely for fantasy purposes.
As each player on here is asked to do, Estefi thought of some of the names she has taken to the field with in her time in the game up to now and picked out four she could have alongside her in a 5-a-side lineup. There is a whole lot of South American exuberance to go with one esteemed American who guarantees unrivalled work rate, ability and heart.
Estefi, take it away!
"For this question, I can answer without any problems. My goalkeeper is (former Colo-Colo teammate) Christiane Endler from the Chilean national team.
"She is currently playing for Valencia and she is a very good goalie! My defender is Ali Krieger from the U.S. national team and Washington Spirit.
"It seems to me that you will already know a lot about her! She is a very good defender and also an example to other players.
"For my midfielder, Yusmery Ascanio from the Venezuelan national team (and a former Colo-Colo teammate). She is a player who is very skilful.
"To lead the attack, Yanara Aedo from the Chilean national team (also been with Washington Spirit). She is a fast and skilful player.
"These are all very technical players and I have played a lot with all of them, apart from maybe Ali, so I know it would be a very good team!"
To keep up to date with each of these interviews, you can follow me: @chris_brookes
You can also like the site on Facebook and stay updated