Dominique Janssen interview: Nederhop on the London beat for Gunners' Dutch international
A helping of compatriot and continental company has smoothed the transition for Dominique Janssen since her Arsenal Ladies arrival last year, with a little corner of home in the team culture always there to turn to for the Dutch defender/midfielder.
Although they had been Euro 2009's surprise third-place finishers before contesting the group stage in 2013, the Netherlands' appearance at last year's FIFA Women's World Cup in Canada was their first on the global stage. Reaching the knockout phase was undoubtedly commendable and for several of the Oranje Leeuwinnen, significant moves at club level followed the tournament.
The FA Women's Super League (WSL) was the popular destination, with captain Mandy van den Berg and forward Shanice van de Sanden eventually joining Liverpool, midfielder Tessel Middag going to Manchester City, and Arsenal acquiring midfielder Daniëlle van de Donk, goalkeeper Sari van Veenendaal and the versatile Dominique Janssen.
The Gunners brought in van de Donk ahead of the 2016 season, so when van Veenendaal and Janssen both arrived immediately after the World Cup they had to take on the challenge of one of their first big performances without their nimble-footed compatriot. The task took place in front of the team and away from the more comfortable setting of the field, but luckily, they had a Spanish midfielder and fellow newcomer to make sure they didn't have to face it entirely alone, as Dominique recalls.
"When we came to Arsenal we had to sing or dance, and we did a dance act, with Marta (Corredera) and Sari. We did a proper preparation so they were like, 'Oh my God, how long did you practice?'
"We only practiced for like 15 minutes but we knew what we had to do, so that was funny. The new staff also had to do an act and the goalkeeper, Chris, from the Development Team did an old song; he was singing and he was really good, with a strong voice, a low voice.
"Nobody was expecting that because he's not a guy in the spotlight."
Turning 21 at the beginning of this year, Dominique came to England off the back of two years with SGS Essen of the Frauen-Bundesliga. As well as competing in Germany's top tier, she had also been getting to grips with living away from home for the first time during her spell in North Rhine-Westphalia.
A former Dutch youth international, by the time she came to England she felt an increased sense of independence, but having others to turn to from your homeland who speak the same native language and understand the cultural nuances you've been used to is extremely welcome. Dominique has had the best of English and Dutch at Arsenal in that sense, and with musical significance in her life up to now, she has also had the best of both worlds, with the rich vocals of one English-raised female singer bringing back memories every time.
"I don't really have a favourite singer or band but I like to listen to some hip-hop or r&b, some quicker music, but it also depends on my mood. For example, if I just want to chill I just put on Sade; that's an artist from when my parents were still together.
"They were listening to that music and I really enjoy it if I just want to relax. Sometimes some Dutch music when we are listening to it with the Dutchies in the house!
"Broederliefde, that's a Dutch band, we like the music of them and we also listen to it with the national team. Frenna is another one.
"We have three or four popular artists in Holland for the younger people and they also like to listen to some hip-hop and r&b. 'Still Falling for You' by Ellie Goulding, I like that song a lot.
"I like Drake, Trey Songz, and I'm also listening to some music my boyfriend likes; some slower r&b, American music."
An FA Cup winner at Wembley six months ago, Dominique had her on-field adaptability, technique and character complimented by Arsenal boss Pedro Martínez Losa when she signed last July. This season, while filling in at the back on occasions, she has also managed to showcase her attacking instinct.
Although competition for trophies has increased dramatically since the Gunners' distinguished hold atop the English women's game – the team last won the FA WSL in 2012 – the pressure to uphold the club's heritage of success has never subsided. Dominique has been able to look around and see premier names and personalities to learn from, including Ireland keeper Emma Byrne and England greats Kelly Smith, Rachel Yankey, Fara Williams, Alex Scott and the now-departed Casey Stoney.
England centurion full-back Scott has long had her music love and team DJ role attached to her name, exploring that side to her life on here in February 2014, although Dominique reveals how the Gunners' aforementioned Dutch shot-stopper had a go at disturbing the pre-game ambience!
"Alex Scott, she's always on the music. I remember Sari did the music sometimes because she came early in the changing room and she wanted to listen to certain songs that are good for her before the game.
"I remember that sometimes she put on her music and some people were like, 'Oh my God, what kind of music is that?' but because we knew it, we enjoyed it."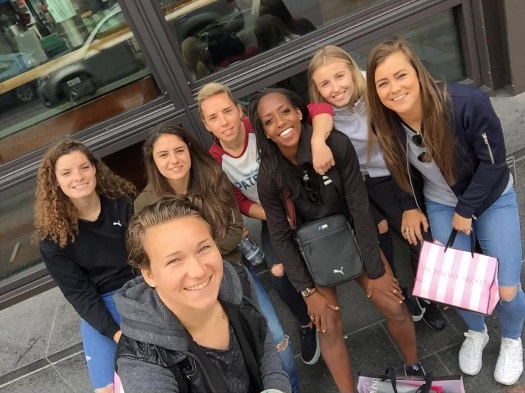 As described by the likes of Daniëlle van de Donk, forward Lieke Martens and left-sider Claudia van den Heiligenberg, there is a certain energy about the Dutch national team that just gets ignited by the heat of the beat on game day. Alongside skipper and new Reading defensive signing Mandy van den Berg, LSK midfield creator Sherida Spitse is the resident DJ, with WhatsApp the place where the requests go in.
"Sherida always asks in the group chat if anybody has any songs, so the playlist is up to date. I remember the last trip, Daniëlle did the music a little bit, but they always want to hear certain songs, typical Dutch songs.
"I don't really like them before a game but it's funny because they always have a good time listening to those. It's like the music everybody knows in the country and if you go out to a party you'll hear it and you can dance and everybody knows the words.
"Before every game, we always have one or two songs that come up before we go out, always."
A little before WhatsApp started to blow up, a few years and a few iPhones back, Dominique had one of her earliest experiences of getting a track list of her own together. Naturally for someone who grew up in the Netherlands, it was a man from Stoke she was listening to!
"I remember one day we got an mp3 and we were putting some music on to it; that was when I was around 12/13 years old. I don't really remember what kind of music exactly, but I think it was like Robbie Williams and all those famous artists from then."
UEFA Women's Cup champions in that astonishing quadruple season of 2006/07, Arsenal are still the only English side to be crowned Europe's best. Liverpool, Chelsea and Man City have tasted much of the domestic success more recently, but in transitional times, the Gunners have still kept the winning tradition moving in the cup competitions at least.
Four months into her career with the North Londoners, Dominique had that victorious rush as she got to grasp the Continental Cup following last November's 3-0 win over Notts County. She played the whole game in Rotherham and played in Jordan Nobbs for the first of her double, with American forward Chioma Ubogagu capping the win with a fine solo effort.
It was the club's fourth success in five years in the competition and it gave Dominique an instant feel for what it is to be the last ones standing once the final whistle goes on a tournament. To win something together as a team only strengthens that togetherness and music can have that same amazing ability to unify people and to feel life on a different level altogether.
Describing her own mood behind the scenes before games, Dominique describes some of the personalities in the team when it comes to music, as well as one of the most memorable housemate outings from her time in the capital to date.
"At Arsenal, I'm quiet, but if I'm in a good mood and I feel comfortable I like to dance sometimes. I also like to focus on the game; it just depends on the day.
"Vyan Sampson, she knows all the songs from Fetty Wap. Alex is normally dancing a little bit, Leah (Williamson) is really a dancer.
"This year we went to Adele in the O2 Arena and that was so cool. That was amazing because I really enjoy the way she acts and the way she sings is really impressive.
"We had all the housemates who went: Marta Corredera, Sari van Veenendaal, Daniëlle van de Donk. I would also like to see Trey Songz and Chris Brown."
A common link in the stories of so many notable players in the women's game is how they had to be on the boys' teams if they wanted to play competitively growing up. Dominique actually had that situation until she was 18, before she made her switch to Germany to join Essen.
In May 2014, she was part of Markus Högner's team that made the DFB-Pokal final, notably knocking out three-time winners Turbine Potsdam on their way to facing Frankfurt at RheinEnergieStadion. The likes of German internationals Dzsenifer Marozsán, Melanie Behringer and Simone Laudehr had too much for Essen on the day but it had been a memorable run for Dominique and her teammates.
One of those was her housemate, an attacking midfield talent who has this year represented Germany at senior level for the first time. The 22-year-old is the one Dominique would choose if she ever put her own spin on a track and recorded a cover version.
"I think Linda Dallmann in Germany. I was living with her for six months and we were always listening to Drake and it was because of her I got into Drake, so we were always singing and rapping the songs in the car.
"I think I would do it with her."
Coming from Horst in the south-eastern part of the Netherlands, Dominique would travel by car to cross the border into Germany's west during her time with Essen on a journey that took an hour or so. The move to Arsenal was a change that allowed her to dedicate herself fully to her game, but she remembers her experience in Germany at the end of her teens as a pivotal one.
"The first one and a half years, I was driving up and down; I'd just got my driving licence and that was the first time driving a lot. Also, learning a new language and being in a foreign country with a little bit of different cultures.
"Germany is a lot like Holland, so that was quite easy, but in the beginning, it was hard with the language. Once I felt confident to speak and make mistakes, I was learning German so quick and nowadays I can speak proper German.
"I can say I speak English, I can speak Dutch and I can speak German, so that's pretty impressive. The other day, my old trainer came to Arsenal and I was speaking with him and Clare from the office was watching me and she was like, 'what language are you speaking?'
"I was living there for six months with Linda and that was the first time I was living not at home, so it was the first experience and it was really good because I could go home when I wanted to. When I went to England it was a big step, but I knew what to expect because of being in Germany.
"Also, it was the first two years that I went to women's football, so that made me a lot stronger and I learned about the women's game."
Another Horst native who went on to play for the national team is Dirk Marcellis. Like Dominique, the former PSV and AZ Alkmaar defender played for RKsv Wittenhorst at youth level, and now their clubhouse proudly displays their framed Holland shirts.
The beautiful game was a constant in life back home, with the meetings between Dutch football's heavyweights from Amsterdam and Eindhoven always managing to spark a little something for kids in Horst!
"It's a small town but football was like an important thing, especially for a lot of boys I used to be at school with. I started when I was six and I always played with the same boys; sometimes boys came from another town because it was like a big football club.
"You have Horst and then you have little towns around it, so the good players came to my club. Football was pretty big but I think it's still growing.
"I really enjoyed playing there and they always gave me the opportunity to play. All the boys respected me and that's not what is usual; sometimes you have clubs where people don't respect the women if they want to play there.
"They say 'you cannot play in the first team because you're a girl.' I always had the opportunity to play if I was good enough.
"I didn't really have a favourite team but there was always a competition between Ajax and PSV fans because they were like the main rivals. Always when they were playing against each other, players came with the Ajax or PSV shirt to the training or they made a deal; like if Ajax wins you have to train in the Ajax shirt, or if PSV wins you have to train in the PSV shirt.
"That was always a big deal when they played."
Anyone who spent childhood days in the back garden or on a patch of grass near their house playing football is likely to have closed their eyes and dreamed for a second or two that they were taking centre stage in a famous stadium. For kids in England (and probably for any adults who still play for fun!), Wembley is generally the ultimate place in their imagination, which is where Dominique not only played but also won in this year's FA Cup final.
Coming on for Fara Williams in the second half, she was out there as the whistle went to confirm their 1-0 win over Chelsea, setting off the celebrations in front of 32,912. It was Danielle Carter who pulled a strike out of the top drawer that day, but what if Dominique could call up any player from all-time to have some after-training shooting practice with?
"I would say Steven Gerrard or maybe David Beckham. I like Steven Gerrard, he can do a lot of things; like he was a very good passer and I was a pretty good passer, so that was inspiring for me.
"He was playing in midfield and he was being a leader, so that was for me an example to look up to and try to be the same as he was."
Since taking over from Shelley Kerr in September 2014, Pedro Martínez Losa has been implementing his ethos within the Arsenal setup. The former Western New York Flash assistant had enjoyed success in his native Spain, leading Rayo Vallecano in the UEFA Champions League after successive domestic league titles.
The Gunners certainly produce their share of aesthetically-pleasing play, with a number of accomplished technicians featuring under Losa in the past two years. Although she has been used in both full-back positions, Dominique is a natural midfielder and in her 21 appearances this year she came up with four goals, including one from outside the box and one with her head in games with Reading.
Assistant Jose Manuel Elena also carries out individual work with the players, although it is not just her manager and his staff Dominque learns from. It goes without saying that there have been some highly accomplished names in and around the squad since she arrived and when asked specifically about three of them, she paid tribute to each.
"I really enjoyed working with them. For example, Kelly Smith, she's just like an incredible player; before I came to England I knew that she was good but when you play and train with her sometimes you're like, 'what's happening here?'
"Also Casey Stoney, she was always being the perfect athlete; she was always working hard, always running the quickest and running the most, coaching. I'm also a hard worker so for me, if I have to look up to somebody, it's Casey Stoney.
"Emma Byrne is also really good, she's always helping everybody out and she sees the game as well; at half-time in the changing room if she had something to say, she said it, and I think that's really good for young girls to see."
When it comes to a World Cup or any major tournament, the images of the big moments have a place in the minds and hearts of fans for decades after. At the 2015 World Cup, the Netherlands may not have been involved in the real crunch games of the competition but their first ever time on such a platform will undoubtedly stay with them.
The stunning strike off Lieke Martens' boot to beat New Zealand, and Kirsten van de Ven throwing off her headband in celebration at her right-footer into the roof of the net in the closing minutes against hosts Canada in Montreal, were the highlights. A debutant at 19 in the 2014 Cyprus Cup against Australia, Dominique came on for Desiree van Lunteren after 13 minutes of that final group match with Canada and the 45,420-strong crowd is a sight she will find impossible to forget.
"For me, it was a whole new experience. I had one goal and that was to play maybe one minute at the World Cup.
"I was having a good World Cup, I was training well and I felt well, so I was really enjoying the experience. The team playing in big stadiums with so many fans was a really nice experience and it was a proud moment that I could come on against Canada.
"Playing in Canada, it was a full house and that was a dream that came true."
Exiting at the World Cup's last 16 after a 2-1 loss to runners-up Japan, the Dutch team will be targeting what would admittedly be an unexpected spot at the final of their own party when the European Championship comes around in the summer. It will be their fourth tournament appearance in total and with talent throughout the team and so many now playing at big clubs, why shouldn't they believe they can stay the course?
The next piece in the preparation for Arjan van der Laan's side comes in a home friendly against Belgium (Thursday November 24th) and the team have been training at the national KNVB Campus. On Tuesday (November 29th), they will host England in Tilburg, and Dominique is fairly clear about what she wants from the game!
"I'm really excited because England did really well in the World Cup in 2015 so that's a good test for us, but I'm really excited to play against our (Arsenal) teammates. We just want to beat them because they are now a team and they are always like, 'England is doing this, doing that'!
"We just want to beat them, so we are looking forward to playing against them."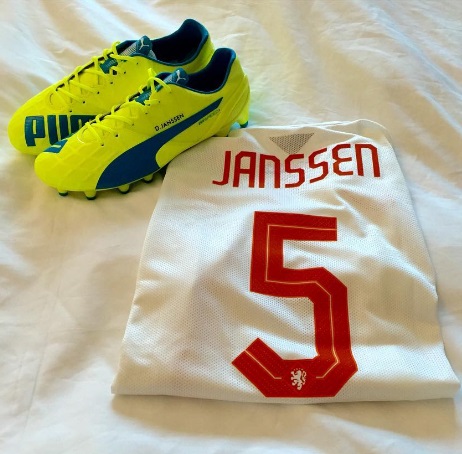 The semi-final achievement in Finland at Euro 2009 made more people start to take notice of the Oranje Leeuwinnen in their home country and certainly within the women's game, too. In addition to the World Cup and the approaching Euros, part of the team coming to wider attention has been their inclusion in the FIFA 17 video game, which is the first time they have been added in only the second edition to feature women's national teams.
At the Euros, they will face Norway, Denmark and Belgium in the group and Dominique will hope for better fortune than when she and her Arsenal housemates gave their virtual selves a runout!
"I just bought a PS4 recently but I remember the first time when we got FIFA; it was so much fun because we are not really good! For example, Daniëlle was playing and Sari had the ball and she was just running with the goalkeeper!
"It was so funny and we were just checking us out, like how we looked and how good we were, so that's really nice. We only had one controller so we couldn't play against each other."
Midfielder Jade Bailey had been one of the other housemates before her move to Chelsea this season, with Daniëlle van de Donk moving in after her arrival from PSV/FC Eindhoven. Dominque describes the personal process she has gone through since moving to Germany and then England, as well as the benefit of having two Dutch friends and teammates around.
"Jade, she left, and then Daniëlle came with us because we are Dutch and there was one place free in the house. We were like really close because we are all so far away from home, so we are like a little family and we could support each other when we needed it.
"I think I learned to be on my own, to take care of myself, make sure I eat right, I do my wash, I keep my room clean. You still miss your family but it's getting different because you get used to it.
"You know when you're far away from home for a long time that you can deal with that. I think I learned to live by myself and that I'm strong enough.
"Let's say I move even further, I still have the support of my family, but I know I can do it by myself."
Having her first time in America this year as Arsenal headed to the Pacific Northwest for a high-profile friendly with Seattle Reign, Dominique then played the full game in September as the national team took on the U.S. in a friendly at the Georgia Dome, home of the NFL's Atlanta Falcons.
She signed a new contract with Arsenal back in April and while continuing her football education with club and country, in general, she's still discovering a lot about herself and her interests.
"I used to study sport marketing but it was hard to combine with football because I had to travel a lot and had to travel far to school. I focused fully on football but now I have a lot of things I want to do; for example, now I want to learn to play keyboard and maybe I want to go to dance lessons!
"I'm a Herbalife distributor and I want to help people out. For me, the first step in England was hard, being a little bit insecure about my language, but I know I can do it, so if I go back to England I want to set something up so I can help people out and start building something for the future."
Along with helping to return Arsenal to their familiar Champions League surroundings and being part of history once again with the national team, there is much more to come in the not-too-distant future from Dominique. After her imminent international duty, the off-season looms, so the only place to leave the conversation is with her in a scenario where she's doing what she does best.
For every player who features on here, they are asked to think of four teammates from any time in their career who would be worthy choices alongside them in a fantasy lineup of five. In this small-sided setting, it is not necessarily about the player choosing the four they rate most highly, but instead just a sample mix of who they could select.
Here is Dominique to introduce a team that is one part German, two parts English, and of course, two parts Dutch.
"In goal, Sari: she is so competitive! She gets crazy if she receives a goal and she wants to improve every day.
"She's really competitive; sometimes she's so moody because of training and we're like, 'come on Sari, smile!' I would say Linda as well, Linda Dallmann: I used to live with her and we had so much fun.
"Once in training, we were just lying on the floor because we had so much fun. She has a really good technique, dribble technique; she's a little Messi.
"So I need to choose two more? I should say Kelly Smith and Casey Stoney, I think.
"Kelly because she's outstanding and Casey because she's a fabulous defender."
To catch each of these interviews, you can follow me: @chris_brookes
You can also like the Facebook page and stay up to date