Ciara McCormack interview: Rolling on but never alone – Jets defender joined by an ensemble cast
Newcastle Jets defender and Ireland international Ciara McCormack has had some incredible settings and co-stars in her story up to now and with invaluable lessons to pass on there is so much more for her to add.
Women's soccer in Australia is in an extremely encouraging place and the latest W-League season has been evidence of that. With world-renowned players like Brisbane Roar goalkeeper and FIFA Ballon d'Or winner Nadine Angerer, the interest in the league has come from all over the globe. Up-and-coming Australians have also had the opportunity to develop alongside the established national team players and everyone involved has been able to enjoy a great competition so far.
Playing for a team Down Under for the first time, former Ottawa Fury captain Ciara McCormack has been representing the Newcastle Jets. The Canadian-born Irish international's career has also taken her to clubs in the US, Denmark and Norway but that barely scratches the surface of her travels. She is a fascinating character with stories to tell that could fill a novel or six!
When I created this site three years ago, the idea was to explore with the players themselves all the ways that music relates to football. Discussing these subject areas also gives a unique look into who they are as a person and there is no question that this is true of Ciara. As she explains, from the time that the game became her passion at elementary school right through to the present day, music has been at her side too.
"I love, love music, the biggest reason being that I always associate songs with really strong memories and it allows me to remember and reflect on good friends and good times. Soccer has been a fantastic avenue to expand musical knowledge, especially travelling so much with it and having teammates from different countries.
"I love old stuff like the Doors, Rolling Stones, Led Zeppelin, Pink Floyd, Steve Miller Band and Bob Dylan. Weirdly enough, my friends and I in high school loved and listened to that kind of music a lot, probably a little different from the kids of today."
Growing up in North Vancouver, Canada, Ciara has been on a substantial journey since her school days and her sport has ultimately opened the door to some magical moments. When asked which of her career teammates she would choose to record a cover version of a song with Ciara named a long-time influence in her life.
"First of all I'd request to do a music video, not a song, because I don't think the world should be deprived of seeing my ability to make up actions to songs! I'd recruit my best friend and teammate from high school, Jess O'Neill, to put on our performance of 'Like a Rolling Stone' by Bob Dylan, which we still do upon request.
"Make up actions to that in your head and I'm guessing you're probably already laughing."
Unlike the subject in the chorus of that song, Ciara is certainly far from on her own considering the colleagues and companions she has come to know. In 2002, she became the first female North American player to score in the Champions League (at the time known as the UEFA Women's Cup) when netting for Danish club Fortuna Hjørring against Breidablik of Iceland. Ciara has also spent time in Norway with Asker, Kolbotn and Donn, and as she alluded to, there are songs and artists who hold reams of nostalgia from such days.
"My time in Denmark reminds me of David Gray and Saybia, a Danish group. My English teammate in Norway, Becky Angus, introduced me to Florence and the Machine who I love, and my Icelandic teammate, Thora Helgadottir, got me obsessed with Sigur Ros.
"The last few years back in the US, I've listened to a lot of Coldplay, Taylor Swift and Katy Perry. The National I think is an amazing group that I'd love to see live.
"Since I've been over in Australia, I've gotten a more UK taste for my music, with Ellie Goulding, Rudimental and Emeli Sande getting a lot of play time. Basically, any groups that I can throw a quality dance party to, ponder good lyrics, or that make it easy to make up actions to the song, are a winner in my book.
"I've been known to annoy the close people in my life by finding a really good song I like and throwing it on repeat until everyone around me wants to kill me and the song is ruined forever."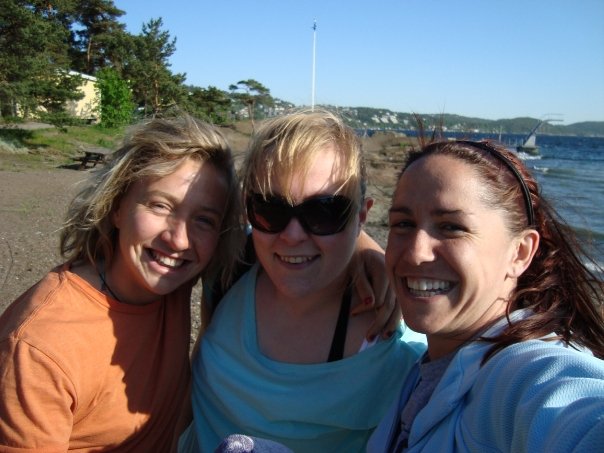 A W-League winner with Boston Renegades in 2001 and with Vancouver Whitecaps in 2006, Ciara was presented with the chance to play at international level with the country of her parents. Her mother grew up in West Cork and her father comes from Athlone so it was naturally an immensely proud moment when Ciara made her Ireland debut in 2008. She went on to win eight caps and she describes making the decision to opt for the Irish, as well as her fondest memories from that period.
"I was playing in Europe at the time and it felt like the right thing to do. I would say every international game I played for Ireland was memorable with many of my family and friends able to come and see me play on that stage.
"Playing the USA three times for my first caps in front of thousands in major stadiums across the US was pretty incredible. It was a great group of girls and I learned a lot from my coach Noel King, who recently was the head coach for the Ireland men's team."
Ciara founded girlsCAN Football twelve years ago, providing all-girl camps and role models for players across Canada. Expanding into Connecticut in 2011, girlsCAN features top-level players like Washington Spirit's Tiffany Weimer (a past interviewee on here) offering their tutelage.
The girlsCAN Foundation was set up in 2010 with projects running in Nigeria and India, and Ciara has also been responsible for the Western Canada Soccer Showcase, a college showcase she started for players who have aspirations to play in university as she did. In the first year of the Showcase, a talented player who hadn't received an opportunity to play in Canada at a high level was connected by a college scout with the Colombia Under-17 team. Ciara found out on the day of her first Ireland call-up that the girl would play for Colombia at the Under-17 World Cup.
When it comes to artists who are meaningful to her, Ciara honours some from her homeland as well as arguably the most famous from the nation of her parents.
"Perhaps because of my Irish roots, or because they are so iconic, I love U2. I also pay tribute to my Canadian roots, with Tragically Hip, Our Lady Peace and Blue Rodeo being three of my all-time favourite groups and Sarah McLachlan being high on my list of favourites.
"Being a teenager in the late 90s close to Seattle, I was big into grunge in high school. Pearl Jam, Nirvana, and also bands like Metallica, Guns n Roses, but weirdly enough I also was obsessed with Mariah Carey and Roxette.
"When I think of college I think of groups like Rusted Root, Sublime, Semisonic, Third Eye Blind, Goo Goo Dolls, Eminem, 2Pac, Biggie (The Notorious B.I.G.), and a bunch of hip-hop songs that I have no idea who sings."
Ciara has given her academic education a great deal of time and has an undergraduate degree in Women's Studies and International Studies from Yale University, as well as a Masters in Sport Management from the University of Connecticut. She is also studying for a Masters in Development and International Studies from the University of Aalborg and already has a separate degree in International and Comparative Education attained from the University of Oslo.
All that studying is tough going so breaks are always welcome! Ciara mentioned 2Pac in her list of favourite artists and she decided to brush up on one of the West Coast icon's signature hits while at college. This was then one of the songs she performed for her teammates.
"With my club Asker (now Stabaek) in Norway I surprised my team by singing all the lyrics to 'Idyll' by Postgirobygget, a staple Norwegian song, which my Norwegian teammate Runa Vikestad had taught me one day when we were really bored in Denmark playing for Fortuna Hjørring. My second performance was in a team talent show when I belted out all the lyrics to 'Changes' by 2Pac, learned one summer in college when I obviously had way too much time on my hands.
"Both times it provided a good laugh, usually the case for me in any singing performance."
Besides competing in the professional game as well as coaching on numerous occasions, Ciara has taken on various challenges in her life. Her blog has detailed the many facets to her as a person as well as how she overcame social anxiety to ultimately be voted class clown in her senior year, something she counts as her biggest high school achievement.
We can all look back on the people we once were and know that they are a big reason for who we are today. Ciara is the firmest advocate of leaving your comfort zone and she has masses of friends and experiences that came as a result of being brave enough in that sense.
Being positive and constructive in the face of tough times is something she always aims for and she loves to get involved in developing players. A very important aspect of understanding Ciara is to appreciate her belief that it is the joy of the journey that matters in any endeavour, not the end goal. Therefore, using that notion loosely, it is probably safe to assume that she would have looked back on the start of her musical journey with a smile.
"My first album that I got was two tapes that I requested from Santa when I was 10. New Kids on the Block and…wait for it….Michael Bolton's Greatest Hits!
"I was a weird kid and despite being a total tomboy was obsessed with beauty pageants. 'Time, Love and Tenderness' by Michael Bolton played on one of the beauty pageants during the evening gown competition.
"I was ecstatic when Santa pulled through with Michael Bolton's album, probably circa 1990, and was the first song I remember putting on repeat."
As others who have played in the women's game will also be able to say, Ciara has seen how coaches can have a lifelong impact on players. She is grateful for the coaches who act in the spirit of professionalism, respect and fairness. Ciara names three of her past bosses as favourites: Eli Landsem (Fortuna Hjørring), Frank Lofranco (Ottawa Fury) and Dan Eggen (Kolbotn).
When Ciara brought up former Norway international defender Eggen it took me back to watching him on television as a kid when he was playing in the 1998 World Cup! The ex-Celta Vigo man presided over a season that Ciara describes as her best ever as the unfancied Kolbotn finished third in the Toppserien. She recalls a unique tribute to Eggen amongst her favourite singing moments with teammates.
"My teammate Siri Gronli for Asker was really talented with the singing and if I remember right even auditioned for Norwegian Idol. I think my favourite though was doing team skits in La Manga with Kolbotn in 2009 and all the girls singing and doing a dance routine in leotards to 'Single Ladies' by Beyonce around my Icelandic teammate Thora Helgadottir.
"She busted a move in the middle dressed with a huge black curly 'fro, pretending to be our coach Dan Eggen. I'm still laughing just thinking about it."
Ciara has talked before on her blog about how we tend to measure success but by her own admission hates losing. It has been as tough a season as could be in terms of results for Newcastle Jets and after ten W-League games they have no points. While acknowledging that losing matches is very far from enjoyable, Ciara has at least been thankful for what she has learned as a result.
She played the whole game on Saturday as the Jets were beaten 4-1 at Adamstown Oval by league leaders Melbourne Victory. There are so many young players in the Jets' ranks and they can benefit greatly by working alongside Ciara, who grew as a person as her ability as a player increased. She has made a positive impact on numerous individuals, like Laquasha, a child who taught her how sport can transcend so much and someone she was especially touched to be reunited with many years later.
With a career CV that can only be respected, Ciara is very worthy of offering her view on what is being done well in the W-League and what can be done better. She has seen the true extent of the rough and the smooth served up by the sport so here is her assessment.
"Positives for sure are the TV coverage of a match every week, the facilities, the professionalism of our coaches and the staff around our team, and from what I have seen from other teams. Also, I have been super impressed with how keen people are to talk to us about our team when we happen to be in town in our kit.
"Game day, there is a very professional feel to it, which is nice. I think as always with women's soccer it is tough because of limited budgets but I think there is a lot of potential in growing the game if there was more marketing around the team and building up awareness and relationships with the community and revenue through incorporating camps and clinics for younger players.
"Overall, it has been great. They've got a really good thing going over here and I'm honoured and feel very lucky to have been a part of it."
In all my interviews for the site I have found bits here and there from the players that have resonated with me and my feelings on life. Ciara seems to strike all the chords in that regard and she has the thing I love most about sporting personalities and indeed people in general – heart.
However long she decides to pursue her playing career for I hope that she stays in the game. She is as studious as you could wish a player to be and along with that intelligence goes a real zest for what she does. The lessons of life she is able to pass on will be invaluable to others making their way and she has been inspired by so many she has worked with, from her physio Randy Celebrini to Canadian Soccer Hall of Fame inductee Andrea Neil.
To finish, I asked Ciara to leave her comfort zone one more time! When you have enjoyed playing alongside so many people it can be a considerable task to narrow it down to four of the best. However, that is how we round off these interviews so here is Ciara to introduce her selection of career teammates she would choose to play in a 5-a-side team with.
"My line-up is a little skewed with offensive players but Thora (Helgadottir) is a really incredible keeper so I think she'll be able to handle it. First of all, there are a lot more players that I would love to put in there, but these four are pretty special.
"Thora is an unreal keeper and such an incredible person. She is super funny in a very dry way, but just commands a level of respect as a keeper and when we played together at Kolbotn kept us in games we had no business being in.
"She's gone on to one of the top teams in Europe in Malmo and has led Iceland to record-breaking accomplishments. She's maintained that level for many years and is just one of my all-time favourite friends I've made in the game, plus she took me on an Icelandic fishing TV show with her, but that's a story for another day.
"Jodie Taylor, in my opinion, is the most underrated player in the women's game. The fact that she remains uncapped for England, to be blunt, in my opinion is a joke, and a commentary on the politics that sometimes skews women's soccer.
"She's fast, she's technical, she's brilliant around goal, and she's an incredibly humble person and selfless teammate. I'm so happy that she got called in with England with their new coach (Mark Sampson) and I think they will be very lucky to get her on the field.
"Christine Sinclair is one of the most incredible players to have ever played the game. I trained with her when she was an obscure teenager in Vancouver on crappy grass fields with other soccer die-hards in the area and even then it was obvious she would be something special.
"Her finishing ability is unmatched and I'm happy she had a chance to show that on the world stage in the Olympic semi-finals. She is humble and classy, and has performed at an incredible level consistently for years.
"Christina Bonde may be the player that people haven't heard of but she is the most technically skilled player I ever played with, when she was my 33-year-old teammate at Fortuna Hjørring when I was fresh out of college. 'Bunda', as we called her, was a long-time player for the Danish national team.
"She also caused me my first near heart attack on the field when I saw her casually smoking as we checked the field out before my first game day with Fortuna. She had an incredible left foot but no right foot, and even though you knew that, she was so skilled she always managed to get it to her left.
"She had so much swag, long before the term was ever invented, and she definitely showed me how important good technique is to play the game. She was so fun to watch and play with."
Follow me on Twitter: @chris_brookes
Like Beats & Rhymes FC on Facebook and catch every interview