Allie Long interview: Thorns midfielder primed for Portland by Parisian blossoming
Portland Thorns' attacking midfielder Allie Long has NWSL glory and another chance at the US Women's National Team on her mind, and the 25-year-old feels the liberation her time with Paris Saint-Germain provided can help open the doors.
Three months into the inaugural season of the NWSL, the Thorns are fighting it out at the top of the league just behind Allie's former team Sky Blue FC. The New Yorker is one of only three players in the Portland squad to have started all 13 matches so far, alongside defenders Kat Williamson and Nikki Marshall, and she has contributed two goals and an assist in amongst her forays forward.
In 2011/12, the Huntington-born competitor took her career to the French capital when joining up with Paris Saint-Germain of the Division 1 Féminine. A midfielder who has spent time on the left wing this year, as well as up front in the past, Allie's goal record with PSG was impressive, as she scored 8 in 16 games in total. A double in the 2-1 home win against 1.FFC Frankfurt of Germany in the UEFA Women's Champions League last 16 was a highlight, although a 3-0 defeat in the first leg had ultimately put paid to their hopes of progression.
In January, it was announced that she would be part of the NWSL with Portland Thorns after she signed as a free agent following a spell with New York Fury of the WPSL Elite. The learning experiences Allie brought back with her from the French chapter of her story encompass substantial parts of her life, as she describes.
"Being overseas helped me mature as a person, being away and having the language barrier. Also being around players you've never played with who have a different style made me more versatile.
"It opened my eyes to being a player that can adjust to different environments and styles that teams play. I can't always be on a team that is my style, so it was good to get put in uncomfortable situations.
"It taught me that I still can grow a lot as a player. It showed me a different side that I didn't see here because I was never put in those situations.
"I gained more responsibility being on my own and having to learn a language without having any of my family or my friends around."
While she was in Paris, Allie played alongside Chicago Red Stars forward Ella Masar and the result was the creation of a friendship built on understanding, support and fun. It was a time for both players to benefit from new ways to be and this included the language, the approach to the game and also the music, even if it didn't all work for Allie!
"At PSG, some of the players would listen to some Spanish music which was interesting because we were in France. They loved Latin music there.
"There was one player who would listen to heartbreaking music all the time and I was like, 'why so sad?' There aren't any players on the Thorns that listen to weird music."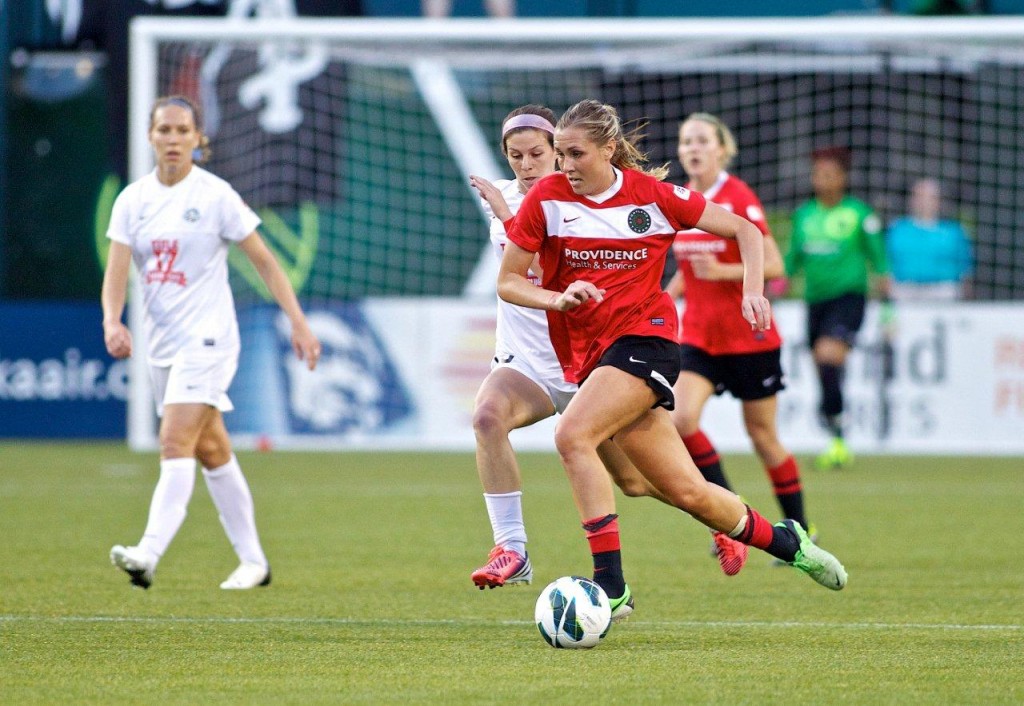 Allie had a big moment during her University of North Carolina days back in 2008 as she won the NCAA National Championship, with the Tar Heels recovering from an early setback to defeat Notre Dame 2-1. Her collegiate career had begun at Penn State where she represented the Nittany Lions and a stint with Long Island Fury preceded her Women's Professional Soccer years.
Joining Washington Freedom in 2009, she scored two goals in each of her two seasons before being an ever-present with 18 games in her year with Sky Blue FC in 2011. While with Washington, Allie worked with 2012 FIFA World Player of the Year and all-time international leading goalscorer (for men or women) Abby Wambach. It is Wambach's fellow striking star from the US team Alex Morgan who leads the line for the Thorns at present and she has five goals so far in the NWSL. Allie explains Morgan's other role for the team before they even step out onto the pitch, and also makes reference to the motivational song choice of Thorns captain Christine Sinclair, as revealed on here in February by her ex-Canada colleague Kara Lang.
"Alex Morgan chooses the music, she does a good job to set the tone before the game. It could be from Beyoncé to whatever else is out and popular and Michael Jackson's 'Man in the Mirror' because that is Sinc's (Christine Sinclair) favourite, so we've got to get that one in.
"(Music is) really important, it gets everyone pumped up and ready to go. Everyone can have fun and relax a little bit before it's time to play.
"We listen to kind of more chill music to relax after a win."
Northport-raised Allie has seen how much of a positive impact the right kind of playlist can have on her and her teammates when thoughts are being gathered calmly or racing at top speed before a game and it means a lot to her on an individual level too.
"It's very important, it can set the tone of any situation and be a mood changer. It focuses me and gets me pumped before games and relaxes me when I'm doing nothing.
"I like a variety of music from hip-hop to some folk music or indie rock. My favourite depends on the moment; it depends on what I'm in the mood for.
"50 Cent to Mumford & Sons, that's how wide a variety I listen to. I'm not a big heavy metal fan or like goth rock, that kind of stuff scares me, that's not my favourite."
Searching back through her memory bank, the artists Allie came up with when thinking of the first CD she ever bought can definitely be considered far away from the musical genres of heavy metal and goth she dislikes!
"I think it was Spice Girls 'Spice', or 'N Sync or Britney Spears."
Despite those foundations in music it would be unlikely for you to hear the likes of '2 Become 1', 'Bye Bye Bye' or 'Baby One More Time' coming from Allie. Her aforementioned teammate Alex Morgan also had something to add while Allie was discussing this!
"No way, I would never (sing in front of my teammates). If I had a really good voice, maybe I'd sing Adele. (Alex Morgan in the background: "Girl, you cannot hit those high notes!")"
The Thorns' Kat Williamson has played every minute of the team's season so far, the only player in the ranks to do so. She was named by Allie along with a fellow defender who recently joined Boston Breakers as the best of her teammates when it comes to vocal capability.
"Kat Williamson and Jazmyne Avant are good singers. Jazmyne sang the national anthem at our first game, Kat can sing Jessica Simpson, it's really good."
Wearing the number 10 jersey for the team, Allie has helped the Thorns to eight wins and 26 points from 13 games, leaving them 2nd in the NWSL, a point behind leaders Sky Blue with a game in hand. Her vision and passing, backed up with her work ethic, have been important components in allowing her to hold down a place in the side and there is much for her to enthuse about heading towards the final few weeks of the league's first season.
"I'm feeling pretty good and I'm happy that all the national team players are back for the rest of the season so we can kind of finally get everyone together and make sure we come out on top at the end. I can learn from them, they make me better and it's a good level to play soccer every day, it's fun.
"Personally, I feel pretty good. I still want to improve in areas, but the game is always changing so I hope to just keep getting better."
Allie was part of the New York Fury last year, finishing 3rd in the WPSL Elite and going to the semi-finals before being beaten by eventual overall winners Western New York Flash. This move to Portland has so far produced a lot in the way of on-field reward for Allie and the team, and they have a great basis for success in the coming weeks. Coming not too long after her adventure with PSG in France, Allie gives an insight into why her current surroundings have been such a helping hand.
"I've been impressed with the club's professionalism and the fanbase in town. I really like that Portland is small, but doesn't feel that small of a town.
"There's a lot of different restaurants and stuff to do, I like that aspect of it. If I hated where I was, that would suck.
"I really like it here, so that helps a lot."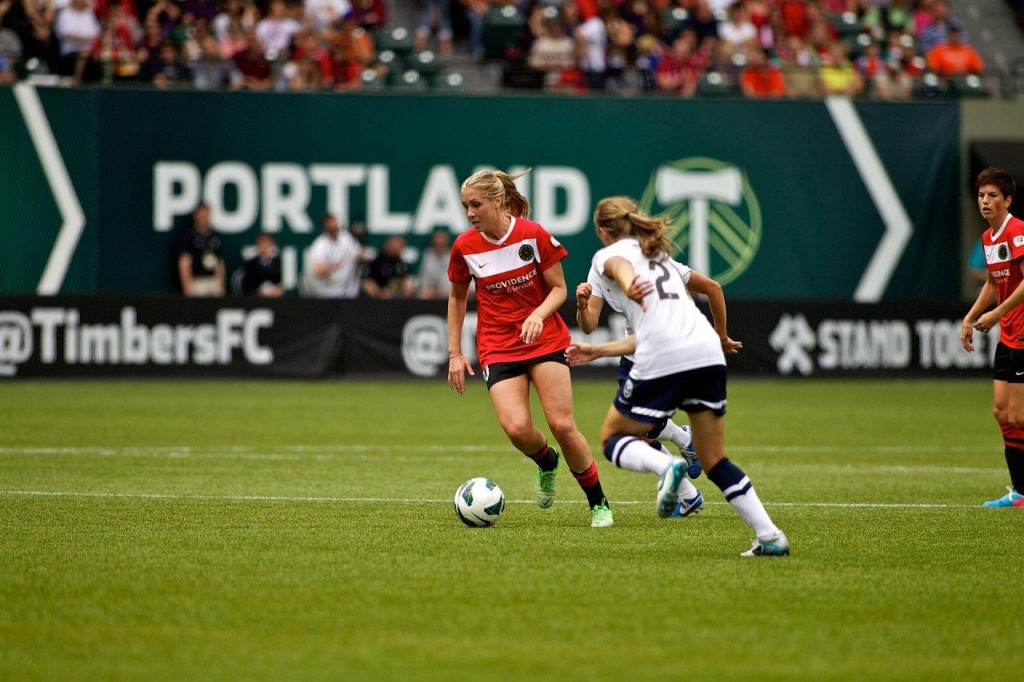 Allie's head coach at Penn State was Paula Wilkins, someone who coached nine All-Americans while with the Nittany Lions including a recent Thorns recruit and past interviewee on this site, Tiffany Weimer. It was Wilkins who convinced Allie that she could not only play for the US Under-20s but that it would benefit her too. Allie played at the Under-20 World Cup in Russia in 2006 and scored and assisted one as the US reached the semi-finals.
She also featured for the Under-21s in the spring of 2007 and was part of the senior team but picked up an injury during training in 2010. Her coach for the Thorns is Cindy Parlow Cone, a name that observers of the women's game will be very familiar with thanks to 158 caps for the US team, two Olympic Gold medals, and World Cup glory in 1999. She has been talking up Allie's chances of a return to the senior team and Allie confirms it is amongst her key ambitions.
"I would like to finish school at some point, I have about 20 credits left. I took a language at Penn State that didn't transfer over, but I can fight it.
"It's four credits, so if that gets sorted out I only have 16 credits left. I'd also like to work toward getting called into the national team.
"Those are the two main things right now. After soccer, I wanted to be a sideline reporter, but maybe be an anchor."
The Thorns take on Boston Breakers at Jeld-Wen Field this Saturday hoping that the home setting and the backing of the Rose City Riveters supporters' group can help drive them to victory. Perfecting her art on the field is one thing but Allie also likes to play the game even when she's not the one making those surges forward, although the lack of her Xbox has been holding her back lately.
"I like to hang out with my family and my friends and go to the beach, I'm a homebody. I do like to play video games, I like Call of Duty, but I haven't been able to play here so it hasn't been on my mind lately.
"I like to play FIFA too, but I'm not very good at it, I can't score. I can keep the ball, but I can't score.
"It can definitely get me in a bad mood, but I'm not crazy. I'm competitive so if someone shoots me in the game, I want to get them back."
Back when she was just four or five, Allie played in a co-ed league and her mother, who was also a soccer player, gave her the encouragement. As she focuses ahead on club and international targets here are the players from the male game who inspire Allie the most and who she would choose to play alongside her in a 5-a-side line-up. She opted not to go down the usual route on here of naming her best career teammates, but these four are useful enough to step in!
"Ronaldo (Brazilian), Andres Iniesta, (Zinedine) Zidane, Thiago Silva. Ronaldo's goalscoring ability, Iniesta's possession and creativity, Zidane's vision and Thiago Silva because he is so composed and technical.
"He's one of the best young centre-backs that I've seen in a while."
Keep up-to-date with all future interviews on Beats & Rhymes FC