Alex Nicholls interview: Wacka a number one star says Saddlers frontman
Walsall forward Alex Nicholls is one of many paying tribute to goalkeeper Jimmy Walker after the Saddlers legend became the club's all-time leading appearance maker, revealing him to be an accomplished performer on the microphone too.
The ex-West Ham United stopper, nicknamed Wacka, surpassed Colin Harrison's record as he played his 530th game for the club on Saturday, keeping a clean sheet in a goalless draw at Brentford in League One.
Alex, 24, who made his way up through the ranks at the Bescot Stadium to become a regular part of the first team over the past few seasons, keenly echoed the recent praise for the popular custodian's achievement.
"Wacka's brilliant, an amazing character and I don't think his record will ever be broken. A great singer also, he's just an all-round top man and he could go far in the music game!"
With five goals so far this term, Stourbridge-born Alex certainly looks set to be significant in Dean Smith's side's battle against relegation in the remaining months of the 2011/12 season.
Away from the ongoing fight for survival out on the field, as at most clubs there are good and bad music vibes circulating around the changing room, though it all comes down to perception of course!
"The lads' music, Manny Smith loves Drake, Trey Songz and Sneakbo. Andy Halliday (recently returned to Middlesbrough after a loan spell) is having himself as a bit of a DJ, he likes a lot of house music!
"To be honest it (the pre-game dressing room music) changes every week, the gaffer's even put his on a couple of times, it's normally just on shuffle so a bit of everything. Andy Butler's selections aren't the best, he's 28 going on 58 I think, that's all I'll say!
"All new signings have to sing too, we went to Scotland in pre-season and the new lads had to do a solo at a local karaoke bar."
The choices of former Scunthorpe United and Huddersfield Town defender Butler may not hit the spot for Alex but the back catalogue of US r&b star Jaheim and a couple of others most definitely do.
"My favourites are mostly r&b slow jams, Jaheim is probably my favourite artist. I bought Lil Wayne's album recently and that's really good.
"I don't like rock music it's just not my scene and I'm not really into indie music, no real reason I just prefer others. The first single I bought, I'm sorry to say, was a Spice Girls one, don't ask why, shocking!
"My first album was 'R.' by R. Kelly, I think I was about 12 or 13, that is a great album and I recently re-bought it on iTunes."
Alex's debut for Walsall came in December 2005 under the management of former England midfielder Paul Merson, replacing Portuguese striker Jorge Leitao in an FA Cup win at home to Yeovil Town.
The game was a few days before he turned 18 and playing alongside Merson (player/manager at the time) that season had a clear impact on Alex, as did working with a defender who would go on to establish his credentials in the Premier League.
"The best I've played with are firstly Paul Merson, his vision and technique were awesome and although I still trained with the youth team it was a great experience to play alongside and learn from such a great player. Also Scott Dann: a solid centre-half and a born leader."
Aside from a loan spell in the Conference with Burton Albion in 2007 Alex has spent the entirety of his early career with the Saddlers and he currently lies on the cusp of his 200th appearance for the club.
He has scored 25 goals in total during his opening few years in the game and his attacking qualities have been put to use on the wing, as well as in a striking role, so which does he prefer?
"I think I'm better up top, but I've played most of my career on the wing so I've learned how to play there."
As he explained previously, manager Dean Smith is one of many to have had the chance to put on his choice of music in the dressing room and the 40-year-old strikes the balance in terms of his approach and level of involvement with the players.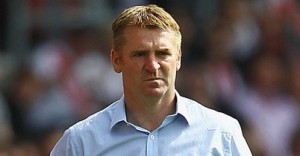 "He's good, a great coach, his sessions are spot on and he joins in with all the banter. He's one of the most laid back managers I've played under.
"He's happy for you to express yourself and he gives you freedom to play, but he's not scared to tell you if you're not pulling your weight."
Taking over the reigns part-way through last season, ex-Saddlers defender Smith performed a magnificent feat in keeping the club in League One last time around after it had looked a certainty that they would be relegated.
With 20 games of the current league campaign remaining Walsall are out of the drop zone on goal difference, tied on 24 points with Scunthorpe above them and Yeovil below in the final relegation position.
Second top scorer at the club behind striker Jon Macken, Alex is naturally aware of the most important aspects they must fine-tune if they are to stay up again when the season ends in May.
"Obviously I'm optimistic, I think you have to be, we're better than our league position shows. We do well against the big teams but seem to struggle to grind out performances against teams around us.
"We just need to be more clinical in games and if we are then I think we'll climb the table comfortably."
Ending on a personal note for the frontman with his most prominent areas of focus away from the game, an archetypal footballer's hobby has recently come into play but parenthood is his main priority.
"My biggest interests away from footy are my two-year-old daughter Grace, she's my everything, and I've also started playing golf so that's something else."