Scott Sutter interview: Swiss international longs for the sweet sounds of home
Enfield-born Switzerland defender Scott Sutter gained media attention in his homeland when his club BSC Young Boys faced his boyhood team Tottenham Hotspur in last season's Champions League and he harbours strong ambitions of a permanent return to England this summer.
Currently on loan with FC Zürich in the Swiss Super League, he saw a transfer to Blackburn Rovers fail to materialise in January but a move back home is certainly an attractive proposition for the 25-year-old, with an escape from the saturation of certain music just an added incentive!
"Everyone (in the Swiss national team) likes pretty much the same theme, there'll be hip-hop but a lot of the radio stations here completely overplay certain songs like the ones by David Guetta. They'll play it about 20 times a day and when you're getting a 45-minute massage you can hear the same song a few times so even if I might like it at first it gets boring quickly!
"I miss English radio and the wider variety you get, I never listen to the radio here in my car, I'll always have my iPod connected. Rihanna 'Umbrella' was another one that was on day in day out for about six months when it was out but also when I've been to America there are radio stations that play the latest hip-hop, but just the same four songs.
"I like a lot of different music, it depends on my mood, the older stuff like Neil Young, Bob Dylan and Dire Straits, then on the other side artists like Drake, I've got a couple of his albums. I also started playing guitar a couple of years ago as something to use to be productive with my spare time.
"I don't really like anything that's not English language like the occasional German hip-hop that a couple of the players go crazy for. I'm not into really hard house but I like funky house on a night out that I can throw a few shapes to!
"There are some of the players (at club level), Montenegrins, Serbians, Croats, and they're into some awful stuff, they love it and it's like local folk music! Some of the younger boys at Zürich too and there's a German hip-hop artist who seems to come up sometimes."
Although only in his mid-twenties Scott's recalling of the device he used to play his first bit of music on could barely be a more definitive indicator of days gone by!
"I think the first I ever had was Michael Jackson 'Black Or White' on cassette and I used to play it on a Fisher Price player, it was a little brown thing! I think I was about 7 or 8."
Born to an English mother and a Swiss father, Scott gained a considerable proportion of his footballing education as a youth with Millwall, Barnet, Aston Villa and Charlton Athletic before opting to take on the challenge of a move to Zürich outfit Grasshopper as a 16-year-old.
After experiencing European competition and overcoming injury setbacks he joined Bern club Young Boys in 2009 where he would get the opportunity to showcase his ability at the stadium where he once had a season ticket – Spurs' White Hart Lane.
Now in a second stay in Switzerland's largest city, this time with FC Zürich, he is out to enjoy his loan spell with the club while of course casting an eye on the longer-term picture with his time at Young Boys unlikely to recommence next season.
He even played the full game against his parent club on Sunday as Zürich drew 2-2 with Young Boys, with his loan employers currently 6th in the table but just three points adrift of Servette and FC Thun in 4th and 5th place respectively.
"Everything's going pretty good, yesterday was pretty special to play against my old teammates, well, still my teammates with me only being here on loan, a lot of who I'm very close to. We've had a turbulent two weeks with our manager (Urs Fischer) being replaced but it's been good for me personally being back on the field and it's a great opportunity for these four months while I'm here.
"In all honesty as long as Christian Gross remains in charge (at Young Boys) there's no chance for me to go back and play really, which is not a problem because it happens, you'll get one coach who prefers to go for other players. I'll look at it in the summer and it's my dream to go back to play in England, I've never hidden that."
In January of this year it seemed like Scott's ambition would finally come to fruition with Blackburn Rovers inviting him over ahead of a proposed transfer, although he explains the circumstances surrounding the breakdown of the deal.
"I was very close (to signing), what happened was I went there for three days training and for the medical tests and it went really well. On the Monday morning I had a meeting with (Blackburn manager) Steve Kean and he was very open and positive and I really got on with him.
"He said 'look, to be honest we'd like to bring you in for six months with the option to extend it but two weeks ago we had our first offer for (Queens Park Rangers player and also another right-back) Bradley Orr rejected and the second one is still on the table'. He said they'd hear if that was going to happen but he didn't think it would, then I got a call at the hotel saying QPR accepted the bid and that Blackburn were really sorry but Orr had been on their radar for a while before myself."
The 2010/2011 Champions League qualifying stage drew Young Boys against Tottenham Hotspur and as touched upon earlier this was a dream draw for Scott and his family.
In Bern, Young Boys beat Spurs 3-2 to take an aggregate lead to North London but Harry Redknapp's side won 4-0 in the return leg to advance to the group stage.
Nevertheless there was a large surge in media focus on Scott at the time and many people in the game were now alerted to the fact there was an English player in Switzerland.
"It was amazing to play against the team I supported and had a season ticket for, I had friends ringing me and cutting bits out of the newspaper. I played against Middlesbrough in the UEFA Cup (for Grasshopper in the 2005/06 season) and it wasn't even mentioned that I was English.
"I'd never done an English interview before either, only German ones."
In the past Scott spoke of his desire to represent England but after initially rebuffing the Swiss national team's interest he had a change of heart and finally represented the nation of his father's birth at senior level in 2010, making two appearances and also featuring in the squad for the Euro 2012 qualifier against England in Basel.
"Being in the squad and making my full debut was good, I wouldn't say I fell out of favour but the coach (Ottmar Hitzfeld) didn't think he needed me. Also with Philippe Senderos coming back from injury he felt he had sufficient cover, I was disappointed but it's not my main focus, I'm just concentrating on playing again at club level."
A new feature I have been curious about integrating into the interviews on here is to ask the players who they would choose in a 5-a-side team comprising of the best players they have ever played alongside, with themselves as one of the five on the team.
For this new question then Scott was my first test pilot, although he reckoned I might not have heard of some of his choices!
"It's difficult but Alex Farnerud, the Swedish midfielder at Young Boys, he's a great player. I need a goalkeeper in there so Marco Wölfli, also at Young Boys, he's also a really good friend.
"A guy I played with at Grasshopper called Eduardo, a Brazilian striker, and Michael Silberbauer, a Danish midfielder at Young Boys. I have to get Silberbauer in there because him and Alex together would be funny!"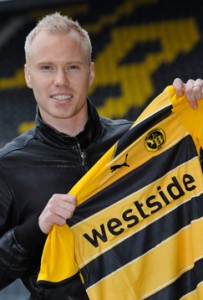 Swiss football has had an interesting season with FC Basel reaching the last 16 of the Champions League after progressing from the group Manchester United were eliminated from, but on the flipside Neuchâtel Xamax were excluded from the top division in January, declaring bankruptcy.
The Super League undoubtedly contains some talented players and you talk to most football supporters and they have now heard of the first man on Scott's list of the players he has been most impressed by in the division.
"There's two at Basel, the first is (Xherdan) Shaqiri, the little guy. He's a great player and a really nice guy as someone I know from the national team, he's quick and so exciting to watch and has the ability to decide stuff in games.
"The second is a midfielder, Granit Xhaka, he's been linked to all the top clubs and will probably move to one this summer. Also a central midfielder here at Zürich, Oliver Buff, he's got everything you need in a midfielder and if he puts on a bit of weight and develops he'll be great."
There is the off-field adaptation that comes with moving abroad and even with his Swiss father Scott still had to acclimatise to new surroundings as a teenager when he left England, so what are the main differences in the Swiss way of life?
"It's very relaxed over here, people are friendly and willing to help and are always polite and say 'good morning'. I think that's why a lot of A-list celebrities move over here too.
"Everything is very organised also which is good to an extent unless for example you park your car in the wrong place! When I get time off I look forward to going on holiday with friends and chilling out, as well as golf, so if I can combine those two that'd be my main interest away from football."