Mark Crossley interview: 'The goalkeeper and the Clough' – ex-Wales stopper's love of the 'phonics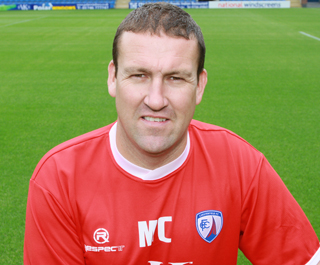 Former Wales international and top flight goalkeeper Mark Crossley has been a supporter of the Stereophonics for many years now and while the five-time UK album chart-toppers sang about 'the Bartender and the Thief', it's a slight reworking of that title when it comes to his story.
Mark got his first chance in professional football with the late, great Brian Clough's Nottingham Forest, making his debut in a 2-1 home win over Liverpool in October 1988 as a 19-year-old.
Barnsley-born, 'Big Norm', as Mark is known, would go on to spend just shy of a further 12 years at The City Ground with unforgettable on and off-pitch moments, also gracing the Premier League with Middlesbrough and Fulham.
With Neville Southall and later Paul Jones among his competitors for the number one spot for Wales, national team appearances were difficult to come by, but he played eight times for the country of his heritage and got to cross paths with some famous supporters along the way.
"My favourite group has always been Stereophonics. They were big fans of the Welsh national team whilst I played with them, I also got to know the drummer Stuart Cable very well.
"My favourite song of theirs is 'The Bartender and the Thief'. I also like Roy Orbison, Elvis and Johnny Cash and the first record I ever bought was Adam and the Ants 'Kings of the Wild Frontier' album, I would have been about 11 years old."
Mark's last game came in January 2010 for Chesterfield in a League Two game with Shrewsbury Town and he retired at the end of last season, almost 23 years after his debut for Forest.
He combined playing with coaching during his spell in League One with Oldham Athletic from 2007 to 2009 where the manager was former midfield maestro John Sheridan, before linking up again with 'Shez' at Chesterfield, where Mark is now the club's goalkeeping coach.
As you can imagine, Big Norm's slightly more vintage preferences are in stark contrast to the music on offer in the changing room at the League One Spireites.
"All kinds of stuff that I can't stand is played – some heavy rap music, some house music, I always turn it off when I walk by it. Scott Boden and Dean Morgan, theirs are the only ones that get chosen, shocking taste!
"As for Shez, he likes all the chart music."
Describing garage and house music as his least favourite, Mark recalls a snippet of the pre-match selection back in those Forest days, from the man who today took temporary charge of the England team!
"Stuart Pearce always used to put on Sex Pistols and The Clash."
While at Forest, Mark spent time on loan with Manchester United and Millwall but his experiences at his parent club include saving a penalty from Tottenham Hotspur's Gary Lineker in the 1991 FA Cup final.
That game was also a pivotal moment in the career of Paul Gascoigne as the mercurial midfielder hacked down Forest's Gary Charles and ruptured his own cruciate ligaments in the process, something many feel held him back from ultimately fulfilling his true potential.
For Mark, saving the penalty in that game makes him only one of three keepers to have saved spot kicks in an FA Cup final (aside from shootouts), alongside Wimbledon's Dave Beasant (1988) and Chelsea's Petr Cech (2010).
He also scored the first ever Premier League own goal but this is surely outweighed by the fact he was the only keeper to save a Matt Le Tissier penalty, in 1993.
Southampton great Le Tissier ended his career with 47 penalties scored from 48 attempts in the professional game – a staggering record but some accolade for Mark all the same!
Mark lists the Lineker penalty save and the two promotions achieved as his favourite memories from his time at Forest, also paying tribute, as he has often done, to his manager of the first few years of his career.
"Playing under Brian Clough was an absolute pleasure and I owe him so much for giving me my big break in football."
Clough is of course synonymous with the English game and in 18 years at Forest won two European Cups, a First Division title and four League Cups amongst others.
Mark recalls a moment where he fell foul of his boss's temper and his book 'Big Norm: The Mark Crossley Story' recounts many more similar tales from his career and life so far.
"At Aston Villa when I shook hands with the ref, Cloughie punched me in the stomach afterwards in the dressing room for doing that."
Forest's financial troubles stipulated that Mark's time at the club would come to an end in 2000 and he moved on to Middlesbrough, where he played intermittently over three seasons under Bryan Robson and Terry Venables (joint) and Steve McLaren.
A loan at second-tier Stoke City in 2002/03 provided great memories, culminating in a 1-0 final day win over Reading to keep the Potters in the division, Ade Akinbiyi with the decisive goal and Mark with a vital clean sheet.
The Stoke manager at the time was Tony Pulis in his first stint in charge, he would of course return for a second stay and still remains in the hot seat to this day in the top flight.
He heads the list of managers whom Mark enjoyed working with the most after the aforementioned Clough of course who left Forest in 1993.
"I admire Tony Pulis' honesty, I went to Stoke on loan from Middlesbrough and they were bottom of the league. I kept 7 clean sheets in 12 games including one on the last day which kept us in the league.
"Tony Pulis said I was one of the best signings he ever made. Also Chris Coleman was so understanding when I was having a tough time in my personal life and Frank Clark, who kept faith in me."
He joined Fulham in 2003 and when I brought up his time at the club I instantly thought of the game in which they defeated Jose Mourinho's title-holders Chelsea 1-0 in 2006, one where Mark played and Didier Drogba had a well-publicised goal dramatically ruled out for handball after having initially been given.
"That game (was one of the best memories from Fulham), as well as having the pleasure of working with the best goalkeeper in the world Edwin van der Sar. Also I played in a game for Fulham at Newcastle that we won 4-1, they had 29 shots on target.
"It was the best game I'd ever had and I received a 10 out of 10 in the morning papers and all the free Harrods hampers from (club owner) Mr. Al-Fayed!"
As I have alluded to once or twice in previous articles I am a Sheffield Wednesday supporter (despite my recent interview with Steve Kabba on his Blades memories!) and in December 2006 Mark scored a last-minute equaliser while on loan with us to earn a 3-3 draw with Southampton at Hillsborough.
The moment he headed home Chris Brunt's corner has often been brought up and he looks back on his time in his native South Yorkshire under the management of ex-Forest teammate Brian Laws fondly.
"I thoroughly enjoyed my time there, a great club and great supporters, and growing up as a youngster a team I always dreamt of playing for."
Also an England Under-21 international before deciding to represent Wales, his choices of the best colleagues he has had on the field in his career are certainly decent company to have plied your trade with!
"Defenders Stuart Pearce and Des Walker, midfield players Roy Keane and Ryan Giggs. Strikers Stan Collymore, Nigel Clough (also spent time in midfield), Craig Bellamy, John Hartson and Teddy Sheringham.
"Best friends in the game: Nigel Jemson, the late Gary Speed, John Sheridan, John Hartson, Vinnie Jones, Mark Williams, Jimmy Bullard, Chris Coleman and Lee Clark."
With a unique time as a player to look back on, Mark has certainly taken to the coaching aspect but does the lure (and unbelievable stress!) of management take his fancy in the long-term?
"I'm loving it so far, the CV is getting better all the time. At the moment I'm enjoying coaching but yes, one day I'd like to be in the hot seat.
"My family is most important to me. I used to have a love for greyhounds, but not anymore, I'm too busy!"