Leon Legge interview: Bees defender still loving the old school vibe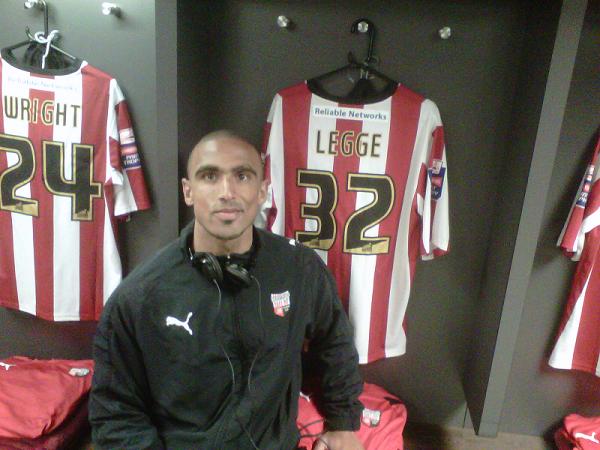 Towering defender Leon Legge is not just a considerable presence at the heart of Brentford's backline but also when it comes to the dressing room music at Griffin Park.
The 26-year-old centre-back has been a key fixture at the League One club since signing from non-league Tonbridge Angels in 2009 and the Bees' pre-match tunes tend to owe to his influence too.
"We have an iPod dock and because I have so much music on my iPod I normally put on the tunes. Lately we've been listening to hip-hop to get us up for games, mainly Rick Ross, with the heavy bass and fiery lyrics.
"To be honest everyone likes what we play in the dressing room apart from Richard Lee and Kevin O'Connor who are normally complaining!"
Leon's iPod is laden with a huge amount of urban vibes but the 6 foot 4 inch defensive stalwart enjoys different styles too.
"I'm mainly into hip-hop, r&b and reggae but I'm open to listening to different genres. For example on my iPod I do have quite a bit of indie and rock music too.
"My iPod has 16,000 tunes at the moment, my favourite artists I'd say are Notorious B.I.G., John Legend, Marvin Gaye, Musiq Soulchild and I love NWA. I'm quite old school with my music because a lot of it nowadays is more electronic.
"I'm more into good vocals and lyrics than just a good beat. I don't remember how old I was but I remember my first CD bought was Digital Underground's 'Doowutchyalike'."
In his three years at East Sussex side Lewes, from 2005 to 2008, Leon played alongside a former Premier League striker who is currently realising an ambition of being a full-time musician.
"I know an artist called Gavin Holligan who I used to play with, he was at West Ham years ago but had injuries etc. and dropped out of the league. Now he's concentrating on singing and he's doing well, he sings r&b and neo soul.
"I'm going to hopefully see him sing soon. I've listened to a few of his tunes on his website and it's really good."
While a fan of former Hammers youngster Holligan's sound, Leon is not so fond of some of the current mainstream music or a certain American rapper.
"There are a lot of synthesised sounds and too many tunes sound similar. A lot of songs nowadays it's about the beat and no effort is put into the lyrics.
"You can sing about anything these days as long as the beat's good and it can sell. One example in hip-hop would be Soulja Boy.
"His songs are pointless with rubbish lyrics but have a good beat and will normally sell."
Alongside the likes of Stuart Pearce, and in more recent times players such as Peterborough United's George Boyd, Leon has successfully made the transition from non-league into The Football League.
For someone who won Brentford's Player of the Year award in his first season, in Leon's opinion how difficult is it to make the step-up?
"It's not easy trust me. I have played with players or against ones who are in non-league still now who feel that they could play in the league.
"But sometimes you've got to be a bit lucky and take that chance. If I was to give any advice it would be to keep working hard and never give up."
Making it from non-league is a big enough achievement by itself but Leon's story has also included another personal battle.
"I have epilepsy and I'm currently still taking medication but it's controlled. I'm working with a charity called NCYPE (National Centre for Young People with Epilepsy).
"I was asked to get involved with the charity and I'm doing various things for them and trying to get people to understand more about epilepsy."
On the field, Brentford finished the 2010-11 season in 11th place in League One, ten points from the play-off places and were beaten in the Johnstone's Paint Trophy final 1-0 by Carlisle United.
The Bees have recently appointed former Manchester City and Southampton striker Uwe Rosler as their new manager, replacing caretaker boss and now-retired striker Nicky Forster.
Leon is optimistic the team can better that next season and reach the division's top 6 for the first time since successive play-off campaigns under Martin Allen in 2005 and 2006.
"Well we feel we are good enough for the the play-offs definitely. That's what the fans want and hopefully the new manager can come in and we can achieve that.
"Brentford want to be in the Championship and everyone wants to play at a higher level. Let's hope we do it this season."
Some of Leon's favourite songs:
Jamie Foxx – Gorgeous
Marvin Gaye – Got To Give It Up (Part 1)
The Notorious B.I.G. – Who Shot Ya?