Tinja-Riikka Korpela interview: These are the times – Everton's good-time goalie playing in the key of today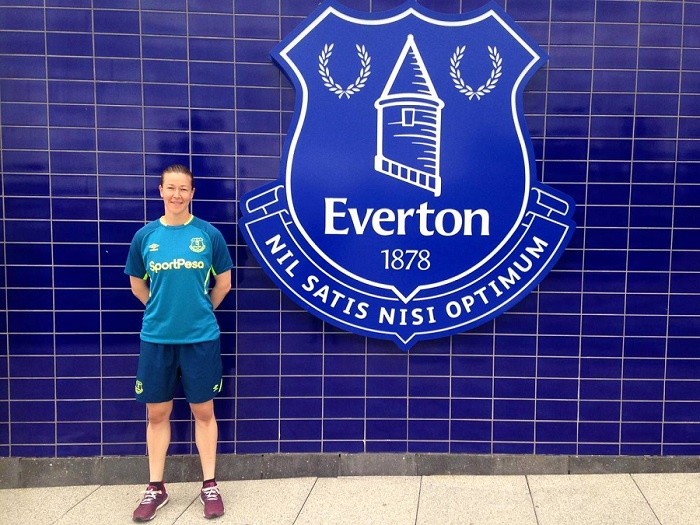 She comes from a city with a power anthem in its soul, and Finland captain Tinja-Riikka Korpela is feeling in pop-rockin' harmony with her new club Everton. A wise, warm-hearted presence, she brings awareness gleaned from time at some of Europe's leading teams, with strong desire as well to help the younger players see that 'someday' is very much now.
The popular music you grew up with is like your home town. It represents the time you came from, with parts you love (the band or song you couldn't get enough of), and other sides you are less keen to be associated with (that novelty hit you still can't quite escape).
It rings true for Everton's summer signing Tinja-Riikka Korpela, though the link is a much more obvious one when your native city quite literally is the home of the Air Guitar World Championships.
"That's our famous thing, yeah," the former Bayern Munich stopper confirmed. "I've actually never been there, but it is always in Oulu."
"It is a city in northern Finland, and obviously a really dear city for me, even though it's I think 15 years since I moved away from there. It's a big ice hockey city, that's the number-one sport in my town, and I'm also a huge ice hockey fan; Oulun Kärpät is the team and they have won the championship in Finland many times.
"My cousin (Lasse Kukkonen) plays there and he's the captain of the team, so that's a big thing in our family."
Everton's number 23 is edging nearer to a century of international caps, with a club career that has seen time in five countries, and with some reputable UEFA Women's Champions League sides. Yet there is so much – a Finnish Lakeland's worth – to discover about the one they call Tinni.
Part of Willie Kirk's Blues side that currently sit 5th in the FA Women's Super League, she is also the music lover who has never had iTunes. Her tapes and CDs that helped to brighten years gone by are stored away back in Finland, so Spotify has been her collection on the go for some time.
Together with the tracks that pack a punch, Tinni, 33, also proudly has a soft spot for some of the more mainstream music she grew up with.
"I would like to say my music taste is really wide. I like a lot of pop music; when I was younger, Britney Spears, something like that.
"Robbie Williams is my big favourite. 'She's the One,' 'Angels,' from the older songs of his, and then I like newer ones like 'Love My Life,' that's a big favourite.
"Then on the other hand, I like what we call 'power-heavy' in Finland. Some Finnish bands like Sonata Arctica, Nightwish, Apulanta; especially before training and games, it's really the kind of music I like to listen to.
"Sonata Arctica have songs in English, and the band is from north Finland, actually quite close to where I lived. Nightwish are quite a famous band in Europe and South America."
While Sonata Arctica once had Jani Liimatainen on guitar, Tinni had Jari Litmanen on her TV! The former Finland star and Liverpool attacker was one of the players she used to tune in to see as an avid fan of English Premier League football in her youth back home.
One great thing about music is that it is your instant route back somewhere; to home, to family, to that someone. Perhaps that is an even more vivid link in Tinni's case, as her girlfriend is singer Emilia Ex, previously part of the Finnish pop duo R.A.E.
She was recently in the North West to visit Tinni, who tells a little more about her.
"This year is the first year she's doing it by herself, because she used to sing with one other girl. Now she's writing new songs and making new music, and hopefully next year she can break through."
Tinni and Emilia are both performers, of course, and though they each do something that many millions around the world dream of, to be so immersed in football or music is guaranteed to take a lot out of a person. So, when it comes to music, will they talk about it in their time together, or at the very least listen to it often?
"We do, yeah," Tinni says. "For example, yesterday, we were cooking some nice dinner, so we were playing some music."
"Yesterday it was my turn to choose the music, so I think had some 'Best of the 90s' list. She was also playing some new demos of her songs, so I'm the lucky one to hear them almost as the first person, and I can give my opinion on it."
View this post on Instagram
She has her own singing star, but what if Tinni could see a live show from any act in music history? As she explains, she has already seen one of her favourites on a couple of occasions, so she chooses a little-known artist from Louisiana (apparently she was in The Mickey Mouse Club once or something…).
"I'll say Britney Spears, because she was a big name when I was a teenager. Robbie Williams I've seen twice.
"The first time was in Finland when I was around 16 years old, and then in Germany, when I played in Munich, three or four years ago."
Twice a Frauen-Bundesliga winner, the former Kolbotn and LSK keeper linked up with her sixth overseas club this season, so has she ever had to officially mark her arrival anywhere with a singing initiation?
"Actually, now for Everton, I did, and it was the first time ever that I had to sing – I guess it was about time! I know in many teams they have this for new players.
"I chose Robbie Williams, obviously, and it was 'Love My Life.' That was funny."
A three-time Finnish champion at FC Honka, she captained her national team during Euro 2013 (Finland's most recent tournament), and no Finnish keeper, male or female, has won more caps. There is an argument to say that every country's connection with music differs at least slightly from another, with it appearing fundamental to some, and less so to others.
On this site over the years, players from far and wide have shed light on the sound sector of their respective national team, and Tinni paints the picture of the musical undercurrent to Helmarit.
"It is definitely a part. It's always the younger one who has to make sure that we have the speaker with us, then usually we make the list together, so everyone gets to choose one or two songs to put on to the list for us to listen to in the changing room before the games.
"Nora Heroum, who plays for AC Milan, she's usually the one who puts the music on; she's always next to me in the changing room, so I make sure that she puts it on. I think it's so important with the music; you feel that something is missing if you don't have the music on.
"I'm the one who says 'where's the music?' if it's not on. Also, in the evenings before I go to bed, if I need to calm down then I put some nice relaxing songs on, or maybe some yoga/mindful music, just without lyrics.
"It is important, for sure."
Around this time five years ago, American midfielder Amber Brooks featured on here. On loan at Bayern Munich at the time, she told of the music-infused 'fun car rides' to training she had been enjoying with Tinni, even if she wasn't totally sold on the Finnish rap she had been introduced to!
Once upon a time in the 90s, Tinni's collection got up and running with her first album. It might have been a more easy-going listen than the rock she has come to love, but it was 'Scary' all the same, with a 'Sporty' highkick or two to be wary of.
"It might be Spice Girls, actually! On a cassette, so not even a CD; I think I got it for a Christmas present, maybe from my friend.
"My best friend, we used to always buy CDs or cassettes for each other as a Christmas present."
From 'Girl Power' on her stereo, to being part of a team that set a new attendance record for Finnish women's football. In UEFA Women's EURO 2009, 16,324 in Helsinki's Olympic Stadium saw Finland's 1-0 group win over Denmark (and Tinni was named Player of the Match).
She went on to play against England in the quarter-final, as Michael Käld's team were beaten 3-2 in Turku. Now at Everton, she plays alongside some Lionesses prospects, with one such full-back showing her skills as team DJ, too.
Tinni also tells how it was another of WoSo's new class who helped set the vibe during her Bayern stint.
"Taylor Hinds usually plays it (at Everton); she has some good playlists. In Bayern, one of the goalkeepers, Jacintha Weimar, had some good music.
"I was always hoping for some older songs, and she was listening to me, so every now and then we got some Backstreet Boys, Robbie Williams, songs like that! When I was playing for Honka in Finland, so ten years ago, I was the one who was choosing the music – I think my playlists are almost still the same now!
"That's the reason I'm not DJ, but everyone likes the 90s songs sometimes, so I try to put it on every now and then."
Over three years at Bayern brought her silverware, friendships and cultural learning, not to mention representing a global football institution. As she stops to consider her happiest time in the game so far, she realises she doesn't really have to rewind to find it.
"I have liked every place that I have been actually, and I think I have been fortunate to get to play in these teams and these leagues. I would actually say at the moment I'm happiest; I really like it here and I love the English culture, like the real, football culture.
"You can really feel that this is a football home, and it's also been a long time that I have been dreaming about playing here, so now that I'm here I'm just enjoying every day. I have been liking it a lot; I would say no problems at all.
"Obviously, I've been living in many different countries, so it's not new to me to move to a new country and a new culture, but I have really enjoyed it a lot. It's always a little bit different in different countries, but it's just up to you how you get adapted; obviously it helps a lot that I knew the language, not like in Norway and Germany, for example.
"I would say compared to Finland and Scandinavia, it's a little bit old-fashioned in some ways, like with the buildings and architecture. Also, with how things work; with the wi-fi in my apartment, for example, I had to wait for two or three weeks!
"I was like 'is this possible in 2019?'! Other than that, no problems at all."
This blue beginning with the Toffees tastes all the sweeter due to the tougher time she endured just prior. Her Vålerenga team came 6th in Norway's Toppserien last season, while Tinni was also sidelined for a time, making for the most challenging spell she has encountered in her career, she feels.
"I had big expectations going there after being many years in Germany, and I was kind of a big name when they signed me. The season didn't start that well, and me personally, I wasn't playing as well as I know I can.
"We were losing games and then I got injured; I broke my arm a year ago, so last year was a bit difficult, for sure. Maybe that's one of the reasons I feel I am really happy at the moment; I'm healthy, I'm fit, I'm playing, and we are also playing well."
Always communicating with her defenders, the connection and understanding she has struck up with people through football is something she continues to be thankful for. That said, she appreciates her own space away from the shared accommodation that many players in the game currently live in.
A touch of solitude can help you tap into what works for you and what doesn't – what captivates and what irritates! Regarding the latter, is there anything about critical analysis of goalkeepers (men's and women's game), that grates on Tinni?
"I wouldn't like to start to compare female and male football, but sometimes when you see women's games on TV, and the goalkeeper makes some kind of mistake, they usually say 'yeah, women goalkeepers,' but when you see men's games, they do exactly the same kind of mistake. That's still annoying of course.
"Then it's also a little bit annoying when they say a keeper had no chance with that shot, because I personally think you always have a chance. You might make some super stretch and still not make it, but you could have done something before the shot came, like positioning yourself in a better way, or communicating better to avoid that shot.
"I think there's always a chance."
She feels the same about Finland's immediate tournament prospects, speaking of her confidence in them reaching Euro 2021 under Anna Signeul. After 3-0 and 8-1 wins over Albania, Helmarit overcame Cyprus 4-0 at home last night to maintain their 100% start to a qualifying group also containing Scotland and Portugal.
Helsinki's climate is no joke at this time of year, though Tinni felt the opposite end of the scale just recently. Thanks to Everton's new on-field Scot skipper, her surroundings were far from Arctic, as she reveals when asked what she likes to do when not occupied by football.
"Yoga is one of my favourite hobbies. We went with Lucy Graham to hot yoga for the first time ever; I really liked it and I've been there after as well.
"TV, I don't have actually here in the apartment at all, so I'm not watching that! Obviously, I have my laptop, so I watch some Finnish series and some news in Finnish as well, and it's nice to keep updated.
"Besides that, I watch a lot of football as well; Premier League is what I've watched ever since I was a kid."
On her way from those days to now, she thinks the game can take more than a slice of credit for her personal development. A four-time consecutive (2013-2016) Finnish Footballer of the Year, Tinni shares what she believes football has taught her most since she started out.
"If I think of myself playing in Oulu, my home town, I was pretty shy and not that confident maybe. When you have to move alone to different places, different countries, you need to be open and social, and be with a positive attitude.
"Obviously, you get injured and stuff like that, but you need to still keep thinking positive and try to think what good things you still have. No matter how much you feel it's not going well, it can always be worse, and I'm in my dream job.
"That's what I try to say as well to our younger players, if they are complaining that they are tired or something like that – 'think about how fortunate we are that we can actually do this for a living.' That's something definitely that I learned."
Tinni reached the Champions League final in 2014 as part of a Tyresö FF squad that still today reads like the classic 'dream team.' Caroline Seger, Vero Boquete, Marta, Christen Press…and so on – in musical terms, a supergroup.
With a career that has been blessed with the presence of all kinds of nationalities, Tinni has quite the selection pool for this next question. The setting is a recording studio, and the task – albeit a fantasy one – is to collaborate with any of her career teammates on a song cover.
"I think I would say our Bayern Munich goalkeepers, with Manuela Zinsberger and Jacintha Weimar. We had a group and always had fun, so I think that would be something really fun, to sing with those crazy players.
"I think I would let them choose the song, and hope that I would know it."
Let's end by taking Tinni back to a sketch she can be sure she knows the lines to. Keeping Brighton at bay in a 2-0 win for Everton last time out, she has also enjoyed WSL clean sheets this season against Bristol City and Birmingham – she rocks, she rolls, she saves a lot of goals!
If she was on her way now for a 5-a-side game, who would she want to enjoy some 'power-heavy' football with? The only rule for her selections is that she has to have been a teammate of theirs at some point in her career, though there is no emphasis on making it an outright 'best four' she has ever played with.
As Tinni puts forward her four examples from the many she has shared a team dressing room with, a Finnish/German/Dutch/Brazilian band starts to form.
"I would need to start with Marta, who I played with in Sweden for Tyresö. One of the best players, if not the best player ever; it was really fun to play in the same team as her.
"Vivianne Miedema, who I played with at Bayern. A really good goalscorer, so you need to have her in the same team if you wanna score.
"Her shooting is really good with both feet, and it's really difficult to see where she is shooting. She shoots fast as well; she just knows how to score.
"If I'm choosing two more players, I need some defenders as well. Tuija Hyyrynen from the national team, plays for Juventus, is a really good defender.
"One of the best defenders I've played with, so I would name her. Then from Bayern München, Melanie Behringer, former German national team player.
"I think those four would be pretty tough to beat."
To catch each of these interviews, you can follow me: @chris_brookes
You can also like the Facebook page