Shaq Moore interview: Busca la funky forma – U.S. defender lets the faith flow on
In a faraway setting at a young age, natural challenges and the odd extraordinary obstacle similarly failed to throw American defender Shaquell Moore off course. After a La Liga introduction with Levante, full international caps have arrived this year, and with a new task for the season out on loan, relentless drive in a mellow gear is just the way the 21-year-old prefers it.
Busca la forma. The club ethos that has had some spotlight shone upon it as FC Dallas' development of young talent has been given worthy acclaim. Unlike some of the one-time FCD prospects now playing Major League Soccer, U.S. Men's National Team newcomer Shaq Moore had months rather than years at the club. The time he spent there, however, formed a worthy fragment of his professional grounding, and busca la forma (find the way) he has most certainly had to.
Americans at European clubs is a decades-old trend by now, though players flying the flag for the red, white and blue in Spanish football is an avenida altogether less travelled. Kasey Keller (Rayo Vallecano), Jozy Altidore (Villarreal) and Oguchi Onyewu (Málaga) have all played in La Liga, though Shaq Moore got there a little differently, going in at much more of a base level and gradually working up to top-flight action. Conventional has not been the way and it is true to say that ideal has not always been either for the Powder Springs, Georgia native.
From being thrust into an ongoing unpaid situation as a young pro at the now-defunct Huracán Valencia CF, the right-back has gone on to take his first La Liga steps with Levante UD. Four years into his life in Spain, he has earned his first caps with the senior U.S. team this year, and is currently in camp for the friendlies with Brazil and Mexico.
The dawn of the 2018/19 season has also brought a fresh assignment out on loan for the year at Catalonian club CF Reus Deportiu in the Segunda División. As well as a new club, it has offered some linguistic curveballs for the powerful full-back, as Shaq himself explains.
"Yeah, right now I'm here in Reus; it's like a little town and it's nice. It's smaller than Valencia, it's a different kind of vibe, but I've settled in nice.
"I have a nice little place here in Reus. Salou is a little tourist place that's really close by with a beach; it's nice to disconnect when I'm not training.
"So yeah, it's nice. The only thing I've had to try and get used to is the Catalan.
"People speak Catalan, some of the signs are in Catalan, the roads."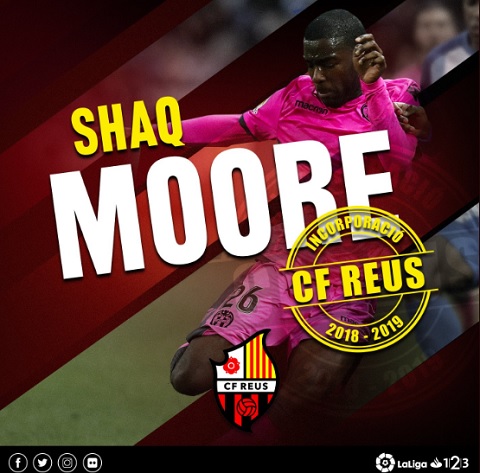 An interesting combination of laid-back contentment and undeniable professional desire go together with Shaq. International football runs in the family, with his father Wendell Moore and uncle Richard Goddard both representing Trinidad & Tobago in decades gone by.
When it came to finding his own way abroad, being able to converse was Shaq's biggest personal struggle in the first instance. A blend of cultures can make for a bubbling brew of a locker-room dynamic, though typically there are players who will be needed as a go-between for those least familiar with the language of their new club.
As has been the case for a long time now in the sport, the customary way for a new player to be officially welcomed comes in the form of a singing performance. Shaq has walked the initiation line a number of times already, drawing upon his two languages in the process.
"I have had to sing at every new club I've been at. With Levante when I stepped up to the first team, I sang 'Despacito' (Luis Fonsi featuring Daddy Yankee); that was a good one.
"With the national team I sang Bob Marley. Then here, recently, I sang Justin Bieber 'Sorry.'"
That Bob Marley choice was paying homage in part to Shaq's Caribbean heritage. Although Shaq grew up in Fort Lauderdale, Florida before moving to GA at the age of ten, his mother Michelle was born in Trinidad, with his aforementioned father Wendell hailing from Tobago.
Wendell, a defender capped by the Trinidad & Tobago national team in the mid-80s, first came to the U.S. on a soccer scholarship at Fairleigh Dickinson University, before playing semi-pro. Shaq's uncle on his mother's side of the family, Richard Goddard, was a goalkeeper for the 'Soca Warriors' between 1999 and 2002.
For Shaq, it is a corner of his identity that he dips back into frequently, with music the ever-available vehicle to help him do just that.
"Well you know I have a Caribbean background, so I listen to soca music from there, reggae. I like all types of music, but music from there is a lot of picking you up when you're down, spiritual music, stuff like that.
"Also a lot of carnival music, a lot of hype music if I want to listen to that before a game, so music's definitely been a big part. Hip-hop, some of the guys I like are Drake, 50 Cent, old-school guys, 2Pac, Biggie Smalls.
"The new Drake album ('Scorpion'), that's a good one I really like. Some old-school 50 Cent, 'Get Rich or Die Tryin'' I like a lot, so it's hard to choose just one.
"Recently some reggaeton stuff too, some Spanish trap. I kind of have a good mix of music I like."
Previously a U.S. international at Under-17, 18 and 20 level, Shaq enjoyed one of his young career's most prestigious moments as he lined up for Levante against Barcelona at the Camp Nou in January. Most interviews with him since have understandably included questions about competing against Lionel Messi in that one (but not this time!).
Although ending in a 3-0 loss on the day, that was an experience to relish, with the likes of Andrés Iniesta and Luis Suárez in opposition in one of the game's most awe-inspiring theatres. Essentially, it was just a regular league game, but in many ways just reward for the persistence and application Shaq has shown in managing to keep the groove going through some testing times as a young pro.
Trying to thrive amongst a landscape as competitive and reputable as Spanish football is tough enough on its own, but picture a scenario where the pay cheques have stopped, the referees' fees are having to be covered by the players, and a scurrying rat has even made a cameo appearance in the locker room. That was the way of it for Shaq at his first Spanish club, Huracán, as the players were galvanised by the club's severe financial plight, united in their desire to find a positive way out of the situation.
As a teenager 4,500 miles from home, Shaq says knowing that there was a light at the end of the tunnel kept him going. Mentality has been of paramount importance in his career to date, and he prefers to keep thoughts uncluttered just before it's time for business, as he describes when asked about his pre-game mood and music's role.
"I like to not be too serious; I like to be kind of mellow and go with the flow a little bit. When you get closer to the stadium, I try to listen to a little music and try to focus on what I want to do.
"(In the locker room) it's actually the same (as the U.S.). There's always music in the locker room; maybe a little bit different music.
"Sometimes they switch up and play some reggaeton. I'm actually the DJ sometimes, playing some reggae, so it's a good vibe.
"At Levante, usually it was Roger (Martí), our forward, who played the music. He had some nice tunes, a good flavour; he had some French, some Spanish.
"Or (Emmanuel) Boateng; Boateng had some good music. Music is always good to get into the feel of things.
"It's much better than a locker room without music, for sure."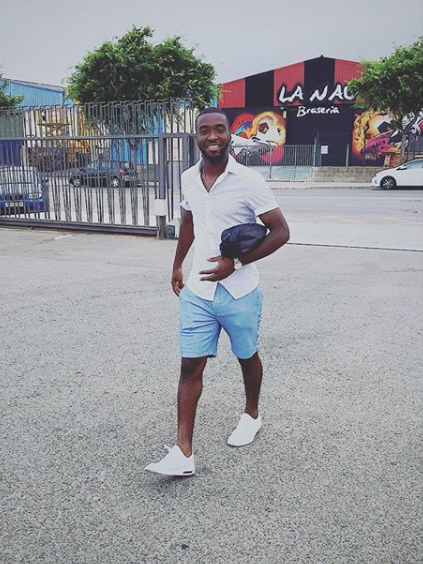 Captaining Richie Williams' U.S. team which made the last eight of the 2013 CONCACAF U-17 Championship, Shaq was part of the Under-20 World Cup squad two years later, which was another quarter-final run. Since the senior team's well-documented unsuccessful bid to reach the 2018 World Cup, Dave Sarachan was placed in charge of the team while the search for a successor goes on.
Shaq was awarded his first senior call-up in March for the friendly with Paraguay, before he debuted off the bench in June against Ireland in Dublin. Cap number two soon followed, from the start in the 1-1 draw against world-champions-to-be, France, in Lyon.
In this current camp, he finds himself alongside several young names who are also carving out their own path in Europe. One of them in particular has started to come increasingly under the microscope of late.
Together with a Newcastle United full-back, the Paris Saint-Germain youngster and son of 1995 FIFA World Player of the Year, George Weah, is bringing the beats when the national team has been together lately, according to Shaq.
"Right now, it's kind of Timmy Weah; after training he'll play some tunes. (DeAndre) Yedlin plays some tunes on the bus.
"It helps to keep the vibe good."
The training field is where some of the most crucial work is done for any team, though admittedly, effectively simulating the feel of performing at an arena like the Camp Nou is something of a stretch. In music terms, are there any live shows Shaq has been in the crowd for that he would pick out as his favourites?
"That's crazy, I actually have never been to one. I was just always playing and never had time to go, now that I think about it."
If he could choose any artist to see perform, though, from all-time?
"Between Drake, 2Pac, Biggie and 50 Cent. Those are the four big ones I'd have to go with."
Those are the performers he wishes he could see, but Shaq already gets to spend time around one in the making, as he reveals when asked which teammate he would choose to collaborate with if he ever recorded a track of his own.
"It would probably be with Timmy (Weah), because Timmy actually makes songs. I always give him heat about it and say 'oh you're no good, you should stick to the ball!' but he's good, he has some talent, so I'd do a track with him.
"It would be hip-hop/rap, for sure."
While the family was still living in Florida, Shaq played his soccer for Lauderville Lions in Fort Lauderdale. Among his brothers is CJ, a forward who has had trials at several top English clubs in the past, as well as being involved with the Trinidad & Tobago set-up.
Back in a simpler time with everyone back home, a young Shaq got his first album.
"It was definitely a CD, and probably one of 50 Cent's ones. I had it on one of the little CD players they had back in the day.
"For sure it had to be one of 50 Cent's, when he was at his height; early-2000s."
Before winning the Central Conference's Frontier Division with FC Dallas' Under-18s, Shaq had played club soccer in Georgia with Smyrna Stealth and Cobb FC. Although soccer meant he was frequently on the road, Powder Springs was the backdrop to Shaq's teen years, as he remembers.
"Yeah, it was good. It's a small, little town, so everyone kind of knew everyone.
"It's close to Atlanta; probably like 30 minutes south from Atlanta. School days was good, everyone knew each other, tight little family, there were some nice little parks.
"Looking back, I probably didn't have as much time there as I would have wanted, travelling and playing soccer across the States, but Powder Springs was a nice little place to live. I still live there actually."
Twice nominated for U.S. Soccer's Young Male Athlete of the Year (2012 and 2013), 'fútbol' was a constant for Shaq, but it was not until he witnessed one unforgettable spectacle that the die was somewhat cast for his future ambitions.
"I played a lot of basketball back in the day. I'm still a big basketball fan; my team is Miami (Heat).
"My favourite player has always been Dwyane Wade. I grew up in Fort Lauderdale and Wade brought the first championship to Miami (in 2006).
"Between Kobe (Bryant), Dwyane Wade, LeBron (James), those were my favourite guys. I knew soccer was always kind of what I wanted to do, but it's true that there was a point where I really had doubts because I really liked basketball a lot.
"Then I went to the World Cup in 2010, I saw U.S. play and from that moment I knew that this was what I wanted to do and soccer was the way to go. I didn't really have any high school because when I was 15 or 16 I went to residency with the U.S. team, so we were in school together, kind of thing.
"We did live on a campus and there were people we'd interact with, but we were always kind of together. I was there freshman and sophomore year, then after, I moved to Dallas to play for a couple months.
"That was my first kind of insight into a professional club, so Dallas definitely played a big part in my development and I have nothing but good things to say about that. One of my former coaches as well, Garvin Quamina, he's based in Atlanta, he played a huge part; all the credit has to go to him.
"After that, I came to Spain, I finished high school online, so I didn't really have the traditional high school experience."
On the subject of basketball, it is an obvious question to ask whether the legendary colossus center Shaquille O'Neal was the inspiration for Shaq's parents when choosing a name. That is indeed true, though he was named Shaquell, rather than Shaquille, in order to keep the name in line with the 'ell'-ending names in the family!
In Spanish football terms, Shaq was discovered while playing with the U.S. Under-18s in a tournament in Las Palmas. He was still 17 when in August 2014 he moved to Spain and trained with Valencia, Levante and Huracán.
His international transfer certificate took its time to come, but after signing a contract with Huracán in May 2015, he debuted as an 18-year-old that August. As the troubles the club was facing took hold, one saving grace at least was that Shaq did not have to pay rent, as he was living in a residence.
With everything else going on, though, was there ever the point of Shaq being genuinely close to returning home over the Atlantic, beyond simply finding the situation a struggle?
"For sure, there was definitely a moment in time where the thought came in my head, 'do I really wanna stay here, or take, not the easy way out, but go back to where I'm more comfortable and back to the States?' I just decided to kind of stick it out and eventually it turned around.
"I'm glad I decided to stay and I'm happy to be where I'm at right now."
Having left Huracán, it was next to Real Oviedo, where he linked up with Los Azules' B team. With time to spare still in 2016, he was off to Levante, a club where Huracán's ex-sporting director Jose 'Herni' Hernández was now working.
Shaq joined the club's reserve team, Atlético Levante UD, and in October 2017 came his first-team bow, in a Copa del Rey match away to Girona. Three days later, he was coming on for his La Liga debut in a 2-2 draw at Eibar, and he now has a handful of top-tier appearances to his name for a side that comfortably survived last season (17 points clear of relegation in 15th).
Albeit on loan, you see his name on the current U.S. roster with CF Reus beside it. The wonderfully-nicknamed La Avellana Mecánica ('The Clockwork Hazelnut') won promotion to the Segunda División for the first time in 2016, and are hoping to push on after two mid-table finishes.
Shaq's manager at the club is Xavi Bartolo, who was a forward for Levante in the mid-90s but is most known from an earlier stint at Lleida. Reus are in a league this season with former UEFA Champions League names in recently-relegated Málaga and Deportivo La Coruña, while another in RCD Mallorca have just been promoted.
Outside of professional commitments, Shaq can say he is enjoying the pace of it all.
"When I first came over, I never used to take siestas, but now I do daily for maybe an hour. But generally, I kind of like to be outside, whether it's having a coffee somewhere or just being out by the beach.
"Sometimes I like to just chill at home, play FIFA, so it just depends."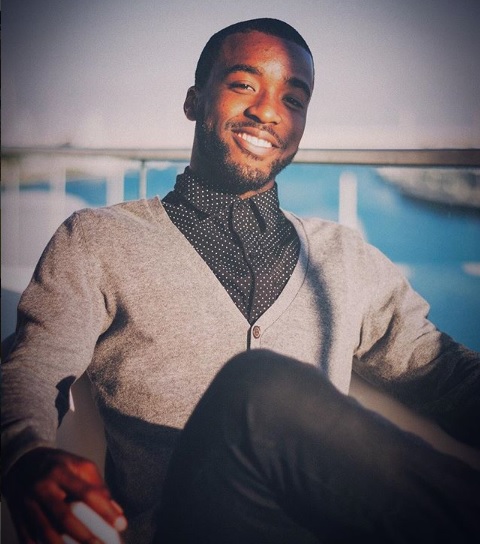 A great number of people in a player's career will pass through, though some become lasting companions. Shaq, who does not even turn 22 until November, has examples already to highlight.
"There's Tyler Turner who's around; I think he might sign with a USL team but he was with Orlando (City) for a bit. We're pretty tight; we were on the youth national teams together.
"I have a few guys in Spain I kind of keep in touch with. Aridai Cabrera, plays in Mallorca, he helped me out a lot (at Huracán), giving me some pointers and with being away from home, things like that.
"Actually, just basically the whole locker room I have from Huracán, because we were living a tough situation together, so we had each other's back. It's good to see where they're at, and to see where I'm at, because they remember when I couldn't even speak the language, this kid from a foreign country, and last year I was playing against Messi.
"It's definitely good to always have those guys in your corner."
Shaq has told the tale of going home not so long ago and finding it strange that his family were eating dinner as 'early' as 5 or 6 o'clock in the evening, such was his familiarity with the Spanish customs. He also said the point where he was dreaming in Spanish let him know he was adjusting particularly well.
Plenty of players in their early-20s have yet to really experience much in the game outside of the club they grew up in, so Shaq has a sizeable advantage in that regard. He ponders how he has changed since first leaving America for Europe.
"I think I've just gotten stronger mentally, with the situations I've been in. In the beginning at least, it wasn't ideal, but I've had to stay mentally strong and that's helped me on and off the field.
"When things go wrong I tend to just keep battling, keep my head down and not really worry about what people say. I think that will definitely help me get to where I need to be."
Considering some of the teammates Shaq has already had during his time in Spain, and with an American original in Clint Dempsey retiring at present, the scenario in this final question seems fitting.
If Shaq was to take to the 5-a-side arena against some street-football-style maestros, he would need some teammates who could hold their own. The only rule is he has to have played with them at some point during his career to date.
So who are four examples Shaq would be happy to put forward?
"That's a good question. I think the first player I'd choose is (José Luis) Morales (Nogales) (winger), for Levante.
"I don't know if you've seen the goal he scored recently against Betis, but he beat like the whole team from the halfway line and then cut in and scored a nice goal. So that's one.
"Two would be…probably Tyler Adams (midfielder, New York Red Bulls). I need a nice little engine guy who can do a little bit of everything on the field, so he'd be good.
"(Told he can choose a keeper or just go all outfield players) I'll choose a keeper, I'll show some love to the keepers. Probably Zack Steffen (Columbus Crew SC); he's doing well right now.
"Lastly…let me see. I don't have any defenders, do I?
"I'll probably put Roger (Martí), our striker from Levante, so he could get a goal in there, too."
To catch each of these interviews, you can follow me: @chris_brookes
You can also like the Facebook page and stay up to date!