Michelle Betos interview: Reign FC keeper's unbreakable link in the chain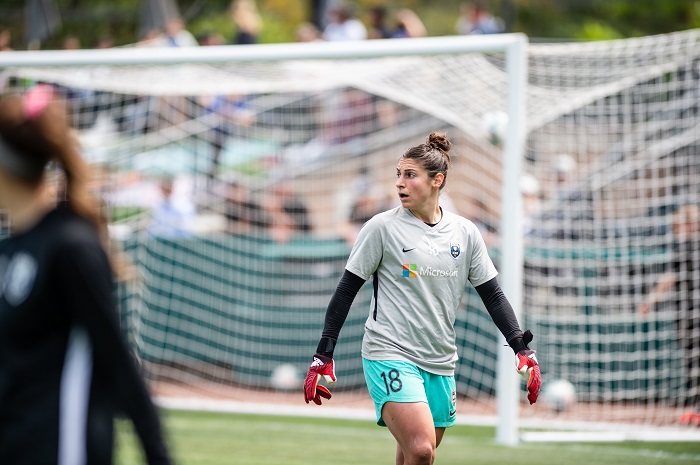 Reign FC goalkeeper Michelle Betos is conscious of – and eternally grateful for – the great times her sport has let her share with people, though the pro game can soon separate you from those same companions. For the former Portland Thorns favourite, however, one teammate can never be traded or waived, doesn't need a new contract, and has more rhythm than you can throw a stoppage-time header at.
"She's 5' 9", she's gonna get in the mix," Portland Thorns commentator Ann Schatz says, as home goalkeeper Michelle Betos joins the crowd scene in the opposing penalty area, with time fast running out and the Thorns trailing FC Kansas City 1-0 in the National Women's Soccer League (NWSL). "Represent, Michelle!" one-time U.S. Women's National Team keeper Janine Szpara excitedly chimes in on co-commentary.
The ball is cleared behind for another corner. Allie Long re-spots and serves up a deeper one this time. The delivery drops in outside the six-yard box…
"Michelle Betos scores the header! With less than a minute in stoppage time! Oh my goodness, I have seen it all!"
The June 2015 moment is one she is forever linked to, even if a superb fingertip save like the one to send Shea Groom's penalty onto the post when the teams met a year later is much closer to what she trains for. The New Yorker carries bundles of experience, taking her game to various countries during the past decade and becoming a cherished presence to those who have worked with her.
In her second season back in Seattle, like a number of her Reign FC teammates (five, in fact), her 2019 campaign has been prematurely cut short, thanks to a ruptured Achilles tendon suffered in May's win over Sky Blue FC. Two months on, though, you can find her in high spirits, progressing extremely well in her rehabilitation and glad to still feel immersed in the everyday business at her club.
The aforementioned highlight-reel moments are of course appreciated, but it is the personal connections from her career that she places far higher value on. Michelle, who counts Sydney FC and Norway's Vålerenga among her former clubs, shares why music has been such a golden link in the chain throughout this labour of glove.
"It's played such a big role, because music has the power to just transport you back to a different time, a different place. I've just had so many incredible experiences with people, and then I move on; that's the nature of my career.
"I'm so lucky that every place I go, I have this new family, this new group of friends, but that means that I'm always missing some other group of family or friends. It's been so cool throughout my career to throw on a song that brings me back to a time, or if I'm a little homesick, throw on a song.
"If I miss one group of friends from college or the Thorns, or in the off-season I wanna be back in our Reign locker room, it's actually such a powerful thing to throw on songs that make me think of those people. It happens so quickly and just like fills me up.
"Then as an athlete, I really use music as almost like preparing my state; whether I'm going into training or a game, I kind of evaluate where I'm at. Am I too high? Too low? Am I in that good middle ground?
"I actually pick music going into those things based on that. If I'm feeling a little tired or didn't sleep that well, I go a little bit more hardcore!"
With the question put to Michelle of which band or artist from all-time she would choose to see perform live, her response gives a pretty strong indication of her strength of feeling for one country collective in particular.
"I would actually say Rascal Flatts, which would probably be upsetting for some people! But I would always go to those concerts.
"Even now when I'm feeling stressed about soccer, like in this really intense place, I'll throw Rascal Flatts on and it just gives me perspective and lightens my mood. Then I'm happy and enjoying what I'm doing.
"I love all kinds of music, probably, except heavy metal. I'm from New York so I never grew up with country music, but I went to the University of Georgia, down south, and I just love country music now.
"Any time I'm in a tired mood or a bad mood, that's always my go-to. That just brightens me up and brings me back to college days, days on the lake and just times of feeling free and happy.
"I like a little bit of faster music and things like that when I'm getting ready for a workout or in the middle of a run or something like that, but really my music ranges all over the place."
Earning her degree in psychology, Michelle's time at the University of Georgia saw her 48 wins put her second all-time for Bulldogs goalkeepers, with 316 saves and 26 clean sheets ranking her third on those respective lists. Flying the nest in 2009, she spent time as a goalkeeping coach at UNC Greensboro under former UGA assistant Steve Nugent before her playing career began in earnest.
Athens, Georgia is a sizeable hike – just the 840 miles or so – from where she grew up, in the neighbourhood of Flushing, back in Queens. Home holds layer upon layer of significance and sentiment, and it was a fellow esteemed New Yorker who was responsible for the earliest soundtrack to her life.
"I know the first concert I actually went to was Billy Joel, when I was five, and I love Billy Joel. I don't think I bought the CD – I was only five years old – but I listened to it all the time in my mom's car.
"After that, it was probably like all the 'Now!' 1, 2 etc. with all the latest hits; I remember having those CDs as a kid."
Although soccer has proved an enduring love story, Michelle was very much infatuated with basketball at one time, harbouring aspirations of playing collegiately and in the WNBA. The 2015 NWSL Goalkeeper of the Year has come a long way from those early years on the court, and definitely since eating Skittles in goal as a kid!
Transitioning from back then to someone who could make it into and then subsequently hold their own in a professional soccer environment has taken immense commitment, mistakes, and refining of various practices and habits. Michelle recalls joining up with Boston Breakers for pre-season in the final year (2011) of Women's Professional Soccer (WPS).
The late, great Tony DiCicco's team had stars like Kelly Smith, Lauren Cheney (Holiday) and Leslie Osborne, with Alyssa Naeher and Kelsey Davis the goalkeepers, and present-day Reign teammates Kiersten Dallstream and Steph Cox were also in the ranks. Although she would remain for that season, after her first day, Michelle was already at a crossroads in her mind, feeling emphatically out of her depth and wondering who she actually was.
North Carolina Courage coach Paul Riley worked with her as a teenager back in New York at Albertson Fury, ultimately playing a pivotal role in her pursuing soccer instead of basketball. He said when working with Michelle at Portland Thorns that she had improved every aspect of her game over the years.
Having a handle on exactly what a locker room of players enjoy hearing probably doesn't make the list, however!
"I have never been a DJ, because most people do not like my music! In our locker room now at Reign, it's usually a cross between Lydia Williams or Darian Jenkins.
"Lydia is really good at bringing a broad range of music that pleases everyone. We always joke, we're kind of an older team, so we have Darian and some of the younger girls play us what the kids are listening to these days and try and get us hype for the game!"
Back at Portland in that 2015 season, Michelle made the NWSL's Best XI, as well as winning the league's Player of the Week award, understandably for that FCKC goal, but also for a performance that included four saves. During her Rose City spell, she worked alongside a former FIFA Women's World Player of the Year in Nadine Angerer, who it should not be forgotten once rapped a verse on a song released in Germany.
Michelle's final season as a Thorn was actually the team's strongest in regular-season play, as they topped the 2016 standings. The NWSL Shield winners would, however, suffer the pain of losing the play-off semi-final 4-3 (after extra-time) to eventual champions Western New York Flash.
With 20,086 at Providence Park, it was a topsy-turvy game to entertain many, though probably not a particular favourite for Michelle and Flash keeper Sabrina D'Angelo. It also transpired to be her last for Portland before her move to Toppserien side Vålerenga.
It is not just the level and love of the support from Portland that plays on in her mind today.
"This is actually ridiculous but it's something that we always talk about. I was at the Thorns for three years and some of those girls are retired, some are still there, but we actually just went to one of the girls' weddings (Sinead Farrelly) the other day and the song 'I Don't F With You' (Big Sean featuring E-40) was on!
"We sang it in every huddle, and playing in Portland, there's 20,000 fans, so it was just us, in this huddle, and it got us like so ready for the game. Then we did it when we played at Sky Blue, where it's a much smaller crowd, so there was like little ball girls hearing us and we just felt so bad after it!
"To this day, whenever we get together, any time there's an opportunity, we play that and it literally transfers me right back to that place and it can get me motivated for anything."
There would also be a special place for at least two of her former Thorns if she was put in the position of having to record a cover song. It brings us back to a feature on here from the end of 2015, when defender Kendall Johnson said: "I really like to write, so if I go into a coffee shop I'll listen to laid-back music, but if I want to get pumped up for a game, I'll listen to rap/hip-hop."
In the years since, it looks like she found the way to combine the beginning and end of that quote! Michelle paints the picture as she envisages her studio spectacular taking shape.
"Oh my gosh…that is really hard. Kat Williamson, I played with her at the Thorns, she's still one of my best friends, and she's just ridiculous; she's the ultimate DJ/dancer/everything.
"I would always pick her, probably so I could just hide behind her! Anything Nicki Minaj or something like that.
"Then Kendall Johnson, at that same wedding, she did an entire rap in front of friends, family, everyone at the rehearsal dinner. She just owned it and she just doesn't look the part at all!
"She wrote that one herself and has since been requested to write other ones and perform them. She loves Logic, and that's where her passion for rapping was born out of, I guess.
"She was so good, so I would get behind those two and play my role."
The woman, the myth, the legend…@MichelleBetos #BAETOS #BAONPDX
http://t.co/Pj0sz3h2pE pic.twitter.com/gaRW9NPiqv

— Kendall Johnson (@kendelish) August 14, 2015
Signing for Reign last January meant coming full circle back to where the NWSL began for Michelle. Taken second in round five of the 2013 Supplemental Draft as America's third shot at a professional women's soccer league got underway, she would see plenty of game action while Hope Solo was recovering from wrist surgery that year.
Suffice to say, though, she returned to Seattle five years later having experienced an immeasurable amount more, on and off the field. Her Achilles injury came in her fourth game this season, though somewhat incredibly (or not…it is Michelle Betos), upon hearing all their subs had been used, she wanted to play on and asked staff if they could tape it up.
Reign's season-ending injury list also currently contains Taylor Smith, Jasmyne Spencer, Jaycie Johnson, Scout Watson and Jess Fishlock. On Michelle, Vlatko Andonovski rued the loss of someone he hailed as 'part of the soul of this defense'.
In a scenario she admittedly would never have wished for, Michelle has found opportunity to exert a positive impact, while her comeback is so far going considerably better than projected.
"I'm in a very good place physically, considering the surgery I had; I had an Achilles repair. I'm way ahead of schedule and doctors, PTs, everybody like that is very happy.
"The big thing I think that's been my saving grace is just throwing myself into the things that I can do, and that seems to increase every single day, which has been really nice. Just as an athlete for so long now, I've been obsessed with the process of mastering and improvement, and I think having the game taken away from me a little bit, I was really worried about 'where am I gonna find that fulfilment?'
"To be honest, I just really, really miss playing. It's something I love to do so much, and when somebody asks 'oh, what do you do for fun?' soccer is the thing I do for fun, and it just happens to be my career, too.
"I think that's been the hardest hit, but I've actually been so lucky to not have had any major injuries in my career, so now looking at this time, I just constantly go back to 'who do I wanna be in this process?'
"There are a lot of young girls who look at us and see what we do and see the way we conduct ourselves, and to me, I'm like 'okay, who do I wanna be for my teammates? Who can I inspire through this?' Sometimes on my hardest days that's what I go back to."
Couldn't b more proud of @em_meningitis3-No one ties a shoe like her..Guess shes had a decent season too #bestXI #teamMVP #supportersaward pic.twitter.com/0vhRyOUZDk

— Michelle Betos (@MichelleBetos) October 7, 2016
A fellow New Yorker, the skilled and fleet-footed Jasmyne Spencer was one of Michelle's teammates when she made the W-League Grand Final with Sydney FC in 2015/16, as well as appearing alongside her for Cypriot club Apollon Limassol in the UEFA Women's Champions League two years earlier. Although she has been away from the club while recovering from her ACL injury, 'Jas' is Michelle's housemate, with the Reign players living in the same complex since the switch to Cheney Stadium.
Also referencing Wales star Jess Fishlock, Michelle tells how she has taken some solace in being able to go through a prolonged injury lay-off with 'two really strong athletes and humans' in the same boat. Despite their curse-like misfortune with regard to player availability in 2019, Reign are going strongly in the NWSL, in 5th position but only six points from the top, and with games in hand on everyone above them.
It goes without saying that being sidelined is everything Michelle wouldn't want; settling for mediocrity is something she does not deal in. Her day would typically include everything from visualisation to video analysis – Michelle will opt to watch games or specific individuals she wants to study – and reading up on performance and nutrition, as well as preparing carefully-tailored meals.
She also appeared on Q13 FOX News as a studio guest during the summer's FIFA Women's World Cup. Being so intensely dedicated to developing herself, does she manage to combine that with finding time to just completely disengage, with any thoughts of self-improvement temporarily cast aside?
"It's honestly an interesting thing. I think I have a very addictive personality, and I think in another lifetime, that could be a really bad thing!
"In this lifetime I've just thrown it into soccer and self-improvement. It's the thing that drives me and I just want to be better every day.
"I've heard for a long time now 'you need to relax, you need to take a break, you're gonna burn out,' and I've heard those things but I've always kind of brushed them to the side, or I've tried it and it just doesn't make me happy. The one thing I have found is that rest period, whether it's at the end of the day or end of the week, actually really does make me better or more prepared for the self-improvement and all the things I do.
"It's kind of counter-intuitive, but I have like structured rest times or rest days! When I'm in full training mode and I have that one day a week, I actually miss playing.
"I think when you're 'go, go, go,' you're going through the motions and you're ticking things off a list, but your heart and your head aren't in it the same way. At the end of the day, there is a time where I have done everything I can today, now I'm just gonna watch one of Jas's dumb reality TV shows!
"Or I'm gonna just be with family or friends, because that is something I really value, too. I think it's a really integral part of then getting back at it the next day."
Also representing Denmark's Fortuna Hjørring, for whom she played in the Champions League in late-2014, multi-national locker rooms have undoubtedly enriched Michelle's career. Given her Greek heritage – her father was a pro goalkeeper in Greece – has pursuing an international career with them, similarly perhaps to how New Jersey-born Nikki Phillips (Krzysik) represented Poland, ever crossed her mind?
"It's absolutely been something I've thought about. I'm actually half-Greek, half-Italian, so honestly, seeing the success of the Italian team in the World Cup really sparked my thinking a little bit.
"I have played overseas quite a bit, in my off-season and things like that, and I'm just so proud to be Italian and Greek, because it's such a big part of who I am and how I was raised. How I treat people and interact with people, it's just such a fundamental part of me.
"So it's definitely something I've considered. I haven't taken any actionable steps towards that, but I'd be lying if I said I wasn't thinking about that."
Maybe we will one day see her lining up for the pre-game anthems internationally. It would be quite the enduring image, though it would have some way to go to beat those shots of her as a goalscorer at Providence Park.
Together with the still frame of her diving to connect with that unforgettable header, the sight of her in utter disbelief as teammates mobbed her seconds after it crossed the line is even more memorable. The wider scene of the corner-kick she came up for is also beauty itself.
A huge crowd, full of life and colour, with two teams packed into a penalty-area pot of anguish, anticipation and adrenaline in the dying embers of the game – Rose City resplendent.
When your GK scores a diving header goal in the last seconds of the match! SO AWESOME!!! @MichelleBetos #BAONPDX pic.twitter.com/2bXpdSGg8e

— Craig Mitchelldyer (@craigmdyer) June 20, 2015
As alluded to earlier, heading home in stoppage time is not what Michelle trains for, but it is very much a moment straight off the dreamland shelf. Four years on, can she recall feeling like time had temporarily frozen, or much more like her heart was about to burst with excitement as she realised it had crossed the line?
More importantly perhaps, how glad is she to have lived it?
"I'm so grateful for it. Honestly, the best part about it is how much it meant to my teammates and the fans and my family, things like that.
"It's such an exciting moment for them. Like you said, it's not something I train for, and I just find the stuff that I work on day in and day out so much more rewarding when I perform it, but at the same time, that's incredible and there's very few goalkeepers who will ever be able to say that.
"It's especially fun now because it was against Vlatko and he's now my coach and it kills him that that happened! So I have some fun bragging rights every day.
"I was just completely I guess what you would call in the zone; I only remember the beginning and end of it, but it actually happening, I completely blacked out. Until watching videos of it, I don't even know if I could have explained it to you, and it really wasn't until after the game that I could truly enjoy it, because in my mind, I was still goalkeeper.
"Allie (Long) talks about it all the time, I scored this goal and the whole place erupted and all I can think about is I have to get back into the net. To me, we still had two minutes left and we had to defend – 'Okay, we scored and now we have to keep them off the board.'
"That's where my head was at and it wasn't until that whistle blew that I was really like 'what just happened?' and could soak in the moment a little bit and enjoy it. It's funny, every year around that time, I'll hear from people or I'll see clips of it, and it really is crazy.
"Such a cool experience and something I'll never forget."
It is a sport where as a player, your perceived capabilities are constantly being judged; by a coach, a fan, a reporter, a GM, the list goes on. There has been a growing wider realisation that just because a player performs in front of thousands of people, they are anything but immune from doubts and any manner of struggles.
The game is indeed beautiful, but can be just as treacherous and unforgiving. Going through life in this wildly unique of industries, how does Michelle at 31 reflect on what she has learned most?
"There's so much. I'm such an advocate of kids playing the game, because it's something I love to do every single day, but it's also something that's helped me grow as a person more than I think anything ever could.
"Whether it's this injury, whether it's making a team, playing professionally, winning a spot, every single day I'm faced with challenges, and I don't know if I would do all the work to overcome those things if I didn't love it so much. I love it as a vehicle for other people to do that.
"I just so wholeheartedly believe that we are all meant to do something great or experience our own greatness, and it's not even about the area of life that you do it in, but having something that you want so badly that it just drives you to growth. I'm the best version of myself because I believe that's what the game's required of me, and I think I still have so much further to go as a player and person.
"Things like this, they're really, really hard and they're exhausting, and this game has evoked more tears out of me than anything else in the world, but it's also given me the most joy I've ever experienced."
Whenever her time with a team (a band, if you will) has finished, the tour and the love for it all has gone on. Like Jackson Browne sang: "When that last guitar's been packed away, you know that I still want to play."
Luckily, there is time for one more game here. In this regular final question, the rule is that we need four teammates from the interviewee's career to go alongside them in a small-sided line-up; not specifically a 'best four,' but just an example of those they have enjoyed playing with.
So, by that reckoning, let's go with the first four Michelle mentions! With the list of elite players she continues to name, we can safely assume she hasn't finished adding to the subs' bench yet. Far from concluded, just like her own playing adventure.
"With some of the rosters I've been on, I've played with some of the best players in the world, so I feel very confident in this team! Man, that's hard…I would definitely say Pinoe (Megan Rapinoe), I would definitely say Allie (Long).
"Lu (Lauren) Barnes, Steph Catley. Tobin (Heath) and Lindsey Horan. I would pick Sinc (Christine Sinclair)…it's just insane.
"That pool of players is insane and I would be pretty confident to go against anyone else in the world. (Thinks of another) Jess Fishlock!
"It's just crazy – I don't think I would have to touch the ball against the other team!"
To catch each of these interviews, you can follow: @chris_brookes
You can also like the Facebook page