Kennya Cordner interview: Bago to the world – Sandviken's soca scoring star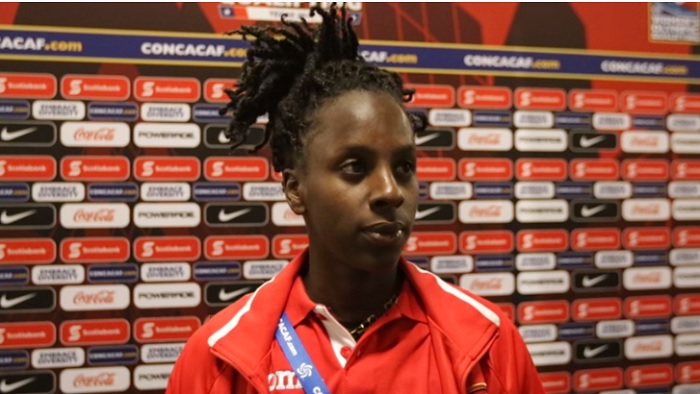 She admits she has felt the chill a little keener than most at times in Norway, but Kennya Cordner's goalscoring lit its own fire for IL Sandviken last season. Golden Boot winner in the Toppserien, the former Trinidad & Tobago forward's voyage is a colourful one, with several countries, one especially reluctant farewell, and a whole lot of learning, and liming.
This year is set to bring season eight of the National Women's Soccer League, America's third era of professional women's soccer, and a competition that has had its share of both growing pains and unforgettable moments. Back in 2013 came the flood of NWSL firsts: Portland Thorns the inaugural champions, Lauren Holiday the first MVP and Golden Boot, and Renae Cuéllar with the very first goal.
There was also its first Caribbean player, as Reign FC (then Seattle Reign) signed Trinidad & Tobago forward Kennya Cordner two months into the season. Head coach Laura Harvey spoke of her predatory ability in front of goal, and though it was an ultimately fleeting taste of the league for the player known as Yaya (with a trio of appearances), what Harvey initially saw in her has been in full effect in Norway's top division recently.
The Toppserien's 17-goal leading scorer for 2019 was one third of a triple Seattle signing back in summer 2013, alongside noteworthy US internationals Stephanie Cox and Megan Rapinoe, and Kennya reflects almost seven years on, detailing her development since.
"The experience was good, getting to play alongside the big names like Hope Solo and Rapinoe, so that was the best part of playing there. Being let go didn't come as a shock, because I knew it was coming, so really I didn't let it affect me, but the Kennya I was then and now is totally different; my game has changed so much that I cannot be stopped.
"I am stronger than I was before, I hold up the ball a lot better, I'm smarter in my decision-making with the ball, and I am a stronger finisher now than I was back then. I did learn to change a lot of things, like when to cut across a player, and cutting back with the speed I have, and putting the ball away from the goalkeeper, not going for the spectacular but the simple option."
That was year one, but the ruthlessness of American sport was of course present, in a league where its players have typically had precious little say in where they go. A 24-year-old in those Reign days, Kennya was already well versed in the Women's Premier Soccer League (WPSL) in the US, and had sampled football in Sweden (Kvarnsvedens IK) and Australia (Brisbane Roar).
Recent years also brought a stint in Paraguay with Sporting Limpeño, but her return to Scandinavia in 2018, this time with IL Sandviken in the western city of Bergen, Norway, has reaped most reward. Kennya's league-leading goal tally was a major factor in their second successive 4th-place finish, this time just six points back from a UEFA Women's Champions League place.
It has not been without its challenging times, but at the club who returned to the Toppserien in 2015 after one season away, Kennya has enjoyed the happiest spell of her club career to date.
"Well I have to say the present club and country I am in (has been the happiest), because I've been here the longest, and it has grown on me, the environment, hence the reason my football is at its best. Everything really before this was too short to create that environment, but Norway and Sandviken did that."
Packing away some (or all) of your life and throwing yourself into a new setting, with new company, and even unfamiliar cultural norms is never a breeze. Along for the ride wherever Kennya has gone has been a powerful pocket of home for the Tobago native, with rhythms not just swirling with energy, but laced with sentiment, too.
"Music means a lot to me, especially being away from home. I always feel the need to listen to some home music so I won't be so sad at times, and music always calms my nerves and puts me in a peaceful mood.
"It's a big part of the everyday life back home, because we love having a good time, partying, and as we call it, liming, and enjoying one another's company. l like all different types of music – reggae, dancehall, r&b, hip-hop, pop etc. – but I love my country's music the most, which is soca.
"I come alive whenever I hear soca music; it gives me that energy, especially before I play a game. Some songs I like: Voice 'Alive and Well,' Machel Montano 'Dr. Mashup,' Nessa Preppy x Travis World 'Issa Snack,' and Patrice Roberts 'Not One Thing.'"
She was a leader of the show for her national team up front, but also on those pre-match ones and twos, she says, as a willing playlist controller. A pivotal part of the Soca Princesses side that reached the cusp of 2015 FIFA Women's World Cup qualification, Kennya was the final player the TV camera panned to during the national anthem in their deciding qualifier with Ecuador.
With dusk falling in Port of Spain, 'Forged From the Love of Liberty' played to a packed-out venue, with a magnificent 22,000 at Hasely Crawford Stadium. It was a scene much more akin to a parallel universe than something the women's game in the Caribbean (and on every other continent, for the most part) has been able to have in its corner.
The natural temptation from the outside is to speak of the tremendous togetherness of nations small in population when it comes to a sporting context, but often that is not an entirely true tale, with barriers sometimes placed in the way of their athletes from within. Twice her country's Female Player of the Year, Kennya stepped aside just over a year ago, and not for the first time.
"I've been playing a very long time, and under the last administration, I couldn't stay and play, because they did not care about the women's program. The last game I played was against Mexico in 2018, when we lost 4-1 in October for the World Cup qualifiers.
"I really cannot say what the future holds for me with the national team, but I am willing to go back and help, but only if the right things are in place. The senior women's team has nothing going on at this moment, so I really don't have an answer for you, because I haven't been around to know what's going on."
In the 2014 CONCACAF Women's Championship, which serves as an automatic World Cup qualifying tournament for three teams, Kennya grabbed both the winner against Haiti and set Trinidad & Tobago on their way against Guatemala. The latter was an expert back-post header, with a jubilant Kennya bouncing off the turf into an acrobatic celebration.
In that American-hosted tournament, in which T&T were only beaten 1-0 by the US in the group opener, the team arrived to train with just $500 to their name. That was when head coach Randy Waldrum, then in charge at Houston Dash in the NWSL but out of season, appealed on Twitter for any available help with food and equipment.
Edged out by Costa Rica on penalties in the semi-final, less than 48 hours later they were kicking off again for a game that would go to extra-time, thankfully at least at the same venue (Philadelphia Union's PPL Park). Kennya netted their first equaliser of that third-place match against Mexico, though La Tri would ultimately triumph 4-2 in extra-time.
It took them through to that aforementioned final shot against Ecuador, and though it would not quite prove to be the Soca Princesses' time, Kennya is one player who has not forgotten the impact and efforts of their revered Texan coach Waldrum.
"Yes indeed, it was happy times working with him. He was so professional in everything that he did, and before, we didn't have that around.
"He also made sure that we as players came first, and got to know each one of us individually. He created an environment that you wanted to be around, and to play good football, because he gave you that respect as a player, so in return, you go out on the field and play your butt off, not only for your country but for him as well.
"He always said 'just go do your thing, take them on, because you have the ability, too.' To this day I have a lot of respect for him."
International football or not, she has not stopped, and her success continues to fly the flag for where she comes from. A sold-out World Cup play-off was quite something – only the crossbar denying her a sensational overhead kick in that one, by the way – but a big occasion back home is something she misses in a musical sense as well.
"Soca on the Sand, that's the first of every year. Soca Monarch, which is the big soca event for all the soca stars in the Caribbean and is held in Trinidad.
"Rehab, also a soca/dancehall event, with guest artists from Trinidad and Tobago and also the Caribbean. Carnival, well that's just the biggest and greatest show on earth, when the Caribbean and other parts of the world come to Trinidad to have two days of partying in the hot sun in those pretty costumes!
"But the past three years, I haven't been to carnival, because of football and being out of the country."
Her footballing exploits for Signal Hill Secondary School earned Kennya a first national-team call, and she debuted at just 15 years old. A talented novice on the field, she was also a relative newcomer in music-buying terms at the time!
"(The first music I bought was a) soca and dancehall mix, and it was a CD. I was 12 or 13, if I remember correctly."
Back in those days, it was Speyside and not Sandviken where she spent most of her time. Kennya sets the scene of her east Tobago village.
"Yes Speyside is a very beautiful place. Peaceful, green, and a lot of sightseeing, along with the beautiful beaches and amazing people.
"Growing up in Speyside was pretty amazing. A small village with a lot of great personalities.
"From a baby, I lived there most of my childhood. I lived with my grandmother until she passed away, and of course it is where my football started."
It was also the place where her Yaya nickname was born.
"Well when I asked about it, they told me that when I was a baby, I used to cry a lot and say 'ya ya ya ya ya,' so my grandma gave that name to me!"
So, letting herself be heard has never been much of a challenge, though in football, she has yet to be put in the position of having to sing when she has joined a new team. If she was to record a cover track, however, with any teammate(s) from her time in the game, she says her and national-team goalkeeper Kimika Forbes would find it easy to let the vocals rain down.
"It's always me and her with the dancing and singing. As for the artist (we would cover), Superblue – 'Fantastic Friday.'"
Superblue is a legendary figure in calypso circles, and Caribbean prestige would very much be the theme if she could see any artist from all-time perform.
"I have to say Bob Marley."
That unifying energy would go down well in all sorts of surroundings around the world. Some things are just universal, and few more so than football and music.
Football is its own language, and the terms for a recreational game of it differ even from Jamaica to Trinidad & Tobago. In Jamaica, you might hear 'roadball,' 'streetball' or 'scrimmage,' and where Kennya comes from, it's more likely to be 'court sweat' or simply 'sweat'.
Much of the wider world tends to group Trinidad & Tobago together, but Kennya explains some of the subtle and bigger differences.
"We speak a bit different in the lingos. Trinidad is more fast life, shopping and all the major companies, and Tobago is relaxed, tourist zone, all the beaches and waterfalls etc.
"People only know Trinidad; when she say Tobago, they ask where that is!"
We know she keeps the music to hand, but what about the food of home while she is circa 5000 miles away in Norway?
"I cook my Tobago food; I always walk with my spices so I can flavour up my pot whenever I cook, so it is like home. I miss the wild meat and dumplings with provision (local vegetables), roti (flatbread/wrap-style dish), pelau (rice), oil down (stew) and many more Bago dishes, but I am a very picky eater when it comes to eating different food, so I cook my own, which I am good at."
Her fuel has been working a treat of late, and her stellar 2019 included a double in the swashbuckling 6-4 win for Sandviken against title challengers Vålerenga, a game in which teammates Maria Brochmann and Camilla Ervik also grabbed two each. FA Women's Super League observers may also be interested to know that Reading forward Amalie Eikeland was a club colleague of Kennya's last season, before the Norwegian international left for England in August.
In her present environment, Kennya shares how her free time is largely spent. She also begins by considering what has helped her attain what she believes is her career's peak form.
"Well for me, it doesn't matter the coach, team or place, I will always do good because I am a hard worker, but the team and environment have been a big part of it. Also, my first coach Alexander Straus (who moved on to coach Norway's Under-23s) played a major part in the player I am now in Norway.
"I am always quiet at first. If my energy doesn't match others, I don't interact too much, because I don't do well around negative energy, but if the connection and positive energy is there, then the real me will come out.
View this post on Instagram
"Sandviken is a really nice place; a lot of mountains to climb, great historic sites, a lot of tourists in the spring. It rains a lot, but apart from the rain, I am always at the coffee shop – Espresso House and Starbucks – or I chill with my friends, but most of the time I like being in the apartment.
"I've lived with two of my teammates the last two years, but this year I am living on my own, because I wanted my own space."
One other top-level competition that got a glimpse of her talents was Australia's W-League back in 2010/11. Representing Brisbane Roar, Kennya put the Queenslanders in front in extra-time in their semi-final with Canberra United, only for Michelle Heyman to equalise right after. They would, though, win on penalties, and Kennya came on as they beat Sydney in the Grand Final.
Prior to that, she had undertaken a scholarship at Young Harris College, in Georgia, and Kennya was named an NJCAA (National Junior College Athletic Association) First Team All-American. Coach of the Year Kathy Brown's Mountain Lions team were number one in the NJCAA women' soccer rankings, winning the Division I Tournament in 2006 and bringing Young Harris its first national championship in any sport.
Stories of the women's game from far and wide have been told over the years, though Paraguay is a nation very firmly still under the radar. Nevertheless, it goes down as one of the checkpoints on Kennya's journey, with a 2017 spell at Sporting Limpeño.
"Paraguay wasn't what I expected, but I was grateful for the experience. Some of the facilities were okay.
"I was there for three months and they provided everything; apartment, which I shared with four other persons. For the most part, payment was never an issue, and I just wanted to feel what it's like to play in a South American country.
"The culture was very different, and me not knowing Spanish made it even harder."
The overall adventure has certainly brought happy times – a friendship like Maylee Attin-Johnson, long-time captain of the national team – but of course the sport has tested her mettle. If Sandviken ranks as her happiest spell, Kennya shares the flipside, with the toughest time, both and off the field.
"The hardest was me walking away from the national team after 14 years of playing for my country, and losing my auntie, who was my number-one support, on December 2nd 2018; she was like my second mom."
Nominated for the Toppserien's Player of the Year award alongside Synne Jensen (Røa IL) and winner Sherida Spitse (Vålerenga), Kennya actually wanted to leave Sandviken partway through last season. When the pieces seem to fit, though, in any walk of life, it is like having the wind at your back, pushing you to stride on.
Turning 31 last November, Kennya has said before that she intends to play until she is 40, so is that still the target?
"Yes indeed, as long as God gives me life and I stay healthy, I am going all the way until I am 40. I love coaching, so this year I am teaming up with this guy from my community (Earl Gray, known as Trowell) to make the (Speyside Junior) academy a place where the youths can stay off the streets and have something to do after school and stuff."
Back in 2013, as well as featuring in the NWSL, she also played in England for Trinidad & Tobago. Scoring two in a 3-0 win against Tottenham Hotspur, she struck four in a 7-1 against Queens Park Rangers.
What better way to leave it here than to give Kennya another situation where she can notch goal after goal? In this fantasy small-sided game, she needs to choose four examples of teammates from her time in football that she knows would bring what she is looking for to her team of five – fun, but a winning edge.
"Maylee (Attin-Johnson) – not because she is my best friend, but her energy and passion for the game makes you enjoy playing. Benedicte (Håland) – I have known her for a year-and-a-half and she is always so happy to be on the field to play, even though she is a goalkeeper.
"Kimika (Forbes) – another goalkeeper, but her character makes your spirit come alive when we play. Karyn (Forbes) (her and sister Kimika also come from Tobago) – we met when she started playing for the national team.
"We became close and we went to the same high school. We always make sure that we enjoy playing."
To catch each of these interviews, you can follow me: @chris_brookes
You can also like the Facebook page