James Bailey interview: Free amid the Fury – Ex-Rams midfield man's capital venture
Once a Crewe Alexandra prospect, James Bailey started to make his name at Derby County before spells with Coventry City and Barnsley, although much has changed for the Ottawa Fury FC midfielder since leaving English football last year, bringing a whole lot of fresh and new, but with space always for reminders from way back when.
Two and a half years after his first-team introduction, James was signed from League Two by Derby boss Nigel Clough in May 2010, as he brought the versatile youngster up to the Championship along with Crewe teammate John Brayford in a combined deal. There was plenty of early promise shown by the Bollington native in his Rams career, although injury trouble would be a significant contributor as he had a sharp taste of the setbacks that can so often surface in the sport.
After a season on loan with Coventry and one further year back at Derby, James made a switch to Barnsley in 2014 which so far signals his most recent tilt at the domestic game. Wholly different possibilities were to arrive next as he headed to the Indian Super League (ISL) to spend the 2015 season representing FC Pune City, with numerous ex-Premier League players for teammates and former England midfielder David Platt as his head coach.
That exposure to such an unfamiliar environment meant that the 27-year-old felt ready to accept when Canada came calling by way of North American Soccer League (NASL) team Ottawa Fury FC in January. Over the last few years, the interviews on here have dug deep into the way music uncovers the person behind the player people see on the field, and for James, it also holds true.
"Yes I love music; I'm always listening to it, whether it's in the changing room or just chilling back home. I'm a fan of hip-hop really: Drake, Future, Kanye (West), Jay-Z, Chris Brown etc.
"The track I'm into right now would have to be 'Panda' by Desiigner – it's an absolute banger."
A Manchester United supporter, football naturally took precedence for James as he grew up in Bollington, close to Macclesfield, but music has increased in significance as the years have progressed. As he looks back on a sample of his childhood backing track, he stumbles upon a song in particular which, as he later explains, provides its own little link between his younger days in Cheshire and where you currently find him across the Atlantic.
"I was always out playing with my friends growing up so I wasn't really into music that much, but I listened to the likes of Usher and Nelly. I used to love the song 'Blue (Da Ba Dee)' by Eiffel 65 when I was younger, and 'Mambo No.5' (Lou Bega)!"
James' route into the professional game ultimately lay around 25 miles away from his hometown, with Crewe Alexandra. It has frequently been noted how numerous players went on to reach the highest level after being given their start by The Railwaymen's distinguished former manager Dario Gradi, and while James would play for the Italian-born boss when he later returned to the helm, his debut actually came during the tenure of current Chelsea assistant Steve Holland.
First appearing as a 19-year-old in a League One home defeat to Doncaster Rovers in December 2007, James played 54 games over the next two seasons, experiencing relegation hardship as The Alex dropped down to the fourth tier in 2009. His rise to the Championship with Derby meant that he had been in each division of the Football League and that kind of experience appealed greatly to his NASL suitors.
The man who pinpointed him as a potential piece in his Fury FC plan was someone who knows all about a background in the North West – Glasgow-born Paul Dalglish, who spent his childhood on Merseyside during father Kenny's storied playing and managerial days at Liverpool. After a career in his own right which included spells at Newcastle United and Norwich City, as well as an MLS Cup success with Houston Dynamo, Dalglish has carved out a coaching journey in North America, which led him to becoming Fury FC boss in November.
James' move to Ottawa was announced in January with Dalglish outlining how he wanted him to help the team implement their possession-based approach, as well as going box-to-box. This is the fifth new side he has introduced himself to in his career, and with a nod to one of the late-90s one-hit wonders he mentioned earlier, he describes how he voluntarily continued the widely-known singing initiation when he arrived.
"It's tradition really back in England so I just get up and drop 'Mambo No. 5' because it gets the lads clapping and then you're fine. It's when you're trying to be serious, or you think you're good and you're actually horrific, that it can all go wrong.
"It doesn't help these days with Instagram and Snapchat either. I try and go first because it gets it out the way and then you can relax and laugh at everybody else!
"I didn't have to do it here but I just got up and did for the bit of banter for everyone."
In last year's NASL, Fury FC were Fall Season winners under Marc Dos Santos (who has since taken over at the USL's Swope Park Rangers) before a narrow 3-2 loss away to New York Cosmos in the Soccer Bowl. Having come so close to the top prize last year, the team are of course out to go one better in 2016, and recent weeks have seen the early exchanges of their Spring Season campaign.
Starting with a stretch of four away games, Fury FC have so far been beaten 3-0 by the Cosmos, picked up a 1-1 draw with Indy Eleven in Indianapolis, and after a narrow 1-0 reverse against the Carolina RailHawks in Cary, were edged out 2-0 at FC Edmonton in the Canadian derby last time out. James has played a part in each of the opening four fixtures, starting the last three in a midfield engine room led by Fury FC and Canada captain Julian de Guzman.
The former Deportivo La Coruña man was highlighted on here in October by his compatriot and current Blackburn Rovers striker Simeon Jackson, who marvelled at the depth and organisation of his music library! Although the skipper will surely get a say, it is another Canadian – as well as a Jamaican and a Northern Irishman – who is bringing the heat for the Fury's team sound system, as James explains.
"I've thrown some of mine out there now and again but it's normally (Kyle) Porter or (Dennis) Chin who like to take over, but I don't mind that. Jonny Steele as well likes to throw it down now and again."
James will soon get to play his first competitive home game at TD Place, when Fury FC take on Miami FC this coming Saturday (April 30th). The venue played host to legendary rock band AC/DC last September in what was the first major gig at the stadium since its redevelopment.
It is, however, a certain Manhattan arena on James' mind as he casts a look back on some of the best live music he has seen, as well as also putting forward a slight suggestion when asked about if he was to ever record a cover track with one or more teammates.
"I haven't really been to any festivals because they're normally going on when the season is on back in England, but I've been to Jay-Z and Kanye West at Madison Square Garden, which was a good experience. Also Drake back in England was cool, and The Weeknd and Tyga, so I've been to a few concerts, and I would like to see Chris Brown live.
"I'm not really about the duet or band life; I prefer to go solo! I couldn't see me doing a cover version of anything – that would just cringe me out – but if I had to, maybe a Chris Brown or Justin Bieber one!"
Also a full-back at times in his career so far, James made a strong impression in his debut Championship season at Derby, playing 38 games and also scoring his solitary goal for the club in the August 2010 draw at home to a Queens Park Rangers side who would win the division. He was also the recipient of the team's Young Player of the Year award (Sammy Crooks Trophy), as decided by manager Nigel Clough and his staff.
Although it came in his first month of play, James' goal against Neil Warnock's side still ranks highest in his experiences with the Rams. It was a strike from the edge of the box beyond Paddy Kenny which doubled the lead after Kris Commons' opener. As champions that season, Rangers had a knack of picking up points in testing situations and injury-time goals from Patrick Agyemang and Jamie Mackie snatched a draw from 2-0 down for the West Londoners.
With just shy of 26,000 at Pride Park (as it was still known at the time), it made for a special occasion for James to open his account in. The club is used to even bigger crowds than were there that day and James' lasting impression is understandably of that fanbase.
"My memorable moment would be when we played QPR at home; it was a massive game for us and I scored. It was my first professional goal and in front of so many people.
"I had all my friends and family there; that was a great experience. Just playing there in front of big crowds, fans crazy; that's what you want as a professional footballer."
When James considered the influences and support he had as he tried to make his impact in the East Midlands and in the Championship, he couldn't help but point to family. He also thanks a long-time former Premier League midfielder and unashamedly distinctive personality who was alongside him in that QPR game.
"To be honest, my granddad before he passed away; he always told me to believe in myself and keep going no matter what. I wish he was here to see me play my first (home) game (for Ottawa) but unfortunately he isn't.
"Also, Robbie Savage. I was quite quiet and shy when I went there and it was a big club and he took me under his wing and made me more confident and (made me) believe in myself.
"I always believed in myself but quietly, and he helped me out a lot."
James' time at Derby ended in 2014 after injuries had hindered his progress and opportunities had become increasingly tough to come by, with just two outings (against Chelsea and Blackpool) under Steve McClaren in his final season. He had, however, played 64 times for the club in total and he recalls some of the sounds behind the scenes that went with his years as a Ram, with a former Burnley goalkeeper who featured on here in October 2012 standing out, alongside the club's former defender who recently enjoyed his testimonial.
"Well Lee Grant, the goalkeeper, actually does DJ back home so he made a few mixes of hip-hop, r&b and house all in one, so there was a bit for everybody. He went by the name of 'G-Money'!
"At Barnsley, I was the DJ there. Shaun Barker at Derby would try to but he was his own man with his own style and the lads weren't really feeling his music.
"He was the captain so we let him get his way now and again, even though he knew we all hated it!"
Back in the 2012/13 season, James had been on loan with another former Premier League club, Coventry City. The Sky Blues have been embroiled in many well-documented off-field struggles in recent years and were deducted ten points toward the end of James' loan with the club, in March 2013.
That penalty ended their play-off hopes that season but was not severe enough to put them in serious danger of losing their place in League One, which is where they still remain in 2016. Brought to the club by Mark Robins, James netted against Oldham Athletic and Preston North End during the campaign and his former boss had been delighted to extend his loan mid-season.
He would draw upon that experience when he returned to the division for 2014/15 with Barnsley, signing for Danny Wilson. Lee Johnson had replaced Wilson in the latter stages of the season and after 29 appearances for the South Yorkshire side James departed last summer after an 11th-place finish for the Reds.
Rather than move to another Football League outfit, James went rather more leftfield with his next step, heading to India's western state of Maharashtra as he joined FC Pune City. The ISL team are part-owned by Italian club Fiorentina, Bollywood actor Hrithik Roshan and the Wadhawan Group, with World Cup-winning French striker David Trezeguet leading their attack in the league's inaugural season in 2014.
Managed by ex-Arsenal midfielder David Platt, a clutch of former Premier League players were on James' side as they came 7th out of eight in the competition in 2015. Ex-Tottenham Hotspur midfielder Didier Zokora came in as captain, while Romanian international and former Chelsea striker Adrian Mutu was the marquee player.
Two-cap England left-back Nicky Shorey, ex-Everton goalkeeper Steve Simonsen, one-time Birmingham City and Wolves defender Roger Johnson, and former Turkey, Middlesbrough and Stoke City forward Tuncay Şanlı, also brought top-flight backgrounds to the club. Along with mixing it next to the ISL's many stellar footballing names, James was having his first time living abroad for an extended period and wasn't sure how he would handle the challenge away from home and his family.
Ultimately, he did manage to deal with it, and that meant he had little hesitation when the move to Canada presented itself. As he considers what he has learned and how he's changed since leaving England he also details how he had his viewpoint altered somewhat from what he saw in India.
"There's always things in life in general you look back on and think maybe you should have done this or done that, but at the time you made the decision. I don't look back and have any regrets; you can't change what happened, you just have to learn from it and make sure you don't do it again.
"I wouldn't say I've changed as a player, but as a person, yes. My time in India made me realise how lucky you are over here and back home.
"People have nothing over there, absolutely nothing, and they're always smiling and willing to help you out, whereas we're upset if we don't have the latest phone or trainers. We need more people like that in the world."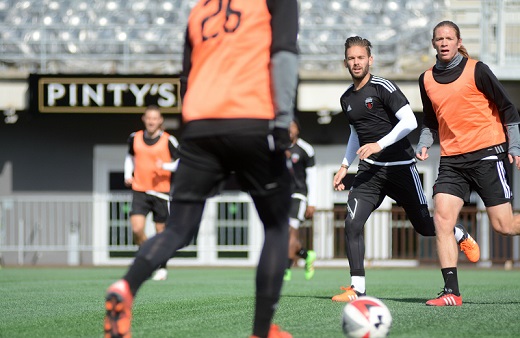 For a player taking their game to foreign shores, the competitive element of the move is what they will ultimately be judged on by various onlookers. There is of course so much beyond the professional endeavours, however, as they seek to find some familiarity in a new place and a culture that can be anywhere from slightly, to overwhelmingly removed from what they have been used to.
Describing his early feelings on life in Ottawa, James highlights an eatery in Centretown as one of the spots he has enjoyed.
"Lovely city, very relaxed, but I've been mainly just focused on my football; keeping fit mainly, recovering when we've had to, travelling. I haven't really been used to travelling that much, bar India, so I'm just adapting to all that.
"I've been to a few of the restaurants, a few of the sushi spots, I like the sushi. I went to Fauna, that's nice.
"No bars and all that now the season's started; save that for when it finishes!"
In excess of 3,000 miles separate James at present from where he grew up, where he learned his game and where family members remain. There may be vastly contrasting characteristics between Ottawa and England's North West, although that's not to say there isn't a speck of symmetry in the two places' mentality, as James explains.
"I grew up in Bollington, it's like a little village in Cheshire, but my mum's side are from Manchester so I was back and forth. It was one extreme to the other: Manchester, quite a rough area, and obviously I was in the countryside.
"It's quite a quiet and relaxed lifestyle; I like it there. It's chilled, you can just go about your business and there's no problem or anything.
"Obviously I miss my family; my sister's just had a little boy so I'm going to miss seeing him growing up, but sometimes you have to make sacrifices in life."
As is so frequently referred to, it is such a small percentage of those who play the sport as youngsters who manage to successfully break through into making it their profession, for any number of reasons. There was no shortage of talent surrounding James in his junior football set-up and he recalls the route that opened up for him.
"We had a team, Bollington United, a very good team. I used to play up a year there because I knew the owner and he helped me out because I was too young to play.
"I think we hold a record or something for unbeaten games; we used to win everything. Luckily, if you play in a good team, scouts hear about it and come and watch you.
"To be fair, about ten of us had trials at Liverpool, (Manchester) United, Crewe, and a few of us went to Crewe and the rest is history."
The widely-favoured approach in the game is to never look too far beyond what is immediately in front of you, but there is a strong introspective side to the interviews on here as we look at how the game's personalities have been shaped by the peaks of their career and the rockier parts of the ride. Following on from the additional perspective James has gained from his overseas exploits, what would he say to himself if he could go back to when he was just starting out and share his present-day understanding?
"Don't get side-tracked from anything; focus on a goal and stick to it. Always give 110 percent, and if you fall short, so be it, but just be honest with yourself knowing you gave it your all.
"Don't have any excuses like men in the pubs back home; every one of them could have been a professional football player if it wasn't for the alcohol. More importantly, always believe in yourself and what you want to achieve, or else what's the point?
"Prove them wrong."
From former players to those still competing at pro level, and all the way back to the kids only just beginning to develop their curiosity for the sport, a small-sided game is something that is never likely to struggle for willing participants. Although in essence just the same as a full-scale match but in a tighter space with fewer players, there are undoubtedly unique qualities that come with a game like this.
For each of the players who feature on here, they are asked to select four current or former teammates to go alongside them in a fantasy line-up. James filled his side with a defender from Derby, two international names from his India adventure, and an ex-Crewe keeper who swapped football for wrestling, just to keep it all in line at the back!
"Stu Tomlinson in goal: we called him 'The Cat' because he looked like a bodybuilder but could rip the saves out the top bin. He is over in Florida now doing WWE!
"Jason Shackell at the back: solid defender but is composed and can play it well. Didier Zokora in the middle: he was so calm and collected on the ball.
"Tuncay Şanlı up top: he can finish with both feet, can head, drops in the pocket and gets on the ball. I think that team would do alright.
"I would say my friends back home but I would like to win, so, sorry boys! It's all love, though."
To catch each of these interviews, you can follow me: @chris_brookes
You can also like the Facebook page and stay up-to-date