Daniel Amokachi interview: 95 'til Infinity for the Evertonian Super Eagle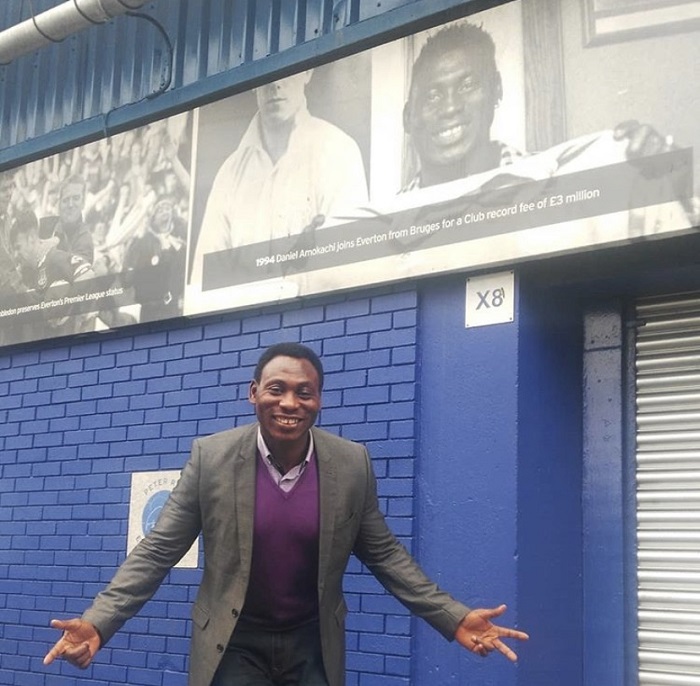 The football life of Daniel Amokachi has been played out with vigour on various continents, though England and Everton was a golden time for one of Nigeria's greatly revered former Super Eagles. What was the catalyst for the Toffees' top-flight survival in that FA Cup-winning 1994/95 campaign? Six clean sheets in the last seven? Paul Rideout's winner down at Ipswich? Maybe it was the tunes…
He has his dancing footprint in Nigerian national team history, and Daniel Amokachi is also part of an era for England's Premier League that seems to ignite so much nostalgia for those who loved following the game at that time. The mid-90s: a place today of warm and safe sentiment, when novelty dance routines and band rivalry reigned supreme, and football kits and sponsors were made to live long in the memory. Labatt's, Dagenham Motors, McEwan's Lager, you'll always mean that bit more.
In the NEC and Danka days of Everton, 'Amo' wore the shirt, and he is among the most fondly remembered Toffees players of the modern era. It may have been two seasons rather than ten, but it is a time he holds dear, for the 1995 FA Cup final win over Manchester United of course, his double against Tottenham Hotspur in the semi-final, Premier League survival the same season, and an impressive dart up the table the following year.
Just as treasured was the time he spent on Merseyside overall; illuminated by teammates, one restaurant in particular (more to follow on that one), and music. Manager Joe Royle recalled in a reunion interview put together by the club in 2017 (also featuring teammates David Unsworth and John Ebbrell) how Daniel let the pre-match moves come to the fore when goalkeeper Neville Southall played his CD in the changing room.
Daniel laughs as he thinks back to the legendary Welsh stopper's choices to get the 'Dogs of War' dancing.
"You know, Southall was one of the shittiest DJs! I came in and of course I brought my rhythm and I changed some stuff, but apparently nobody could tell Southall that his music was crap!
"I stood up and danced and everybody was happy about it, but the most beautiful thing about it was you allow everybody to play his different kind of music and then we just jam with it. Most important is putting on the music that everybody enjoys and can get motivated to, and to get geared up to move and go get it.
"I think music, for me, at Everton when we were struggling with relegation and all that, I think the music helped us to warm up to escape relegation. Even when we won the FA Cup, there's no player I think you will ask who, when telling the story, will leave the music part out of it."
Remarking how his young striker would ignite the dressing room, Joe Royle recalled House of Pain 'Jump Around' and Whigfield 'Saturday Night' being among the compilation. While 'Fine Malt Lyrics' and fleeting Danish pop sensations didn't necessarily dominate Daniel's personal playlist, what he did listen to back then still does it for him today.
"I'm old school. I've always loved my rap; hardcore like N.W.A., Tupac Shakur, Biggie, The Outlawz, the Geto Boys, those are my kind.
"I bought CDs back in the days when you could only get it that way, when you could not get stuff on the Internet. I was always in the shop picking CDs out.
"I watched MTV a lot, so any time I heard any new songs that I liked, I would visit the shop and pick those singles."
With 1996 the summer he had a major hand in Nigeria winning Olympic gold, the year also saw Daniel move to Turkey with giants Beşiktaş. For the hip-hop head, however, his time in England coincided with the last years of rapper 2Pac's life, and far from just buying his albums, he got a firsthand viewing of a cultural icon in living colour.
"Like I said, I love my rap, and I was lucky to see Tupac Shakur live. Ice Cube as well, Snoop.
"Those are the good days for me, that was when rap was rap, and all those three I think I watched when I was in England, in London. It was fun."
Hip-hop of course has its deep-rooted link to Africa, while its Bronx beginnings represent everyday circumstances that unquestionably resonate with Daniel, as he will touch upon later. In the Amo story, some of the central scenes played out in the US.
Two years before winning the Olympic tournament at Atlanta '96, his Nigeria were FIFA World Cup debutants, though Clemens Westerhof's history-makers had just won the Africa Cup of Nations in Tunisia. In their opening game at Dallas' Cotton Bowl, the Super Eagles landed with force and finesse, and brushed aside a Bulgaria team 3-0 who would also become a smash hit that summer.
After Rashidi Yekini, who sadly died in 2012, broke the deadlock and gleefully shook the net with his hands in celebration, Daniel doubled the advantage just before half-time, brushing off a defender and rounding the keeper, with his clipped finish from a tight angle sweeping him off his feet. Then came the slick dance for the watching world.
"It just popped out, that was just a moment. I love doing crazy stuff, and when I scored, it's our first World Cup ever and it's our first game, and I'm not the player who scores many goals, because we had Rashidi Yekini and we believed that he would get those goals, so we just tried to get the ball to him.
"So, for me to be on the scoresheet, at my first World Cup ever and the country's first in history, it just happened, that moment happened. It's just history today, because you can never talk about Nigerian football without talking about that goal and that day."
A 2-1 loss to Argentina in Foxborough would not knock them out of step, as they came roaring back five days later at the same venue, with Daniel sensationally putting the seal on a 2-0 win over Greece in stoppage time. His run ended with four Greek players at close quarters, as he rocketed a shot into the far corner from 25 yards.
Playing again at their adopted home in Massachusetts, the round of 16 ultimately spelled Italian heartbreak in New England. With Daniel departing injured on 35 minutes, Nigeria had their 1-0 lead snatched away on 88 by Roberto Baggio. The ponytailed poster boy would score the winner from the penalty spot in extra-time.
They would be sitting on top of the world two years later, though, with Daniel notching Nigeria's second equaliser in the Olympic final against Argentina, before Emmanuel Amuneke made them Golden Eagles with a dramatic winner in front of a monster crowd (86,117) at the University of Georgia's Sanford Stadium. As Jo Bonfrère's squad received their medals, those Nike tracksuits hung loosely and memorably off the likes of breakthrough star Nwankwo Kanu.
While it would be hard to say that was a deliberate symbol of their individual expression, there was always plenty of that in the national team regardless.
"We love our gospel song in Nigeria," Daniel explained. "We always have one or two clowns that throw their music on, and they just gear us up, on the bus and into the locker room."
"In the locker room, everybody has their special earpiece and they're listening to the songs they like listening to. Everybody just grinds to what they have, but music is always part of a black man."
As in various nations, the FA Cup was a huge event in Nigeria when Daniel was growing up. He remembers the rush to grab a good view of the television at perhaps the one and only house in his neighbourhood that had one.
As with football, music was a day-to-day fibre of life in Kaduna. Daniel paints the picture of the deeper circumstances that surrounded it.
"Yeah, well it's normal when you grow up in the ghetto and you live in a house where there's about 18 tenants living in one compound; every family has the music that they love. You wake up in the morning and everybody's grinding to what they have.
"Some like ones like Boney M., Bob Marley, some gospel, and of course the hymns. So, every household in the compound you live in has certain music that they play every morning.
"They come outside and stand in front of their door combing their afros and stuff! We saw it as kids and we just admired it.
"Africans, we love our music, we love our rhythms."
A £3 million club-record signing, Daniel came up with a crucial brace as Everton beat Kevin Keegan's Newcastle United 2-0 at home in April 1995. Four draws in a row followed, before Paul Rideout's goal meant a survival-sealing 1-0 win at Ipswich Town to spare them a repeat of the last-day white-knuckle ride of the season before.
Signed by Mike Walker, Daniel got to work with Joe Royle when the club's legendary former striker left Oldham Athletic to take the Goodison Park reins in November 1994, leading the club he watched from the stands as a youngster away from the foot of the table. His gaffer has a huge part in Daniel's now-renowned FA Cup semi-final story, which saw him told to warm up after Paul Rideout went down injured in the 4-1 win over Tottenham Hotspur at Elland Road, only to end up bringing himself on. 'The best substitution I never made,' as Royle put it.
He would prove it emphatically worthwhile, with a second-half double in front of the streams of rapturous Evertonians in Leeds. His second was set up by an unlikely source – late and lamented defender Gary Ablett, wonderfully out of position on the left wing, sliding in the ideal cross for Amo.
View this post on Instagram
In what is a regular question to these interviews, if Daniel could record a song, with any teammates from his career, Ablett, along with a meek and mild Scotsman, would be assured of a place.
"Well I think I would go with Big Dunc (Duncan Ferguson)! He's crazy like I am, so I would pick him, and may he so rest in peace, Gary Ablett.
"He was quiet but he had his own way about him, and of course, Vinny Samways. Samways is someone I think who clowns a lot, so you need those kinds of characters when you're dropping a demo."
Ex-Spurs midfielder Samways was the Charity Shield match-winner for the Blues against champions Blackburn at the start of a 1995/96 season that saw them soar to a final position of 6th. The addition of wing wizard and top goalscorer Andrei Kanchelskis from Manchester United was no small contributor.
For Daniel, he was temporarily taken out of the action. Having scored the first-leg winner (3-2) away to Icelandic side KR Reykjavík in the first round of the UEFA Cup Winners' Cup, the second leg at Goodison had less of a welcome conclusion. Everton made it through comfortably (6-3), but Daniel was taken to the neurological unit at Walton Hospital after losing consciousness in a collision.
Interestingly, he instantly recalls the aftermath of that incident as the subject of where he used to enjoy spending time in the city comes up. Suffice to say, he was a man with his priorities in order!
"There was some sexy Chinese restaurant. I don't remember the name of the place, but I remember I was knocked out in our game, and when I woke up after six or seven hours, the first thing I said was 'I need some Chinese'!
"So that tells you how delicious that Chinese is! But the most beautiful thing about them Scousers is they treat you with a lot of love; you can't get any better place than being in the city of Liverpool.
"I know the rivalry is you are either blue or you are red, but there is no better place to have fun like the city of Liverpool, believe that."
In essence, that is the connecting power football holds: a kid from Kaduna, at home on Merseyside. Prior to Everton, his four years at Club Brugge saw him win both league and cup in Belgium, as well as scoring the first group-stage goal of the rebranded UEFA Champions League, with his early match-winner at home to CSKA Moscow in November 1992.
Three years wrapped in Istanbul's footballing fervour saw his Beşiktaş twice finish top-flight runners-up, as well as Türkiye Kupası (Turkish Cup) winners in 1998. Indeed pinpointing a happiest overall time he felt as a player could never be simple.
"Well, believe me, because I always tell people, when we were growing up on the street, in the ghetto in Kaduna, we just stumbled into the fame and fortune, because football was just something you do in the street and have fun. I was picked from school to play in the Premiership in Nigeria, played for more than seven or eight months and never received my wages, because I just enjoyed football.
"To find myself in Belgium, find myself at Everton, at Beşiktaş, every club I go to I was blessed to win a trophy with that team. I'm honoured and humbled, and bless God for giving me a good ten years of professional career.
"My career was cut short at the age of 29 with a bad knee injury, but those ten years that I was blessed with, I enjoyed every moment of it, and it can't get better than that, believe that."
While he did have one more World Cup runout, starting for Bora Milutinović's Nigeria in the 1-0 group win over Bulgaria in Paris in 1998, his earlier national team boss Clemens Westerhof was as pivotal a figure as any in his career. Way before '94 and all it brought on the big stage, the Dutch coach gave him a chance as a teenager, and Daniel came on in the 1990 Africa Cup of Nations final.
Although they lost 1-0 to hosts Algeria, at 17 years old he was playing in front of a mind-blowing 105,032 people, in a team containing aforementioned striking counterpart Rashidi Yekini, and a certain Jay Jay Okocha's older brother Emmanuel. His Super Eagles manager at the time was also the one responsible for the moniker he became associated with – 'The Bull'.
"Clemens Westerhof gave me that name. I remember when he picked me up when I was 16 and there were big players playing who were in their 20s and were pros already.
"He just told me 'go in there and bully them,' and I go in there and do my stuff, and then he said 'you know why I call you The Bull? Because you charge those defenders and anybody that you see in front of you.'"
Some four years after their time together at Everton, Joe Royle was, in his own words, 'desperate' to sign Daniel for his newly-promoted Manchester City, but a knee problem sadly denied him his Premier League sequel. Connections like the one felt between him and Royle have stayed in his thoughts as his post-playing attention has largely centred upon helping the next generation.
His years as an assistant coach with Nigeria included working alongside Lars Lagerbäck at the 2010 World Cup, and his ex-teammate, the greatly missed Stephen Keshi, at the 2014 tournament. Also spending time as interim manager of his country, Daniel's club career after playing took him to Finland in 2016, as he braved the extreme chill and no shortage of challenges to lead semi-pro JS Hercules in the northern city of Oulu.
One of those who helped Nigeria hit an all-time high of fifth in the FIFA World Rankings in 1994 – the Super Eagles are currently 31st, having been as low as 82nd in the years since – he details what has been dominating his time of late.
"I've been busy with my Daniel Amokachi Foundation, which has been there since the 90s but I've been doing it really low-key, and now I'm pushing to bring it out there, because with social media and everything now, the awareness should be there. I help in the educational aspect, the medical aspect.
"Of course, I was busy with my team in Finland, JS Hercules, coaching for one year, and I still hold a technical director role, but I'm not there that much. I've been busy with CAF (Confederation of African Football) and I'm on my way to Cameroon for the AFCON 2021 committee to go and sit down and see how far the Cameroonians are with hosting next year, because it's not easy to host 24 teams."
At his wedding to wife Nadia in Tunisia in 1995, Daniel was given a note after walking down the aisle to tell him that there was a guest from Scotland in attendance – Duncan Ferguson. Daniel and Nadia's twin sons Nazim and Kalim – there is also daughter Raya – have embarked upon their own footballing path in recent years, linking up with their father along the way.
"They were in Finland in JS Hercules and they're back in Nigeria now. I spoke to a few clubs and I would love for them to play in the Nigerian league, even if it's for a season or two, but let them have a good run of good-quality football, and then we'll see what happens next."
While his own playing adventure would seem to have been cut short prematurely, it had been one awe-inspiring ride. Just as he is Nigeria's never-forgotten number 14 from the summers of '94 and '96, his number 11 on the back of that NEC-sponsored, Umbro shirt of 1994/95 is locked safely away in Evertonian folklore.
In football, there is always another chance, and for Daniel here, that is the opportunity to slip back into the old groove, in the regular closing question from these music/football interviews down the years. There is no warm-up required, just a touch of Amo imagination, as he is asked for four examples of teammates from his career that he would love alongside him if a 5-a-side game came calling.
"I would go with Big Dunc as usual; Big Dunc will always be in my team. At Brugge, I think I will pick (Franky) van der Elst; one player that I will always have beside me.
"At Beşiktaş, I will pick Sergen Yalçın. Then from my team I was growing up with in Kaduna, the goalie Daniel Abdullah, from Ranchers Bees.
"Those are players that have quality, and we will definitely have fun, on and off the pitch."
To catch each of these interviews, you can follow me: @chris_brookes
You can also like the Facebook page and stay updated