Cristiane interview: 'Let them eat chaos' – Brazil's dancing destroyer spins them another
Enigmatic she may seem, when Cristiane Rozeira de Souza Silva is in full flow, the Brazil forward can enthral and enrapture like precious few could ever dream. As the former Paris Saint-Germain star approaches what would be her fifth FIFA Women's World Cup, she unravels some of the mystery and the magic, with music and meaning.
In August 2008, at Shanghai Stadium, a place in the Olympic gold medal game of the women's football tournament awaits the winner of Brazil versus Germany. With 15 minutes remaining, Brazil's number 11 is surrounded by four German defenders, and not one can halt her, as she wriggles through their clutches to stroke a right-footer into the far corner past future FIFA World Player of the Year, Nadine Angerer.
At 4-1, it seals the deal for Brazil, and the player responsible is 23-year-old Cristiane, who marks her second goal of the night with some hypnotically smooth dance steps. The dazzling attacker wins a silver medal in this tournament, just as she did four years earlier in Piraeus, and today, nobody has scored more than her in Olympic play. Only Sophus Nielsen (a Danish forward in the early-20th century) on the men's side can match her tally of 14.
A FIFA Women's World Cup (2007) runner-up and twice named in the top three players on the planet, Cristiane potentially has a fifth World Cup on the horizon this summer in France. She has led an odyssey at club level, across several nations and multiple continents, but back in Brazil – in her native São Paulo with the renowned club of the same name – is where her talents can currently be found.
With the likes of Marta often alongside her, she has illuminated so many games through the years, most frequently with that archetypal 'wand' of a left foot. If football has been her primary vehicle for boundless creativity, music is her alternative ride.
"I grew up listening to music all the time; listening to my father's vinyl," Cristiane explains. "My uncles at the time played instruments in samba, and I have a cousin who is a DJ."
"I also play as a DJ a little bit. I play with my family, at parties with my friends.
"I play samba instruments also; I play rebolo (percussion). So, I like music a lot, and I listen all the time.
"I have all the rhythms, from all the years and times I have had."
No doubt she plays her football with timeless verve, and another World Cup for Cristiane would be the golden chance to spin that classic again. Having started out at club level in São Paulo with São Bernardo and Clube Atlético Juventus, her leap into uncharted waters began when she went to Germany with 1.FFC Turbine Potsdam having still not turned 20.
She remains a true child of the world, representing clubs in eight countries, and at 33, she does not rule out adding more legs to the tour. With her appreciation for different styles and ways comes a clear handle on where her own foundations lie; what strikes truest at her core.
That is somewhat reflected in her sound choices, she explains.
"Well, the music that I like the most? Oh, it's complicated, because I like all kinds of music, right?
"I listen to a lot of music, several rhythms, so it's difficult to specify one. There is one that I like very much, that I think identifies with many things that I have lived, and that is IZA's 'Dona de Mim.'
"A very strong song. I find it very nice."
In that song, Brazilian singer IZA touches on realising she became lost by trying to find herself, but she still does not stop on her way: 'I've cried seas and rivers, but I do not drown…I leave my faith to guide, I know I'll get there one day.'
The idea of something higher than yourself keeping you on track came up when Cristiane's Brazil teammate Camila shared some of the music she enjoys on here recently. In that interview, the Orlando Pride player also told how Cristiane will seize the initiative in setting the vibe for her teammates before a game.
Cristiane laughs as she confirms that to be the case.
"Actually, the locker-room music…it's me, right?! I put the songs on in the locker room.
"On the bus, the girls choose. We have the playlist where each player is asking for a song, but the one who finishes putting the songs on in the locker room is me."
Keeping in step with what the people want is something she does well, but does Cristiane recall the first song or album she had?
"No, I do not remember, but when I was a kid, I enjoyed listening to (80s/90s Brazilian boyband) Dominó! I made my godmother buy a Dominó tape for me at that time, because it was the band that I liked when I was a kid.
"Anyway, I grew up listening to a lot of music from the 70s and 80s, which was because of my father. The 60s as well, because my father had vinyl records and I really enjoyed listening, so I grew up listening to my father's records.
"They are the old songs that I listen to today and I really enjoy."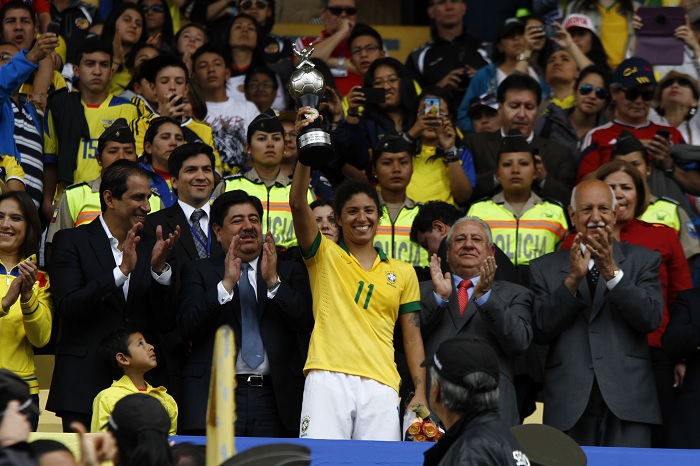 A four-time Olympian, Cristiane has never found herself away from the big stage for too long in her career. It may have technically been a non-competitive fixture, but her goal against the United States in Orlando on the Americans' 2015 World Cup Victory Tour had an artist's signature all over it.
After a bustling run from Marta, came a pass slipped through to Cristiane, whose check back managed to throw off two U.S. defenders. Her crisp left-footer from 15 yards flew comfortably beyond Hope Solo into the far corner; a masterful piece of striking play to give plenty in the crowd Women's Professional Soccer (WPS) flashbacks.
Indeed Cristiane shone brightly in Chicago Red Stars colours once upon a time, as the top scorer for Emma Hayes' side back in 2009 and a member of the league's All-Star team. As one of her teammates from that era, Ella Masar, put it during her interview on here in 2014: "I've never seen someone with her type of ability before. When she wants to work she's top class."
Against Californian club FC Gold Pride in that 2009 season, she claimed the very first WPS hat-trick. The front and back flip celebration after she had rounded Nicole Barnhart to score was highly impressive, though she surpassed it spectacularly in the second half.
One-on-one with her opponent – the legendary Brandi Chastain, no less – Cristiane threw out a stepover, and in a flash, she had knocked it through Chastain's legs with her other foot. Then came the explosive end product – a rocket into the top corner from the edge of the box.
To call it world-class is probably playing it down a touch, and Carli Lloyd was just one of the teammates to embrace her with gleeful and wide-eyed awe. There are occasions, though, when this entertainer is happy to dance to the rhythm of another, as Cristiane reveals.
"I went to the Ivete Sangalo (Brazilian singer) show, which I think is an incredible show. I've been to Thiaguinho's show too, so they're excellent artists in Brazil.
"I feel like going to a Beyoncé show; I said that I think before I die I need to go to a Beyoncé show!"
Another name on that WPS Chicago Red Stars roster was Australia goalkeeper Lydia Williams, who recalled on here in 2016 how Cristiane was one of the teammates she went to music festival Lollapalooza with. The former VfL Wolfsburg and Linköping forward's dance moves have been proven, and there is instrumental and DJing ability there too, but has she ever had to sing for an audience?
"We do samba, usually when playing instruments, and we try to sing, especially pagode. So I've used my vocal chords a little bit; I sing badly but at least I'm helping!"
View this post on Instagram

Along with Brazil teammate Érika, Cristiane joined Paris Saint-Germain in 2015, linking up with head coach Farid Benstiti after working with him at Russian club Rossiyanka. She took her considerable talents to Chinese team Changchun Zhuoyue in 2017, having played in South Korea four years earlier for the now-defunct Icheon Daekyo (originally Daekyo Kangaroos).
While at Icheon, she had long-time Brazil forward Pretinha as a teammate. Even for a vastly experienced player, the value of having someone around who represents warmth and familiarity – especially when over 11,000 miles from home – cannot be underestimated.
As many of her goal celebrations have demonstrated, she has never been short of teammates eager to get into the rhythm with her! In addition to Cristiane, musical talents in the national team include Marta and former Orlando Pride defender Mônica, to name but two.
To actually tackle a cover version of a song, though, which one would Cristiane choose to re-record? Just as importantly, does she have any teammates from her career in mind to join her on this very special track?
"So hard, huh? Record a song?
"It's complicated. I think I would sing 'Amigo' ('A Amizade' by Fundo de Quintal, among others).
"(Cristiane sings) 'Amigo, hoje a minha inspiração, se ligou em você, em forma de samba.' I think this is it, the one I would choose.
"I would sing with some friends of mine who, today, have already left the national team; they are no longer here."
Carrying an air of mystique with her, Cristiane has consistently been there at the biggest tournaments since 2003, which is just not possible without elite commitment to underpin her ability. Whether it always happens or not, the magic remains, waiting to be unleashed from a player who will go down as one of women's football's most captivating performers.
Various factors can contribute to such a player hitting their maximum, and regardless of tactical details, it is pivotal for any player to feel happy and respected. As she is asked what is most important to know about her, in order to fully understand her as a person, Cristiane also breaks down what she sees as fundamental traits and virtues.
"I think it's important that you always impose yourself. I think it's important that you put your opinion forward, whenever you have the opportunity to talk.
"I do not think you have to pull back when people try to slow you down or try to put you down. I think it's important that you impose yourself, because with that, you gain respect.
"People come to respect you, and in Brazil, in our country, as we know, there is a lot of male chauvinism and prejudice about women's football, so it is even more important that we have great strength. I believe that when you have a union of athletes too, that strength becomes even greater.
"So, to then affect you, it gets more difficult. I, as a person, have a very strong personality – within my work.
"Outside of it, I'm totally fun, relaxed, conversing with everyone; all the time I'm trying to brighten up the environment. Inside the field, I'm a little bit boring, because I do not like to lose.
"I always like to run behind, I like to give myself, to give my all, so I end up being boring Cristiane on the field, but it's for a good thing."
From the outside, we can view the polished-up versions of a country, or the most alluring parts of its culture that are typically put before us, forming our impressions largely from that. As well as highlighting some of the prejudice that exists in Brazil, however, on the football side, Cristiane has spoken before of their need to observe other national teams, in order to find their own way to evolve and challenge at the very top again.
Although they have lifted the Copa América Femenina seven times, with Cristiane scoring four on their way to success in Chile last year, Brazil have never yet won the World Cup or the Olympic tournament. As Rio hosted the 2016 Olympics, Cristiane was a scorer in the 5-1 dismantling of Sweden in the group phase, only to then sadly be one of two Brazilian players denied by Hedvig Lindahl in the semi-final shootout against the same opponents.
In 2013, she said Renê Simões' 2004 Olympic silver medal-winning team (on which she finished tournament top scorer while still a teenager) was the best group she had worked with, greatly affecting her life as a result. At club level, where has she felt happiest in her career?
"I think I felt happier, I think my best year actually playing in Europe, was playing in Paris. PSG was a place I identified with a lot, where it was easy to adapt with football and it was, I believe, the best year I ever had in my career, even by the numbers I had.
"When I was in Paris, it was a place where I was very happy."
In her aforementioned first stint overseas, Cristiane won the Frauen-Bundesliga with Turbine Potsdam in 2005/06. The 2007 FIFA Women's World Cup Bronze Ball recipient also counts the 2009 Copa Libertadores and Copa do Brasil, won with Santos, among her career's successes. In the former, she was the competition's 15-goal top scorer, racking up more than twice as many as any other player.
From what are widely considered the 'major' leagues in the women's game today, Cristiane has played in just about all of them. One that is so far missing from that list is England's FA Women's Super League.
It is a league that would surely adore her ability, so could she see herself ticking that one off the list before she steps away from playing?
"I do not rule out the possibility of playing in England; I think I'm open to everything. There are moments, there are phases.
"I think today I live a very happy time, back in my country. I do not know what the next few years will be like, but I do not rule out going to England.
"I think it's an amazing country. Women's football has grown a lot over the last few years; the publicity, the interest, the league has grown a lot.
"So I think it would be nice to have another European club in my career. It would be important."
She has been there all through these ever-developing modern times for the women's game, and while nothing is ever guaranteed in football, to see her perform at a fifth World Cup in two months' time would seem to be exactly what she deserves. Creative, cavalier, at times bordering on other-worldly, she may have described herself earlier as 'boring Cristiane on the field,' but we know that to be one role she could never quite fit.
As her groove spins on, there is one final situation for her to envisage here. If she was called to a small-sided game and asked to fill her line-up with four teammates from any time in her career so far, who does she think would fit the bill?
With five names put forward in her response, maybe she would have to settle for being Cristiane the coach! For the first few minutes perhaps.
"Well, today I would choose (defender) Aline Pellegrino, (defender/midfielder) Renata Costa, (winger) Bárbara Kulaif. I would choose Grazi (winger Grazielle), and as goalkeeper, Mayla.
"These are girls that I played with both inside and outside the national team. These are people I really like, admire, and are my friends to this day."
To catch each of these interviews, you can follow: @chris_brookes
You can also like the Facebook page