Brooke Chaplen interview: Black Cats midfielder and the upbeat sounds for the offbeat steps
Adding her understanding and poise to Sunderland AFC Ladies as they reached new heights last year, former Everton midfielder Brooke Chaplen settled swiftly in the North East, finding her spot among a group possessing the steel and character to serve them so well on the pitch, along with a welcome unpredictability off it.

Sunderland's 4-0 last-day win at Millwall Lionesses to send them up to the FA Women's Super League (FA WSL) 1 in October 2014 brought the euphoria of a title success, as well as the chance of a higher platform for the club and players. With promotion from WSL 2 also came a need to make plans for the step up, and after long-serving manager Mick Mulhern had to let his position go due to his commitments as a police officer, new boss Carlton Fairweather set about preparing the team for 2015 at the top table.
Last March, the former Wimbledon winger signed a player with an FA Cup winner's medal and experience of the UEFA Champions League to go with several seasons spent competing at the highest level domestically. Brooke Chaplen had departed Everton after five years and it wasn't too difficult to see why her new manager had identified her as a potentially valuable asset to his squad.
The one-time Chelsea player proved to be just that as Sunderland held their own at the top end of WSL 1 before finishing 4th, and she jointly leads the side in goals (with Beth Mead on six) in what has been an admittedly tough 2016 so far for the team. Maintaining hope of rising up the league in the season's final few months, along with the match-winning moments, unity will be central to that for the Lady Black Cats.
A squad can find familiarity through so many means and within the interviews on this site the focus falls upon how music gives a team motivation, how it enhances the lighter or celebratory moments, and the meaning it has for players in their life away from football. The personalities make a team, and at Sunderland they most certainly have their share in that regard.
Earlier this year, Sunderland and Ireland forward Stephanie Roche featured on here, mentioning in her interview that Brooke was one of the more musically-minded players at the club. As she was asked which teammates would be on her list to collaborate with if she ever had to record a song cover, Brooke first thought of the former Doncaster Rovers Belles defender in the side who would be guaranteed to bring something unique to the choreography.
"I'd definitely have to have Tori (Williams) in there because she does the weirdest dance – we call it 'The Ligament Dance'! I was in the car the other day with Lucy Staniforth and she can actually sing, so she'd be in there because I can't.
"We had a singalong in the gym the other day to Spice Girls so we'd probably do one of theirs. I'm sure we could make up the five; we've got a singer and a dancer so that's all you need!"
Coming from Copnor in Portsmouth, former England youth international Brooke had her footballing influences around her growing up, supporting Portsmouth and going on to play for the club as a teenager. Despite the 'girl power' throwback choice for her teammate song cover, it wasn't just 90s pop around her when she was a kid, as she explains.
"I'm actually one of those people with a really varied music taste. I like Coldplay but then I'm also into stuff like Chris Brown, and then a lot of the music my dad listened to, like UB40.
"I think my favourite song would be 'I Got You Babe' by UB40 (with Chrissie Hynde)."
In the televised league opener last year, Sunderland made a magnificent start as they beat two-time defending champions Liverpool 2-1 away. It was a return to a familiar part of the North West for Brooke on her debut and after Beth Mead's header opened the scoring she lifted a penalty into the top corner to give the visitors what proved an unassailable advantage.
On Saturday (July 9th), the Lasses claimed a first league win of 2016 as they beat bottom side Doncaster 4-0 at home to move out of the drop zone. Along with Brooke and Hayley Sharp, England prospect Mead struck twice as they capitalised on their player advantage following the red card for the Belles' Leandra Little in the first half.
The 21-year-old striker was the league's leading scorer last year, taking the PFA Women's Young Player of the Year award, and Brooke describes how she also has her input into the team playlist, albeit with the chance of slight repetition!
"Beth loves to hog the stereo and someone did a remix of 'Fast Car' by Tracy Chapman recently (Jonas Blue) so she ended up having four versions of the same song on her iPod. The person who's got the best iPod I would say is Victoria Williams; she's got the best r&b jams, some of them are new and some are ones you remember from when you were at school.
"When we're in the gym we'll be like, 'Tori, get your playlist on.'"
Captain as Sunderland were national champions of the FA Women's Premier League on three occasions, defender Steph Bannon also led the club on their ascent in the WSL as she combined her football career with life as a PE teacher. The consummate captain, she even once sang to midfield teammate Rachel Furness to distract her from the pain as she was being taken off injured and maybe it is fair to suggest Brooke would rather hear the skipper's voice than the tunes she usually opts for in the changing room!
"Definitely before football I like something upbeat but I don't like the kind of dance music with a heavy beat and no words. Steph Bannon plays that kind of stuff and when she plays it we're all like, 'No!'
"Usually everyone chucks in a song so the playlist in the changing room has something from everyone. Everyone loves Jess Glynne at the moment so her album's big in the changing room."
Knocking out Brooke's old team Portsmouth on the way, Everton reached the FA Cup final in 2010, where they faced the all-conquering Arsenal at The City Ground. On that day in Nottingham, 17,505 were there to see the Toffees put their name on the trophy in dramatic fashion as Natasha Dowie netted past Emma Byrne at the end of extra-time to clinch a 3-2 win.
Coming on for Michelle Hinnigan in the 77th minute, it was Brooke who supplied the winner, ensuring Arsenal lost a final in the competition for the first time as they tried to win it for the fifth consecutive occasion. Also in the celebrations for Mo Marley's team on the day was Toni Duggan, who remains one of Brooke's closest friends. Defender Alex Scott told on here in February 2014 how the current Manchester City forward had performed a Britney Spears song as a forfeit while with the England team, and late-90s teen pop happened to go with one of Brooke's early football memories.
"I remember the first CD I got bought by my dad because it was after one of my first football games – it was Billie Piper and I think 'Because We Want To' was the song."
Having been with Chelsea in 2008/09, Brooke went on to be an FA Women's Premier League runner-up with Everton the following year. That meant she got to show her capabilities on the continent, with a memorable run to the quarter-final of the Champions League in 2010/11.
Facing MTK Hungaria in the last 32, the Toffees got a goalless draw in Budapest but were 7-1 winners in the second leg in Widnes, with Brooke capping off her hat-trick with an impressive lob. It was Danish side Brøndby next, and Everton's 4-1 away win in the first leg surprised even Mo Marley, who then saw her team complete the job with a draw at home.
Brooke had come up with two in that victory in Denmark and it led to a last-eight tie with Duisburg of Germany. That was where Everton's run ended but the recollections of those matches stay in the mind for Brooke, as does the distant pounding of the soundtrack that went with her time at the club!
"It was probably Toni and Michelle (Hinnigan) who played the music and it was very dancey/clubby, which I suppose is kind of what Liverpool's about! I remember Amy Kane had a good list of tunes as well but she was a sly one about it and wouldn't put it out there!
"I'm more r&b over dance but even now when I see the girls from when I was at Everton they're still into the same kind of stuff. At Sunderland, definitely Steph Bannon likes her old-school trance but we've actually got quite good taste in our team."
As well as at Everton, Duggan played alongside Brooke as they made their way through the England youth setup and the pair were the scorers in a 2-0 win against hosts Chile at the 2008 FIFA Under-20 World Cup. Playing at the tournament under Mo Marley, the duo reached the quarter-final with England in South America and their friendship took them to Florida to see out 2015, with music the perfect backdrop, as Brooke recalls.
"I went to Miami at the end of last year with Toni and we saw The Weeknd; he was performing on New Year's Eve to bring in the New Year and that was unbelievable. We saw quite a few actually; Calvin Harris, DJ Snake, Steve Aoki was on after The Weeknd.
"That's kind of what that holiday was about really; sleeping in the day and getting ready to go out. I've been to V Festival the time Calvin Harris headlined and that was amazing.
"I like the whole festival setup really and how you get to see so many different artists. I've been to a few gigs, like Rihanna at Twickenham, Beyonce as well."
It's fair to say travel is nothing new to Brooke, with time spent in Leicestershire studying Exercise, Health and Fitness on top of her footballing endeavours. Although extremely far from her native Hampshire, she has managed to adapt again to new surroundings since signing for Sunderland.
"I'd been at Loughborough for uni and at Everton, so I've been away for quite a while, but you do miss home sometimes. I think I've settled everywhere I've been and Liverpool and Newcastle are really similar so it's been going well.
"There's a direct flight from here so it's actually easier to get home now even though I'm further away."
Known primarily as a midfielder, Brooke has featured also at right-back and on the wing before, with that kind of versatility always appealing for managers. A huge draw in her switch to Wearside was the chance to train full-time and to reap the benefits of more consistent time practicing with the ball throughout the week.
One of the additions to the team this year was a 28-year-old Canadian full-back of Finnish heritage who possesses vast experience, including at international level. Signing from Celtic, the former Doncaster Belles player has spent part of her career in the U.S. and in Germany, and she has made a distinctly positive impression on Brooke since she came to Sunderland.
"Kylla Sjoman from Canada is a really nice girl, she's unusually funny, and I've really enjoyed having her here. She's away from home, too, but she's played in all different countries and I like that she's seen so much and is really cultured.
"She's brought a different dimension and it's refreshing for us as a team to have someone like that, especially with so many homegrown players."
Former Mayville High School student Brooke is currently over 300 miles from home, having been brought up close to the home of Portsmouth FC, the club she still supports. Her time representing Pompey Ladies coincided with the men's team's Premier League days, spent largely under the management of Harry Redknapp and with various international names turning out for the club, which she remembers fondly.
"I grew up a couple of roads down from Fratton Park and I trained with the team when I was too young to play for them. I went to Southampton Centre of Excellence but then moved back to Portsmouth after that to play senior football.
"I used to watch the club back in the days of players like Jermain Defoe and Peter Crouch but it's harder to keep up with everything to do with them now; obviously they don't get as much coverage these days."
Although Brooke's Everton career drew to a close at the end of 2014 after the team had dropped out of WSL 1, the five years spent on Merseyside had been wholly important in her life. Her final season at the club included another appearance in an FA Cup final, with a Kelly Smith-inspired Arsenal triumphing 2-0 in Milton Keynes on the day.
Working alongside some of the most recognisable names in English women's football, Brooke scored against rivals Liverpool along the way during a spell of her career she could never forget.
"It was an amazing period in my football, getting to work under Mo Marley for Everton and England at the same time. Mo was probably the main person in my development from being a teenager up to around 23 and I went to the Euros and a World Cup with her.
"We were up there with the best teams and there were lots of experiences I'll never forget, like winning the FA Cup and playing in the Champions League, and the friendships. I played with people like Fara Williams, Jill Scott and Rachel Brown, who were all massive players with England at that time, and incredible talent like Izzy Christiansen and Toni Duggan."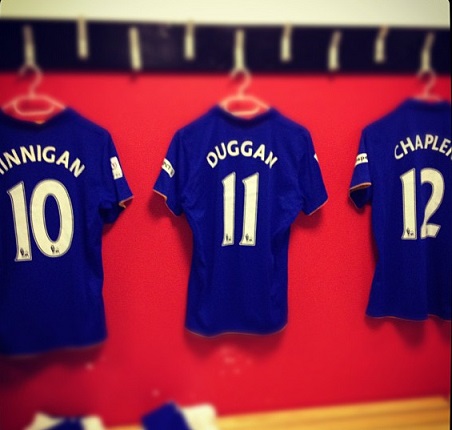 Brooke's international career has included involvement with England's Under-19, Under-20 and Under-23s, with the likes of Steph Houghton, Claire Rafferty, Sophie Bradley and ex-Everton teammates Michelle Hinnigan and Fern Whelan among the group she was part of. Although yet to win a cap for the Lionesses at senior level, with her experience and the part she has played in WSL 1 since coming to Sunderland, does the 27-year-old ever think about the prospect?
"Obviously it's what you work for every day and I'd like to think that everyone in the league who's English wants to earn that call from (Head Coach) Mark (Sampson). It would be amazing but I'm also realistic and I know that with my age it's less likely.
"It's not something that I'm thinking about but at the same time I'd never write it off."
Among the standout moments for Sunderland last season was the 4-0 thrashing of WSL 1 leaders and eventual champions Chelsea, with the Black Cats at the time perhaps considering the prospect of Champions League qualification. Acutely aware of how quickly fortunes can switch in football, for better or worse, Brooke's know-how and quality could be a key plus point between now and the season's end in November.
Looking back over her career so far and with plenty of seasons potentially ahead, she offers up what she feels the most significant lessons have been, leading up to this point.
"I think it would probably be the level of hard work that it takes. It's kind of a love-hate relationship that you have with football because of the ups and downs, the amazing highs and then the huge lows that you can get.
"It's not always going to be rosy and I'm sure lots of players have had times where they've wanted to walk away from it all. I've had injuries myself and it's definitely testing.
"You can get so involved in it all that it can get you really down when you're not being selected and things like that, so it's important to keep that balance."
In early April, Brooke was on target as Sunderland beat Reading 3-0 to reach the FA Cup semi-final and she came up with a brace later that month to earn a point at Liverpool from two goals down. When it comes to enjoying the time spent away from the pitch, players can sometimes have differing preferences to each other, depending on all sorts of circumstances.
With the need for recovery during the season, it tends to rule Brooke out of getting too into one of her favourite activities for certain months of the year, although she does take the opportunity when she can.
"I have a few bikes – an off-road mountain bike, a road bike – and when we're not in heavy training that's something I like to go out and do. When I'm back home one of my favourite places to ride is the South Downs."
For players, the chase for honours and the battles for survival can sometimes cloud the simplicity and enjoyment that is surely the true hallmark of the game. In the past few years on here, the conclusion of the interviews has been about thinking back to that, with the players asked to picture themselves playing in a small-sided game with their choice of four career teammates to fill the rest of their line-up.
It's a further insight into what being up close with certain individuals in the game is like and what makes them impressive, as players and as people. The teams do not have to be made up of the 'best' players they have ever worked with, so the reasons for choosing can be based on whatever they wish.
As with everyone, Brooke could have chosen multiple worthy teams for this and deciding to go without a keeper is probably an indicator of how tough it is for her to narrow down her outfield teammates. Squeezing in her Sunderland goalgetter at the end to give her five players means Brooke would also have to start this game from her own bench!
"I'm gonna think about this one. I think to start with I'd definitely have Toni (Duggan) and Izzy (Christiansen) in there.
"Izzy's got a great engine and Toni can finish, so you've got big football qualities there. Tori Williams would probably be in there because she's a solid centre-half and she's a comedian.
"She's light-hearted and she brightens up the changing room with her daft comments and dancing. I'd probably have Michelle Hinnigan, just because I miss her; she works all the time so I never see her.
"I suppose this is just based on friends! I'd definitely have Beth Mead – little goalscorer and she's got a bit of crack as well…average!"
To catch each one of these interviews, you can follow me: @chris_brookes
You can also like the site on Facebook and keep updated