Alexi Lalas interview: Solace in sound springs eternal for former US international
Ex-USA international defender Alexi Lalas was thrust onto the global stage in the 1994 World Cup and the ensuing tale has been more sustained, eventful and rambunctious than could ever have been foreseen, with Serie A, his own PlayStation game, the biggest signing in US soccer history and an undying music love providing just some of the sub-plots.
Now an analyst for ESPN and ABC, Alexi won 96 caps for his country in a playing career that would pave the way for spells as general manager of three MLS clubs, and the last of these cast him in the role of a key protagonist in David Beckham's move to LA Galaxy.
This site brings music and my favourite sport together and someone who broke new ground as an American in Italian football's top division as well as playing with his band on the European tour of Hootie & the Blowfish seems to me like the perfect signifier of that link!
Growing up in Detroit, his individual story was characterised by the best of the athletic and music worlds and with the latter his affection shines through from the outset here with the sheer volume of performers he pays homage to.
"I grew up listening to (Led) Zeppelin, The Beatles, ABBA, Van Halen and the Bee Gees. Then I got heavily into bands like Ratt, Asia, Triumph, Rick Springfield, Def Leppard, U2, Air Supply, Hall & Oates, Bon Jovi, John Mellencamp, Tom Petty, The Cars, AC/DC, Duran Duran, Kajagoogoo, Nik Kershaw, The Cult, Styx, Loverboy, The Sundays, The Lemonheads, Blind Melon, Marvelous 3, 'til Tuesday, Robbie Williams, The Black Crowes…too many to name.
"I don't listen to rap, thrash or hip-hop – it often lacks melody. I love melody, I love hooks, I love pop songs.
"(The first record I ever bought was) Pat Benatar – 'Crimes of Passion', (I was) 10 years old."
Favourite songs can often be extremely difficult to pinpoint for a multitude of reasons so I looked for the very top few on Alexi's 'most-played' list.
"Ratt – 'Lay It Down', til' Tuesday – 'Coming Up Close', General Public – 'Tenderness', The Lemonheads – 'Rudderless', Neil Young – 'Tell Me Why', Satchel – 'Suffering'."
As one of the most instantly recognisable players around during his on-field days it stands to reason that he enjoys the game's personalities and entertainers, but let's take the traditional stage performers he identifies with first.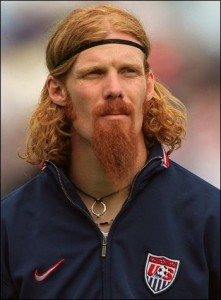 "I enjoy singers who can pull it off live – nothing drives me more crazy than a singer that sounds nothing like the record. The late, great, Ronnie James Dio always delivered, as does Bono."
Regarding the on-pitch characters, I stressed to Alexi that I was looking for the ones he feels a sense of intrigue with as a viewer rather than simply for pure ability alone, and the two he responded with are almost undeniably the English game's two most discussed and provocative players at present.
"(Mario) Balotelli and (Joey) Barton come to mind – they are wonderfully entertaining villains. I fear, however, that as opposed to say a (Eric) Cantona or Vinnie Jones, they aren't in on the joke."
Prior to the 1994 World Cup in the States where in four games he featured in front of crowds of 73-94,000, Alexi had never played a professional game in his life, with the North American Soccer League broken up and Major League Soccer still to come to fruition.
He had a trial with Arsenal and was chosen for the 1992 Olympic Games in Barcelona and was put into the residency program in which the US national team played essentially as a professional club for two years against teams all over the world.
Before that however, he attended Rutgers University and this period in his life, like any other in his story, strongly featured music.
Alexi's band The Gypsies once opened for world-renowned act Hootie & the Blowfish on their 1998 European tour and the dedication he has given to music for so many years has never wavered.
"The Gypsies was a band I was in during college, when I eventually started really recording and touring I simply went under my own name with the band, it was just easier. We had a blast on the Hootie tour, the guys treated us great and it was a challenge each night to go out and win over a crowd that wasn't really there to see you.
"Music was never a hobby for me – I took it as seriously as my soccer. While my success in soccer gave me opportunities in music I knew that I would have to prove that it wasn't a vanity endeavour or whim.
"The reality is that the public is rightfully sceptical about athletes doing music, but I never let that stop me. I've released four albums through the years, you can find much of my stuff under 'Alexi Lalas' online.
"Nowadays I have a studio at my home and write for myself and others. Unlike soccer, music is something I can do for the rest of my life…and I intend to."
Two former teammates who both graced the English game spring to the forefront of his thoughts when recalling colleagues' music tastes.
"John Harkes and Tony Meola knew and loved their classic rock. I usually controlled the music in the locker room, but I was smart enough to know that we needed variety."
The first of those names was a history-maker, the first American to play in the Premier League and a popular figure at Sheffield Wednesday as he featured in the 1991 League Cup final success over Manchester United and scored in the 1993 FA Cup final defeat to Arsenal.
Goals like this skyrocket past Peter Shilton at Derby's old Baseball Ground are always remembered when it comes to 'ooh aah Johnny Harkes' (as he is still known to this day in the blue and white areas of Sheffield) and the club secured something of a reputation with some fans Stateside through the former midfield star.
Despite this, times were different in the early 90s and this was a huge factor in how Harkes' progress was reported back home at the time, and while Wednesday have had former defender Frank Simek representing the 'Stars & Stripes' in recent years while Bob Bradley was at the helm, Alexi's familiarity with the South Yorkshire giant is admittedly limited.
"It was before the age of instant information, so while word filtered out into the US soccer community, most Americans had no idea what he (Harkes) did. Honestly, the only reason I know about Sheffield Wednesday is because of John."
Following the 94′ World Cup, Alexi joined Serie A club Padova and some of my earliest footballing memories are of the Italian game from this time period, via the Channel 4 television programme Gazzetta Football Italia in which presenter James Richardson would always be outside a cafe with a newspaper, while on the field I still vividly recall watching in the living room on a Sunday afternoon as AC Milan's George Weah ran from his own half through the opposition to score one such goal.
"I was in Italy during a wonderful time – all the best players, teams and money were in Italy. Every Sunday I played against the stars of the world, week to week I would have to mark Weah, (Gianfranco) Zola, (Gabriel) Batistuta, (Giuseppe) Signori, (Roberto) Mancini, (Roberto) Baggio, (Ruud) Gullit, (Gianluca) Vialli, Gazza (Paul Gascoigne) and so many more.
"I had to adapt to a new culture, language and lifestyle while working in the fishbowl that is soccer in Italy. I certainly became a better player from the experience, but I also became a better person."
When the MLS finally got underway in 1996, Alexi was registered to the New England Revolution and went on to spend a short time on loan to Emelec in Ecuador before joining MetroStars and later Kansas City Wizards.
The console game Alexi Lalas International Soccer was also released though the man himself ultimately took a year-long break from playing the sport before returning to represent LA Galaxy in 2001.
In 2002 he was part of the first Galaxy team to win the MLS Cup and this ranks amongst his very proudest achievements, while internationally he was part of the 1998 World Cup squad but made the last of his appearances prior to the tournament, ending with 96 caps and 9 goals for his country.
After retirement, he took on the role of general manager at three MLS clubs, firstly with the San Jose Earthquakes, then the MetroStars where he oversaw the transition to their current guise of New York Red Bulls.
From 2006 to 2008 he presided over the position with LA Galaxy and I recall in 2007 regularly seeing him being pursued for interviews on Sky Sports News by reporter Bryan Swanson as the David Beckham transfer to the club played out, to the point where you could see a friendly 'oh, you again!' kind of feel to the situation whenever Alexi was seen by Swanson!
Now a prominent analyst of the game and one of the first players the MLS ever saw, what are some of his observations in the early stages of the 2012 campaign?
"Real Salt Lake are cruising – they are playing with a chip on their shoulder and keep getting better. I think the NY Red Bulls are fascinating to watch – Thierry Henry has been out injured and they keep winning, Rafa Marquez continues to be a problem child despite his quality and Kenny Cooper is having a renaissance after moving to NY from Portland."
I have seen elsewhere the 'best ever USA line-up' Alexi chose, so my regular 'best ever teammates 5-a-side team' question I use works as a condensed and slightly different alternative.
This fantasy team includes the player in question so we're looking for four others they would choose alongside them.
"Tab Ramos (midfield), Brad Friedel (goalkeeper), Cobi Jones (midfield), and Eric Wynalda (forward)."
Aside from his professional commitments, Los Angeles provides the idyllic backdrop to Alexi's interests, with one of those remaining as high as ever on the agenda.
"I continue to write and record music, it is what I spend most of my free time on. LA is everything and nothing like you imagine.
"It's the most stereotypical place in the world, but once you accept and adapt it can be full of wonderful surprises that are as authentic and organic as anywhere else. The weather's not so bad either."