Tyler Blackett interview: Fresh, new, Orange and Blue – Time to Cinc it up for FCC defender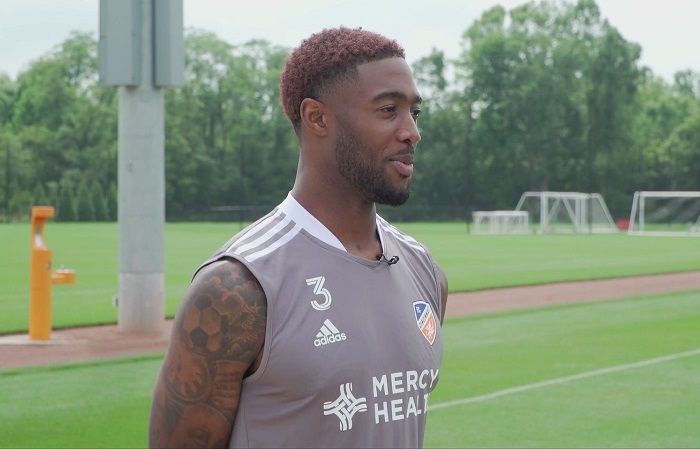 The league and the surroundings represent a step into the unknown, while the team colours are also a completely new one for his career. As Tyler Blackett gets set for his first full season at FC Cincinnati, the former Manchester United and Reading man has at least been finding one way to carry on tradition, while connecting his teammates.
It's not Manchester, London or the Midlands where you currently find him, but Clearwater, Florida, with the defender's FC Cincinnati recently returning for the second instalment of their pre-season camp. At 27, this is the first time that he has been gearing up for a new club campaign at this time of year, having long been accustomed to the 46-game, August-May hamster wheel of the EFL back home.
His move to the Queen City from Nottingham Forest was confirmed last August, just as the current season in England (2021/22) was getting underway, though four months into what is now last season in Major League Soccer.
"It was probably during pre-season back home, maybe June (2021) time, when I picked up an injury and had a few different personal things going on as well," he says, recalling the first real thoughts of heading to the US. "It kind of all came about at the right time really."
"Coming over here, it was a big decision, but also something that I wanted to do for my career. I wanted to play in America and try and see what MLS is about, see how I fit into it.
"It came at a good point."
There is a lot for fans to enjoy about the league he departed, with the Championship arguably as competitive, quality-packed and unpredictable as most divisions in world football. It is, though, a punishing schedule for those out there in the action, and last season was Tyler's fifth in a row in the second tier.
It could never be said with any real credibility that MLS is an easy alternative, with extras too like time zones to cross, differing climates and even altitude to sometimes add to the cocktail for a campaign that spans the majority of the calendar year. Big-name players from Europe have commented on how much of a challenge those factors alone present, but the 'different' that Tyler refers to about life in MLS overall is also full of plus points.
"I think that was one of the things when I decided to move away from England, I just wanted to experience a different style, and maybe not so much of the relentless, like you said, way of it in the Championship. Just moving away from that, it's a bit more relaxed, in the sense of we have just one game a week usually, so Saturday to Saturday; you're able to work more in training and you're able to organise it a bit better, I guess.
"The travelling is different, each away game is probably an hour flight, two hours' flight away, but it's been a good change. I like the adaptation I've made over here, it's not been too difficult to adapt."
View this post on Instagram
There is a determination for FCC to hit their stride in 2022, in what is year four for the MLS iteration of the club. It goes without saying that any professional competitors want much more than to be propping up both the Eastern Conference and overall standings again, and the tenure of their new head coach, former US international Pat Noonan, begins for real at Austin FC at the end of this month.
The fine details that go into a team's overall preparation are seemingly endless, and as this site has always known, the pre-game sounds behind the scenes are as crucial as any opposition analysis!
"Funnily enough, I just set up a playlist for the boys, to put on the songs they want for the season coming up," says Tyler. "Just our own playlist that we can all log into, because we had a bit too much Spanish music last season!"
"We're hoping for a bit more of a mix, so I decided to create a playlist and get everyone putting what they like, that way we've got a bit more variety going forward. There's a lot of hip-hop there, just to get you going for training and games, there's a bit of Afrobeats, house music, a little bit of Latin music, and I'm sure the boys will add more as well."
The Mancunian defender has some pretty vast experience in that regard, so team DJ duties are a simple step into the old routine. It was Reading where he started to get his most consistent game time, as well as settling in as the man with a finger on the playlist pulse.
"I think more or less everywhere I've been, I've kind of been the main one who's controlling the music on game days. (At Reading), there was Liam Moore, Andy Yiadom, who's still there, there was a few of us, but I was mainly the one who would try and get the music going.
"(Asked about Celtic) Scott Brown I think was the one who was in control there; they had a lot of house music and that type of genre. When I was at Forest, they already had a set-up going with the music; Joe Worrall, Lewis Grabban, them boys had a set-up with the playlist, which they stuck to, so I couldn't really work my way in there.
"I think given time, I probably would have been involved a bit more in that one!"
Beyond just being someone to press play and help fill the pockets of locker-room quiet, music is a valued constant in his life.
"I listen to music every single day, I'm pretty sure like most people, but I think from the different moods that you feel from music, or the different messages you can get, I've always been a fan of listening to all varieties. It's something that I'll always take with me, plus the fact that I travel a lot, I've probably always got headphones in or some kind of headset where I'm listening to something.
"It's something that will always be a big part in my life. I'm a bit into my hip-hop at the minute, so Lil Durk, Gunna, Drake is always going to be in there, Future, 42 Dugg.
"There's a lot in there, but I'm quite a fan of reggae music, Afrobeats as well. That's what I'm probably listening to around games."
View this post on Instagram
How soon a player can switch from a youngster chasing their breakthrough to a wise, old head in the team is nothing if not sobering. In a similarly-knowing nod to Father Time, there are some names on the FC Cincinnati roster this season who were actually not born when the first album that Tyler ever bought was released – won't somebody teach these kids the U-Turn?!
"It was Usher. This was back in the Walkman days; you know, the CD and the headphones?
"It was an Usher album, '8701' I think. This was back in the days when I used to get pocket money from my parents!
"I was a big fan of Michael Jackson when I was young; I think I also bought the 'Bad' album, the CD. I used to watch all the videos, be singing along to the tracks, doing the moonwalk around the house in the white socks!"
'MJ' would unsurprisingly be his choice if he had his pick of any artist from all-time to see perform live. That may be a fantasy scenario, but legendary company will indeed be welcomed to FCC's TQL Stadium home this May, with The Who due to play the venue's very first concert.
While obvious circumstances in the world have intervened in the last couple of years, getting to hear and celebrate music live is a definite favourite of Tyler's when time allows.
"When I was living in London, Burna Boy, I went to his concert three times; his concerts are always good fun, a lot of energy, which I've always liked. Wireless Festival in London, I think it was 2019, that was a good one; probably the best festival I've been to."
After his arrival at the Orange and Blue last year, the restrictions on the amount of social time that the team could spend together factored into Tyler not having an initiation song to tackle. Once again, though, he is no novice in this particular area!
"At other clubs, I've always done it. When I was at Man U, I did that actually on a plane, you know, where they talk on the speaker over the phone?
"It was actually over there, on one of the pre-season tours. I think I did a Drake song, maybe 'Hold On, We're Going Home'; I think it was actually on the way home, which is why I did it."
There were Championship loans at Blackpool and Birmingham City the season before his competitive Manchester United debut, in Louis van Gaal's first league game in charge, versus Swansea City at Old Trafford in August 2014. In what was the second season after Sir Alex Ferguson's retirement, and with some headline player arrivals following that summer's World Cup, Tyler featured 12 times, including against Chelsea and twice in games with Arsenal.
Another landmark for Tyler Blackett yesterday as he signed a new deal with #mufc. Watch more: http://t.co/xP3bYaYo15 pic.twitter.com/7QVjVnFACn

— Manchester United (@ManUtd) February 27, 2015
He confirms that Van Gaal (sadly) never put a song on in the changing room, though music was very much part of the scene in that elite environment, too.
"It definitely was, we always had a playlist, which I'm pretty sure one of the staff members may have controlled and put on. I think back then, I was a bit young and a bit too shy to impose myself, in terms of the music."
Current Kilmarnock goalkeeper Sam Walker, from their time at Reading, earns mention as a rare, credible vocalist Tyler has heard in action. If he was ever called upon to record a cover song with somebody he has played alongside, teammate initiations down the years have left him doubting the level of talent he could select from!
Nevertheless, a notable name from Old Trafford who took much the same path as Tyler in his early career, going out on loan before his first-team chance, would most likely get the nod for this one.
"Jesse Lingard, when I was back at Man U, he was always into music as well, so I'll probably say him. We'd probably end up doing some kind of hip-hop song, probably a Gunna track."
Like 'JLingz', Tyler is North West born and raised, but he also has Caribbean roots, and it was a heritage that he was able to feel connected to frequently.
"Definitely. Growing up, I was always around it, just from my parents, grandparents, family parties, so Caribbean music and the influence of Caribbean music was always there, more so the old-school stuff, in terms of Bob Marley and that kind of generation.
"There was always stuff I listened to, and I still listen to it now."
Chris Smalling, Jesse Lingard and Tyler Blackett caught up with the San Francisco @49ers today. #MUtour pic.twitter.com/ATwrryd9bd

— Manchester United (@ManUtd) July 22, 2015
What you will find online is that he has Jamaican and Barbadian parentage, though that is actually not quite the case, as he explains.
"They're both from Barbados. I'm not sure where it came from, but a lot of people assume that I have Jamaican in me, but I have no Jamaican at all."
Hailing from Hulme in Manchester, he was an England regular on his way up through the age groups, including at Under-21 level. Although confirming with that last quote that he is not eligible for Jamaica, are there any concrete ambitions at this point of pursuing senior international football with Barbados, or is every thought for now on the club game?
"Yeah, honestly, I'm just playing club football and enjoying that, and trying to develop and improve myself playing club football at the minute. That's where my focus has always been.
"At some point, I will give consideration to international, but right now, that's not been a factor for me."
Also deployed in his career as a left-back, he classes himself now as a central defender, and hopes he can continue in that role this season. Back in October, his home fans got to see the first goal of his career, as he popped up on the edge of the six-yard box to notch a stoppage-time equaliser against Chicago Fire, only for the visitors to then grab a 4-3 win before the end.
In-game and otherwise, there is much that he wants to help with and pass on to those around him while at FCC. From the prestigious grounding at Manchester United, to life at other noteworthy clubs, amongst teammates from a multitude of backgrounds, he has seen a lot already in his career.
Tyler considers how much reassurance and encouragement, or a more forthright and even fiery approach, have tended to work with him personally over the years, as well as which coaches have seemed to understand best what he needed.
"There's been times where I've needed a bit of both. I think times where confidence may not have been the highest and I've needed that little push or word of comfort to allow me to express myself a bit better, but also, it's something I've learned that comes from within, a lot more than it comes from around you.
"There are times where I've needed the challenge of working harder, in terms of concentrating and just being in the right positions, and someone being a bit more harsh with me has probably helped me, especially growing up. Jaap Stam was a big one.
"He was one who kind of found that in me when I was at Reading, and that was then one of the reasons why I decided to join over here. I also had (ex-Wigan Athletic manager) Warren Joyce when I was in the academy at Man U and he was someone who knew how to get the best out of me; at different times, he knew which buttons to press, I guess."
At the helm when Tyler made his move to Cincinnati, aforementioned Man United great Jaap Stam would depart last September after 16 months in charge. The Dutchman was so very nearly a Premier League manager during their time at Reading, with Tyler playing 40 times in his debut campaign in Berkshire as they went all the way to the Championship play-off final in 2017, heartbreakingly losing on penalties at Wembley to Huddersfield Town.
Tyler's previous taste of the big time had him playing in some illustrious company, and when asked of any one-on-one duels that remain in his mind more than most, it is actually a one-time teammate that takes the honour.
"Maybe not in games, but I remember when (Radamel) Falcao was at Man U, he was a different type of striker. In terms of the games for him, it didn't necessarily work out the way he probably wanted it to, but you could see in training sessions and practice games, just the movement and the sharpness that he had.
"At the time, it was an eye-opener, definitely."
It is said that a change is as good as a rest, and on the cusp of this new season, Tyler is looking suitably revitalised. Hungry to learn more, he reflects at this point on what his career has taught him the most so far, and whether it has changed him along the way.
"Oh yeah, most definitely. I think when you're young, you're just playing, you're playing off the cuff and expressing yourself in that manner.
"As you grow up, through the years, and the more outside influences that become involved, it's something that can be a lot to deal with at times. I feel what I've learned now, and the last few years maybe, is that it's more about what you believe, in yourself, rather than what anyone else says or thinks.
"You have to know who you are as a player and what you can do, and what you can bring to the table. Once you do see that, then you can more or less go where you want."
Upward is the desired direction of travel for FCC in 2022, with the hope that their famously-fervent fanbase will have plenty to revel in this time around. Continuing to enjoy the chance of living and competing in a country he used to holiday in, Tyler shares some more of what he turns his attentions to away from the field.
"I like to travel, so when I've got time, I always try to put myself in a position where I can be somewhere I've never been or experienced before. I like to look at art, in terms of pictures and paintings, that kind of stuff is interesting to me.
"Probably writing as well; I do journal a lot, which is something that helps me personally."
With an imminent trip to Orlando to complete their pre-season action, there is just about time here to take Tyler on a brief loan, to place him into the regular small-sided scenario that has concluded these interviews over the years. Without asking the players to name the 'best' they have ever played alongside, this one is just about concocting a devilish mix of teammates that they know would bring the fun and the flavour if selected.
Here are four examples of the numerous master craftsmen that Tyler could turn to.
"(Robin) van Persie sticks out, especially thinking of small-sided games; he was very technical, very gifted, as we all know. (Ángel) Di María was another one.
"Feel like I'm picking all left-footed players here! Juan Mata was good.
"You know the kind of quality these players have, and you know that they can more or less do something out of nothing on most occasions, which is something that not many players have. Emi Martínez; he's at (Aston) Villa now, but when he joined us at Reading on loan (from Arsenal), he was a very good keeper.
"Very good with his feet and very confident as well."
To catch each of these interviews, you can follow me: @chris_brookes
You can also like the Facebook page and stay updated