Taylor Smith interview: 'Beauty in the struggle' – New kicks in NC for the NWSL champ who came back with Courage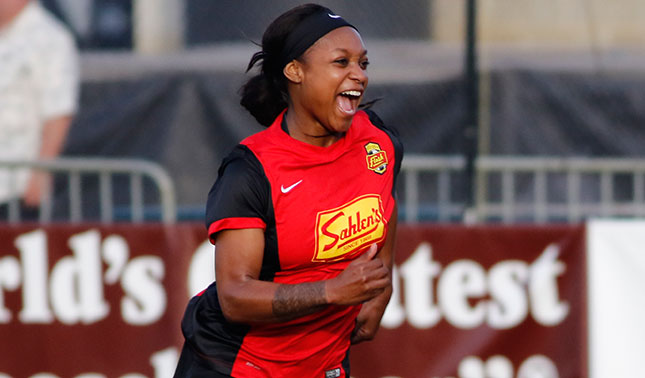 A National Champion in college, Taylor Smith became a professional title-winner in her rookie season as part of the Western New York Flash's unexpected 2016 National Women's Soccer League (NWSL) success. For the one-time UCLA prospect, the year was in fact much more about personal reconstruction than blazing a trail, with a first U.S. Women's National Team call capping it all for the North Carolina Courage forward.
When year four of the NWSL kicked into life last April, it marked the first episode in another season of the league's story, with familiar protagonists returning, rivalries resuming, and a cauldron of narratives to dive into. As with any new season, the cast is never fully the same as before, and the 2016 NWSL introduced its new characters, each bearing their own backstory and aspirations.
In what transpired to be Western New York's final season before the club's sale and their subsequent North Carolina Courage rebrand, Paul Riley's team went all the way to the Championship, overcoming the Washington Spirit on penalties. Lost in the post-game celebrations on the field that day in Houston was Taylor Smith, a player who came out of UCLA a two-time All-Pac 12 honouree, with 27 goals and 22 assists from her 87-game Bruin career…oh, and a National Championship.
Who a player is, though, never comes close to being summed up by stats. As the 4th-placed Flash pulled the NWSL Championship out the fire with a 124th-minute equaliser before their shootout win, the Texan had every reason and more to feel an added connection to the 'against the odds' nature of the team's triumph. At each year's College Draft, so many players who put themselves forward and attend the now-showpiece event in the hope of being selected will not hear their name called.
With only 40 picks available, it is one of the desperately crueller sides of the sport that some won't be taken that day. Taylor's name may not have been heard on stage in Baltimore that morning, but like others before her had shown, there is no reason for that to be the last stop on the line.
Being able to look back on moments that broke your heart with the kind of thankfulness that was unfathomable at the time is one of life's cooler characteristics. As she'll reveal in her own words, there is healing still going on for Taylor, for various reasons, but like her Flash team in the final, she hauled it all back.
This January, the Fort Worth-born forward received one of the most emphatic indicators of just how far she's come since, as Jill Ellis gave the long-time U.S. youth international her first selection for senior camp. After a heads-up from Paul Riley, the 23-year-old took one of her happiest ever calls, as she describes.
"My coach called and said I was getting called in, then I received the phone call a couple days later. I honestly was so overwhelmed with emotion.
"I had a rough 2015-2016, and so I couldn't think of a better way to start 2017. I called my mom right after!"
The catalyst for her invitation from the world champions was ultimately her rookie year, in which she scored twice, featuring in both playoff games after 18 regular-season appearances. As the players have said themselves, the members of that WNY team hit levels in 2016 that many of them didn't know were truly possible, training at a relentless intensity and letting the naysayers act as a nice little fuel boost into the bargain. As well as the core of up-and-coming talent, there was invaluable experience to turn to on the playing and coaching side, and as the weeks and months started stacking up, Taylor increasingly felt happily sheltered within a second family.
In similar ways to soccer, one of the eternally magical things about music is that its power to excite, to make us reminisce, relax, celebrate, cry or even laugh, will never run dry. Our music taste is like a deeply personal tattoo, layered with meaning in every shade that only you know the true depths of.
In the past few years, North Carolina rapper J. Cole has risen from an acclaimed talent on the low, to double-platinum and selling out arenas around the world. Much more so than that, though, he has emerged as a conscious story-teller and a modern-day voice of sincerity and hope, immersing himself in wider social issues in the U.S. His work has resonated with many athletes, from the NBA to the English Premier League, Major League Soccer, NWSL and more in between.
Taylor is one of those in the 'Cole World' camp, and as much as the Championship celebrations were the enduring pictures of last year for the Flash, there was a lesser-known one that captured their shared sense of adventure and togetherness. Captioning lyrics from the last song of Cole's '2014 Forest Hills Drive,' the Instagram shot was a reference to the album's cover.
Taylor explains how four NWSL players ended up on a roof, as well as how they even made it up there!
"That was taken at the very beginning of the season – it was Lynn (Williams), Merry (Meredith Speck), Britt (Eckerstrom) and I. We figured out we could climb on the roof through one of the bedrooms and sat on the ledge and just thought it'd be a cool pic, but then we noticed we just recreated his album cover.
"J. Cole is an authentic artist who doesn't come from much; it's hard not to admire someone who speaks so truthfully. My favourite line of his is: 'Believe in God like the sun up in the sky, science can tell us how, but it can't tell us why. I seen a baby cry, then seconds later she laughs. The beauty of life – the pain never last.'"
As well as the casual listens we have, some songs and artists just strike us in a different way altogether. It's the feeling of having your life and emotions illustrated so succinctly, and the beauty is that a song is yours to keep.
As she touched on when citing those lyrics from J. Cole's The Warm Up mixtape track 'The Badness,' a sense of relatability is big in Taylor's bond with music. On top of that, she is someone who just feels it all-round, no matter the setting or sentiment.
"Music is huge in my life; I always love finding new underground artists that no one's heard of yet, or on any given day you can catch me playing a solid throwback and jamming. I love The Weeknd; he's my favourite artist right now, there's so much emotion behind his records.
"J. Cole is up there, too; his lyrics are so authentic and I love that. I am also Rihanna's number-one fan, I don't care what anyone says."
Taylor's part in UCLA's 2013 National Championship and the form she hit in the seasons either side of that put her firmly on the radar for a soccer future beyond college. In high school, she had been listed nationally by TopDrawerSoccer as the number eight overall recruit, as well as the number one in Texas for the Class of 2012.
She was actually almost headed for Florida State, but Jill Ellis (at the time leading the Bruins) had made a real push for her to come to UCLA. That had really started the ball rolling, and with the school's athletic and academic standing a major pull, Taylor was ultimately sold on setting out for the West Coast.
Along with the national crown, there were two Pac-12 Championships in her time in Westwood, and in repping the Blue and Gold on here, she follows former teammates Sarah Killion and Rosie White, as well as standout names from earlier years in Sydney Leroux, Lauren Barnes and Kara Lang. When she wore that number 14, Taylor could provide some spark, although she didn't have too much of a task in finding others willing to liven the proceedings, and that was before the main action.
"At UCLA, for entertainment on away trips we'd make people sing in the front of the bus with headphones on so they can't hear themselves. It was pretty hilarious."
B.J. Snow was the first coach Taylor played for at UCLA, with her impact as a freshman significant. There were three game-winning goals as she ranked second on the team with eight scored, adding four assists to help secure a spot on the Pac-12 All-Freshman Team.
Taylor also received TopDrawerSoccer All-Freshman Team honours in a season which ended at the NCAA quarter-final at the hands of Stanford, but history was waiting to be made in 2013. Although it would be UCLA's nation-leading 110th NCAA championship (now 113), it was the first for the women's soccer program and their most recent to date.
Clinched with a guiding hook of Kodi Lavrusky's left boot on 97 minutes, the 1-0 success over Florida State sparked fittingly wild scenes, with the champion tape streaming through the cold North Carolina air amid a melee of delirium, gloves and blue Bruin headbands. Amanda Cromwell's team toppled three number-one seeds on the way to the title and it was a group packed with NWSL/pro prospects like Sam Mewis, Caprice Dydasco, Abby Dahlkemper and winning-goal assist-provider Megan Oyster, to name just a few.
A sophomore, Taylor had struck a huge goal with the double-overtime game-winner against North Carolina in the quarter-final to mark down their first win over an old foe in UNC and send them to the College Cup. It was an extremely significant strike from Taylor, who was a First-Team All-Pac-12 selection that year, although one she netted the following season against San Diego was quite something.
At their Drake Stadium home field, she collected the ball in her own half before running on and ripping an effort in from outside the box as three defenders surrounded her. Katelyn Rowland was the one who started off the break, on the night she set an NCAA record with her 53rd career shutout, and it was way more than just counter-attacks the current NC Courage keeper used to instigate, as Taylor remembers.
"At UCLA, Katelyn Rowland was designated DJ and she's always up and dancing. It's contagious, so I'd be right there beside her!
"At the Flash, I mainly chose the music because I owned the speaker, but everyone pretty much hops on. Sam (Mewis) will pick a few and then Merry (Meredith Speck) also was pretty consistent with the bangers.
"Seeing Katelyn and Sam dance is pretty unforgettable."
On the subject of Sam Mewis, the goal-getting midfielder has always had the fun side, but the Bostonian gave an impassioned speech to her Flash team before a game against her hometown club, the Breakers, as the Flash closed in on their playoff place pursuit last year. No big success as a team can be earned without togetherness and as discussed already, that was a pillar of Paul Riley's Western New York group.
Maybe unsurprisingly, music played its way into their chemistry last season, as Taylor recalls in amongst her favourite live shows to date.
"I've been to Rihanna twice! The first time was in Dallas, Texas – J. Cole actually opened for her, but I wasn't too familiar with him yet – and the stage caught on fire, so the show lasted like only 45 minutes!
"The second time was last March with some of my NC Courage teammates and she was great. I want to see The Weeknd so badly and I heard Justin Bieber's shows are sweet."
As international as the women's game is, it can be a small world in so many senses. When Taylor was a freshman in 2012, her present-day teammate Jaelene Hinkle was playing at Texas Tech with Taylor's older sister, Tiffini. Back over at UCLA, the younger Smith sibling was a Sociology major, and her highs on the field in that era came outside of her collegiate career, too.
She was a part of the LA Blues' USL W-League Championship win in the summer of 2014 in a team that featured Houston Dash's England international Rachel Daly, Washington Spirit forward Katie Stengel, and a bunch of other familiar and somewhat accomplished faces. Taylor has more than a few memory-locked reasons to feel that connection to Cali, although it could never quite outweigh the love for her home state.
"I love Texas. I'm from Fort Worth but played for a Dallas club now called Solar Chelsea.
"It was the best move I've ever made. That coach, Adrian Solca, made me the player I am today; he's always been there for me and we still keep in touch today.
"The long drives were absolutely worth it."
Adding another game-deciding goal to her resume as the U.S. Under-23s beat England to grab the Four Nations Tournament in Norway in 2015, Taylor was also with the U23s last year. She has represented her nation at ages all the way back to U14, and while she was leaving an impression on the field back then, it was roughly the same kind of time she was making some kind of statement off it!
"I remember getting this Avril Lavigne CD – I went through the awkward 'rebellious' stage!"
Taylor's high-school days played out at Fort Worth Country Day, where she was a three-year letter-winner, as well as a two-time NSCAA Youth All-American for her soccer achievements. Running track and playing field hockey, she captained her soccer team and earned All-Southwest Preparatory Conference honours.
The athletic fire has been a constant, although on here it is a chance to dream of opening the door to another arena! If Taylor had to record a song cover and recruit some of her soccer peers to join her, what are the options that come into the thoughts?
"I'd love to remake a Chris Brown song because he has everything; the voice and the dance moves. I'd love for him to just lend me that for a day.
"A song I'd like to cover would be 'Lip Gloss' by Lil Mama! I think it'd be a fun music video to remake so I might force some teammates to do it this preseason."
That's who'd be lighting her inspiration if she stepped to the mic, but it's probably a safer bet to assume you'll catch Taylor sparking it on the field instead for the time being. For any lovers of soccer, even if you reached a point where it subsided for you as a player, if you grew up with that constant need to be out there kicking a ball around then the thought of running out to an empty goal for a game with your friends will have likely captured your imagination more than Christmas night.
If that sounds familiar, you'll have known what it was to look up to players and to try to learn from their very best qualities, or to just copy some of their style preferences or demeanour. Taylor netted twice last year against Boston Breakers, so let's say she was out there on the training field one day and had the chance to call in anyone who's played the game, past or present, to practice the most fun part of the game – shooting.
She explains her choices as she goes for one from the women's game and one from the men's.
"Marta. As a kid, I was enamoured by her technical ability; she had her own swagger on the field and I wanted to copy that.
"However, right now my favourite player is Demarai Gray from Leicester City. He's so dynamic; I want to mimic his style."
Although of course a Premier League champion last year, young winger Gray is perhaps not your typical answer, and Taylor's choice is an indicator of someone who really does have that deeper relationship with the game. The NWSL College Draft had been a big target she looked ahead to while at UCLA and her junior year she was a Second-Team All-Pacific Region and All-Pac-12 selection, scoring a career-high of nine goals.
That 2014 season, the Bruins lost the NCAA quarter-final to a Virginia team possessing the likes of current U.S. internationals in defender Emily Sonnett and midfielders Morgan Brian and Danielle Colaprico. It had, however, been a record-setting season, with a 44-game unbeaten run reached and a ten-game shutout streak to be unquestionably proud of.
Heading into her senior season, Taylor had followed in the footsteps of Sam Mewis (2014) and Abby Dahlkemper (2013) by being named to the Watch List for the prestigious MAC Hermann Trophy. She had a taste for the games that mattered that bit more, with six NCAA tournament goals, but there'd sadly be no more in 2015.
Taylor added a pair of goals and assists, although she played just 14 times in all as UCLA stuttered to an 8-10-1 record and didn't make the postseason. Despite the disappointment, the season finale was an occasion to take away, with a school-record attendance of 6,253 at Drake Stadium to bid farewell to Taylor and her fellow seniors under the lights as they took on USC.
Taylor didn't get her wish of entering the NWSL via the 2016 draft two months later, but her heart and spirit cannot be questioned, and having joined Western New York as a discovery player after switching from Portland Thorns, she would be there when the season started. To look back now after a title and that first senior National Team recognition, perhaps the meaning behind it all is clear, though at the time it was a far-off picture, obscured by confusion, and a lot of hurt.
"I had a very unique situation, which I won't go into depth about, but to give a glimpse, I can't lie, I was absolutely heartbroken. I isolated myself from friends and family for a couple days because I was just crying.
"I felt emotions everywhere from anger to embarrassment; it was a very hard time for me. I lost a lot of focus on and off the field.
"I was hurt mentally more than physically. My confidence was completely gone and still hasn't been fully rebuilt, but I will say everything happens for a reason, and playing for the Flash was the best thing that happened to me.
"On and off the field, I started to rebuild myself. I was surrounded by the best group of individuals, who I consider family.
"Every struggle I face is just another opportunity to show how resilient I am."
If you're going to win a title, you might as well throw in some drama along the way, and the Flash took that to the extreme with the last significant act in open play of their season. Taylor had entered the Championship game with Washington as the scores were level at 1-1 on 80 minutes, replacing Makenzy Doniak.
With Crystal Dunn's 91st-minute effort in extra-time looking for all the world like the winner, Lynn Williams buried a header from Jess McDonald's cross in the fourth minute of stoppage time. In the subsequent penalty kicks, the Flash edged to a 3-2 victory after five unsuccessful attempts from the two teams overall.
As the list of kick takers was rapidly getting ticked off, Taylor perhaps had an extra little reason to be glad Sabrina D'Angelo made that winning save from Diana Matheson.
"I was two kicks away. I was prepared to take it but ultimately was glad it wrapped up sooner rather than later!"
Like when she hits her stride in a game, Taylor came back with the kind of driven strength that she should feel a stirring glow of pride in. As she made the first USWNT camp of 2017, there were club teammates in Jaelene Hinkle, Jess McDonald, Lynn Williams and Sam Mewis at the National Training Center in Carson.
According to McDonald, the partner in her 24-goal double-act for the Flash last season, 23-year-old Williams, likened training with the full team to having five shots of espresso! It's an assessment Taylor finds hard to dispute.
"I would agree with Lynn; the first practice with the full team was very intense! You just have to remember to breathe."
Some things just go together and you won't find many better examples than a stadium lit up in the name of soccer under a night sky. Understandably, it is those classic Friday night lights at UCLA that Taylor misses, as her friends from other sports would come out and support.
Her dynamism and versatility on the field always impressed Bruins coach Amanda Cromwell, who once said that she would go to the next level. Probably neither she nor Taylor would've perfectly predicted the path, but someone wise who talked of beauty in the struggle, also once said, 'keep grindin', your life can change in one year.'
Celebrating her 23rd birthday at the beginning of December, Taylor has noticed a change in herself from years gone by, and she had some thoughts when asked about the advice she'd give to the version of herself who was just starting out with the game.
"I think I learned I made things a little bit harder for myself sometimes, but luckily I've grown out of that. I'd tell her to just focus on herself and her abilities.
"Whatever you do, do it at 100 percent and don't worry about what other people say about you, or the people who try to bring you down. They have no control on your life unless you give it to them."
Last year was unique in the extreme for Taylor, but as she and her Flash teammates invested themselves in the relentless intensity of every training session, the bond only grew. As they started to move the boulder together, they had the fun side that just simply adds to that feeling of enjoying being around the team each day and wanting to go that extra yard for each other when game day arrives.
Whether it's incorporated into a training session to bring that extra competitive sharpness, or just played for fun somewhere, there is always a place for a small-sided game. That is where we take it to finish up here as Taylor is asked for four examples of current or former teammates she would want on her team in this situation.
There are many worthy names she could put forward, even as a player yet to start her second pro season, but here are some that she had in mind to at least be the starting group. She was one of five UCLA alumnae to win the NWSL with the Flash last year, and with the exception of a former University of Denver forward, it's all Bruin in her 5-a-side kitchen here!
"Katelyn as the keeper, even though any time we play small-sided she takes it upon herself to play every position and tap dance on the ball! Abby (Dahlkemper) as defender because we are both so incredibly competitive but also love having fun and are always laughing.
"McCall (Zerboni) as a midfielder because she is the definition of tenacious and will encourage you throughout the whole game. A forward I love playing with – Kristen Hamilton, because she's so fast and it's fun to play with her.
"She's also very funny and I love that."
To catch each of these interviews, you can follow me: @chris_brookes
You can also like the Facebook page and stay up to date