Shaka Hislop interview: Ex-Soca Warriors keeper and the Hammers' three-point key to Graceland
Most of Shaka Hislop's 15 years as a professional player were staged in the Premier League, and music has always had a way of lighting up moments inside and outside of the game for the ex-Trinidad and Tobago goalkeeper, including when it came to a specific West Ham United ritual which was fit for a king.
The career of a footballer tends to be somewhat of a winding, uphill track, and many get lost along the way before they ever scale the heights. Everyone's story is their own, with successes painted in limitless different forms, but what most if not all will agree on is that the FIFA World Cup represents the pinnacle in terms of a platform on which to appear.
In 2006, that was the very backdrop to Shaka Hislop's crowning achievement in a distinguished career which began some fourteen years earlier for the Trinidadian, when he got his chance in English football with third-tier Reading. In the twilight of his playing days, the long-time Premier League stopper, in many ways, capped it all off when he helped lead Trinidad and Tobago in Germany as starting keeper in their very first World Cup.
Now a commentator and analyst for ESPN, fans will always associate Shaka with his top-flight days in England, from his part in the iconic Newcastle United team of the mid-90s, through to manning the fort for a West Ham side making a mark on their Premier League return in 2005/06. That spell with the Hammers under Alan Pardew was his second with the club, after initially working with Harry Redknapp for the majority of his first stint in the East End from 1998 to 2002.
His debut campaign at Upton Park brought him the club's Player of the Year award as the team achieved a 5th-place finish which remains their highest in the Premier League to date. Shaka's memories of being a Hammer are wrapped in little elements of music, with one example bringing a laugh from him as he recounts what was once a regular scene.
"What I do remember, and it may seem strange but it was a lot of fun at the time, was when I was at West Ham and we had Neil Ruddock and Ian Wright on the team. Whenever we won, it would always be led by Razor Ruddock and he'd break out into Elvis songs and the entire dressing room would join in.
"It was so much fun and I'll always remember that, so now whenever I hear an Elvis song it reminds me of my time at West Ham."
Although raised in Trinidad, Shaka was born in London and sport was stitched into his family history. His father, George, was a long jump champion who went to law school and also taught, while his grandfather on mother Gina's side represented the West Indies in cricket.
When Shaka was two years old, the family moved back to Trinidad, and close to Diego Martin. He later attended the well-known St. Mary's College in the island's capital Port of Spain and cites it as the place where he learned the most and his love for football was able to grow considerably.
Trinidad's weather, people, food and music emphatically spell home to Shaka, and while a win at West Ham would open the gates to Graceland his tastes generally stray a tad away from Mr. Presley, as he explains.
"I grew up in Trinidad and Tobago so the music I listened to for my leisure would be calypso or soca music from Trinidad. I listen to a lot of reggae as well, dancehall music; that kind of occupies most of my listening.
"Saying that, when I was playing and getting ready for games it would be hip-hop and kind of hardcore; the harder the better to get you warmed-up and up for the game. I wouldn't say I follow bands specifically but in terms of calypso artists Machel Montano is easily the biggest of them all.
"With hip-hop, the person I've always listened to most is Jay-Z, and I've always listened to r&b over the years. I actually prefer to listen to albums as opposed to a selection of music because I feel the artist is trying to tell a story in an album."
Heading to Howard University in Washington, D.C. on a soccer scholarship, Shaka studied mechanical engineering and interned at NASA's headquarters, where he worked with the scientific team on the Space Station Freedom project. As he was about to graduate, he played for Baltimore Blast in a friendly with Aston Villa and was spotted by a scout from Reading.
He decided to take a chance in pursuing his football ambition, with what was meant to be a two-week trial with the Division Two (now League One) Royals ultimately dragging on and leading to him making his competitive debut before he even signed a professional contract. Starting with a 3-0 loss at West Bromwich Albion in September 1992, Shaka struggled to adapt in his first year in England, from unfamiliar weather conditions to the physical demands of so many matches in a long season.
The following year saw Reading win the Second Division and they then reached the play-off final in the second tier as runners-up a season later, but would lose out to Bolton Wanderers at Wembley. A two-time Player of the Year at the club, Shaka may have narrowly missed out on promotion with that defeat but his Premier League door was about to swing open.
Despite Reading's initial resistance, Kevin Keegan brought him to Newcastle for £1.5million in the summer of 1995 and it was around this time period that he married his partner, Desha, who hails from San Fernando in Trinidad. Today they have five children, and the two have shared in music through their years together, as Shaka recalls some of the standout live shows they have witnessed.
"I've been to a few. My wife and I went to a Sade concert a couple of years ago here in Boston and I really enjoyed that.
"Sade was really big a couple of decades ago, I guess, and we really enjoyed her when she was at her peak. I've been to Usher and Trey Songz, also here in Boston; Trey Songz is another artist I follow a lot now that I think about it.
"My wife and I went to a Madonna concert in Wembley and that was probably the biggest concert we did. We took our kids to Taylor Swift probably three or four years ago."
Shaka may have been a spectator for those gigs, but he had a role of his own to perform in a group which will always be remembered as 'The Entertainers'. Led by charismatic boss and former England captain Kevin Keegan, Newcastle stormed to the summit of the Premier League in the 1995/96 season and captured interest and imagination from their supporters and footballing neutrals everywhere.
Although the Magpies had a 12-point lead at one point during the season they were famously overhauled by Manchester United. Shaka had been the side's number one up until an injury in December meant the late Pavel Srnicek took over, although he did return to the team in April.
Despite ultimately coming second, that side is still held in the affections of so many lovers of the English game for the personality it exuded in its play and the attacking prowess in particular. It might have been the likes of mercurial Frenchman David Ginola or goal machine Les Ferdinand who took top billing, but the number 4 was a mainstay at the back in 1995/96 and Shaka recalls how this Bristolian added an alternative riff to the Magpies' rhythm.
"If memory serves me correctly Darren Peacock was huge into his rock music, which I can never get my head around. I never played with Kasey Keller but I know him from my time at college in the U.S. and playing in England as well, and now we both work at ESPN.
"Kasey's into heavy metal as well, proper heavy metal, which I just can't understand! You think heavy metal and Kasey couldn't be more different; he's as calm and understated as anybody I know, and yet here we have someone who listens to this ultra-hard music."
Even with the world-record addition of England striker and hometown hero Alan Shearer in July 1996, Newcastle couldn't quite wrestle the Premier League ascendancy from Manchester United and Keegan resigned in January 1997. With Kenny Dalglish coming in, the Magpies finished as runners-up again and secured UEFA Champions League football at the end of a campaign where Shaka had once again shared goalkeeping duties with Srnicek.
New signing Shay Given would be the preferred option in goal in 1997/98 and after 13 league appearances during the season Shaka decided a change was needed and moved on to West Ham. Of all Shaka's managers it was Harry Redknapp that he enjoyed playing for the most, and in 2002 he reunited with him to bring Portsmouth into the Premier League as Division One champions, before establishing them in the big league.
Although there are certainly more musically-minded managers in the game, occasionally a distinctive tune would come courtesy of Redknapp and one of his midfielders at Upton Park.
"I remember Harry as an old East End boy so the old East End songs would come out now and again! John Moncur from my first spell at West Ham, he's also from the East End of London, so I can remember some of those old bands from him coming on and it made for a good laugh."
That element of novelty was a huge part of the first single Shaka ever owned and it is with a slight headshake that he recalls the 1981 Aussie anthem!
"The first I ever bought was Men at Work 'Down Under'- hard to explain!"
Growing up back in Trinidad, Shaka admired the calmness and self-belief displayed by two ex-England goalkeepers – Joe Corrigan and Ray Clemence. Clemence is of course a Liverpool great, and it was against the Reds that Shaka took his final bow in English football, with West Ham in the 2006 FA Cup final at the Millennium Stadium.
Leading 2-0 and 3-2 in the game, the Hammers were pegged back in injury time as captain Nigel Reo-Coker dropped off to protect his defence as instructed, only for a simply unstoppable (and improbable) drive from long range by Reds skipper Steven Gerrard to find the net. The match went the distance but with only Teddy Sheringham converting for West Ham in the shootout it meant a 3-1 win for Liverpool.
Shaka had a World Cup just around the corner and in July that year he would move to FC Dallas to conclude his career in Major League Soccer. He pinpoints some of the styles and teammates at the heart of the music track from his unforgettable West Ham story.
"Rio (Ferdinand) and Trevor (Sinclair) in particular were into their music, and in my second spell Rio's brother Anton was big into music as well. There was only three years in between my spells there but in the second spell the squad was a lot younger under Pardew.
"There was a definite theme to the music the players listened to, and the senior players like myself and Teddy Sheringham. In the first spell we listened to pretty similar genres in terms of r&b and soul so there was a lot of overlap with sharing music and getting some of the up-and-coming artists."
Five clubs got to have Shaka as their last line of defence, although when he was asked to pick out the most memorable singers he played with, his recollections all had a claret and blue tint to them.
"John Moncur, for bad reasons; for good, I'm not so sure! In my second spell at West Ham there were a few; Anton Ferdinand fancied himself as a bit of an artist, and he wasn't bad, but probably wasn't as good as he thought he was!
"Razor Ruddock as well, just for his confidence; he would always have fun with it and never took himself seriously."
During Shaka's debut season at West Ham, the club would acquire the services of the temperamental but outrageously-talented Italian forward Paolo Di Canio. His time at Sheffield Wednesday had soured beyond repair in September 1998 after he pushed referee Paul Alcock, who fell to the ground, in the clash with Arsenal.
A certain striker in the Hammers' ranks impersonated this in a celebration that season and Shaka describes the impact the Arsenal legend had on him and the team.
"Ian Wright was a huge character in the dressing room. I loved playing with Ian Wright, I really did, he was fantastic and given everything he'd achieved in the game and how popular he was outside of the game he still made sure the team came first.
"I really respected his approach. I played with a number of big names – Teddy Sheringham, John Barnes, Ian Rush – all these absolute legends who were all fantastic in the dressing room to senior and young players alike.
"I can never say enough about those players and how they were always willing to be a part of everything we did."
Former Trinidad and Tobago defender Brent Sancho, who most notably represented Dundee and Gillingham while in British football, described Shaka as 'one of those leaders who'll get involved with his troops and get them going', as well as outlining his approachability. One aspect of team bonding is initiation for new players, which now tends to take the form of singing, so aside from those collective Elvis renditions has Shaka ever been made to give a solo vocal performance for a team?
"Thank goodness no I've never had to do that! We've had a few karaoke nights where after a few drinks everybody has to have a go.
"Inevitably my go-to song is anything by Bob Marley; that's about all I can pull off!"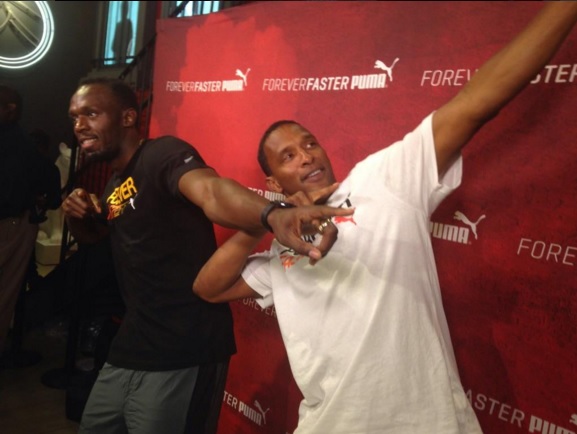 Although he had appeared for the country of his birth by playing for England Under-21s, Shaka's international career would begin in 1999 with the nation of both his heritage and upbringing. Some years later, Trinidad and Tobago manager Richard Braithwaite, who sadly passed last January, travelled to London to convince Shaka to help the Soca Warriors qualify for the 2006 World Cup.
Ex-Real Madrid, Ajax and Netherlands boss Leo Beenhakker took over during the qualifying campaign and in the final game of the fourth round the team needed a victory at home to Mexico to secure a place in the final play-off. Falling behind to a Jaime Lozano goal, the Soca Warriors were to lose keeper Kelvin Jack as he succumbed at half-time to an injury sustained in trying to stop the strike, meaning Shaka was called into the action.
Stern John had equalised just before the break and the ex-Birmingham City striker went on to grab the winner and spark huge celebrations at Hasely Crawford Stadium in Port of Spain. After a 1-1 draw at that same venue in the first leg of the play-off with Bahrain, centre-back Dennis Lawrence came up with a towering header from Dwight Yorke's corner in the away leg and the men in the white away kit made sure it was enough.
Shaka had shed tears as a supporter in 1989 when the national team lost at home to the United States to miss out on the 1990 World Cup, but 16 years on he was off to the tournament. Two members of that 2006 squad, midfielder Chris Birchall and, most recently, right-sider Carlos Edwards, have provided their own take on T&T's love for song and celebration, and Shaka has great memories of how it used to open up new possibilities within the group dynamic.
"I think travelling to games everyone kind of focuses in their own way and keeps their music to themselves, but after the game and after a good result we'd sing a lot. With calypso being our local genre there were a lot of calypsos at different times that focused on the team and made us the focus of the song.
"We had a few characters in the dressing room so on the bus back to the hotel or to the airport everybody would join in singing these songs and having fun. That became a big part of post-game traditions.
"Brent Sancho was always the main DJ but we always shared pretty similar taste in music."
If the situation ever called for Shaka to take a step beyond karaoke and into the studio to lay his own mark on an old classic, which of his career teammates would he ask along to help him out?
"Well I can only sing Bob Marley so I wouldn't try to go any further than that! Anton Ferdinand was the best of the bunch I played with so I would go with him."
Drawn in a group with England, Paraguay and Sweden, Trinidad and Tobago faced the latter in the World Cup opener in Dortmund. Only a matter of minutes before the game was due to get underway, scheduled starting keeper Kelvin Jack told Shaka that his calf injury meant he wouldn't be able to do the team justice and walked over to tell Leo Beenhakker the same.
With Clayton Ince also in contention, it was Shaka who was then asked by the Dutch coach if he was ready to play, and his response was emphatic. Battling a Sweden side containing Zlatan Ibrahimovic, Henrik Larsson and Fredrik Ljungberg, T&T were reduced to ten men at the start of the second half as left-back Avery John was dismissed.
Captain Dwight Yorke and Shaka were needed more than ever to inspire their team, and as the final whistle blew to signal the Soca Warriors' first World Cup point it was a moment Shaka describes as the proudest in his career. A photo of Yorke, Dennis Lawrence and Brent Sancho jumping on him at full-time is his favourite shot of all, as it captured the group's emotion at that time perfectly.
England were next up, and as the sun was beating down in Nuremburg in the lead-up to kick-off the Soca Warriors were sensing a possible advantage by way of the conditions…that was until the temperature dropped dramatically in the warm-up! Nevertheless, they would stand toe-to-toe with the Three Lions and it took until 83 minutes for Peter Crouch to head home a David Beckham cross, albeit with what appeared a clear foul on Sancho.
Steven Gerrard delivered the final blow just after 90 minutes, leaving Shaka sprawled on the field, dejected but making a concerted effort to take in every detail in that moment, because he knew such a prestigious setting would never come again for him. A remarkable journey had led him to that point, so to reflect on all that went before 2006, as well as all that the game has taught him since, what did Shaka learn from the highs, the struggles and the simply incredible experiences?
"I always went into football wanting to prove myself against the best. I grew up in Trinidad and Tobago where we didn't have a professional league, and by the time I graduated there wasn't even MLS to talk about.
"I'd initially never thought about playing professionally, because it simply wasn't an option, and then as I came towards the end of my time at college and I was wondering what to do next I had options to continue doing engineering. I felt I wanted to have a go at football to at least prove to myself that I could match it with some of the best in the world.
"I feel like I've done that. I ended up playing professionally for 15 years and it taught me that if you're focused enough and determined enough your background doesn't have to hold you back and that I can overcome obstacles that are put in my way."
Joined in sporting endeavours by his two brothers, Shaka knew West Indies icon Brian Lara from when they were kids at a cricket coaching clinic and crossed paths with Dwight Yorke in youth football. Also involved in track and field, his first coach in football was Bertille St. Claire, who identified his work ethic as beyond the usual.
At St. Mary's College, he played for Haydn Martin, a man who said the way Shaka commanded guys who were years older than him on his team made him realise the rangy young keeper was set for great things one day. As he was asked about the advice he would go back and give that young kid today, Shaka's response shows he has never forgotten the values passed on to him by his parents and those who guided him as coaches.
"Something that I picked up on early in my career and also later on is that if you're prepared to work at it a lot longer than others, to stay out on the training ground even after everybody has gone in, you'll get rewards. I think I did that and that was why I was able to go on as long as I did.
"Peter Beardsley at Newcastle very early on, even after he came back from all his successes at Liverpool, he was always out on the training ground for as long as it took. If you asked him to stay out with you to work on one thing or the other he always would and never hesitated to do so."
After playing for FC Dallas, Shaka was preparing to move back to Trinidad with his family when ESPN asked him to make an appearance. A full-time deal was to follow and in his eight years with the channel he has offered his analysis and commentary, as well as interviewing multiple big names along the way.
During his time at Newcastle, Shaka helped to establish the educational charity Show Racism the Red Card and would drive around to schools to give talks to students on the issue. Receiving the PFA Merit Award bestowed upon the likes of Sir Bobby Charlton and Pele, he has gained a reputation over the years from those who know him for standing up for what he believes is right and fair, and as a pundit he has similar conviction in his viewpoints.
"One of the things I've tried to keep in mind is to be true to my own opinions; don't be afraid to express what I think. If somebody's upset by it, well, tough.
"After playing professionally I have an idea about the game and I have opinions about the game, and I express them. Sometimes they're right, and sometimes when they're wrong you admit it and move on.
"One of the traps I think people fall into is trying to be all things to everybody. People aren't always going to be too happy with what you say, but if your opinion is an honest one and expressed as such and not out of any kind of malice or to discredit anyone, then you stick by it."
One of the pundits who appears on the daily global news programme, ESPN FC, Shaka has crossed paths with various renowned figures in his role, including a Canadian artist whose stock has risen to a colossal level around the world over the last seven years.
"I met Drake when he came into ESPN a couple of years back. He was good fun; I think he was there as part of EA Sports' promotion.
"Inevitably, when you have celebrities come to ESPN they're put through what they call the carwash, which is basically you're put through every single show that ESPN does. We just did a bit that tied into ESPN SportsCenter and our show, ESPN FC.
"He was really good; you kind of see these mega-artists and feel that they like to keep everybody at arm's length, but he wasn't that way at all. He was really accommodating to everybody that was there, really down-to-earth, chatty, fun, and seemed to enjoy himself."
Previously spending time coaching at Quinnipiac University in Hamden, Connecticut, Shaka has certainly taken to life on the East Coast since joining ESPN. Together with his wife, Desha, he has four daughters – Maalana, 19, Khazia, 17, Talia, 14, and Nia, 12 – as well as son Luka, who is eight.
New England has become home for the Hislop family and Shaka describes how the hours and days away from work tend to be spent.
"I spend so much time away – ESPN headquarters where I work are in Connecticut and that's a couple of hours' drive away – and I don't get back until late at night, so when I do get time at home to spend with family that's what I do. If we're travelling anywhere with the family it's great, whether it's here in Massachusetts – we go down to Cape Cod every so often – or when we go abroad.
"It reminds me a lot of England and I understand why it's called New England. When I first moved over to the U.S. I lived in Texas and I can't say that we really settled well.
"I got the opportunity to work with ESPN up here in New England and just kind of driving around to different cities I had an idea as to where I wanted to live. I have a brother who lives in Massachusetts and a daughter who does gymnastics with a club here.
"It's a little bit away from Connecticut but driving around trying to get an appreciation for the area it reminded my wife and I so much of our time in England and it really appealed to us. When we got here and our kids settled right down we felt at home."
After one training session with the national team, with the rain pouring down in Los Angeles, the aforementioned Richard Braithwaite was asking around as to where Shaka and Dwight Yorke had got to. He was told he would find the pair still out on the field practicing, and that affinity with the game, combined with the determination to go above and beyond, never did fade away.
When you break it down, football is blissfully uncomplicated, and the fast-paced fun of a 5-a-side game is hard to beat. For each of the interviews on here, we finish with the player picturing themselves in their own small-sided line-up and they are asked to select four of their career teammates to go with them.
So how would Shaka set up his side when put on the spot? As the chief protector would he build from the back to give his team a solid foundation? Well…not quite!
"(Forwards) Peter Beardsley and Ian Wright. (Midfielder) David Batty – one of the most technically-gifted players I've played with and I don't think people appreciated that about him.
"I guess I have to choose a defender now? (Given the go-ahead to go all-out attack) Alan Shearer – the best striker I ever played with.
"His eye for goal was impeccable and he's another who was one of the hardest workers off the pitch that I've known. He suffered some pretty bad injuries during our time at Newcastle and I was amazed at how hard he worked to get himself back, and then when he was back how hard he worked to make sure he was always at his best.
"I've never seen a player so singularly-focused on being the best he could be."
To catch each of these interviews, you can follow me: @chris_brookes
You can also like the site on Facebook