Samantha Kerr interview: Visions of home back in a Flash for sparkling Matildas forward
Australian international forward Samantha Kerr has pushed the limits so far in 2013, shining amongst distinguished company for Western New York Flash in the NWSL, but there is more than a small piece of her native environment in everything she does.
One of the most exciting attacking players back home and a huge reason why Sydney FC were able to seal W-League success in January, the former Perth Glory youngster took a significant step in joining 2011 Women's Professional Soccer champions Western New York Flash this season. With the National Women's Soccer League into its fourth month, the 19-year-old is making a definite impact in the US alongside such stars as her teammate and the current FIFA World Player of the Year, American striker Abby Wambach. This is a big opportunity for the Western Australian National Training Centre product and she has so far embraced the chance but the feelings for home are more than understandable.
"I'm enjoying the football but I will proudly say I love my country and nothing compares to Australia! America is similar, but I could never live here long-term, it's a nice country though, just different to home.
"I miss my dog, family and friends. I also hate missing out on parties and things that a normal 19-year-old does, but it's all worth it."
Since making her way onto the international stage with her first full cap for the Westfield Matildas back in 2009 against Italy at the age of just 15, Sam has stuck around and those with a vested interest in the NWSL have been left in little doubt about the ability she has. Her three goals and three assists for the Rochester-based Flash have been notable contributions as the 2012 WPSL Elite champions hold 4th place under the management of successful coach Aaran Lines.
Adaptations have been made along the way in the first few months of this chapter for Sam and while she has been able to get that invaluable connection with her teammates since she moved they do tend to favour a slightly different edge when it comes to their individual and collective tune choices!
"Everyone here likes music but it's very different taste to mine. They listen to a lot of Drake, I like Drake, rap and r&b, I don't know how to explain it but their music is a lot more…gangster?!"
In the interviews on here it is always the aim to appreciate how music in football holds much stronger significance than simply existing as something to fill the background noise in the changing room before a game. All players and people are different with regard to the effect that specific songs, lyrics and melodies can have on them and for Sam it serves an uplifting and also quite nostalgic purpose despite her young age.
"Music is massive for me. I get really excited to go to a festival and it's my favourite part of the year, festival season.
"Before a game I play music that I would dance at a festival to and have so much fun. In Australia we would all dance to this type of music before a game!
"One of my favourites is 'Rattle' by the Bingo Players."
Sam's close friends, fellow NWSL players, and teammates with Sydney FC and the national team, Caitlin Foord of Sky Blue FC and Kyah Simon of the Boston Breakers, have mentioned their mutual liking for a certain genre of music in their own interviews on here. Sam, whose power, trickery, supply and goals were key in Sydney's W-League success at the start of the year, explains how she shares her friends' appreciation for the sound style in question.
"My favourite music is definitely house music, but I do enjoy all types of music, anything with a good beat. One of my favourite house songs is 'Greyhound' by Swedish House Mafia.
"I've seen nearly every DJ that has been to Australia because I do not miss a festival. I normally go in Perth and then again in Sydney.
"My favourite acts I've seen have been Skrillex, Swedish House Mafia and Avicii. Also Dizzee Rascal, but he's hip-hop."
House might be the preferred selection for Sam nowadays but the first CD she ever bought, as well as what she thinks to one of midfielder and captain McCall Zerboni's playlist choices, shows that underneath it there is still the pop side to her that remains!
"I can't remember (my first CD) but probably Spice Girls or Jesse McCartney. McCall picks our music, but her iPod is just on shuffle.
"A bit of the Biebs (Justin Bieber) on there, which I don't mind a bit of!"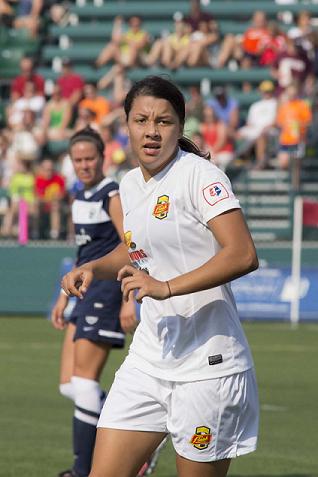 In November 2009, Sam's strike for Perth Glory in their 5-2 defeat at Sydney may have only been the opener in what would be a heavy defeat but it won the 16-year-old the W-League Goal of the Year award. There was a significant success for Sam to revel in as part of the national team when the Matildas lifted the 2010 AFC Women's Asian Cup. Sam scored the first goal against North Korea in the final in Chengdu, China in a 1-1 draw before Australia triumphed 5-4 on penalties.
The progression continued as she featured in the run to the 2011 World Cup quarter-final in Germany, coming on as a sub in the group game loss to Brazil and starting in the wins over Equatorial Guinea and Norway. At domestic level, Sam has been firmly amongst the most recognisable on-pitch characters as the women's game in Australia has enjoyed deserved growth in recent years. She has had to overcome a ruptured anterior cruciate ligament but her form in last season's W-League with Sydney, particularly in front of goal, showed she was back to dazzle again.
Sam struck nine goals in just 12 matches (11 starts) as the Sky Blues found their way through somewhat disjointed form to advance all the way to the Grand Final against Melbourne Victory. Alen Stajcic's side won 3-1 in the showpiece at AAMI Park, Melbourne, with Sydney's second goal arriving via a precise Kyah Simon cross and an emphatic diving header from Sam. The back flip celebration was just as impressive and sharing in the glory that day, although not as a starter, was a player Sam mentioned when discussing the initiation procedure many teams have of getting the new players to perform vocally and as melodically as possible for their colleagues.
"I've never had to sing in front of anyone, that ain't my thing anyway so I'm glad! My goalkeeper from my Sydney team Sian McLaren is an amazing singer, I could listen to her all day on her guitar."
Besides her natural ability, something that shows up in Sam's game is how it has ultimately helped her getting the opportunity to play at the highest level for her country and in the W-League at such a young age. The awareness she has when she runs at opponents down the wing is a big asset and although her stats back up the assertion that she is much more than just a decoy it can be so precious for her teammates when she alleviates the pressure on them by drawing in more than one opposing player.
Her former coach with the Matildas and now the man at the helm for the US team, Tom Sermanni, spoke with enthusiasm and anticipation about how Sam always makes an impact and never seems fazed when she plays. She has said that she does not feel at her best on the field when she thinks too much about what she is doing so the response she gave when talking about how she thinks she has done since her move to Western New York Flash is not too surprising. She does however notice the switch in approach that her status in the game in the NWSL stipulates.
"I don't like to look at my own game, once it's over it's gone, but I've been having lots of fun! I'm just going to say the professionalism (is the main difference), this is our job over here."
Despite her growing reputation in women's football, Sam, just like her aforementioned friend Caitlin Foord for example, is just a teenager beneath it all and she misses plenty from home. Away from testing out opposition defences with that pace of hers, she names her main interests in life at present.
"I enjoy going to festivals and going to the beach with my dog. I enjoy going out to eat with friends and just hanging out.
"I have just started studying business, so I want to finish that. I also really want to go to Tomorrowland (an electronic dance music festival) in Belgium.
"A lot of my friends are going this year and I can't, but next year I really want to go!"
Sam has it within her to be a game-changer and no matter who you support, in the male or female game, when you have a player representing your team with the belief to get on the ball and make it happen, it's very exciting and fills you with hope. While she is working at improving all the time, the Flash are the beneficiaries of the best bits to her game.
The 2010 USL W-League winners (as Buffalo Flash) are currently 4th in the NWSL with 23 points from 14 matches and those at Sahlen's Stadium can look forward to more from the likes of all-time international top goalscorer Abby Wambach and double Olympic Gold-winning hero and past interviewee on here, US midfielder Carli Lloyd. The feeling is that Sam can hardly fail to flourish in such great company and with her own ability too, but even before her move to New York she had worked with some terrific players. Here is her selection of four of her best career teammates who she would pick next to her in a 5-a-side line-up…even if technically she didn't decide on a defender!
"Striker, Abby Wambach – not only is Abby a great player, she is an awesome leader. When I play with her I just want to work hard – not many people make me feel like that.
"Midfield, Collette McCallum as a wide striker. I have never received a more perfect ball from anyone except Collette, I still am amazed by her skill and how smart she is tactically.
"Defender – Elise Kellond-Knight or Caitlin Foord. Elise is the defender that I can never get past ever, a lot of fun to train with and very good!
"Caitlin because last season we had a lot of fun and success playing the same side throughout the W-League. I play well with people I get along with well!
"Goalkeeper, Bri Davey – I just trust having Bri as my keeper! She blocks everything that comes at her and very rarely has a bad day!"
Stay updated with all future interviews by liking the Beats & Rhymes FC page