Patrick van Aanholt interview: Ali anthem lights Dutch defender's fire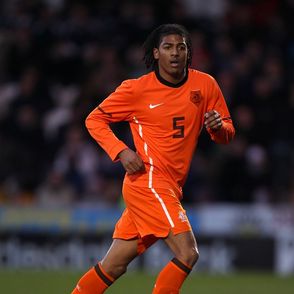 Chelsea's Dutch left-back Patrick van Aanholt is currently back in his homeland and enjoying his second loan spell with Eredivisie side Vitesse Arnhem, and when game time comes around there is one track above all others that resonates with him.
The Netherlands Under-21 international who has also represented Coventry City, Newcastle United, Leicester City and Wigan Athletic in his career to date turns 22 today and he has been adding to his on-field experience this year with two separate temporary stints with Vitesse in the top flight of Dutch football. Also with him at the GelreDome is a fellow Chelsea loan player, the 19-year-old Czech defender Tomas Kalas, and the club have been in the news here in England this month as their left-back Alexander Buttner signed for Manchester United. The Vitas have added to their squad this week with the return of Ajax midfielder and Dutch international Theo Janssen who began his career with the club. After three games of the Eredivisie season Vitesse are third in the table with two wins and a draw and Patrick has been speaking of his enthusiasm at the team's chances this time around. As usual though we start with the music questions and it is the lead song from the 2001 Muhammad Ali biopic (Ali) starring Will Smith that lights Patrick's fire just before he goes out on the pitch.
"The only song that gives me real power and motivates me a lot before a game is R. Kelly 'The World's Greatest'. I like all sorts of music like hip-hop, rap, r&b, I even listen to slow jams and some house sometimes, but mostly I like Drake, Rick Ross, Chris Brown, Lil Wayne and Tyga.
"The first record (I bought)… that's difficult! I can't remember!''
Patrick was a youth player with Den Bosch and PSV Eindhoven before Chelsea stepped in to sign him as a teenager in 2007. Over in Arnhem at present he gets the opportunity to share some of his musical collection with his Vitesse teammates, with varying levels of success!
"Normally my iPod goes into the speakers but some of the players don't agree with the music choices and then they put their own iPod in. Every player is listening to different types of music, but most of the players agree with my music!
"(On teammates' bad tune choices) It's kind of hard to say you know because it's all different types, but at all the other clubs I've been at the music has been good.''
When talking about the subject of fellow professional players he knows who spend a portion of their spare time making music we got on to someone who has featured on here with interviews on a couple of occasions in the past.
"I know Leon McKenzie, I played with him while I was on loan at Coventry, sometimes I still have contact with him and I know he is doing something with music. He made a single with MC Harvey I think.''
As he rightly said Leon has been making considerable headway into the industry for some time and he released his single 'Finally' with former So Solid Crew member Harvey and Birmingham's female MC and long-time Radio 1Xtra favourite Lady Leshurr back in March. Leon has more material on the way as I write this and you can read my most recent interview with him from last October all about the details behind his music venture. Aside from the former Norwich City striker, Patrick has a family member and current FC Twente midfielder also trying his hand at making tracks in his time away from football.
"Also my cousin Leroy Fer does a little bit with music too.''
After making his full debut in the English game while on loan in the Championship with Coventry in August 2009 Patrick played a part in Newcastle United's run to the title and promotion to the Premier League later that season. He also managed to feature twice for his parent club in the same campaign, in a 5-0 win at Portsmouth and a 7-1 thrashing of Aston Villa as Carlo Ancelotti's Chelsea snatched the Premier League crown from Manchester United with a host of goal-laden victories. Further appearances for the Blues came in the Champions League, FA Cup and Carling Cup in the 2010/11 season with a goal against Newcastle in a 4-3 defeat at Stamford Bridge. He then moved on loan to Leicester where he scored in a 4-0 home win over Burnley before another temporary switch, this time to top flight Wigan. His stay with Roberto Martinez' side was brief and he then made the first of his moves to Vitesse.
Having experienced both the English and Dutch game at a relatively young age Patrick assesses the differences between the two nations, on and off the field of play.
"The English league is much stronger and harder, in the Dutch league sometimes you have time on the ball and can do it easier but it's still good to improve yourself in the Dutch league. Of course I am enjoying being back home in Holland, being close to the family and my girlfriend's family, but I miss England.
"Everything is different there, everyone is more polite and friendly. The shops are bigger and better and when you go out you have got a lot of choices where to go.''
Vitesse are managed by former Twente, Schalke and PSV coach Fred Rutten and have beaten FC Zwolle and Willem II in the first three league games of 2012/13. It is a naturally enthusiastic outlook from Patrick as he looks ahead, with some fairly typical hobbies it could be said taking up some of his free time.
"I am looking forward to this season a lot, the team will do well. Last season we ended seventh in the league so this year I think we will do even better with the quality of the players we have got.
"(Interests away from football) Music, I love cars and watching films, and watching football on TV of course, playing on the PS3.''