Nahomi Kawasumi interview: Roll with the Homi – Seattle star's realm of rhythm and excellence
Poise, devastating accuracy and a self-imposed responsibility to please the crowd are some of the reasons why Seattle Reign's Nahomi Kawasumi is so admired and undoubtedly, so feared. There are few if any in the game who can appear more in step with their personal rhythm than the Japan forward at her sublime best, so there is probably music in the heart of the ever-beaming FIFA Women's World Cup winner, too? Well, let's find out…
'Naho' is one of the women's game's most reliable and impressive of supply lines, though rest assured that with her smile that can illuminate a stadium, comes a world-class sting in the tail. England and Sweden were left reeling from that in Japan's last two World Cup semi-finals.
Against the Swedes in Frankfurt in 2011, her improvised, close-range equaliser was followed by a wedge of stunning volleyed opportunism from distance to cap a 3-1 win in front of over 45,000. Four years later, the setting was Edmonton's Commonwealth Stadium, and England this time on the sharp end of precision most heartbreaking from the Nadeshiko number nine. In the 92nd minute, with the score at 1-1, Naho produced from her orange boots a shimmering, danger-zone-bound dagger of a pass from the right, with England's Laura Bassett scoring a savagely cruel own goal as she was forced to act to try and prevent Yūki Ōgimi (Nagasato) from surely netting the chance herself.
A runner-up to the United States in the final three years ago, 2011 against the same opponents was Naho's greatest high, as Japan hoisted the World Cup aloft after extra-time and penalty shootout theatre. At club level, meanwhile, she has blended success back home with an indelible impression left on the National Women's Soccer League (NWSL) as a key part of Seattle Reign.
With her share of goals, and assists by the bucketload, it is not tough to see why her teammates relish having 'the Homi' in their entourage. She is a player and personality loved by those who have worked with her in Seattle, and that has also extended into various pockets of The Emerald City's community. For many years, Naho has had a blog, on which she updates her followers (with admirable regularity) on her travels, experiences and life inside and outside of soccer. It is written in Japanese, so Google Translate is of course handy, but what transcends the language barrier is the characteristically upbeat theme.
She offers an alternative look into her life as one of the sport's elite performers, and from that end at least, it shares something in common with this site. Since Beats & Rhymes FC began in 2011, the idea has been to go searching for and to celebrate where music and soccer meet and often brilliantly collide. From the innocuous to sometimes astonishing, the interviews with players over the years have brought that and then some.
The mass of cultures in the game has been reflected by the varying relationships players have with music. Some value it as part of their routine but don't identify as being wildly passionate about it, whereas others are only too proud to profess their love. So where does Naho, soon to chase NWSL glory in the play-offs, see herself?
"The music makes me so happy!" she said. "Aiko, who is a Japanese singer, is my favourite."
Naho, who has twice lifted the AFC Women's Asian Cup with Japan, shared her joy at finally getting her hands on Aiko's new CD (yes, an actual CD!) earlier this year. 'Shimetta Natsu no Hajimari' (Beginning of a Humid Summer) is the latest album from the female singer-songwriter and Naho listened all day when she finally got it.
As a certified child of the beat, the dazzling attacking talent is in good company at a club like Seattle Reign. Speaking on here in early-2015, forward Beverly Yanez (née Goebel) told the story of one away trip with the team. With the Reign players out to dinner, a local singer was performing at the same pub, and was given raucous encouragement by the squad.
When she took a break, Carmelina Moscato and Amanda Frisbie saw their chance to shine. The defensive pair went all-out attack, as the establishment was treated to Tracy Chapman's 'Fast Car,' with Moscato on the mic and Frisbie strumming guitar!
Reign stalwart Lauren Barnes also spoke on here of now-retired midfielder Keelin Winters' American Idol ambition, while praising defender Mariah Bullock (née Nogueira), also now retired from the sport, for possessing genuine musical ability. Alongside those examples, there was an especially headline-grabbing and meaningful link between the club and music, when multi-platinum-selling rapper J. Cole performed in New York City in 2016 wearing a Reign jersey bearing winger Megan Rapinoe's name, in support of her activism.
Naho once said in an interview with the North American Post that many in Japan say she looks much younger than her years (32), and her enthusiasm has unquestionably endured since she came to Seattle, just like her creative brilliance. She has seen many a locker-room party kicking into life, though she had no names to put forward (throw under the bus…) when asked about somewhat suspect moves!
"Pinoe (Megan Rapinoe) is always dancing! Bev (Yanez) likes it, too.
"I don't know who is bad – everyone is good!"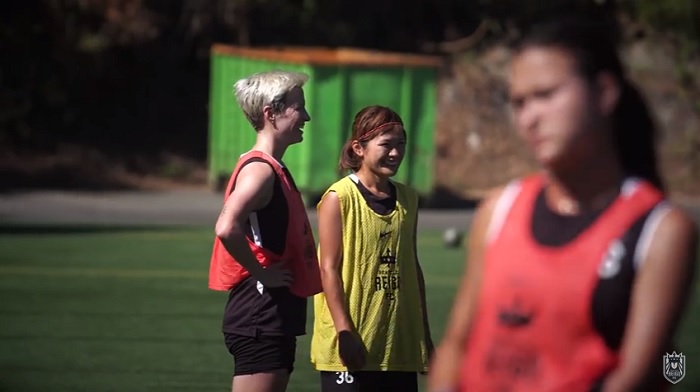 Naho's link with Beverly Yanez runs that bit deeper, as she has played alongside the Californian back home in Japan for INAC Kobe Leonessa. Together, the pair won a number of trophies, including a pair of Nadeshiko League titles (2012 and 2013), and their on-field chemistry is underpinned by genuine friendship.
Yanez was the American trying to adapt to life abroad when she ventured to Japan a few seasons ago, and as Naho arrived on loan at Seattle (then led by Laura Harvey) in 2014, she was thrust into the same position. Initiations have become as commonplace in soccer as extravagant celebrations, or players covering their mouths in televised games when having a conversation (stop doing it…). With the multi-national nature of so many club teams today, it means that a new signing stepping forward to sing for their teammates may try their hand at a song from their newly-adopted culture, or they can instead showcase one from their own.
The latter was the route Naho took, though it was actually as recently as a few months ago.
"Yes, I have had to sing for my team. I sang Japanese music at a pre-season event this year."
Naho's debut season in the U.S. brought her NWSL Best XI recognition, with her nine goals and five assists announcing her as one of the league's premier performers and helping Seattle finish clear in the regular season before ending as runners-up in the Championship game. There were many smiles, and not only from Reign fans, when she returned to the club on a full deal two summers ago.
The 2012 Olympic silver medal winner set a new NWSL record in May 2017 with a magnificent four assists in Seattle's 6-2 win over Washington Spirit, setting her on her way to topping the league's assist chart that year (9), alongside her six goals. She has spoken about trying to turn the most complex manoeuvres on the pitch into routine actions, by way of repetition – 'practice makes permanent.' She highlights her time between school and university as a crucial period in her development in this sense.
Raised in Kanagawa, less than an hour south of Tokyo, she wrote as a second grade student that she wanted to be a soccer player. Growing up, it was her competitive edge and stubbornness that she believes shone through, even though she was not the quickest or most powerful player.
Together with the methodical excellence, Naho has always had fun and imagination in her play, and it just so happens that the first record she ever had falls very definitely under that umbrella! This song was released in 1999 and became a social phenomenon in Japan, selling around three million copies.
"The CD I bought for the first time was the song (by Kentarō Hayami, Ayumi Shigemori, Himawari Kids and Dango Gasshōdan) 'Dango 3 Kyōdai' (Three Dango Brothers) (dango is a Japanese dumpling dessert).
"The singer whom I listened to most when I was young is Aiko. I have also seen Aiko live."
The sounds you hear in the locker rooms of teams around the world can differ greatly, though admittedly 'Despacito' seemed to enjoy VIP access last year regardless. So many players on here have shared the details of their national team's music habits, which includes Ireland's WNT getting together for a céilí, Colombia letting the rhythm run free, and how the U.S. Men's National Team can call upon an equipment manager who doubles as a master DJ. Canada's post-game group rendition of 'The Power of Love' has also been mentioned many times (but for any new readers…).
World Cup and Olympic medals accounted for, Naho's honours list includes three league titles and six Empress's Cups at INAC Kobe Leonessa. Named the Nadeshiko League's MVP in 2011 and 2013, you won't see it listed alongside such feats, but she is also the first Japanese player to feature on here!
Naho tells how the Japanese national team have let a young shot-stopper run the rule over the locker-room playlist in recent times.
"The music pumps me up for the game. Ayaka Yamashita, who is a goalkeeper, she is the DJ for the team."
As well as midfielder Rumi Utsugi at Seattle, the NWSL has welcomed Japanese internationals in North Carolina Courage defender Yuri Kawamura and Chicago Red Stars forward Yūki Nagasato in recent seasons. Outside of soccer, Naho has watched WNBA team Seattle Storm play often, also enjoying a friendship with the Storm's Japanese power forward Ramu Tokashiki.
Naho tries to get along to see a range of different sports in Seattle, while she enjoys spots like Pike Place Market, and time permitting, Snoqualmie Falls and Mount Rainier. Last April, she threw out the first pitch at Seattle Mariners' game with the Miami Marlins at Safeco Field, and of course, was beaming throughout the experience.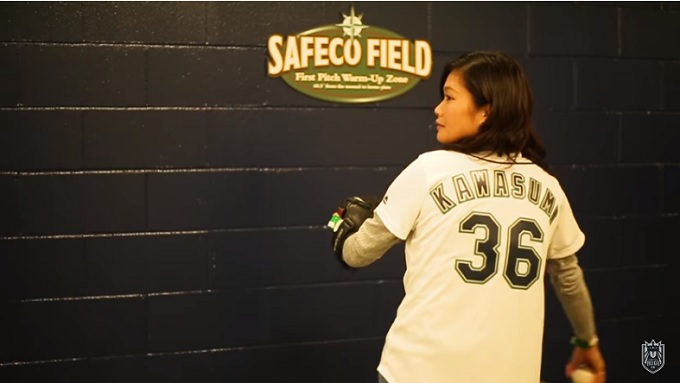 Back on the soccer field, the Reign have recently made the NWSL play-offs for the first time since 2015. The team are now coached by Vlatko Andonovski, who led FC Kansas City to their 2014 and 2015 titles, both won by defeating Seattle (regular-season winners each time) in the Championship game.
To finally win the league's big prize in the coming weeks would sprinkle Naho's already memorable NWSL career with gold dust. Recounting her initial adaptation to life in America, she says that the on-field business always took care of itself.
"The first time I came, I felt it was difficult sometimes, but soccer is fun. Everyone is so kind, and Seattle is good city, so I have not wanted to return to Japan.
"The U.S. life makes me feel free and have fun. The soccer has inspired me every time."
The NWSL is noted by many players and coaches for its added physical emphasis, alongside the very obvious, league-wide technical ability. Naho's participation has been a meeting of soccer cultures that Seattle have reaped the benefits of, while fans and media alike will always be glad that she arrived in the league.
It is true that, in soccer terms, what works for one country may not always be directly applicable to others, for any number of reasons. Particularly in the women's game, Japan are widely admired for their player development, which has been rewarded this month with the retention of the FIFA U20 Women's World Cup.
Naho, who returned to the national team for this year's Asian Cup after prolonged absence, offers her thoughts on the playing style most pleasing to her.
"In football, I believe that you cannot win by only using players who are fast, big and strong. What is important is good players, and good players can bring their own characteristics to make hundreds, or thousands of combinations, within various systems.
"I like the team chemistry that comes from this. Also, although repetition, judgment and execution are always important in football, I like watching and playing the game when particular attention is given to new ideas being created."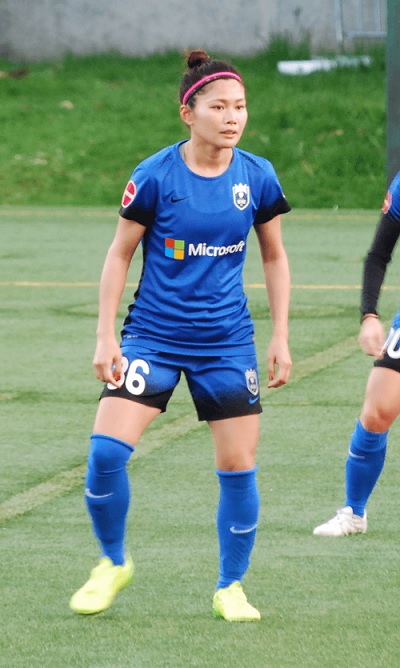 Naho's first coach in the U.S. was aforementioned former Arsenal Women manager Laura Harvey. The current Utah Royals boss said Naho was a dream to coach, and would even work the tactics board at half-time sometimes to show what she thought the team should do, which Harvey said was almost always what she was thinking herself.
Given that nous for breaking down the game, perhaps there is a future coach in Naho. Her response to that question, however, would appear to pretty emphatically shoot down that idea for now!
She replied, quite simply: "I do not want to be a coach!"
Despite her feelings on that, Naho is someone who enjoys the game beyond just training and playing, which is not true of every player, as much as it may disappoint footballing romantics the world over. A question put to the interviewees on here sometimes is which player(s) from all-time they would most want to practice shooting with, if they had some spare time on the training field.
Although all from the men's game, each of Naho's choices reflect the style of play she favours.
"For shooting practice, I would choose Andrés Iniesta, Luka Modrić, Luis Suárez, Lionel Messi
etc."
One photo worthy of a place in any international women's soccer scrapbook was the one of Naho and Megan Rapinoe taken on the field after the 2015 World Cup final. The U.S. were overwhelming winners on the day (5-2), but the image of the two friends and opponents with medals around their necks, side by side and smiling gleefully like two kids on a trip to Disneyland was one to warm even the frostiest of WoSo hearts!
Perhaps Naho is less than a year from yet another World Cup final, but before we edge that little bit closer to France 2019, we end here with a game that plenty would love to see. It is the fantasy 5-a-side scene, in which the interviewee is asked to picture themselves in a small-sided match-up, with four of their career teammates needed to make up their five.
Naho thinks it is her job to send fans in the stadium home happy, and with the four names she picks out here, value for money would be a sure bet.
"The goalkeeper: Lydia Williams – crazy. The defender: Lu (Lauren Barnes) – smart.
"The midfielder: Jess (Fishlock) – keen. And the forward: Bev (Yanez) – we understand each other."
To catch each of these interviews, you can follow me: @chris_brookes
You can also keep up to date on Facebook