Lucy Bronze interview: Grounded on top of the world – Backstage through the Bronze Age, with Lionesses star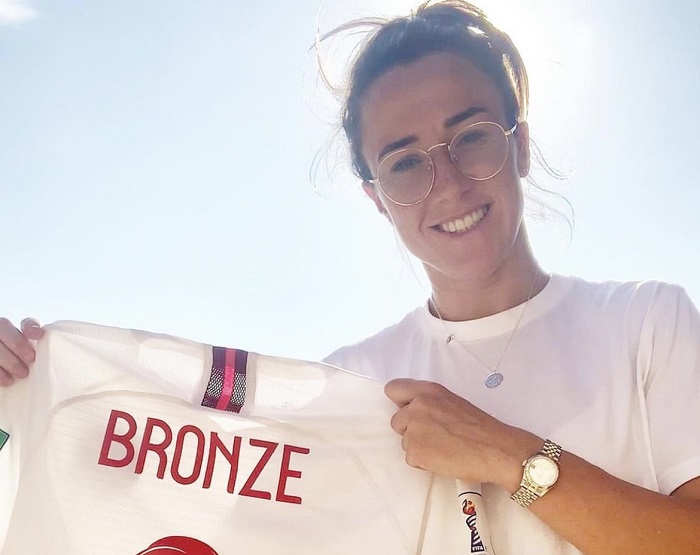 She has been to the pinnacle of U.S. college soccer, English and European club football, and global individual recognition. Lucy Bronze comes from a markedly different time for the women's game, but as its progress has moved up through the gears, she has been there to match it stride for stride – and yet in many ways, never let her feet leave the floor.
For England fans in recent years, the lift of hope and excitement classically associated with a winger or creative midfielder taking possession has arguably come most from the Lioness wearing number two. Lucy Bronze is a player you could say there hasn't been anyone quite the same as; a right-back not just adept at getting up and down the flank but willing to take on the attacking mantle altogether at times.
As the national team and women's game, domestically and internationally, have scaled new heights of prominence and profile, the Manchester City star has soared with it. The Best FIFA Women's Player award going her way last December (off the back of 2018/19's UEFA Women's Player of the Year) was something to take unequivocal pride in for all who have shared in her journey.
She carries the belief befitting an elite player, with the achievements to match, yet the humility from long before any international awards galas came into sight has always remained palpable through the years.
"I think my family has a big part to play in it," she explains. "My family's so competitive."
"My mum's really good at bigging me up and thinking I'm the best ever, but I also appreciate that that's my mum. Then my brother and my sister bring that healthy balance.
"We're very competitive over everything; who passed their driving test first, who got their degree first, who's smarter, who's faster, who's fitter? I'd say they're the ones that kept me grounded my entire life."
The Northumberland native, 29, is currently in Japan with Hege Riise's Great Britain squad, becoming an Olympian for the first time. At 83 England caps, it is one where you have to stop and remind yourself that she hadn't yet made her international debut the last time a GB team came together, as women's football shared in a 2012 summer that seemed to have reasons to smile at every turn.
Interest in the team will be considerable once again in the coming weeks, though the surge to new levels seen during recent tournaments with England would take some topping. Lucy has recalled in the past how, as someone 'socially awkward' growing up, sport was her platform for expression.
She gives her take on being among those in clear view as the spotlight for the women's game has gradually gone from lukewarm to searing.
"I think it's been okay. I've obviously adapted to it, because the life that I live now is not the life that I lived when I was 20 years old, in terms of everyday life, or what people think of me or say about me.
"I think it is harder than people maybe realise. The only reason I think it's been easier for me is that when I was 20, these things didn't exist as much; being recognisable, people being really into women's football, watching the games and criticising them.
"There's more pundits, there's more analysis, more games being shown live, bigger audience. There's more sponsors, so your face is in more places, but those things have kind of grown at the same rate as my career; when women's football was nowhere, I was at the start of my senior career.
"Moments like (the) 2015 (World Cup), that was huge for England, but that was also huge for me personally, and was when I broke into the team and on to the world stage. At the same time, women's football broke into England.
"So, I think it is hard to deal with, and I see players struggle and stuff, but I think I'm very lucky going through that and having really good support around me, to make that transition very smooth for me in my career."
She certainly remembers where WoSo came from, having been part of Liverpool's back-to-back FA Women's Super League title successes in 2013 and 2014, when, as manager Matt Beard has since alluded to, the team didn't even receive prize money. As told on here in September 2013 by Reds captain at the time, Gemma Bonner: "Lucy is in charge (as team DJ) and I don't think anyone else gets near it!"
View this post on Instagram
Some say that her PFA Women's Players' Player of the Year award in 2014 was mostly down to services to changing-room music (somebody somewhere probably did anyway…). For a multi-national team, somewhat novel for the WSL at the time, DJ Khaled's 'All I Do Is Win' was a particular favourite.
"Yeah, obviously we won the league back-to-back, so it was quite fitting I suppose, the lyrics. We kind of had a couple of songs like that, that were a little bit jokey.
"Nelly was another one, 'must be the money' (lyric from 'Ride wit Me'), making a joke of ourselves a bit! Just a bit of everything but those two songs were definitely played regularly."
Beyond reflecting that team's camaraderie, humour and outlook at that time, music also subtly captures something about Lucy. Pressure is interesting to her; 53,000+ at a World Cup semi-final doesn't spook her, because there is a football match to be played, and it is what she does.
When the vibe is flowing nicely behind the scenes with teammates, she won't hesitate to revel in it – with the moves or vocals. Having the deafening silence fall her way, however, as they wait for her alone to sing, or needing to choose tracks for an entire changing room before kick-off, well, that's a different matter!
"I don't think I'm really a nervous person, I'm quite competitive and want to push and everything, so I try to take that time (before a game) to enjoy myself. I like it when it's good music, everyone's dancing, the atmosphere's buzzing, it's excitement; I'm not one who likes to have big headphones on and be sat in the corner, focused, looking at set-pieces, that's just not me!
"If people are dancing, I want to get in on that. If not, I want to be singing songs and listening to good music.
"I'm one of those where I dread initiation, I'm the worst singer in the world, but I'll grab the mic and be the first singing at other times. We had it once at England with Phil (Neville), we had a karaoke; Leah (Williamson) was the DJ and I was like the hype person on the mic!
"I'd be going 'who's up next, who's gonna sing?' The mic was glued to my hand the entire night, rapping to songs and stuff.
"At Lyon (for initiation), I was absolutely petrified. I did Ed Sheeran 'Shape of You'; they didn't play any music, you had to stand on the chair, totally a cappella.
"I thought 'I need to pick a song that's fairly popular that people are gonna know', but I'd only been there about a week. Thankfully, people started to sing along a bit and they knew what I was singing, and it wasn't too much singing, so I could kind of talk it."
View this post on Instagram
A player who won it all with Arsenal – just the 140 England caps as well – is some act to follow, but what a job she has made of it. That refers of course to succeeding Alex Scott as England right-back, and in fact, it is not the only role that Lucy was primed to take on from the present-day pundit.
Her previous life as not just an international defender but a pre-match music maestro has been talked about a few times through the years, including by Alex herself on here in 2014. Lucy reveals why she never ultimately followed suit.
"At England, it was Alex Scott, and she used to be like 'Lucy, what song?', so I was kind of like her co-DJ a little bit! Then I started doing it more with England and I thought 'it's too much pressure!'
"After Alex, it was in the abyss for a little bit; I was meant to do it and I let it go to someone else because of the pressure. Leah (Williamson) really enjoys doing it, she had a little DJ set as well when we were at the (2019) World Cup.
"I think Alex Greenwood's quite good, she gives a helping hand and she knows quite good music as well, because she tends to do it at City, but I think Leah Williamson, if there was no music on, that's who you'd be asking to put it on."
One place her sound-selection services were not called upon was the University of North Carolina. Long before their Liverpool success together, Whitney Engen was a teammate for the Tar Heels, as were fellow future World Cup winners Ashlyn Harris, Meghan Klingenberg, Tobin Heath and Jess McDonald.
Lucy would spend a solitary season (2009) at Chapel Hill, but that would culminate in UNC's 20th NCAA national championship (of the 21 now won under Anson Dorrance). Facing in their College Cup showdown a Stanford team with Kelley O'Hara and Christen Press bursting with goals that year, it was North Carolina's Jess McDonald who grabbed the winner in the opening minutes, converting a dream of a ball from Casey Nogueira.
That the current North Carolina Courage forward ever had the energy to make such an impact on the field is actually remarkable! Lucy explains.
"UNC is the best place I've ever been to for music in the locker room; the changing room had disco lights fitted in it and built-in speakers. It was Jess McDonald when I was there who was really big on it, so she was head DJ, head dancer.
"Before you even went out for a warm-up, they turned the lights off, put strobe lights and disco lights on, and it was just like a whole dance-off, every single game. Jess would be dripping in sweat, because she'd been into it that much, and the warm-up for the game hadn't even started!
"That was the craziest atmosphere, those girls danced everywhere; we'd be at airports and they'd put a speaker on. Used to carry a speaker everywhere, you'd dance on the bus, off the bus, in the airport, going down the aisle in the plane.
"We were sat once waiting for our luggage in the baggage area and they started dancing on the carousel. It was everyone as well; even if you were terrible at dancing, you didn't care.
"It was just a completely different atmosphere to what I've had before."
The kind of scenes you might be waiting a long time for in baggage reclaim at Manchester Airport, but there's your cross-Atlantic cultural difference perhaps. Along with heightening her liking for hip-hop (Drake being a favourite), Lucy's time at UNC also of course took her into the inner sanctum of a sporting dynasty, where days of taking it easy in training were nowhere to be found: "Everything was a leader board, everything was a competition."
Winning so often that everyone else becomes desperate just to see another team pip yours to the top prize was something she became well acquainted with at Lyon. Three seasons with the club meant three Champions League crowns, not to mention six domestic trophies.
Nevertheless, when you step away from the pitch and the supreme, 'world all-star' line-up, those names are also just people, bonded by football, which typically becomes friendship. Language was an obvious dividing factor in some cases, though that is where Lucy stepped in to lend some vital knowledge.
"They really loved Chris Brown, and it was hilarious because not all the French girls really spoke English. So, some of his lyrics would be a bit vulgar, and I'd be like 'do you understand what you're singing?!'
"Then I'd tell them and they'd be like 'oh…no!' Or you'd put English songs on, like 'Giant' (Calvin Harris and Rag'n'Bone Man), they loved that one.
"They would sing along, and they wouldn't sing the words wrong, they'd actually just make up English words! They'd be going 'I am…hyan!' I'd be like 'that's not even a word!'"
View this post on Instagram
The memories of her time in France are steeped in success, but she already had more reason than most to feel naturally connected to mainland Europe, owing to her Portuguese heritage from her father.
"It's been a huge factor in my life, culturally, specifically the food. I absolutely love Latin/Spanish music now, and I think back and maybe it was because I was around that type of music.
"But definitely the whole culture. My dad, super-laid-back, the food he used to cook, and my grandma always used to cook us really traditional Portuguese dishes when we'd go over.
"Everyone now's like 'yeah, Nando's is dead good' – I literally was brought up on peri-peri chicken and chips! We were brought up bilingual, but as I've got older, I've not really used it.
"I can talk to a child at best, but it did help me when I learned French. I'm pretty fluent in French now, and having Portuguese in my brain, I picked up French a lot quicker than the other English girls."
She subsequently ended up being the one to help translate messages from manager Reynald Pedros in many cases for Lyon's non-French speakers. The aforementioned Ed Sheeran song she performed gave her teammates a touch of England, though if she was really serving up something from deep within her musical background, a little nod to Australia would have been in order.
"This is so sad, but I had a cassette player, I had a bunch of cassettes and they were like karaoke ones from the 80s. So it was ones like…what's his name?
"Jason…(Jason Donovan?) Jason Donovan! My first CD was probably someone like Steps; they were the first concert that I went to."
If she had her pick of any artist to see perform, French-Malian singer Aya Nakamura would be her choice; a favourite in the Lyon dressing room and someone she even credits with learning some of her French from. Lucy's move last summer to Manchester City returned the ex-Everton and Sunderland player to the club where she had previously won the FA WSL, FA Cup (winning it again last November) and Continental Cup.
Despite taking it to the last day, the league belonged to Chelsea again in 2020/21, though it was a season for Lucy and her City counterparts that did include playing alongside World Cup winners Sam Mewis, Abby Dahlkemper and Rose Lavelle. When it comes to the latter, the midfield gem has never been too shy to express her personality, so making nothing more than an educated guess…did she ever take centre-stage in the City changing room?
"Has someone teed you up for that?! Alex (Greenwood) put this song on, some American rap song, and Rose just jumped from her seat and started doing this whole TikTok dance.
"We were like 'what's just happened?' I said 'Alex, play it again!' and she did the whole thing all over again; it was the funniest thing I've ever seen."
As new signings last season, Lucy, Alex Greenwood and Chloe Kelly were expecting to have an initiation to perform, with a collaborative Destiny's Child effort in the plans, but despite Mewis and Lavelle stepping up, the English trio were surprised and delighted when their names slipped through the net somehow! What, though, if Lucy had to record a cover song with any teammate(s) from her career?
"If I was going to pick a good singer, I think Lucy Staniforth, but if I did one with her, I would look terrible! In 2015, me and Jordan (Nobbs) took over the music from Alex a couple of times (with England), and there was a song, Jason Aldean 'Burnin' It Down'.
"We played it every day and sang along, so if I was going to do one, me and Jordan would do a cover of that song. She's better than me but we're both not great!
"It's one where you can put on an American southern accent and just go for it."
Those connections and snapshot moments with teammates are arguably what a player holds on to far more in the future than any titles won. Some of the greatest memories for Lucy and her England colleagues are also unavoidably intertwined with the hurt of losing in a tournament that simply flattens you.
Integral in the Lionesses' three consecutive semi-final runs, the 2015 World Cup included her crucial knockout-stage goals against Norway and hosts Canada. There was that pulsating stride forward to lay on Jodie Taylor's winner against France in the last eight of Euro 2017, and another knockout goal against Norway in the 2019 World Cup quarter-final.
They were three tournaments, the first two under Mark Sampson before Phil Neville in 2019, each with their own complexion, in terms of perceived 'achievement', when measured against expectation at that time. Lucy details her differing sentiments that went with each.
"I think 2015 was amazing because it was so unexpected. It was my first major tournament where I actually was playing, but then it was the most brutal way that I've ever been knocked out of a tournament; an own goal in the last second (against Japan) and that was it.
"It was a devastating thing, even though we'd exceeded expectations massively. Then I think about the World Cup in France, and I put my whole body into it; I had like an out-of-body experience by the end of that tournament, because I had nothing left.
"The temperature in France was reaching about 40 degrees and I remember the end of the Sweden game, the ground was all fuzzy to me. The whistle blew and I think I just collapsed on the floor.
"I lost four or five kilograms at that tournament because I was just exhausted. I played the semi-final in Lyon, which was where I lived, and part of the reason for playing for Lyon was because the World Cup was there.
"It was against USA and I thought 'yeah, I've got this', thought I was going to be playing against Megan Rapinoe (who missed the game), and everything was just not what I thought it was going to be in my head. We changed our team, which we didn't do through the whole tournament.
"So many things were just so different to what you'd expect or what you'd hoped for, what you'd planned. Especially on a personal level, I'd had the best season of my life probably, and I was thinking 'this World Cup, I'm gonna do everything for this team, not just me but I'm gonna make sure everyone is in the right place'.
"I think that's the tournament I put so much into and I'd never felt exhaustion like it at the end of it. I think the Euros was such an anti-climax, because we'd finally beaten France, but then it automatically made us the favourites.
"We got knocked out by the hosts (Netherlands) and it was like 'what have we done?' It's like we got over the biggest hurdle, and then we, not let our guard down, because we were prepared, but then we also weren't prepared, whereas they were just on this steady incline and were just going and going.
"We'd got past France and then were trying to get ourselves around the fact that we were now the favourites, we could be winning it."
While motivation is certainly not something she relies on other people for, Lucy shares what she believes goes into getting the best from her when it comes to a manager's approach.
"I think most people would say I'm good on my own, but I think from a manager, I still like someone who's challenging me in some sort of way. I think Phil Neville was someone who started to understand me, and challenged me in a way where he used to come out in the media and say 'Lucy's the best player in the world', and I was like 'why you saying that?! Now I have to be the best player in the world because you're saying it!'
"But it actually pushed me to try and be that. I think for some people, it would be 'oh, the manager thinks I'm amazing, that's great', whereas I was like 'why have you said that?'
"We used to have a good back and forth about pushing the team, improving the team. I feel like I've got a good relationship with managers like that."
View this post on Instagram
Whatever she goes on to add to her achievements before the curtain comes down on her career, history will say that no other English player had ever been officially recognised as the world's best until her. Rather than encouraging any easing off, all it does is keep the desire for more all round at optimum level – that sibling rivalry worked wonders.
She has nailed down her interests outside football simply to 'eating' when asked about it in the past! Here, she adds a little bit more detail to what strikes a chord with her away from the footballing magnifying glass.
"I love watching movies. My perfect night would be: I'd go and take the dog for a walk, have a chef cook me a meal at home, and get a big bag of popcorn and watch a movie or a TV series, although I'm probably running out of them now.
"At the minute, I'm watching All American, and it's basically about these guys in America who are at high school, they play American football and it's about their journey. Every episode it says 'based on a true story' and I love stuff like that."
The adventure and autonomy in her game going forward has made Lucy as compelling a watch as many specialist attackers, so you would think that a 5-a-side match would be the perfect scenario for her to throw even more caution to the wind. As she answers the regular closing question of these interviews through the years, however – four examples of career teammates she would love on a small-sided team with her – we find that she actually has other ideas for this one!
"I would take it upon myself to do all the defending for the team. I think I'd put Keira Walsh in front as the holding-mid; she's gonna be the disciplined player in the team.
"I'm going to put Rose Lavelle, because I was on her team a lot in training, and every time, I'm like 'I'll defend and I'll just pass you the ball'. I'm going to have to pick (Dzsenifer) Marozsán because she's the player that's complimented me the most when I've played with her.
"She is just the most talented I've ever played with in terms of technical ability and vision. We're really good friends but she is the most humble player I've ever played with.
"The girl's got so much more talent than me football-wise, and I'll be like 'Maro, you're amazing, I love playing with you', but she'll say 'Lucy, there's some things that you do that I just can't do; I wish I could be like you'.
"I'm like 'are you joking? I wanna be like you!' I think we complement each other so well on the pitch.
"I'd be dribbling with the ball, and I'm getting my head up because I'm thinking 'I'm gonna have to shovel this pass to somebody; it needs to be Maro, because she's the only person who's going to be on my wavelength'. I'll say Kelly Smith; we've kind of got three tens on the pitch but they're the magic players, aren't they?
"I was just unfortunate in the fact that I didn't get to play with Kelly as much; I think she's one of those generational talents. I think my team would probably beat most teams in the world."
To catch each of these interviews, you can follow me: @chris_brookes
You can also like the Facebook page and stay updated