Lauren Harkes interview: A soul's sanctuary for Clemson's child of the beat
Clemson University's Lauren Harkes chanced her arm at various sports before it became clear that soccer had always been the outstanding candidate. In her family, the game's significance is such that it probably deserves its own place at the dinner table, though you should pull up a chair for music, too. It is in the heart of all she does, as the Tigers' midfield leader continues on in search of her verses of tomorrow.
The fans filter in to the venue, the volume and atmosphere starts to steadily rise, and as the minutes ebb away, the anticipation hits fever pitch as all the build-up finally makes way for the real thing. Lauren Harkes, a 21-year-old midfielder and one of the team captains on Clemson's women's soccer team, has a good recollection of the first time she experienced it.
However, on this occasion at least, we are not talking soccer.
"I remember my first concert was Aaron Carter, which is actually a funny story," the one-time Bishop O'Connell High School standout began. "We ended up getting backstage passes or something, I think I was eight, and I ended up meeting him and he was picking me up.
"My mom was telling me all these girls were there in their teens and older, and then there's this little eight-year-old."
An eager eight-year-old getting to see their favourite singer in concert – apart from maybe the backstage pass, nothing too out of the ordinary there. Music itself, though, holds that bit more meaning for Lauren, and so just like the first soccer game you ever got to see unfold right in front of you, the first concert in this case most definitely counted for something.
On infinite occasions, music and soccer overlap, which is just what this site explores and celebrates with players from around the world. Like the game itself, Lauren has felt the smoother times, the moments to dig in and scrap that bit harder, and those that have prompted enhanced reflection and introspection.
No matter the scenario, music has been there, like a supreme midfield partner, ready and willing to drop in and cover, back her up in a tussle, or revel in the frenzied celebrations. Lauren is the middle child of Cindi Harkes, whose playing days encompassed a Final Four run with the University of Virginia in 1991, while her father is former U.S. Men's National Team captain John Harkes.
Back in 2013, her dad revealed on here just how much of a front seat music has taken on the tour bus that has been his own career, along with how enjoyably deep-rooted it is within the family. For Lauren, currently right in the midst of Clemson's 2018 season, it was an alternative guiding light when she was temporarily thrown off course and forced to redshirt her 2016 season, as she details.
"Ever since I was little, my parents have always played music in the house or encouraged us to play musical instruments, or get involved at school. More importantly, my sophomore year, when I tore my ACL, I pretty much turned to music.
"I relied on that heavily when I was trying to work my way through rehab, or with everyday stuff I felt like I could just relate to music, whatever mood I was in. I think that was probably the biggest point in my life where I was really emphasising music and soccer, but I listen to my playlists on the way to class, or driving to or from soccer practice, so like constantly.
"I have a wide range of music that I like; the only thing I don't like really is country, which is funny because I'm in the south. One of my favourite bands is Twenty One Pilots, and I love Chance the Rapper, SZA, Trevor Hall.
"It's that type of music I guess, but it changes completely when I get ready for a game. We also as a family like listening to Coldplay and U2."
As much as a song can bring added intensity to the warm tingle of the best times – a road trip home with the team after a glorious win perhaps – when it comes to helping you through more treacherous paths, you are never likely to forget that either. It is an aforementioned band from Columbus, Ohio who in particular helped illuminate the way back for Lauren a couple of years ago.
"I would definitely say it was Twenty One Pilots. I think their music is a little bit of a deeper meaning to me, and just their lyrics in general reach not only me but a lot of people.
"Their messages are for people who are struggling mentally or in any way; their music is there to be uplifting or a powerful message. I think when I was going through that, I would listen to them on repeat; sometimes I wouldn't listen to anything else in a day, just them.
"So, whenever I listen to Twenty One Pilots now, I do think about that time when I was kind of struggling, but in the end, it got me to where I am now. It's such a positive band for me, and they're coming out with music actually right now, so I'm really excited."
The Fairfax, Virginia native is long since back into the rhythm, and she was just part of the Clemson side that beat number-four-ranked Virginia 1-0 in double overtime in the Atlantic Coast Conference (ACC) – the Cavaliers being the college team of both her parents, no less. The home win was Clemson's third in a row at the time, but the first triumph over a top-five team in over three years, making it a night to remember at Historic Riggs Field.
On such evenings, it is time to bask in the euphoria as much as possible, and what better to help with that than some straight fire blasting through the locker-room speakers?! When game day rolls into town, the beats are as crucial as pre-wrap, shin guards, and maybe even cleats (no, that's not pushing it too far…).
A versatile player with terrific game understanding, height to her advantage, and the stomach for a challenge to compliment her technique, Lauren describes her preferred preparation for a competitive encounter.
"When we go to the stadium, we all walk around and do our own thing; that's when I listen to rap and hip-hop, like A$AP Rocky, J. Cole, Drake, Kanye West. We usually have I'd say 15 minutes where everyone does their own thing to get focused; I listen to music and juggle and then I pass with a teammate.
"Then when we all come back afterwards, we're all like dancing in the locker room and getting pumped up, so it's always really fun."
Lauren served as a team captain for Eddie Radwanski's team last season and currently holds the role alongside sophomore midfielder Kimber Haley and senior defender Sam Staab. Wearing the armband is a prestigious honour, but even the most respected leaders in the sport can fail emphatically when trying to impose themselves as team DJ!
Lauren, who helped set up the dramatic winner for Miranda Weslake in the season-opening victory at Oregon State this year, tends to play more of an assisting role for this one, too.
"A couple times I'll try to (choose the team music); I'm usually suggesting songs. In the past we had Shannon Horgan and Claire Wagner, and right now, Sam Staab is usually in charge of the playlists, but we normally all send in a couple of our favourite songs or pump-up songs to someone and we'll compile a playlist so we can all listen before a game.
"Then we also have a playlist for when we go to lift, which makes it much better I would say!"
The collective Harkes soccer story has some pretty memorable chapters to it of course, but that of Lauren Harkes is all there to be written, and it is an original, belonging only to her. Many in soccer, and indeed in sport as a whole, have carried a proud family name, and perhaps it helps that Lauren is one of three children who have each chosen to step in time to the beautiful game.
Older brother, Ian, is a 23-year-old midfielder at D.C. United in Major League Soccer who has already been part of the senior U.S. Men's National Team squad. Then there is younger sister Lily, another midfielder, as well as a one-time Junior Olympic swimmer, and someone just starting out at Elon University.
Long-time coaches in addition to their respective playing journeys, Cindi and John have struck an admirable balance between giving the kids space to explore their own interests and being readily available to advise or push with soccer, if ever they have asked or needed. For Lauren, she is proud of her parents and rightly feels no burden.
Encouraged to try other sports, as Lauren was becoming a teenager she wanted to break the routine of just soccer, and so dabbled in swimming, tennis, lacrosse, basketball and horse riding. It had all started to gear firmly back toward soccer, however, as she embarked upon high school.
Although the siblings are all midfielders, like ex-D.C. United and Sheffield Wednesday star John, for a little while it seemed plausible Lauren might follow Cindi's lead as a forward. While always having the freedom to branch out from soccer, Lauren is actually thankful that music was inescapable.
"When I was little, back at home, I would have a collection of CDs of just like all the newest songs. Plus my parents just kind of bombarded us at times with all of their music as well, so I remember being really young and listening to U2, and I'm still listening to that now, Led Zeppelin and all that stuff.
"I remember my uncle, my mom's brother, he got me a CD – No Doubt. I was so young and my mom was kind of trying to keep it away from me because some of the words were explicit!"
For evading trouble with your parents, siblings can be useful props to have around. Captain as a senior at Bishop O'Connell High School when she played alongside freshman Lily, Lauren recalls the dynamic between the Harkes kids back in the day, as well as who was most likely to earn a telling-off!
"It's funny because growing up, Lily and I, we would butt heads a lot! When I was going off to college and she was being left at home, we bonded so much, and especially in high school, because we got to play together.
"That was really awesome, but we're all super close, which I love. It's awesome to have like two best friends really.
"For always getting in trouble, I would say it was a good balance between Lily and I – Ian always seemed to do the right thing! There was nothing too bad that we did or anything.
"We're really close now and always keep in touch with FaceTime and all that."
Your siblings are also generally the ones who know your most embarrassing secrets, and they were probably the first who ever witnessed you singing in front of the mirror. Women's soccer is home to a variety of musical talents, as documented often on here over the years, and so, embarrassing hairbrush-microphone moments aside, has Lauren ever played alongside any impressive vocalists?
"I would say one of my best friends actually to this day; we grew up playing on the same club team back in Virginia and she has always been an inspiration to me. She ended up being a really good singer and we had no idea!
"We discovered it later because she had kind of kept it to herself. She's one of my best friends, Elise Andrich.
"She was playing soccer in school as well, but she ended up going into individual strength training and coaching as well, so I think that's really cool."
In that case, that would likely mean that if Lauren ever recorded a song with a current or former teammate, defender Andrich, who went on to play at Lipscomb University in Nashville, would be top of the collaboration wish list?
"Oh, man, let's see. I'd probably take Elise, just because of her singing ability, then maybe from the team I'm playing with now at Clemson…I'm trying to think.
"Oh, actually, we have a really good singer, her name is Cyan Mercer. Every year with the freshmen, whenever we go on a long bus trip we'll bring out these huge headphones and a microphone and have them sing something, where they can't hear themselves, so they can just belt it out, pretty much.
"But when she sang, she ended up being really good, so I would definitely take Cyan. I really like every year when we do that with the freshmen; it gets you out of your comfort zone and everyone just has fun and ends up joining in on the bus.
"It makes the trip more memorable. I did have to do it and I was thinking of this when we did it with Cyan, and I couldn't think of the song I did at all!
"I think I got embarrassed or something and tried to put it in the back of my mind."
When Lauren's dad was on here, he told how his father, James, a Dundee native, would let 'Ol' Blue Eyes' Frank Sinatra ring out regularly on the jukebox at the Scots American Club back in Kearny, New Jersey. John also talked about his older brother Jimmy's musical influence on him growing up, and he had reason for feeling extra pride when Lauren and Lily played together at Bishop O'Connell, as it mirrored what the Harkes brothers had done once upon a time at Kearny High School.
John, who led MLS club in waiting FC Cincinnati to 3rd place and the USL Playoffs in its inaugural 2016 season (along with setting three new USL regular-season attendance records), has recently agreed to lead Greenville Triumph SC. The South Carolina club, based around 30 miles from Clemson, are due to begin play in the new USL Division III next year.
When you see yourself in something your children do, the feeling is hard to top. Perhaps the most spectacular individual moment that John came up with as a player was in December 1990, on Sheffield Wednesday's run to League Cup glory.
His stunning long-range, right-footed effort past ex-England keeper Peter Shilton helped Wednesday knock Derby County out in the fourth round replay at the Baseball Ground and won him the nation's Goal of the Year. For anyone who was following the famous old South Yorkshire club in those heady early-90s days, it is a moment that still brings the widest of smiles, along with some tears of blue and white nostalgia.
So, has Lauren ever produced a strike of that ilk?
"It's kind of funny because my dad always brings it up, and I don't remember who I was playing, but it was in club. I got a ball in midfield and I just took a couple touches and just cracked it.
"It was like upper-90 as well. He was like 'I still remember that goal!' from the sidelines, and then he remembered he had to be calm and sit back down!"
While John served several clubs with distinction, he enjoys popularity at Sheffield Wednesday that only a select few in the club's 151-year history do. Owls fans remember the two-time FIFA World Cup midfielder's personality and his key part in a time when their feverishly-backed club really did shine with the brightest in England, finishing third in the top tier in 1992, above Arsenal, Manchester City, Liverpool and the rest.
Although Wednesday, who came within one game of a return to the Premier League in 2016, can be found some 3,500 miles from where Lauren was raised, the connection the family has to the club is special, and something Lauren and her siblings are certainly aware of.
"Yeah, I would say it's always been something that we've known. Whenever they're on, playing, I think as a family or individually we'll tune in and watch.
"It's cool to have that connection to the club. Obviously, he's not playing now, but just knowing that he played for the club, I think that's really cool just to follow along still.
"I think as a family as well sometimes, we're just kind of looking at old videos of my dad playing, and we pulled out some Sheffield Wednesday videos and it was pretty cool to see."
For a soccer family, there can be a change of location to contend with at almost the drop of a hat. Lauren, who played in the Elite Clubs National League (ECNL) national finals during her four years with McLean (Youth Soccer) 96, has experienced life in a few different spots, but there has always been a consistent home, too.
"The house we have in Fairfax, they bought it the same time I was born. I do remember moving temporarily to Boston when my dad was with the New England Revolution, and Columbus, Ohio.
"Temporarily, I was in England, but I really don't remember, because I was a baby! That's what my parents told me, that I was in England.
"I haven't even been back so I would love to visit. We were one summer in Jersey when my dad was working with New York Red Bulls, and we have family there as well, so we try to visit a lot.
"When my dad was at FC Cincinnati, we would visit throughout the summer, and now with his new coaching job at Greenville, it's going to be really close to Clemson, so that's super exciting."
Attending a U.S. Soccer National Training Center camp as a teenager, Lauren is also eligible for Scotland. Clemson coach Eddie Radwanski has praised her soccer intelligence, the way she values possession of the ball and her 'excellent vision.'
Any player at a high level is always eager to hone their skill set, so is there anything specific Lauren has targeted to improve in her game?
"I think in general, the way I've been taught to play growing up is be fast, play one/two-touch, so that's a big part of my game, distributing and setting other people up, I would say. Right now, I've been trying to go more on the dribble and be confident, especially going forward from the holding position.
"Always just working on shooting from outside the box and taking those opportunities."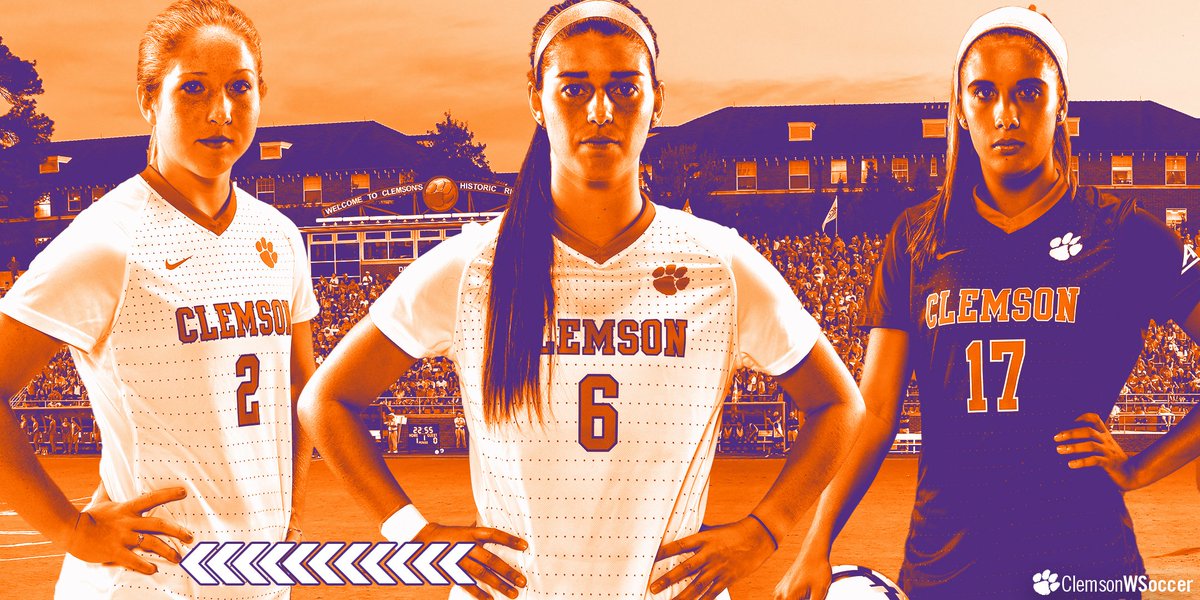 As a freshman at Clemson in 2015, Lauren showed her credentials from the off as she netted in the opening game against College of Charleston. She breaks down the leadership role she has assumed since, revealing how it has been helping her develop on a personal level.
"First of all, it's been an honour just being recognised by my teammates as a leader. I think the great thing about being here at Clemson is I've been involved with other groups, like for example, Tiger Leadership Academy, and there have been other opportunities for me to grow as a leader, with communication, for example.
"I think that's such a big part, especially with me being vocal, because I'm not always the most vocal person. I think such a big thing about being a leader, especially with how I lead, is just by example.
"Doing the right thing when others are maybe doing something else, or just when no one's looking. Trying to set that example for younger players to create a culture where everyone's on the same page, or has the same values.
"I think just being passionate about soccer, and especially going through my injury, it's showed me even more how much I love the game. Just being away from soccer for over eight months, it was so hard, and I think using that with how I play now is awesome.
"I think that's what I use every day when I show up to practice or meetings; play for people who can't play, or remember the time you were out, and now you can play."
In terms of fostering that positive environment, her dad was known for his Jim Carrey impersonation and for being a prankster in general during his playing days. Alongside soccer and music, comedy slotted in as another treasured component in Lauren's childhood.
"My mom would always call me my dad's Mini Me. I would always try to impersonate him or try to do what he did.
"There's some old videos of us just fooling around in the kitchen or dancing or something. He's definitely been the comedic relief in my life, I would say, growing up.
"We'd all just kind of joke around with Jim Carrey stuff, but I think my dad and I would fool around the most, which I think a lot of people wouldn't know about me."
As a redshirt junior, Lauren retains a further year's eligibility to play at Clemson. She says she currently intends to take advantage of that, and so the Psychology major will likely apply to grad school.
Whether domestically or overseas, she would love to continue her soccer career beyond college. Canada goalkeeper Kailen Sheridan is a former Tigers teammate who has gone on to the National Women's Soccer League (NWSL) the last two seasons with Sky Blue FC, and is someone Lauren keeps in contact with.
Having also played for the reserve team of the Washington Spirit, Lauren remembers a game experience for Clemson against recent NWSL winners North Carolina Courage that helped bring home the possibility of one day competing at that level.
"When we played North Carolina Courage in the spring, it was a really cool experience just to see how they played and how intense it was. It almost showed me that I could possibly do this.
"Then most recently, we were out in Oregon for two games and we got to see the Portland Thorns play Chicago Red Stars. We saw players like Morgan Brian out there; I think she's always been a midfielder that I've been watching."
Having made the NCAA Tournament's Sweet 16 before exiting to North Carolina in 2016, Lauren's Clemson were eliminated in the second round last year by Texas on penalties. They have started their 2018 season brightly (7-4-0 overall), and off the back of that win over number-four-ranked UVA last Thursday, they were beaten by just a solitary goal against North Carolina (no.5).
Long before such encounters, you could find Lauren competing in a very specialist match-up. There were up to five players, the venue was the back yard, and every player was named Harkes!
This next question, which has been put to each player to feature on the site in recent years, presents a similar scenario. The scene is a small-sided game, with the interviewee asked for four of the teammates, from any time in their soccer life so far, they would like on their team.
For clarity (and to avoid bruising of the ego for teammates…), the player is not asked for the best four they have played with, so this is instead very much a sample selection! Lauren offers up some of the names she would enjoy taking to the action with.
"I would have to say from my club team growing up, two of my best friends who I'm still best friends with today, Elise Andrich (defender) and another player, Kristina Diana (midfielder), who is actually playing at Virginia Tech right now.
"I really enjoyed playing with Claire Wagner (defender) when she was here, at Clemson. I would say another former player, we were really close, was Gabby Byorth, who graduated with Claire as well.
"She was this awesome defender, just getting into tackles, and was such a role model."
More than a midfield cog in her team, Lauren is very clearly much more than a soccer player in general. A member of the ACC Academic Honor Roll in 2016, she shares how she has been drawing upon her studies in an athletic sense, as she provides further insight into life outside of repping the orange and regalia on the field.
"I love doing yoga and we actually have a program here every week where someone will come in and put on a yoga session. I've actually got involved with it, interning with this wellness group for student-athletes, so I'm implementing psychology as well.
"I've really enjoyed that so far, and I would say also going to the lake here; the campus is on the lake. Growing up, we would go to the beach every summer, so it's always been a big part of my childhood.
"Then just kind of hanging out with friends and roommates, reading and all that."
Lauren's warmness and eloquence are testament to how she was raised, and when combined with the work ethic she brings to each of her endeavours, the future, in whichever form that may take, is as bright as that orange Clemson jersey. The life of a student-athlete, while a time to cherish, is challenging to say the least, both physically and mentally.
Lauren is thankful for the grounding she had to manage it all, and of course, there is always a melody or guiding lyric, should she ever need it.
"There definitely have been many times where I've felt a little overwhelmed. Even today, I was running from my internship and then to class, and making sure I had time for you, then meetings later, and then practice.
"Then I have to study later for a test. It's an all-day thing, you know, every day.
"I think I've been able to manage it well over the past couple of years, being in college, and I think my parents really helped set me up when I was younger, trying to emphasise time management and being responsible for what you've got to do. I think the times when I have felt a little overwhelmed, I still turn to music, and try to chill out or calm down with that.
"Probably along with that is to do yoga; just get a quiet space to myself and kind of check in and do what I've got to do. Unwinding with music is probably the best alternative."
To catch every music/soccer interview, follow me: @chris_brookes
You can also like the Facebook page and stay up to date!